The wait is over. The verdict is in. With a 94% Rotten Tomatoes score, I think it's safe to say: Incredibles 2 was worth the wait. Jack Jack has stolen the hearts of everyone who has seen the film. So today, it's all about him. I'm sharing some behind-the-scenes photos and interview with the creators. I'll also be taking a deeper dive into Jack-Jack's unlimited powers.
Jack-Jack's powers and the challenges that came along with them from the Effects team. The team we got to chat with included Supervising Animator Tony Fucile, Effects Supervisor Bill Watral, and Effects Artist Jason Johnston.
Forbes.com calls it a "perfect sequel and superior superhero story."
We'll be taking a look into Jack-Jack's character and the story behind his superpowers. If you missed it, I shared some fun activity sheets and printables last week.
Jack-Jack history
Remember, when the original Incredibles ended, we were not made aware of Jack-Jack's powers. But like in the first film, Jack Jack is clearly still a baby. In fact, even though it's 14 years later, there has only been a few months passed from the first film until now.
In this film, we get to learn all about the powers that baby Jack-Jack possesses. And like any parent might be, Bob Parr is excited to know his son is like the rest of the family…until he begins to discover them one by one.
Jack-Jack has…POWERS!
The Parr family is set to have their hands full as they start to discover all of the many powers their adorable Jack-Jack has. Effects Artist, Jason Johnston was tasked with creating the new Jack-Jack fire effect. Something that looks "simple" to us, takes a lot of planning and work to flawlessly execute. And that's what Johnston and his team were able to do.
He ends up having multiple different powers in the final film. The first one we took a deeper look into was the power of fire.
Not only can Jack-Jack turn into a human fireball, but he can also breathe fire like a cute baby dragon. Here is what they were tasked with when it came to creating the fire aspects of his superpower:
They looked at what was done originally and tweaked from there
Original look needed to be redesigned because his role would be bigger in this film, with more screen time
Technology has changed so much they were able to do more to flush out the final look
Jack Jack is the source of the fire, he's not ON fire (no smoke or embers ever coming off of Jack-Jack)
Didn't want it to be scary for kids – so he's still a cute fireball
Additional Jack-Jack powers:
Laser vision – Now Jack-Jack's eyes double as green lasers
Turn into heavy metal – This sounds like a pretty neat and effective power, especially to combat a kidnapping. But sadly, this power was cut from the film.
Vibration – It's hard enough to hold a wiggly baby, but one that vibrates? Forget about it! Take that, bad guys!
Phase through walls – If Bob thought a baby crib or gate was gonna keep Jack-Jack still, boy was he wrong! This superpower is only going to get tricky (I can sense it).
Effortlessly Multiply – Can you imagine seeing 5 identical versions of your baby? And what about if each of those had the same amount of powers? This puts parenting into perspective. Poor Bob & Helen 😆
Teleport – Personally, I would be freaked out by a disappearing/reappearing baby. But I guess, if I was in the Parr family, this would become my "new normal".  Bob & Helen are in for a challenge for sure!
Multiple dimensions – As if teleportation wasn't enough, Jack-Jack can also travel through multiple dimensions. Thank goodness for a floating echo voice in which he can still be heard.
Defy gravity AKA Levitate –Floating baby anyone? I can definitely see how this would be a great advantage
Devil monster – I think "cute Jack-Jack" basically goes away with this superpower morphing character
Superhuman strength – Of course, this tiny one will have the strength of 10 supers combined! There is nothing he can't do
Shapeshifting AKA Physical Transformation – Get ready! Jack-Jack's ability to transform his physical form is sure to cause some laughter (probably not from the Parrs though).
Lightning – This should be interesting for sure! Jack-Jack can also produce his own electricity. Now, this is something I would welcome with open arms in my own child 😂
Wall crawling – Oh Jack-Jack! If you're looking for him, be sure to check the side or ceilings of the walls with this superpower
For the Love of Cookies
Here's one thing I definitely have in common with Jack-Jack! Watch this hilarious clip below that shows how Bob lures him into his "norm" with cookies.
Be sure to Follow all the happenings on social media:
Incredibles 2 Facebook ⎮ Twitter ⎮ YouTube ⎮ Instagram ⎮ Website
Incredibles opens in theaters nationwide TODAY! You can purchase your tickets here.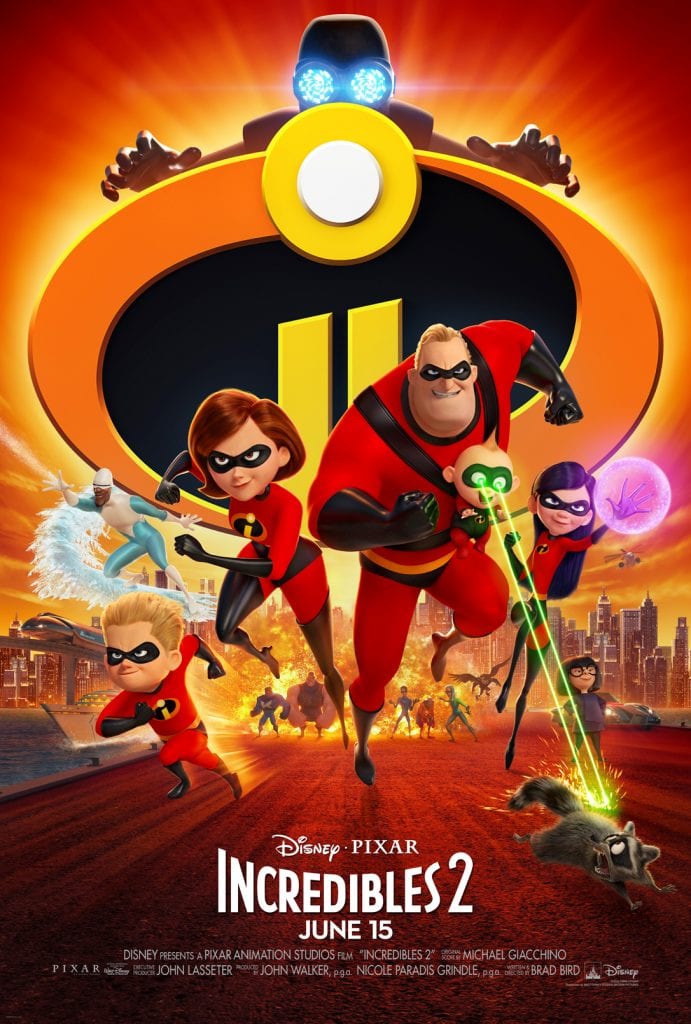 ICYMI: Be sure to check out my previous posts on all things Disney∙Pixar & Incredibles 2
GETTING READY FOR AN INCREDIBLE TIME IN SAN FRANCISCO 4/3-4/5
THE WALT DISNEY FAMILY MUSEUM AND SURPRISE VISIT TO LUCASFILM #WALTAGRAM
PIXAR FEST AT DISNEYLAND RESORT: APRIL 13-SEPT 3, 2018 #PIXARFEST
INSIDE PIXAR STUDIOS: EXCLUSIVE LOOK AT WHERE THE MAGIC HAPPENS
WHAT REALLY GOES INTO ANIMATION COSTUME DESIGN FOR INCREDIBLES 2
CREATING THE WORLD OF THE INCREDIBLES & ALL THINGS ANIMATION
FILMMAKERS DISCUSS 14-YEAR WAIT FOR INCREDIBLES 2 + PICKING UP WHERE THEY LEFT OFF
ALL ABOUT BAO FOR INCREDIBLES 2 + DOMEE'S MOM'S SUPER DELICIOUS BAO RECIPE 
INCREDIBLES 2 IN THEATERS TODAY + INCREDIBLE MEMORY GAME & DOOR HANGERS
---
This trip to San Francisco to cover the #Incredibles2Event was sponsored by Disney. All thoughts and opinions are my own.