I just learned about Pixar Fest while in San Francisco for the Incredibles 2 Event. Have you heard about it yet? It's the biggest theme park celebration and it starts today!
The overall theme of Pixar Fest is friendship so you will see those stories throughout the parks and entertainment.
I love that in true Disney fashion, they are bringing everything to life in an authentic, and true way. The biggest compliment they received to date is people asking if these parks are where the movies were filmed?
Parades are moving around, floats are being added, and a new Pixar-themed fireworks show are just a few highlights of Pixar Fest. We had the opportunity to hear from Production Manager Krista Sheffler, Creative Director Tasha Sounart and Production Manager Heidi Holman to give us the inside scoop.
Pixar Fest Details
Pixar Fest will be at Disneyland Resort for a limited time starting today through September 3rd. This will be the first-ever Pixar Fest and guests will experience some of our most favorite stories from Pixar Animation Studios. Some of stories include "Toy Story," "Monsters, Inc.," "Finding Nemo" and "Up."
Basically, everything you love from Pixar can be found right at Pixar Fest.
Pixar Fest Highlights
1. Together Forever Nighttime Spectacular
I am so excited to hear that we (because I am claiming I'll be a guest too) get to experience this show from multiple places, not just the castle. Each viewing area will give a unique perspective, and all will give a great experience.
"Guests will want to experience 'Together Forever' multiple times, to see it from the different viewing locations." You will be able to watch from the Sleeping Beauty Castle, 'it's a small world,' Rivers of America or Main Street, U.S.A."
2. Pixar Play Parade
Originally premiering in 2008 at Disney California Adventure Park, it will now make it's way daily through Disneyland Park.
3. Paint the Night Parade
This is a nighttime parade that is returning to Disney California Adventure with more than 1 million brilliant lights.
4. Favorite Pixar Pals
Head over to Paradise Gardens in Disney California Adventure, to meet popular friends such as Buzz Lightyear and Woody, Mike and Sulley, and Mr. and Mrs. Incredible (plus more)
5. Pixar Ride Adventures
There will be more than a dozen experiences for guest to enjoy that will bring you into the stories of Pixar films. I am a sucker for a great attraction, and there will definitely be some great ones.
6. Pixar-themed Eats & Treats
The culinary team is whipping up some very special eats and treats for guests during Pixar Fest. There is no shortage of magic that they are whipping up. We were told the fried bologna sandwhich was a favorite and a MUST try!
7. Pixar Wrapped Monorail
The monorail fleet has a new look with characters from "The Incredibles" and "Finding Nemo."
8. Draw your favorite Pixar Character
Drawing classes will occur every 30 minutes and guests get to take home their art as a souvenir. We got to create our own Super Hero while at Pixar. I'll be sharing my pics and additional info on Monday. Stay tuned!
What You Will Find at Disneyland
Buzz Lightyear Astro Blasters: In this interactive attraction, guests fire lasers to help battle Evil Emperor Zurg, who is trying to steal the batteries from helpless toys.
Finding Nemo Submarine Voyage: Guests take a submarine voyage to explore the world of Nemo and his underwater friends.
"It's a small world": Woody, Jessie and Bullseye from "Toy Story" and Nemo and Dory from "Finding Nemo" are among the many toys and dolls found in this classic attraction.
Character encounters with Pixar pals: Guests can continue to meet Merida from "Brave" in Fantasyland and Woody and Jessie from "Toy Story" in Frontierland.
"Fantasmic!": Favorite Pixar characters appear in the finale of "Fantasmic!" nightly on the Rivers of America.
Details For Disney California Adventure
Cars Land: Guests step into the world of Radiator Springs with three attractions plus themed shopping and dining locations across 12 acres.
Toy Story Mania!: Guests shrink to the size of toys and take aim at objects to score points in 4D midway-inspired carnival games hosted by the characters from the "Toy Story" films.
"A Bug's Land": Shrinking to the size of a bug, guests experience this story through family-friendly attractions.
Monsters, Inc. Mike & Sulley to the Rescue!: Guests take a wild taxi ride through Monstropolis with Mike and Sulley as they search for their lost human friend, Boo.
Turtle Talk with Crush: Crush, the sea turtle from "Finding Nemo," interacts with guests in live, real-time, animated conversations.
DJ's Dance 'n Drive: Interactive dance party in Cars Land gets guests moving to the music.
New Incredibles 2 Trailer!
We got to see 35 min of the film while in San Francisco for the Incredibles 2 Event. And the new trailer just dropped today on their Facebook page. Watch it below.
Be sure to Follow all the happenings on social media:
Incredibles 2 Facebook ⎮ Twitter ⎮ YouTube ⎮ Instagram ⎮ #PixarFest ⎮ #PixarFest
Incredibles opens in theaters nationwide on June 15th!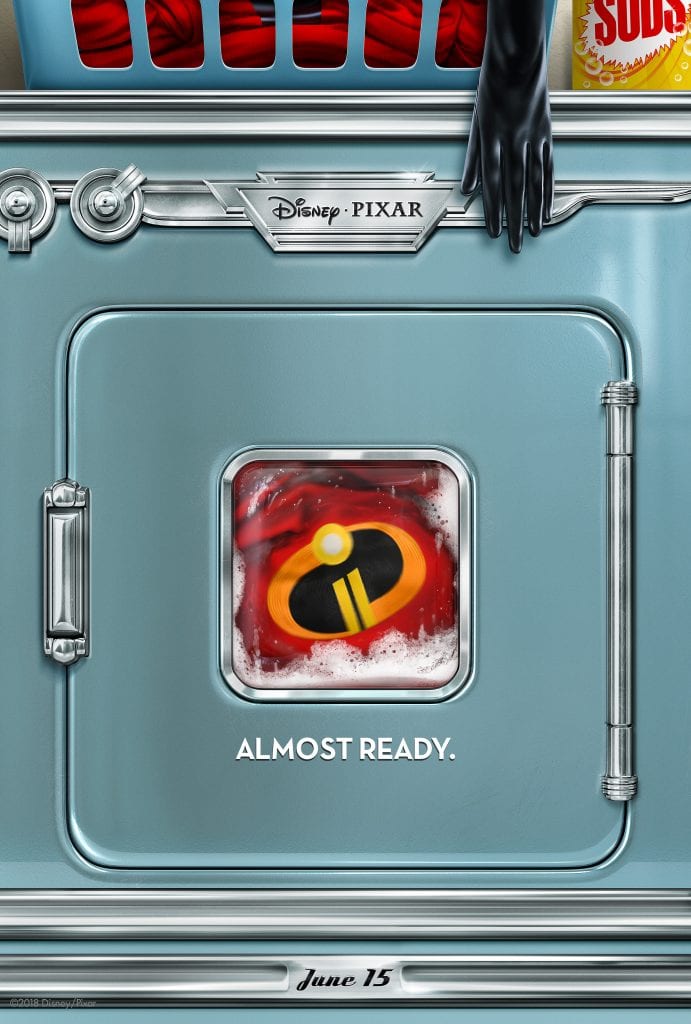 ---
This trip to San Francisco to cover the #Incredibles2Event was sponsored by Disney. All thoughts and opinions are all mine.