During my trip last month to San Francisco, I mentioned we got to do some pretty cool things. One of those things was getting an inside look at the wardrobe and costumes created for Elastigirl, Edna Mode and newcomer Evelyn Deavor, as well as others.
We got in-depth looks into what really goes into animation costume design. Huge thanks to Shading Art Director Bryn Imagire, Tailoring Lead Fran Kalal and Character Artist Deanna Marsigliese.
Personally, I was blown away by the sheer amount of research and WORK that goes into each and every animation film. Pixar's Incredibles 2 was no different.
The making of Edna's bold fashion
Who doesn't love Edna? We got to take a closer look at how her fashion line and costume for this film was created.
Through storytelling: looking at the big picture and focusing on what you want to say through the costume. For example, the first assignment with this film was Edna's fashion line.
They had to start with what was known. And what was known was in the first film. Tailoring Lead, Fran Kalal got a sense of her personal style, which Edna said herself, was bold and dramatic. She explained this was just a starting point, since most times fashion designers don't typically wear what they dress their models in.
What idea is Edna trying to convey with her line? She discovered that Edna's line needed to celebrate superheroes while being bold and dramatic. She needed to design a fashion line for a designer who loathed models. We all laughed at the irony of that.
Edna's fashion line inspired by superheroes
Once all of the pieces came together, she realized exactly how to put together her line. Edna used her line to celebrate the superheroes and their powers. The bold and dramatic were combined with the realist elements that symbolized various superpowers.
During this session, we learned that costuming is an opportunity to become the character. The trick is to think of the costume as being one with the character. The idea is that the costumes will tell you more about the characters themselves.
The role of background characters in the film
Personally, I paid little attention to background characters in the film as it relates to their costumes. But after this session, I've been paying more attention to the details.
Hundreds of costumes need to be designed specifically for background characters. Since the world of Incredibles takes place in the 1950's that is where the research started. The focus was on everyday wear for people of the time.
In research, it was identified that bold patterns and clean silhouettes were the norm. Suits were impeccably tailored which is a detail that couldn't be left out.
What not to do when it comes to background characters? They should not stand out at all. They can look stylish, but simple. They should compliment but never distract.
Introducing Evelyn Deavor
Evelyn seems to be quiet and laid back. But it's clear early on that she is brilliant and knows her way around tech. We learned that the feel and movement of the fabrics are important to each character as they are developed. Everything is hand tailored.
I totally want to go shopping in Evelyn's closet now.
Character costume details
Here's a little inside scoop on the background design for each of these characters and their costumes.
Violet: Being more rebellious, they felt 1950's style didn't quite fit her personality, but 1960's did (cuffed jeans, keds and sweaters etc).
Dash: As a pretty normal kid, just t-shirts and jeans would do. So a lot of money was saved by making one t-shirt and shading it different colors and patterns. They kept with the theme of the Incredibles colors though (red, orange, yellow).
Jack-Jack: Spends a lot of time in his diaper as you'll see LOL. Unless mommy was around, daddy didn't see a need for much more than a diaper on him. Sound familiar? He does have different color onesies.
Elastigirl: Her original costume had to be brought back, with adjustments to color because of her new role.
Edna: More like sculpture than regular clothes. Inspiration came from food, nature and Japanese culture.
Evelyn: The feel was bohemium and relaxed, but look like money. Ended up with a neutral palette, with a varied wardrobe.
Who knew math and science went into costume design?!
Costumes need to be able to change within seconds and fit into each uniquely designed character/world. Everything is always started from scratch with each film.
Check out Edna's loungewear. All I know is, I need to know where I can purchase some of these.
They start by creating a 3-D structure of the design. They literally showed us what it would look like if they did not build each one out like they did. Basically, nothing would look realistic. Costumes would not move with the characters in the way we see them now. I was blown away. I had no clue until this presentation the impeccable attention to detail Pixar takes with each and every film.
Watch the Incredibles 2 Trailer!
We got to see 35 min of the film while in San Francisco for the Incredibles 2 Event. And the new trailer just dropped today on their Facebook page. Watch it below.
Be sure to Follow all the happenings on social media:
Incredibles 2 Facebook ⎮ Twitter ⎮ YouTube ⎮ Instagram ⎮ Website
Incredibles opens in theaters nationwide on June 15th! Tickets are now on sale. You can purchase yours here.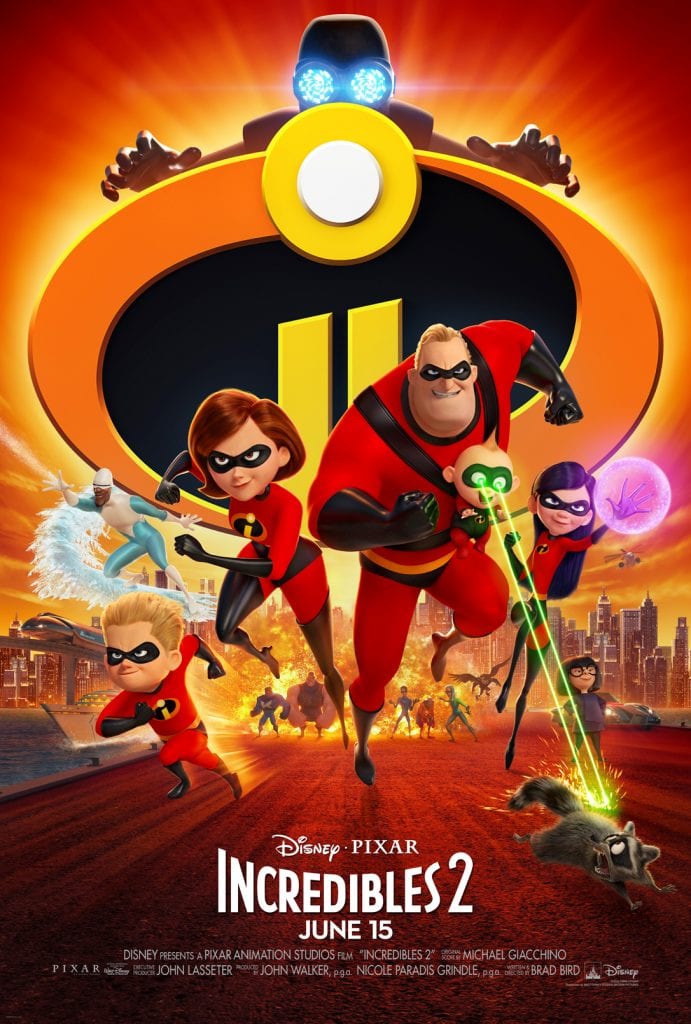 ICYMI: Be sure to check out my previous posts on all things Disney∙Pixar & Incredibles 2
GETTING READY FOR AN INCREDIBLE TIME IN SAN FRANCISCO 4/3-4/5 
THE WALT DISNEY FAMILY MUSEUM AND SURPRISE VISIT TO LUCASFILM #WALTAGRAM 
PIXAR FEST AT DISNEYLAND RESORT: APRIL 13-SEPT 3, 2018 #PIXARFEST 
INSIDE PIXAR STUDIOS: EXCLUSIVE LOOK AT WHERE THE MAGIC HAPPENS #INCREDIBLES2EVENT
---
This trip to San Francisco to cover the #Incredibles2Event was sponsored by Disney. All thoughts and opinions are my own.