A new drama is coming to ABC TV tonight and it's called 'The Crossing'. While in LA for The Last Jedi Event, I got to screen the premiere episode. I wasn't really sure what to expect, so I went in with an open mind. I came out with questions and counting down the premiere of this 11-episode series. And the time has finally come.
The series premiere of "The Crossing" airs today, MONDAY, APRIL 2nd at 10 pm EST, on The ABC Television Network, streaming and on demand.
About The Crossing
From the network that brought us Lost, The Crossing is about a group of refugees that wash up in a small fishing town claiming to be from an unexpected place: 180 years into future America! Talk about plots, twists and all types of questions!
"Pilot" – After 47 refugees mysteriously wash up in a small fishing town, local sheriff Jude Ellis teams with DHS agent Emma Ren to assess their unusual claim … that they're fleeing a war 180 years in the future. The mystery deepens when Jude realizes that one of the new arrivals possesses heightened abilities and is a threat to his town, setting the two of them on a collision course.
As the rest of the refugees acclimate to their unfamiliar surroundings, Emma learns that one has information that calls into question everything she thought she knew about our present time.
"The Crossing" stars Steve Zahn as Jude Ellis, Natalie Martinez as Reece, Sandrine Holt as Emma Ren, Georgina Haig as Dr. Sophie Forbin, Tommy Bastow as Marshall, Rob Campbell as Paul, Rick Gomez as Nestor Rosario, Marcuis W. Harris as Caleb, Grant Harvey as Roy Aronson, Jay Karnes as Craig Lindauer, Simone Kessell as Rebecca, Kelley Missal as Hannah, Luc Roderique as Bryce Foster and Bailey Skodje as Leah. Recurring guest star Luke Camilleri as Thomas.
3 Things to Know About The Crossing on ABC
We interviewed Executive Producers Dan Dworkin and Jay Beattie after screening the premiere episode. Without giving away any spoilers, there's definitely a lot to unpack in this new series. And the first episode doesn't waste any time getting into the storyline. So I wanted to share these specific highlights from our interview with Dan and Jay.
The idea stemmed from a photo

The idea for the show literally stemmed from a single photo. It was a photo of a dad holding on to his little boy. Jay shared that the discussion started with figuring out how to tap into "what's happening in the world but not make it ripped from the headlines?  How do we get some distance from it?  Which is why we dipped into this sci-fi genre because it gives you that distance from something that's happening now, to talk about and explore socially relevant issues.

We decided to make these refugees from America to avoid comparisons to refugees coming from different countries and different religions. We wanted to really focus on the people and the experience that they're going to have here as refugees versus any sort of sociopolitical baggage that might come along with it."
You will get just enough in each episode

Executive Producer, Dan Dworkin addressed the mysterious storyline and how it will unfold in subsequent episodes.  "I think the way we structured it, it's the perfect balance of getting something answered and getting another question asked, pretty much every episode. There's a lot going on.  There's a lot of questions. 

We resisted the impulse to answer too much too early.  But at the same time, we've watched shows where you don't get anything answered and then at the end of the season you're like oh, I was entertained but I feel like I've been cheated.  We don't want that.  So, we'll be giving people enough I think, more than enough."
The "Level of WHOA" is intentional

Within the first 5 minutes of the show, there is no time wasted in getting you hooked. So we asked if this is what we should expect with every episode?

"When we set out the beginning of the season, we said we need to figure out a way to replicate the level of 'whoa' from the pilot in every episode.  Now, the pilot is special.  The pilot has a scope and an epic feel to it that you can't quite achieve episode to episode necessarily.  But idea wise I think we do." [Dan Dworkin]

So just expect to have cliffhangers from week to week, waiting for the next episode to air. I have a love/hate relationship with cliffhangers. But they do keep me coming back.
Watch The Crossing Trailer
Tune in and follow along
You definitely want to tune into this premiere episode. But if you need to get caught up or rewatch past episodes, you can stream or watch on the app after they've aired on ABC.
You can also follow along on social media using the hashtags #TheCrossing and #ABCTVEvent
Stay connected to all things "The Crossing" on ABC: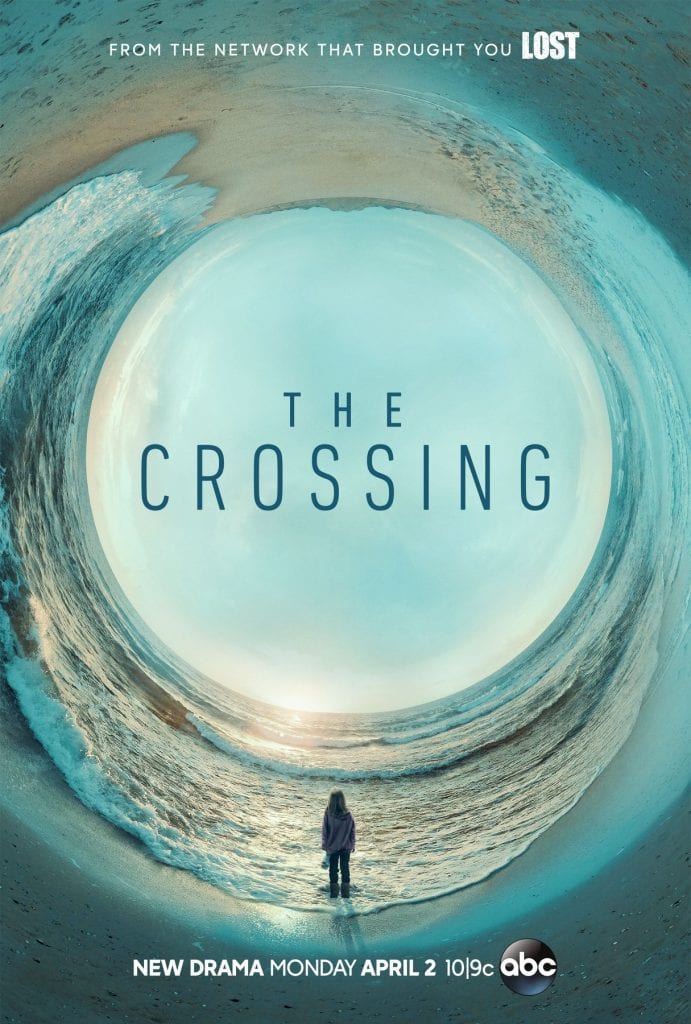 ---
This trip to LA for the screening of 'The Crossing' was part of a press trip for The Last Jedi Event in partnership with Disney. As always, all opinions are my own.