Wow! Can you believe we are at the halfway mark of 2018?! Even better is that we are now only 11 days away from opening day of Incredibles 2! And unless you've been living under a rock, then you're just as excited and ready as the rest of us are.
Over the past several weeks I've been sharing the exclusive experience I had at Pixar back in April (links to all the coverage is below). While at Pixar, we got to do some pretty cool things, like chat with the filmmakers about Incredibles 2. We got to experience an intimate conversation with Director Brad Bird, and Producers Nicole Grindle and John Walker. Check out the details below.
On the 14-year wait for Incredibles 2
Director Brad Bird shared his thoughts on how it got to be 14 years later before we're finally getting to experience the sequel for Incredibles. He explained that with a successful film like the first one, it may not always be a great idea to follow-up right away with a sequel. Sometimes you want to take your time, think about it and just enjoy the process.
There were also some other projects that were more at the forefront for him. But the more he "chewed on it", the more he thought about how cool it would be. Before he knew it, it was almost 15 years later and he thought, "Holy crap, I better get going!" 😂And get going he did!
The long wait was not intentional or calculated in any way. And he chuckled as he shared that it would've probably been smarter if it was done a lot sooner.
Some things the filmmakers are excited about
The biggest change that was shared was obviously Dash. They always knew he would have to be recast even for the first film because of his distinctive voice. And they got really lucky this time around!
Jack-Jack scenes were some of the favorites amongst the filmmakers. Of course, how could they not be?! 😄He's so cute!
Their main goal with this film? Entertain the crap out of people and for them to consume huge amounts of popcorn, soda and have a great time doing it. Check and check.
There were a lot of original ideas that were kept. But the superhero plot changed a lot. However, the core idea of Helen getting the mission and Bob staying at home and them having to cope with the baby's powers was Director Brad Bird's oldest idea for this film. I seriously can't wait to see Supermom Helen in action!
On picking up where they left off 14 years ago
I got to ask the filmmakers: Was it an easy decision to pick up where you left off from the original film or did you ever consider aging them?
Brad Bird: I had half a thought of aging them up. But the minute you do, you lose a lot of the iconic power of the idea. Because we're not limited to linear aging the way live-action films are, where if an actor is ten years older, you better write a line in there where they talk about being ten years older or the audience is not going to go for it.
He shared with us they're not limited in that way. As long as the character voice hasn't changed much, they can pick it up where the last movie left off.
For me, the boldest thing a movie (that's taken 14 years to happen) can do is to pick up right where they left off. Who else can do that? No one! [laughs] So, we did it! 
Are you ready for Incredibles 2?! Watch the trailer below!
We got to see 35 min of the film while in San Francisco for the Incredibles 2 Event. So excited we are in the home stretch of finally being able to see it.
Be sure to Follow all the happenings on social media:
Incredibles 2 Facebook ⎮ Twitter ⎮ YouTube ⎮ Instagram ⎮ Website
Incredibles opens in theaters nationwide on June 15th! Tickets are now on sale. You can purchase yours here.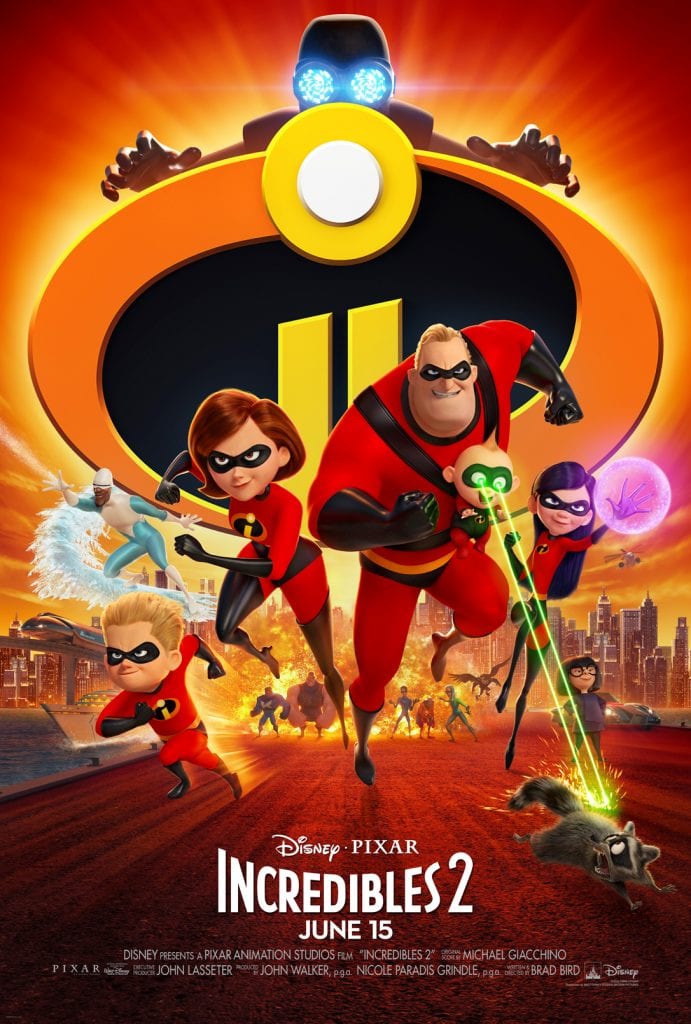 ICYMI: Be sure to check out my previous posts on all things Disney∙Pixar & Incredibles 2
GETTING READY FOR AN INCREDIBLE TIME IN SAN FRANCISCO 4/3-4/5
THE WALT DISNEY FAMILY MUSEUM AND SURPRISE VISIT TO LUCASFILM #WALTAGRAM
PIXAR FEST AT DISNEYLAND RESORT: APRIL 13-SEPT 3, 2018 #PIXARFEST
INSIDE PIXAR STUDIOS: EXCLUSIVE LOOK AT WHERE THE MAGIC HAPPENS
WHAT REALLY GOES INTO ANIMATION COSTUME DESIGN FOR INCREDIBLES 2
CREATING THE WORLD OF THE INCREDIBLES & ALL THINGS ANIMATION
---
This trip to San Francisco to cover the #Incredibles2Event was sponsored by Disney. All thoughts and opinions are my own.