Hopefully, you've been enjoying #StarWarsWeek here on the blog. Today we are focusing on The Last Jedi Global Press Junket experience. The event was moderated by Anthony Breznican, who writes about Star Wars for Entertainment Weekly.
I'll be back tomorrow and Friday with exclusive interviews with both General Hux and Rose Tico. We got to chat it up with these awesome stars during the Global Press Junket a couple of weeks back.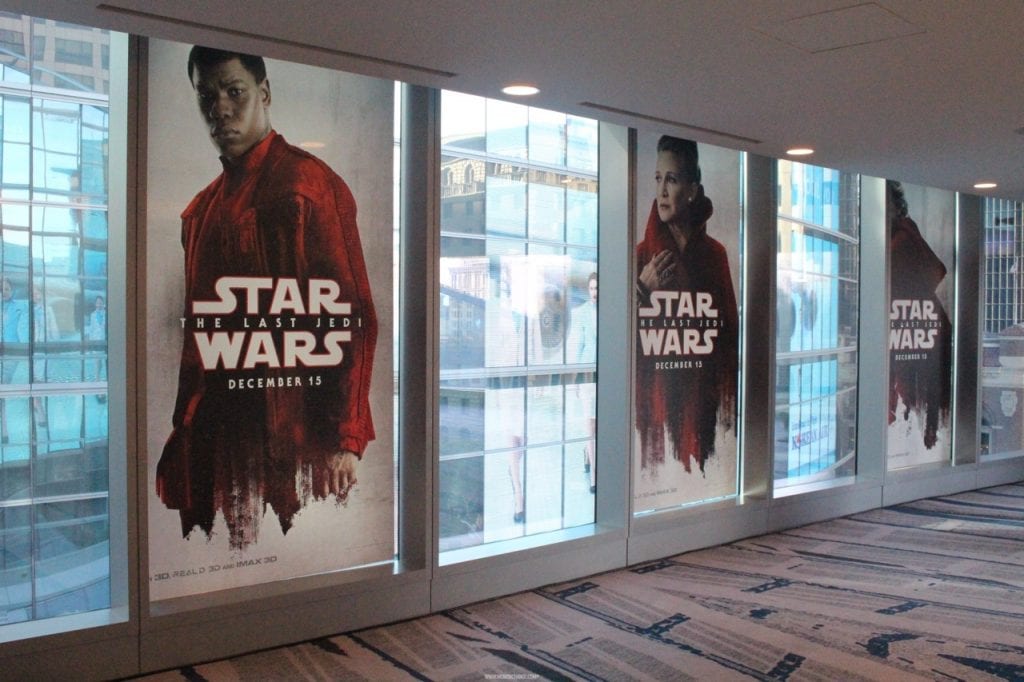 If you missed it, I shared my interview with Vice Admiral Holdo on Monday and Captain Phasma yesterday. I also did a no-spoiler review of the movie yesterday.
Last week, I shared some insider peeks into the event that took place after the press conference. Today is all about the press conference itself. There was a lot of info covered. So I'm focusing on a few highlights, especially from those we didn't get a separate interview with.
You can also watch most of the junket I recorded on my Instagram Live feed below. So let's get into it!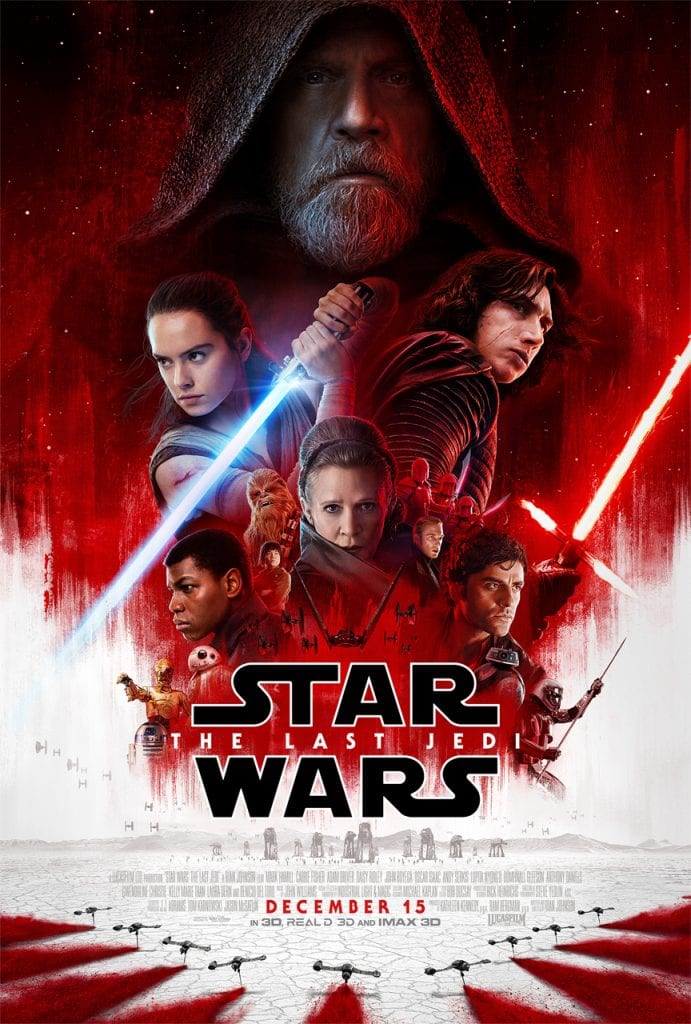 Kicking off the Jedi Global Press Junket
I honestly was expecting there to be hundreds of media professionals, but it was more intimate than I thought it would be. I was able to squeeze into the second row. I loved that the cast was escorted into the room by the Praetorian Guards (which we later got some photo opps with).
Anthony introduced the cast one by one to the stage, and warned us that he would direct the Praetorian Guards to kick out anyone that was causing trouble — including Finn — John Boyega himself.
Global Press Junket
It really felt surreal to see the cast all together. To be in the same room was truly an experience I will cherish forever. I loved the chemistry between the cast because it felt like they were just family and friends having a conversation.
And as much as people tried to get some spoilers out of them, it didn't happen. The cast had just seen the film for the first time the night before (all except General Hux/Domhnall Gleeson – more on that tomorrow when I share his interview). So it was awesome to hear their takeaways and how they were feeling in that moment.
Writer and Director, Rian Johnson spoke about the newcomers to the Star Wars films, Laura Dern (Vice Admiral Holdo) and Kelly Marie Tran (Rose Tico). I loved that they both talked about how they simply geeked out knowing that they would be in the movie. They had to learn how to focus and be in the moment of awesomeness that is Star Wars.
Rian Johnson spoke about the overall feel of the film
It's the second movie in the trilogy and I think we've been kind of trained to expect it'll be a little darker and obviously it looks a little darker. First and foremost we were trying to make it feel like a Star Wars movie. And that means you have the intensity and you've got the opera. But it also means that it makes you come out of the theater wanting to run in your backyard, grab your spaceship toys and make them fly around, and that's a key ingredient to it. So we're going to go to some intense places in the movie but I hope also it's fun, it's funny.
Rian also spoke fondly about working with Laura Dern. He said, "It's a dream just to get to work with her. And the character that she plays in all of its glorious purple-haired wonder, we were really able to dig in and do some really exciting, fun stuff."
About the theme of meeting your hero & living up to expectations
Here's what Rian had to say: It's about the transition from childhood into adulthood, and finding your place in the world. You have these new powers that you're feeling inside yourself for the first time; you don't know what to do with them. You don't know who it is you're going to get help from, who's going to be unreliable, who's not.
Navigating those very tricky waters that we all have to navigate, that's why it's so universal. So part of that is your relationship to heroes and people you thought were your heroes; people you don't expect to become your heroes. And that's definitely something that plays out in this film.
John Boyega weighs in on The Last Jedi vs. Force Awakens
I just think the story's moving forward. I feel like J.J. had a blueprint, a foundation of Force Awakens that was pretty good and now it's about moving forward with the story and challenging the characters. And then all the characters are under intense pressure, so it's a time which everyone has their own specific reckoning, and it's all different.
It's a lot going on. I've only watched it once and the first thing is that I want to watch it again because of the amount of information and Easter eggs in there as well.
John also shared his feelings on how surreal it still feels to be a part of Star Wars.
I'm still trying to get over it. I can't lie. Because I think what we forget is that when we filmed Force Awakens it was about two years between then, before we started on Last Jedi. Every day was a new set. The practical effects I think doubled in this movie. The sets were bigger and it's always exciting and amazing, but as everybody has said, you still feel an intimacy when you're doing these scenes.
Daisy Ridley also shares how The Last Jedi felt different
I mean, the biggest thing for me when I read the script, I was a bit nervous about not being a team [with John] so much in this one. So I think for me personally it was a challenge because people responded well to John and I as a team. The film was a challenge and I don't know what it was like for anyone else, but to be in different combinations of people. We're in different situations. We're with different people that we are learning about and meeting for the first time. So yeah, felt pretty different for me.
Rey…ahem…Daisy also shared how she is still amazed at the response to all of the girl power. She was asked what it meant to her?
I think what's great about everyone is it's not like she's a girl, this is a guy, this is anything, everyone's just, it's just great characters that happily are falling into broader categories now, so I'm thrilled.
I loved that Anthony asked about the dynamic between Hux and Kylo Ren. It's like you see them in Force Awakens and they're supposed to be on the same side, but then there is that unspoken competition between the two.
Adam Driver on the Hux and Kylo Ren dynamic
I think there's definitely a competition and it's maybe yet to be discovered where that comes from. So I love playing those scenes, especially with Domhnall, 'cause he's a great actor and there's nothing taken for granted. If anything, Rian slows the pace and there's not a moment that's taken for granted. It's always broken up into little pieces and the story in our mind comes first before an explosion.
Mark Hamill for the win
I think Mark Hamill had the best non-spoiler answers of all. I just loved how quick he was. Like, when someone asked how it was to train Rey, did it feel like when Yoda trained Luke in Empire Strikes Back?
His answer: Well, you're assuming that I train Rey. I know. I have to be really careful. People say, was it difficult to pick up and wield a lightsaber again, and I go, do I pick up a lightsaber?
Mark Hamil's big promise: I can promise you my part is twice as big as it was in The Force Awakens.
When asked how this movie was like or differed from the other movies, Mark simply responded with: It's longer. LOL #Epic
The cast of Star Wars walked the red carpet last Saturday for the World Premiere. They all looked amazeballs and I just loved following the journey on social media (and of course secretly jealous I wasn't there LOL).
Before I go, I have to take a moment to talk about the oh so fabulous Lupita Nyong'o. We all know her as Maz Kanata, a fierce alien that first appears in The Force Awakens. She's more than a thousand years old & knows how to survive the underworld. I love her cause she is a fun and spicy character. And of course, I can't WAIT to see her in Black Panther come February.
Last Jedi Global Press Junket live video
Don't forget to follow #TheLastJediEvent on social media. And be sure to stay connected to all things Star Wars: The Last Jedi below.
Like STAR WARS on Facebook – Follow STAR WARS on Twitter – Follow STAR WARS on Instagram –
Follow STAR WARS on YouTube – Visit the official STAR WARS: THE LAST JEDI website
STAR WARS: THE LAST JEDI opens in theatres everywhere THIS Friday, December 15th! Have you purchased your tickets yet?
---
In case you missed these other #TheLastJediEvent posts:
I'M HEADED TO LA 12/2-12/4 FOR ALL THINGS STAR WARS: THE LAST JEDI #THELASTJEDIEVENT
MAGICAL HOLIDAYS AT DISNEYLAND + STAR TOURS: THE ADVENTURE CONTINUES #THELASTJEDIEVENT
BEHIND-THE-SCENES AT THE STAR WARS: THE LAST JEDI PRESS EVENT #THELASTJEDIEVENT
INSIDE STAR WARS: THE LAST JEDI WITH LAURA DERN AKA VICE ADMIRAL HOLDO #THELASTJEDIEVENT
BECOMING CAPTAIN PHASMA: EXCLUSIVE INTERVIEW WITH GWENDOLINE CHRISTIE #THELASTJEDIEVENT
STAR WARS: THE LAST JEDI FULL MOVIE REVIEW IN GIFS #THELASTJEDI