Disclosure: This trip to LA  for #TheLastJediEvent was sponsored by Walt Disney World. As always, the thoughts and opinions are my own. 
---
As you know, this time last week I was preparing to head out to LA for the Star Wars press junket. It was three days of non-stop amazingness and the second day was dedicated solely to Star Wars and all that The Last Jedi had to offer. Next week I'll be sharing all of the exclusive press junket info and interviews we got to conduct with Laura Dern ("Vice Admiral Amilyn Holdo"), Gwendoline Christie ("Captain Phasma"), Domhnall Gleeson ("General Hux") and Kelly Marie Tran ("Rose Tico").
But today, today is allll about what took place after the press junket eneded. In a nutshell, this was pretty much how the day felt…
The day started with the Global Press Junket (which I'll talk about more in depth next week including video clips). We were in line by 8:30 to get our press credentials for the 10am press conference.
I loved getting to hear from the cast first-hand about their experience with the film. They also shared some of their favorite moments as well as of course, gave tribute to Carrie Fisher.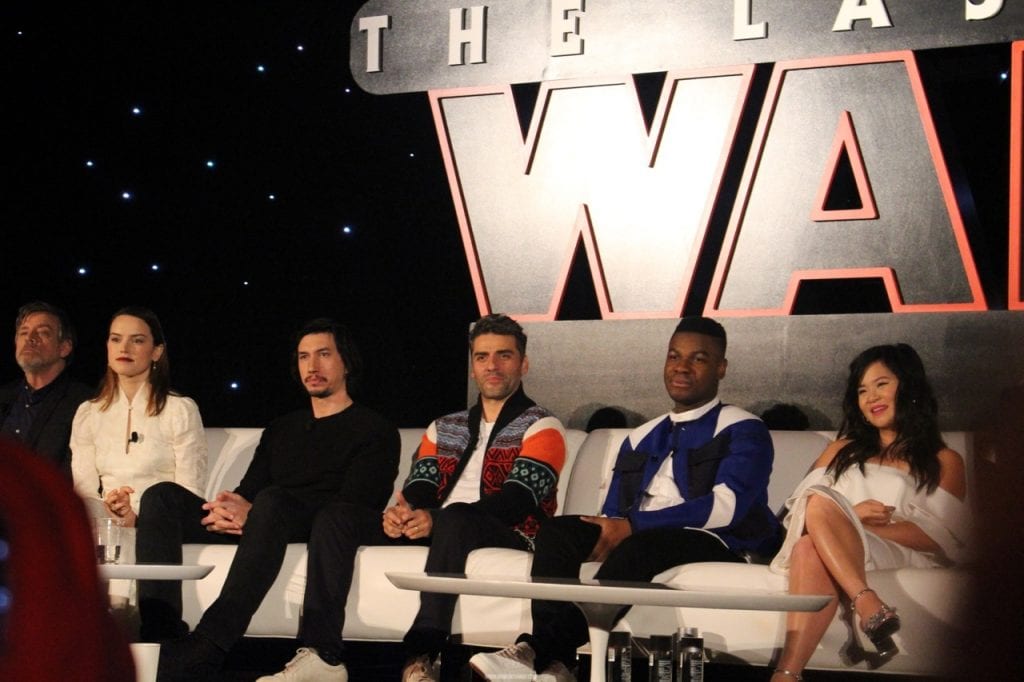 Fun after the press junket
After the interviews finished during the press junket and we finished some additional interviews with members of the cast, it was time to go have some fun.
I geeked out over several things. One thing is for sure: Disney creates an experience out of every single thing. And this was no exception.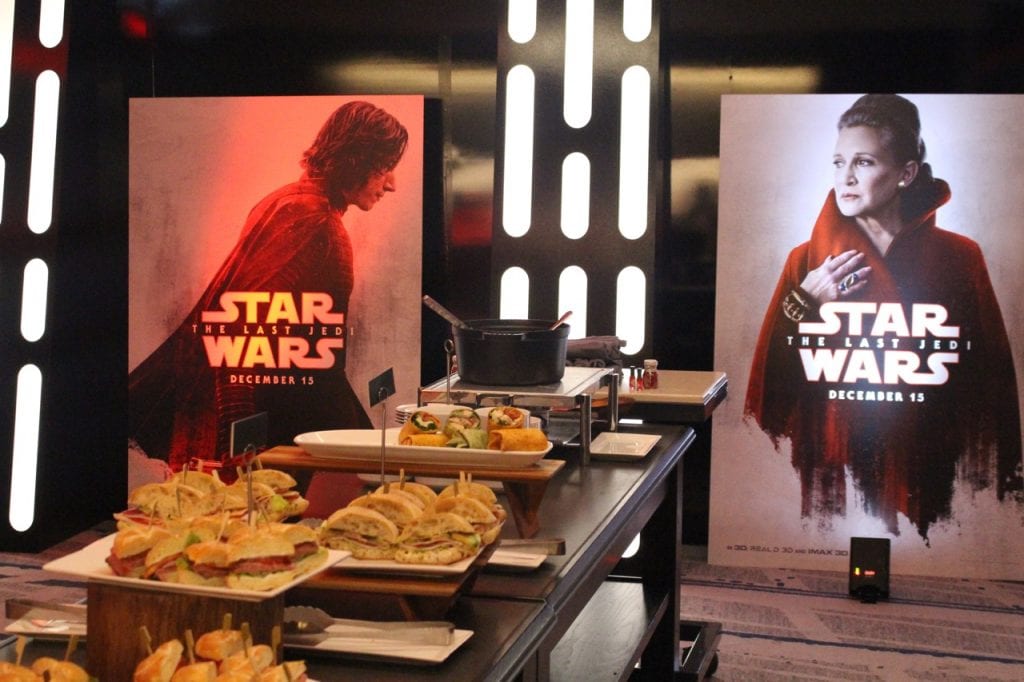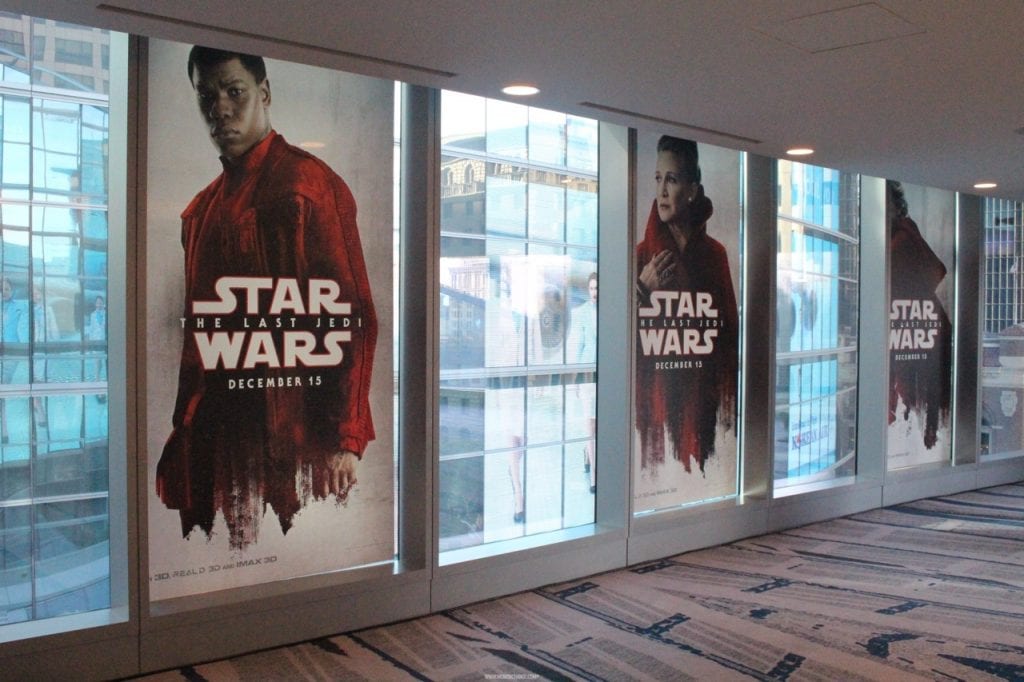 Star Wars Costume Vignettes
I loved that they had these costumes on display. It was amazing to see up close and personal. They had Rey, Kylo Ren, Luke Skywalker and of course, Princess Leia.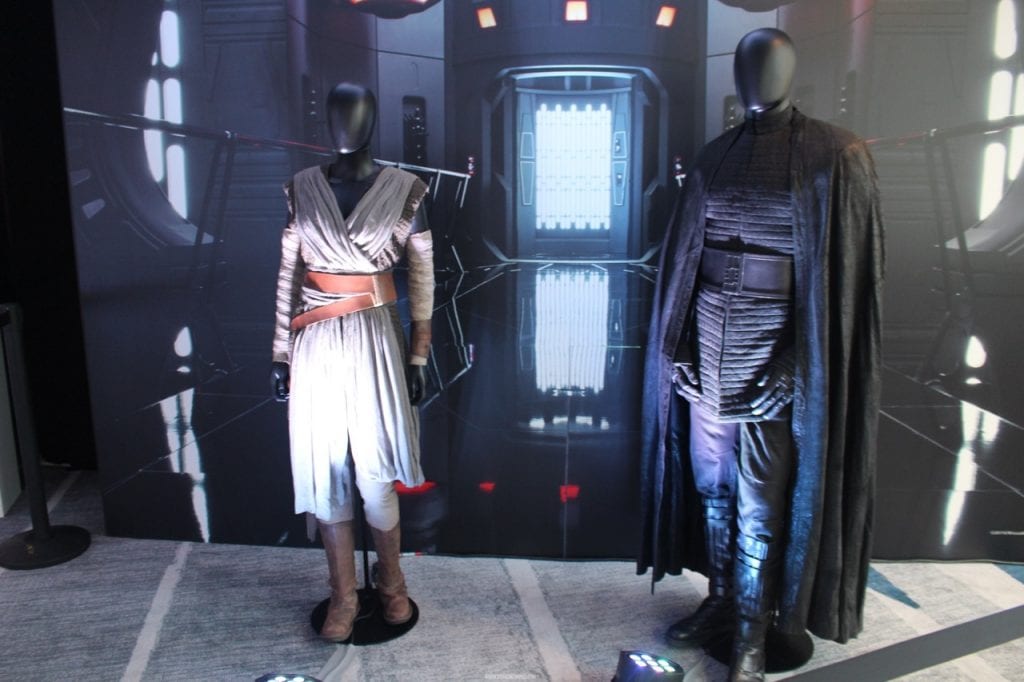 Disney Consumer Products Display
I marked off several things that I wanted to get in this product display. They had everything from clothes to shoes (yes) to toys and more. I loved that they had products from —- which gives back a percentage of proceeds to ——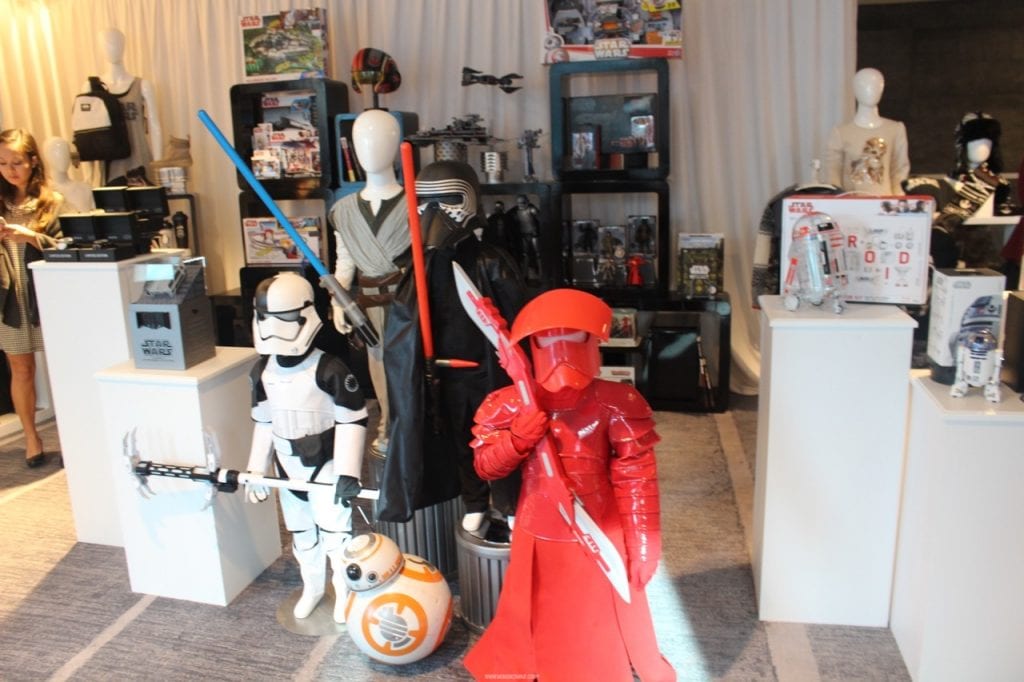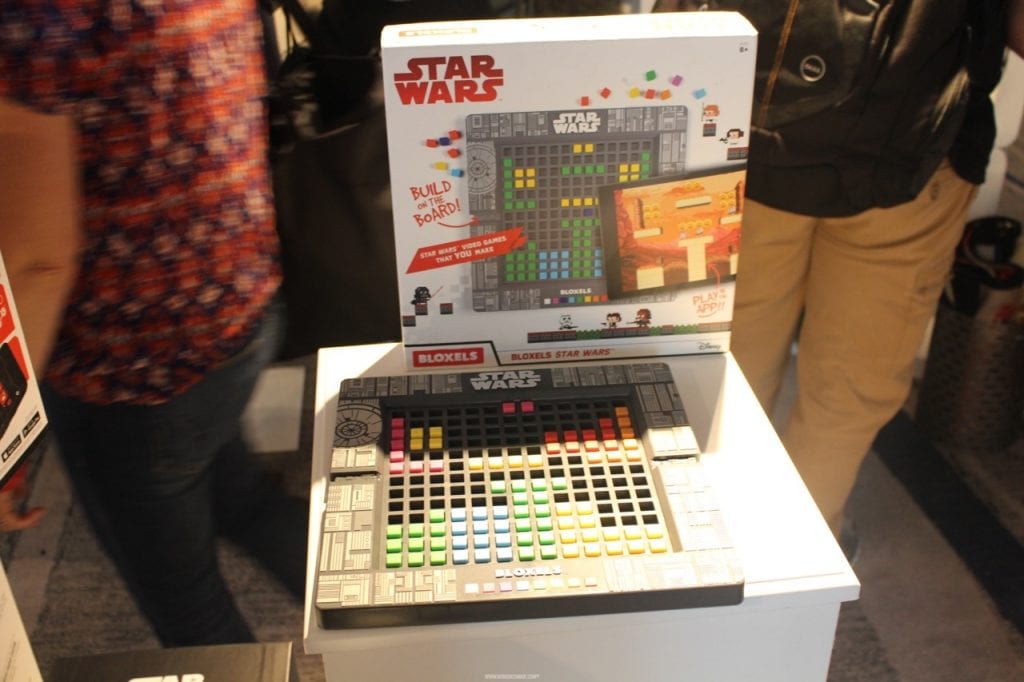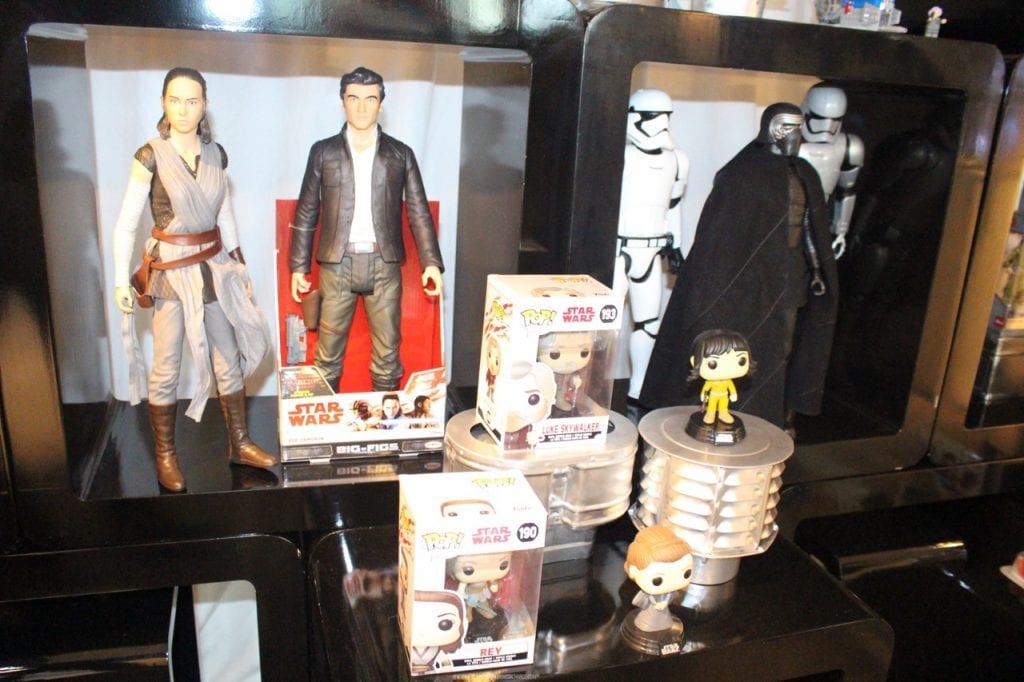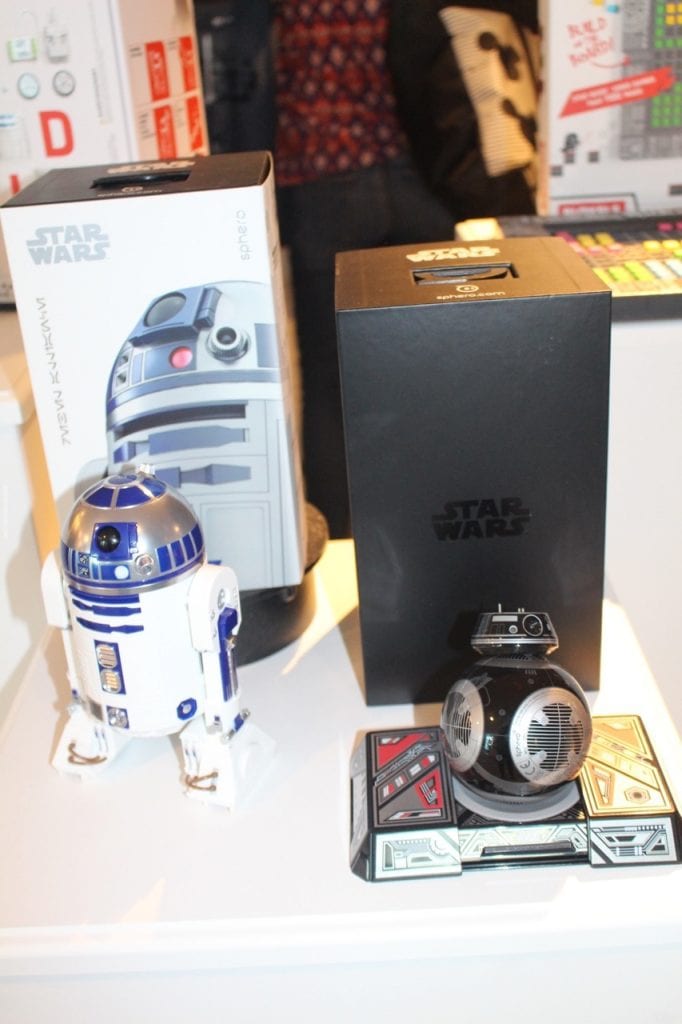 X-Lab Virtual Reality Demo AKA Jedi Challenges
I didn't get anyone to get pics. But somehow I managed to have someone record this video. I look hella crazy but I had so much fun. I told the hubby we may have to get this one. It's now avaialble at Best Buy.
Movies Anywhere Lounge
Have you heard of the Movies AnywhereMovies Anywhere app? I love that it is a FREE service that allows you to watch your movies where and whenever you want. You only pay for the movies that you purchase. This is perfect for our family because we only purchase digital movies from iTunes.
This service will allow us to connect to our iTunes account and sync our movies. Of course, it made perfect sense to have a Movies Anywhere Lounge at the press event. And they did 🙂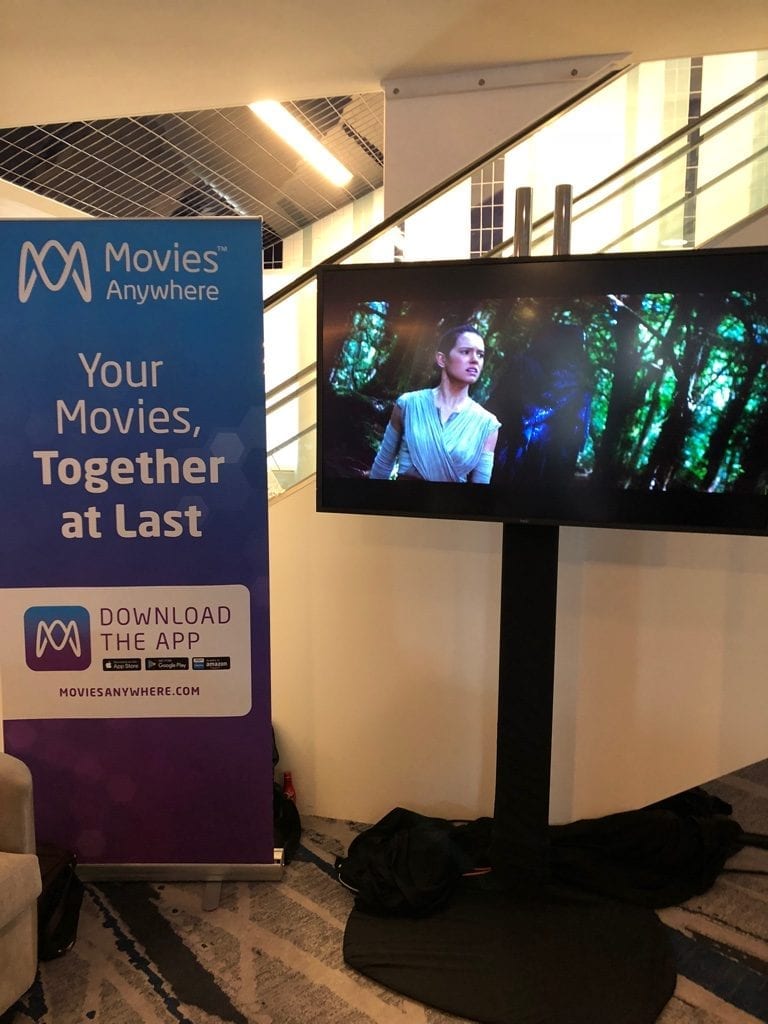 littleBits Display
I can't remember when I first heard about littleBits, but I immediately put it on my list of things to get my 8-year-old daughter. She just started teaching herself how to code and I know she would love building her own droid.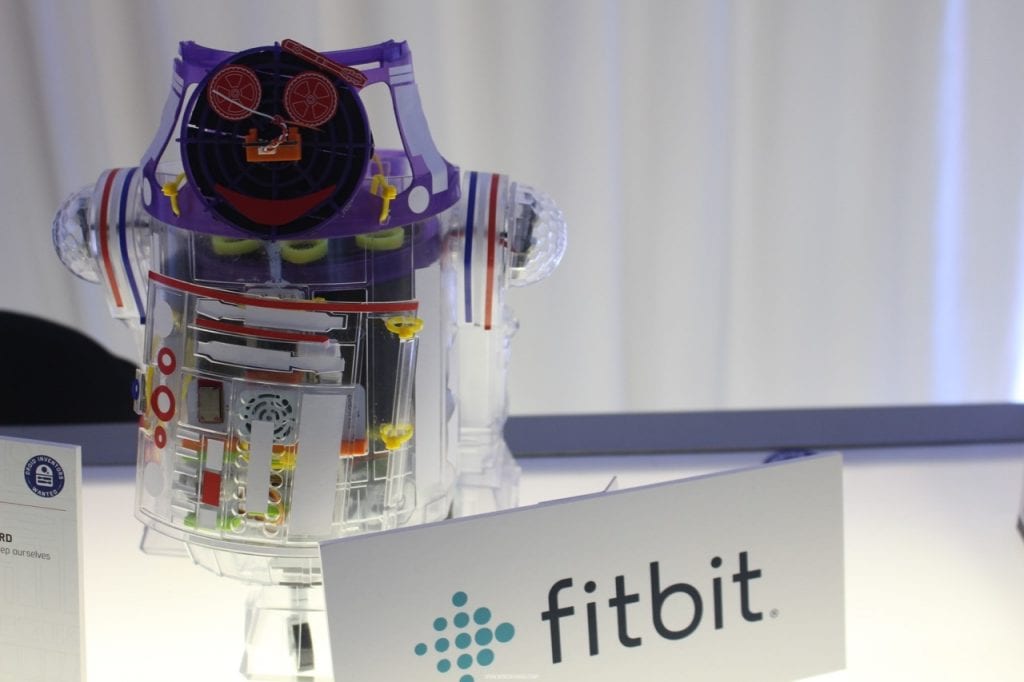 I loved the creativity displayed from organizations entering into the littleBits competition.
Using the littleBits Droid Inventor Kit, kids and adults will create their own custom Droid, choose the category that best fits their experience level, and enter the Droid into the contest. There are two categories: Padawan Learners and Jedi Masters.

Padawan Learners: Don't be afraid to use all the Bits you own, and add craft materials like cardboard, styrofoam, pipe cleaners, mom's jewelry, and whatever else you can find at home or in your makerspace.

Jedi Masters: Are you a master maker? Do you create complex inventions on the regular? Could you earn an honorary degree in Droid Invention? This category's for you! Start with Bits, then level-up. And up. And up!
Find out more about the competition here and what you win (and how some of the judges are cast members of the film). All entries must be submitted by January 10 at 11:59pm ET.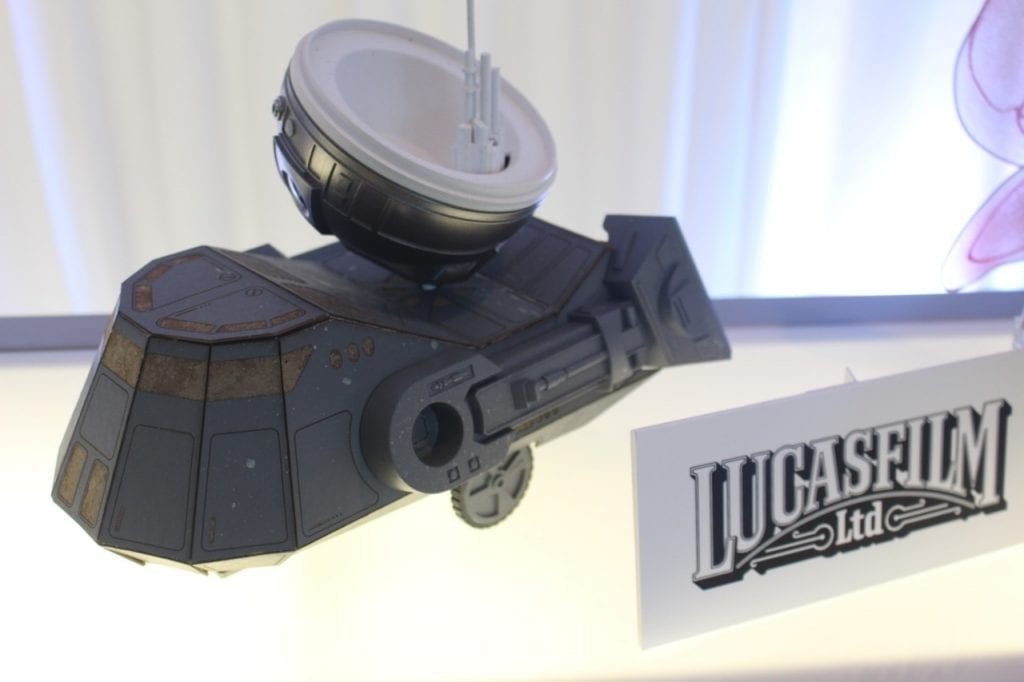 If your family is a Droid lover, then they will definitely enjoy bringing home a littleBits kit and bringing your Droid to life using littleBits electronic blocks!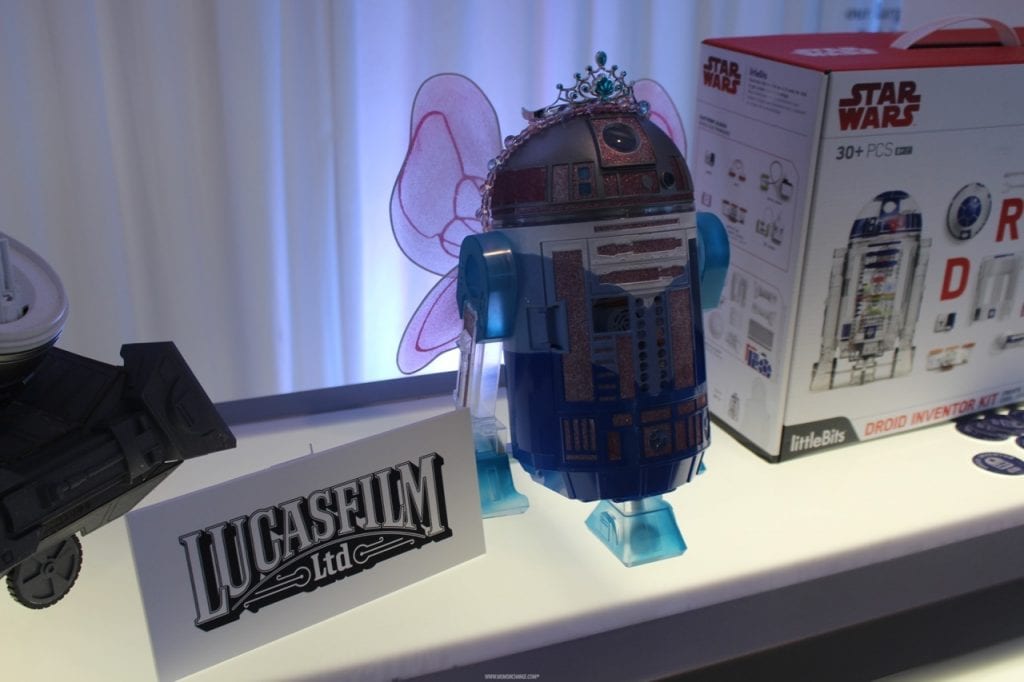 Disney Parks – Star Wars: Galaxy's Edge Sketches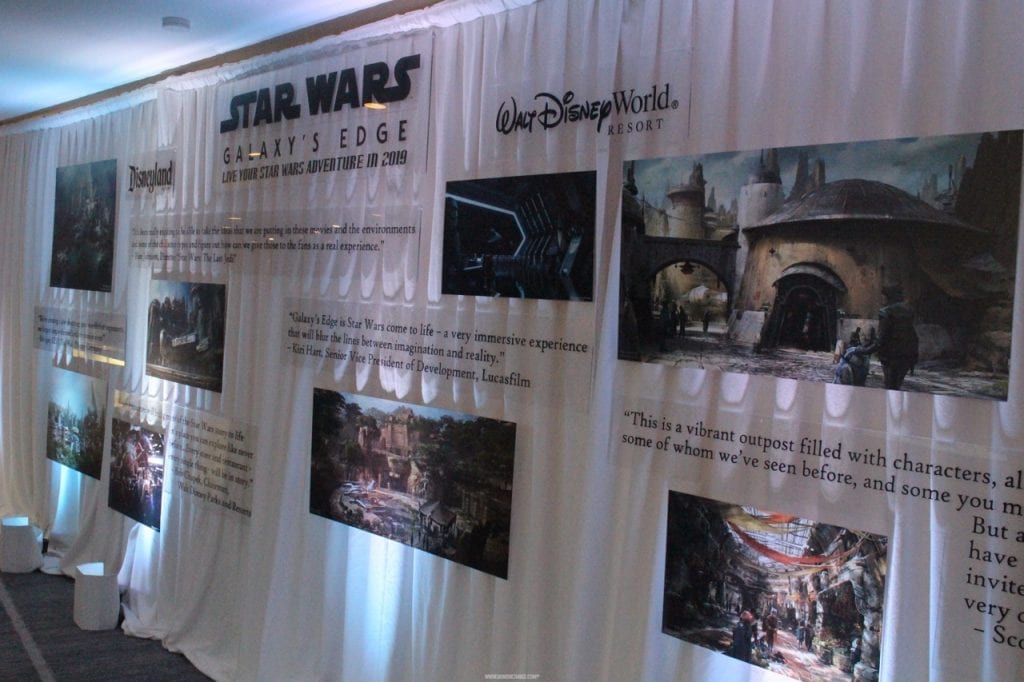 Director Rian Johnson's On-set Photography Display
Somehow I missed the actual display onsite. So I was happy when I came across this tweet the other day.
Rian Johnson revealed he may publish a book of his black and white photos from his personal camera documenting the creation of #TheLastJedi, an idea we fully support! #StarWars Someone make this happen. Just look at these beauties…@starwars @rianjohnson @StarWarsUK pic.twitter.com/K9FKwXUcpg

— SWNN (@StarWarsNewsNet) December 3, 2017
Ample Hills Ice Cream sampling
First of all, they had me at ice cream. I am an ice cream fanatic. Seriously, my old roommate used to always joke that even if we didn't have food in the fridge, we would always have ice cream LOL.
So when Ample Hills rolled through with these delicious treats, I definitely had to help myself to a couple.
They launched Find out more about the competition here in collaboration with Disney and Lucasfilm. The three flavors are:
The First Order: salted dark chocolate ice cream (represents the dark side)
The Resistance: brown sugar and vanilla ice cream w/ assortment of mix-ins
The Force: sweet cream ice cream w/ chocolate fudge
The Force turned out to be my favorite. I had never heard of Ample Hills, but will definitely be on the hunt for The Force while it's available.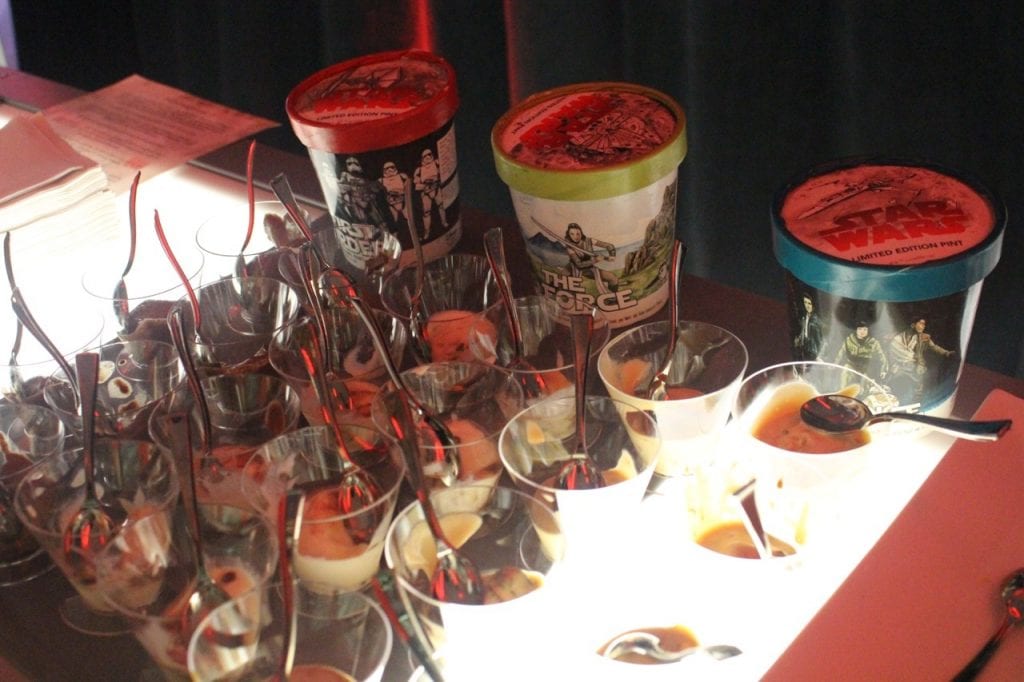 Phillips Product Display
Even Phillips is getting in on The Last Jedi action with their limited edition Star Wars clippers. Now you can get the perfect shave inspired by the dark side.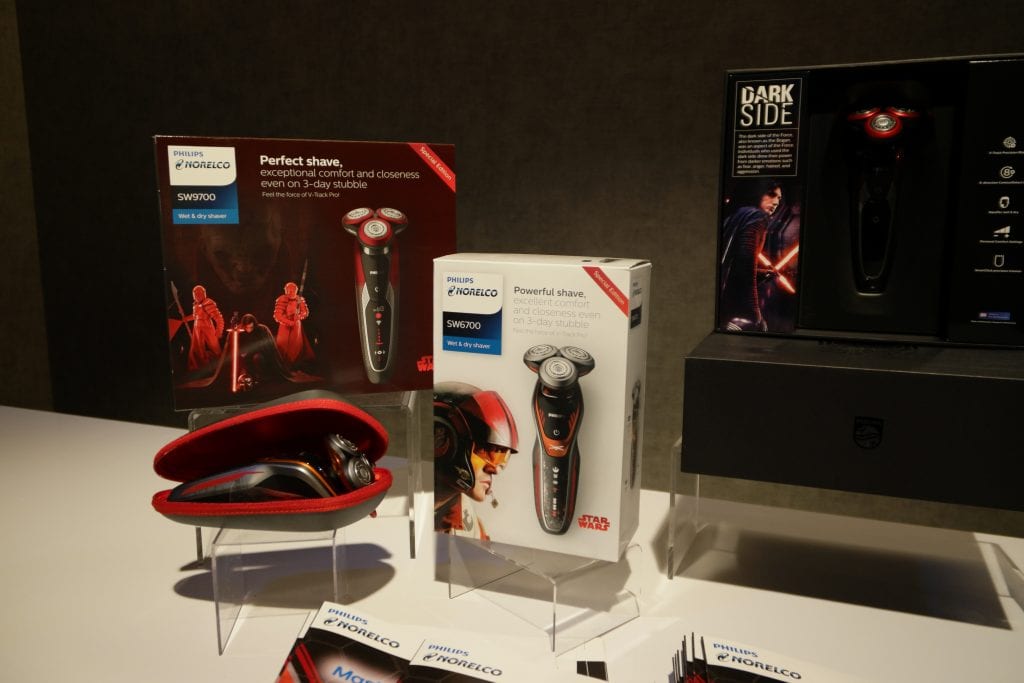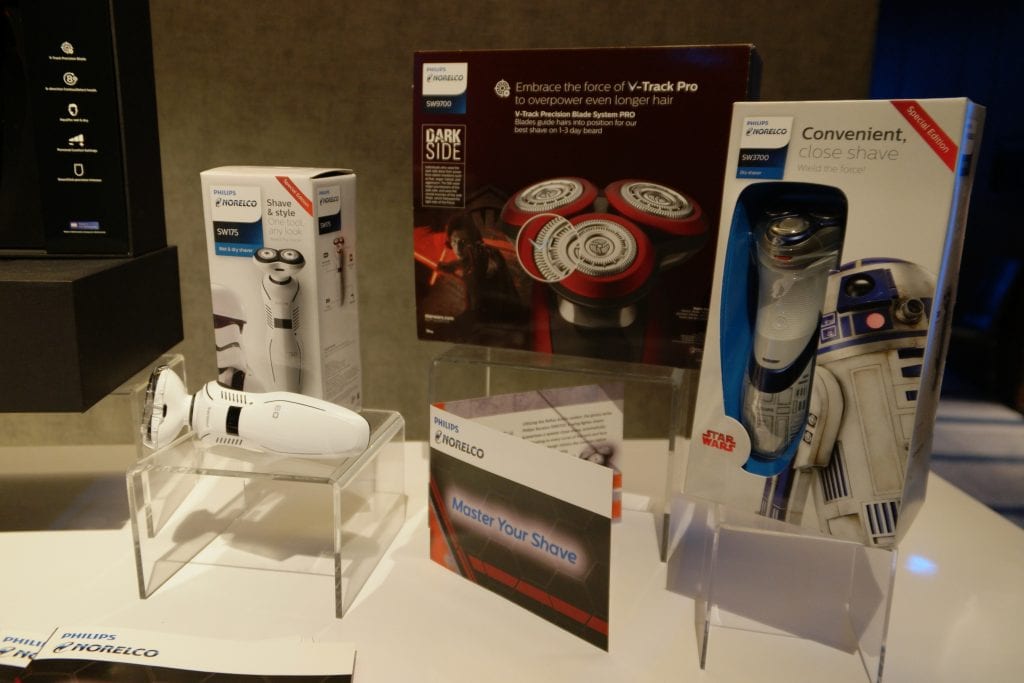 T-Shirt Making Station 
This is something I was most excited about because I had never seen it or experienced it in any way. But we each got to select and have one t-shirt made of our choosing. By the time I got there, they had run out of my size. So I decided to make one for hubby instead.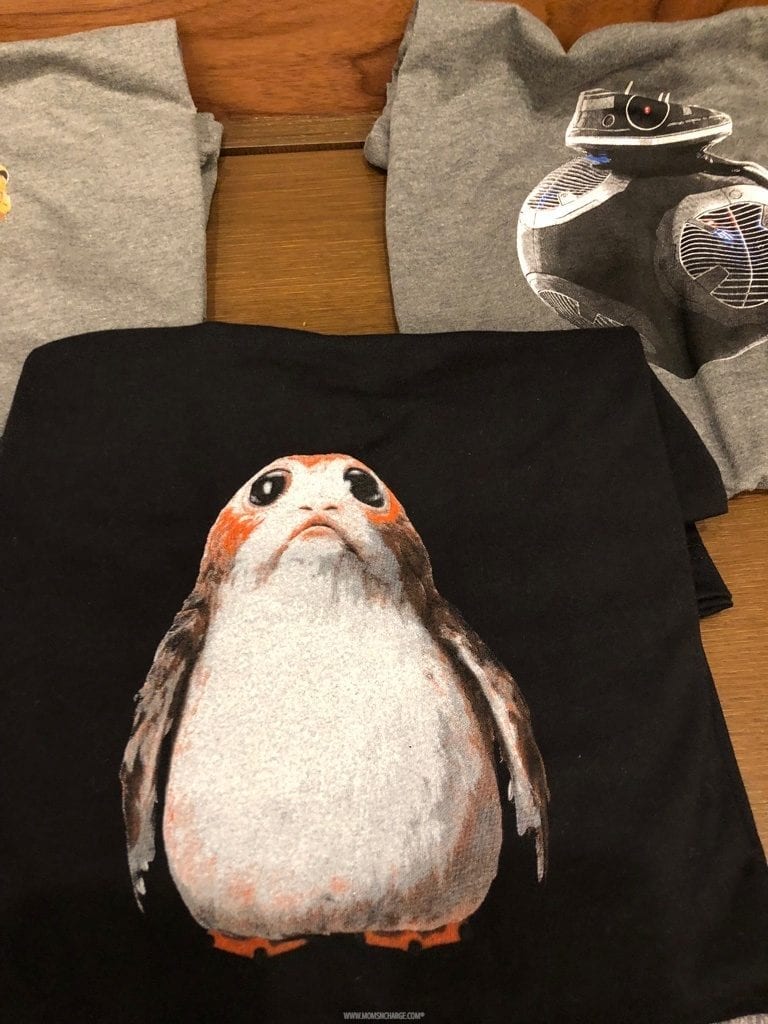 It was so cool to watch the process. The quality of the t-shirts was stellar. I couldn't believe how quickly they were done and how quickly they dried as well.
I'm thinking hubby is gonna love it when he finally sees it. BB9-E for the win! He might just wear it when we go to see an early screening of the film next week.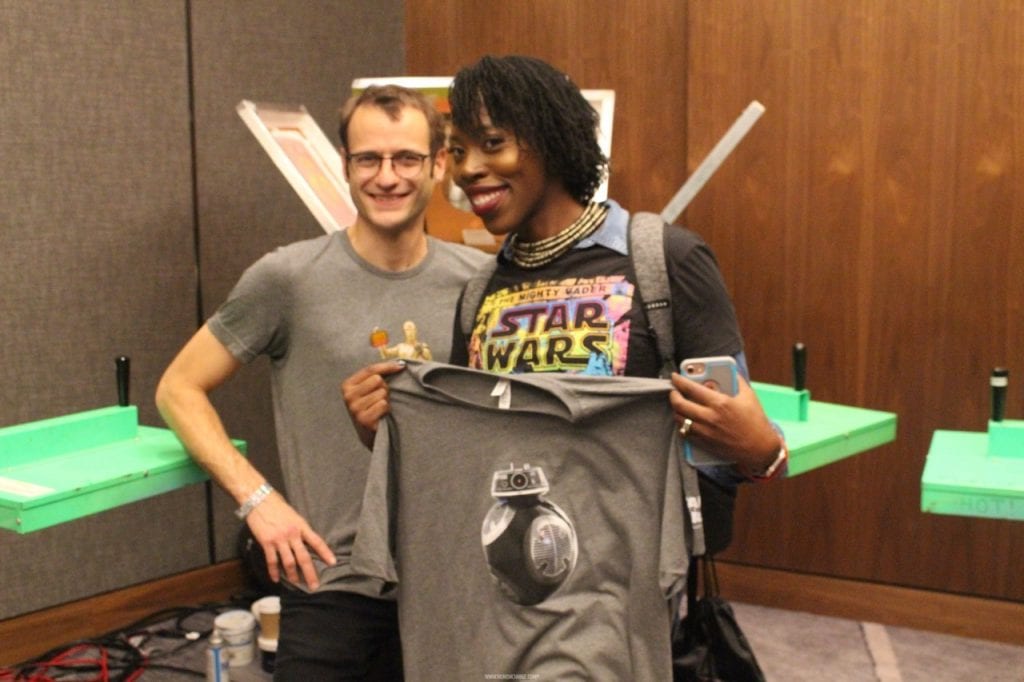 Posing with the Praetorian Guards 
I don't think these pics need any caption. They kept posing, so I kept posing too LOL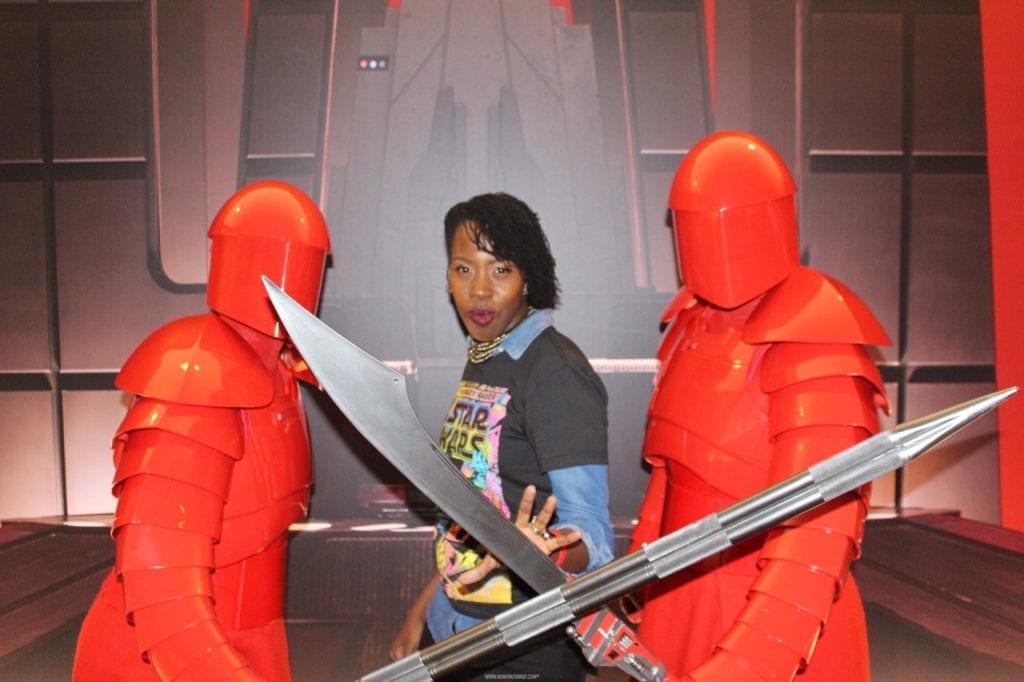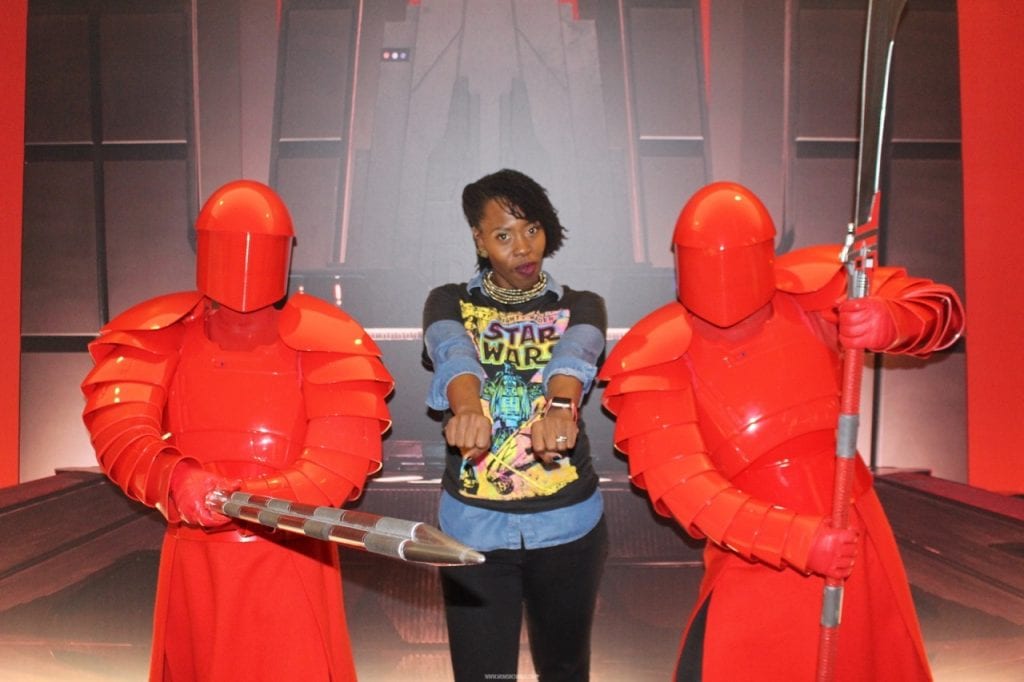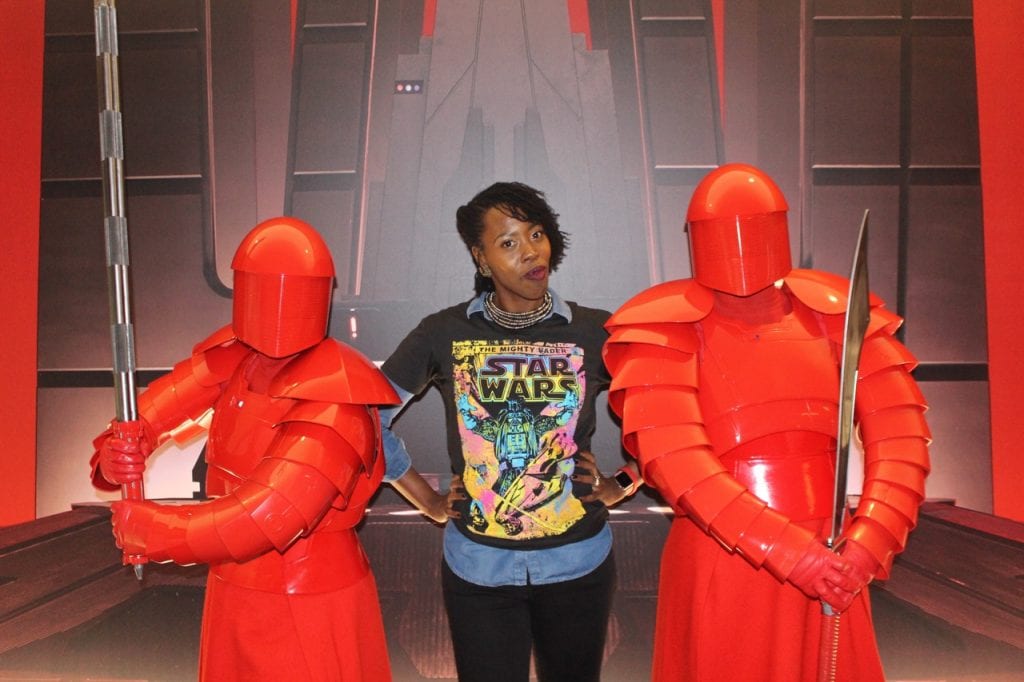 Fun with BB-8 & BB-9E
These little Droids were the highlight of the event. Not only are they darn cute, but they really interacted/talked back. BB-8 took selfies with me and BB-9E said hello to my Instagram fam for my instastories.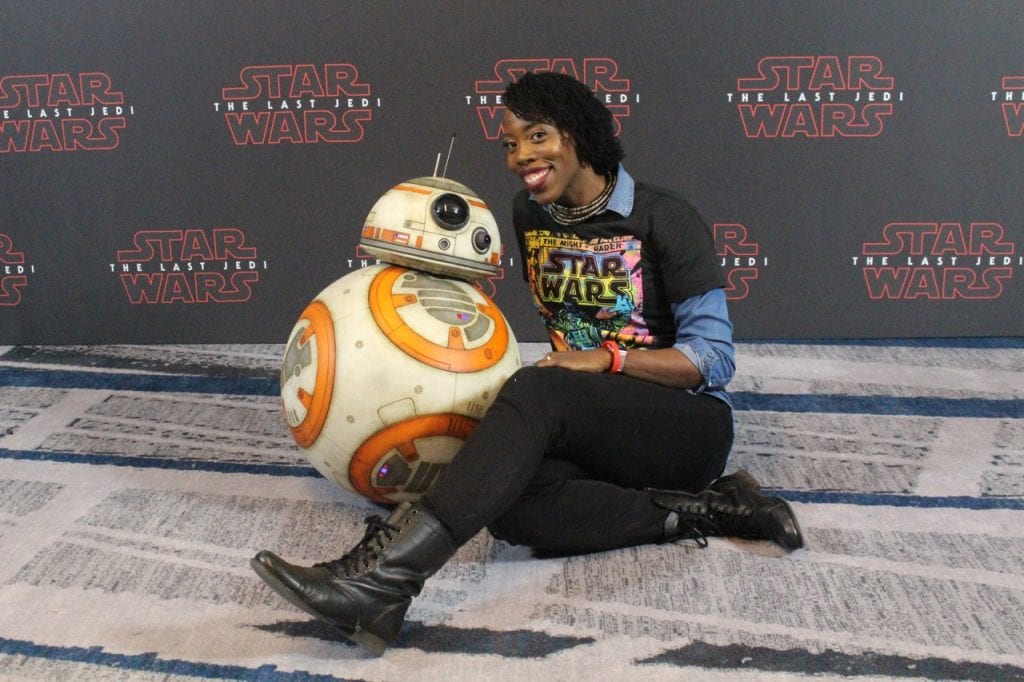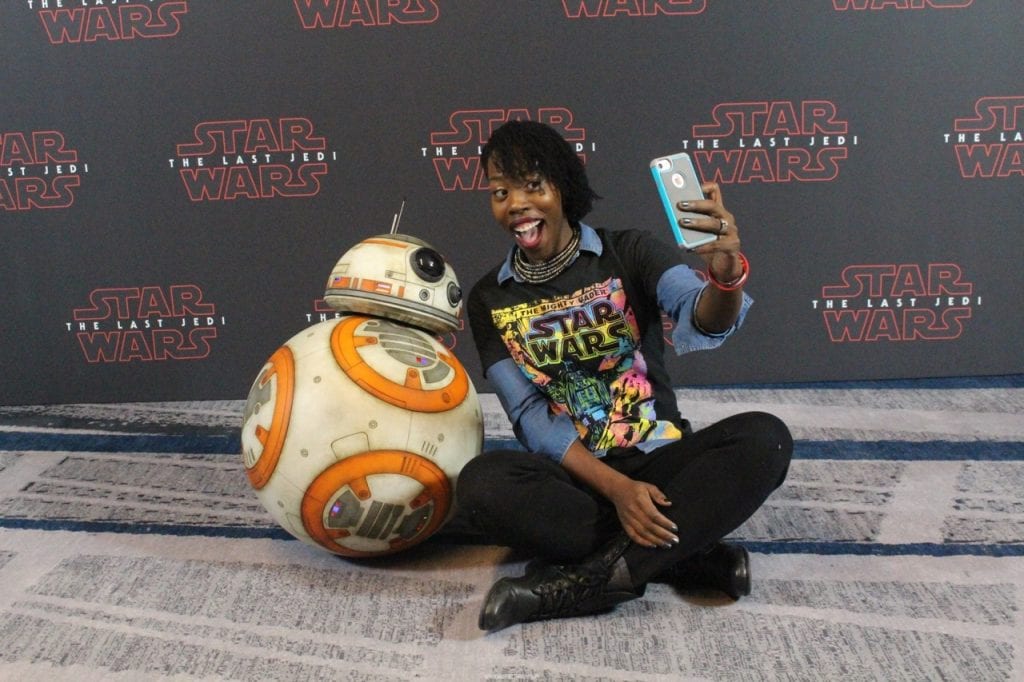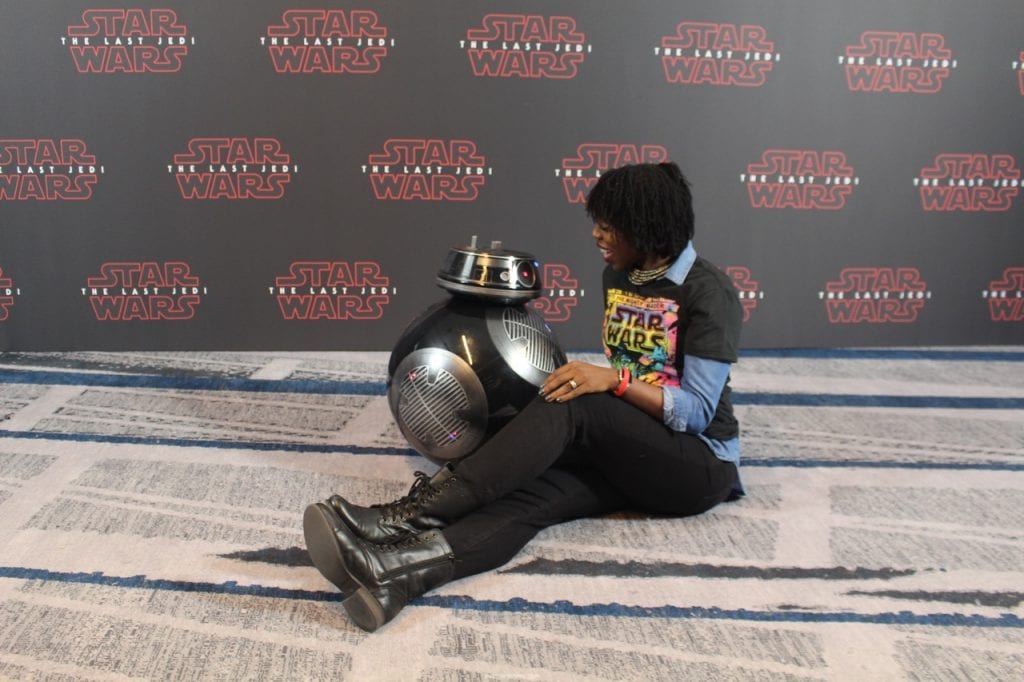 Adorable Porg Mug
We received this adorable Porg Mug while on the trip! I soooo love it! The kids are fighting over it, so I might just have to get them each one for Christmas. You can grab yours here.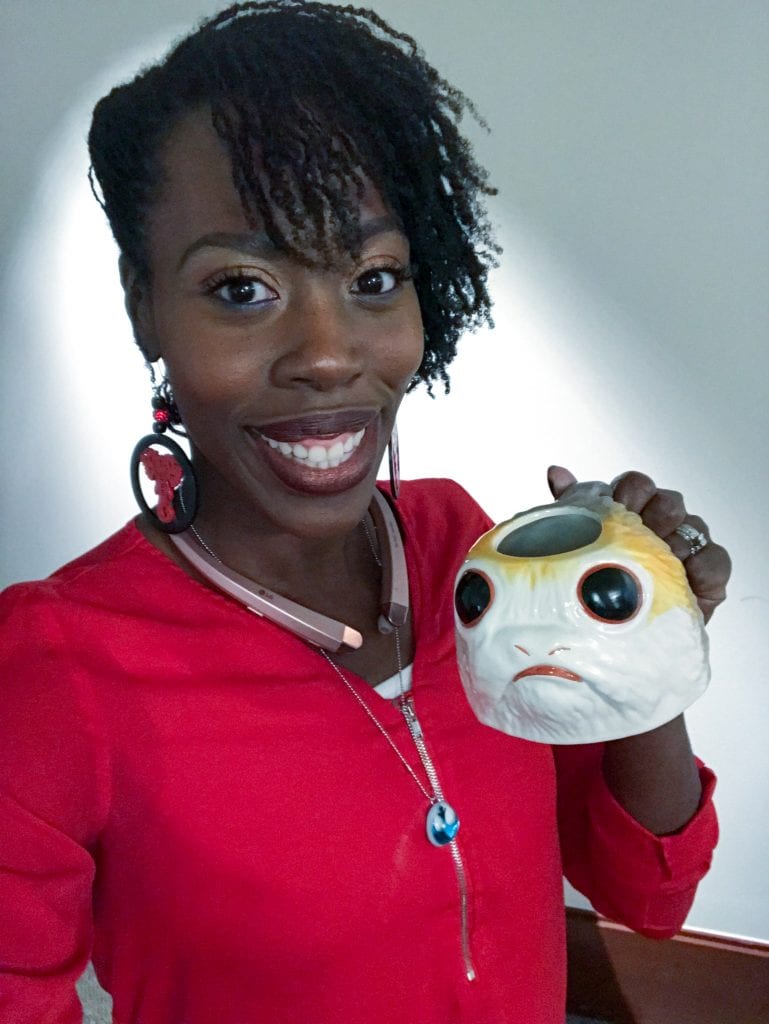 Don't forget to follow #TheLastJediEvent on social media. And be sure to stay connected to all things Star Wars: The Last Jedi below.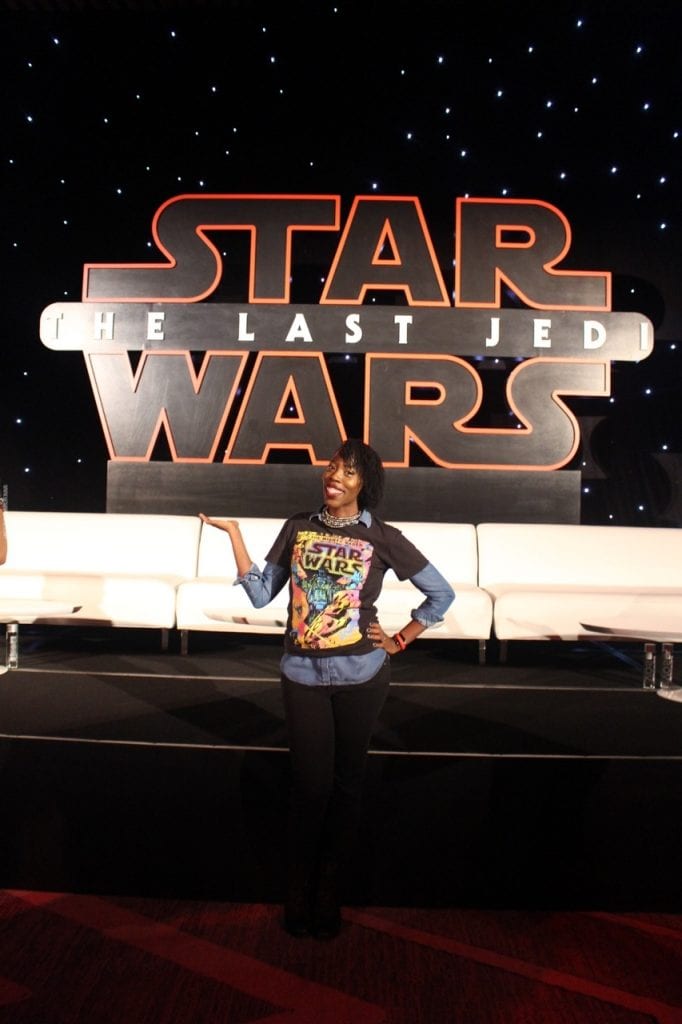 Like STAR WARS on Facebook – Follow STAR WARS on Twitter – Follow STAR WARS on Instagram –
Follow STAR WARS on YouTube – Visit the official STAR WARS: THE LAST JEDI website
Official trailer for Star Wars: The Last Jedi
STAR WARS: THE LAST JEDI opens in theatres everywhere on 
December 15th! Are you as excited as I am to see it?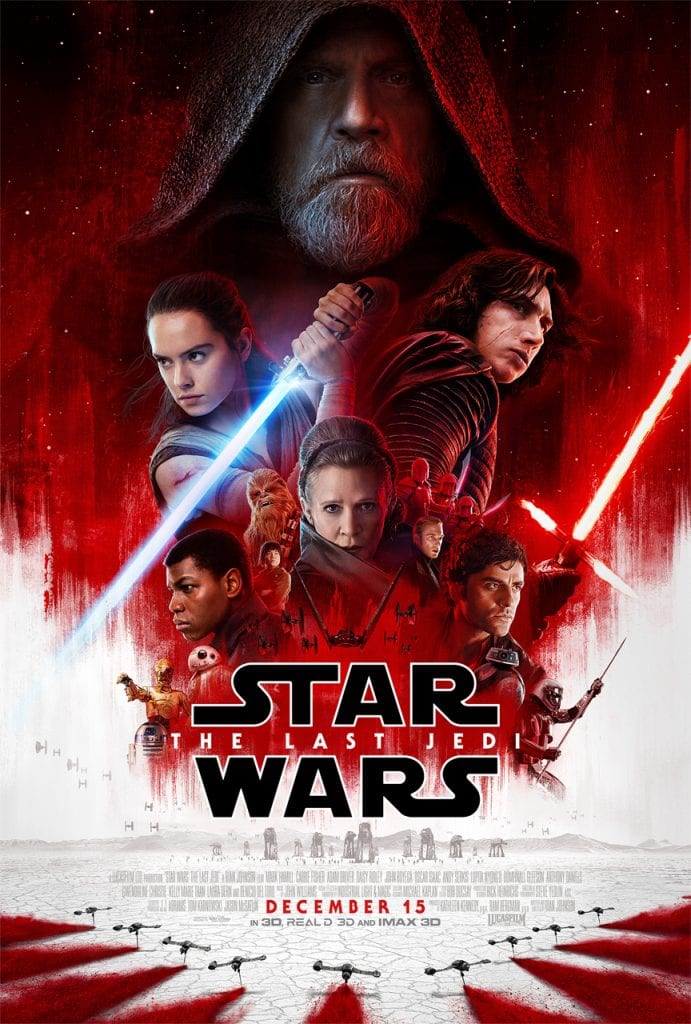 ---
In case you missed it…
I'M HEADED TO LA 12/2-12/4 FOR ALL THINGS STAR WARS: THE LAST JEDI #THELASTJEDIEVENT
MAGICAL HOLIDAYS AT DISNEYLAND + STAR TOURS: THE ADVENTURE CONTINUES #THELASTJEDIEVENT