Y'all already know that one of my favorite scenes in Ralph Breaks The Internet, was the Disney Princess scene. When Vanellope finds herself in the same room with all of the Disney Princesses for the first time, it was epic. I loved chatting with Writer, Pamela Ribon about this specific scene.
The message behind the Comfy Princess Scene
What I love in this scene is that for the first time, the Princesses were able to let their guards down. Well, at least they were once they confirmed that Vanellope really was a Princess! 😂And because I feel like you probably need a refresher at this point, check out the clip below.
What I love about this scene is obviously the humor of it all. But the message that we are all more alike than we are different. We may all come from different backgrounds, but we can all learn from each other. There is always another way to do things. And in this case, Vanellope taught these Princesses what cute and comfy was all about.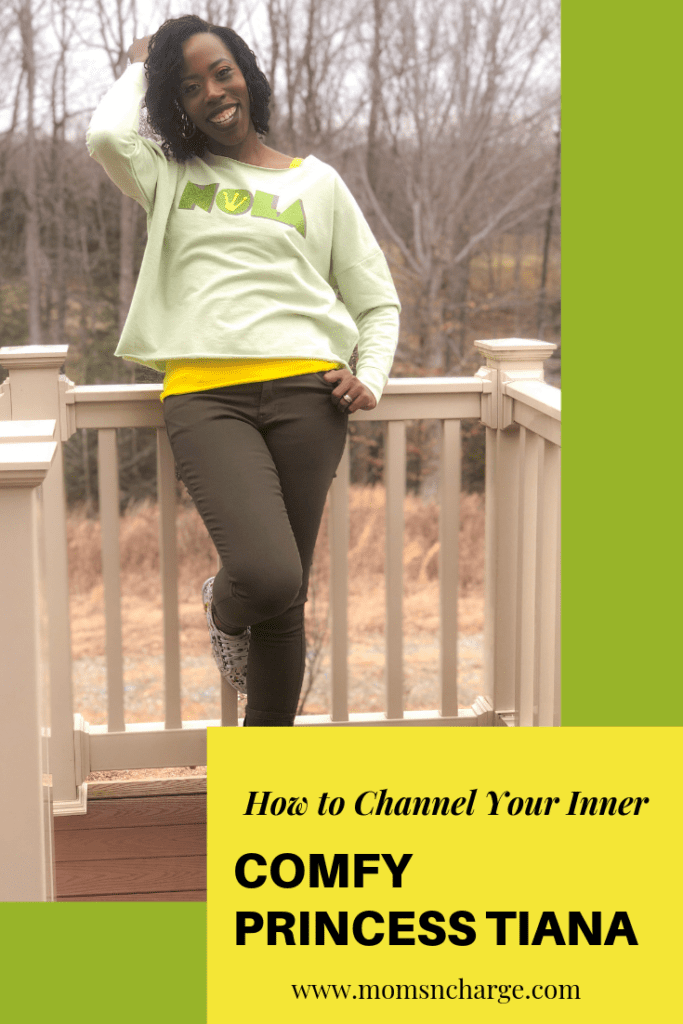 Get the Comfy Princess Tiana Look
First of all, let me just say how much I looooove this look. Everything about it is comfy. I have long arms (I'm 5'9). So I'm always worried about the fit when it comes to anything long-sleeved and pants. So shout out to Disney for getting this right and sending me this adorable "NOLA" sweatshirt.
The fit and the feel is super comfy and love that it was soft. And guess what? It's currently on sale for $29.96 ($10 off original price), so grab it while you can!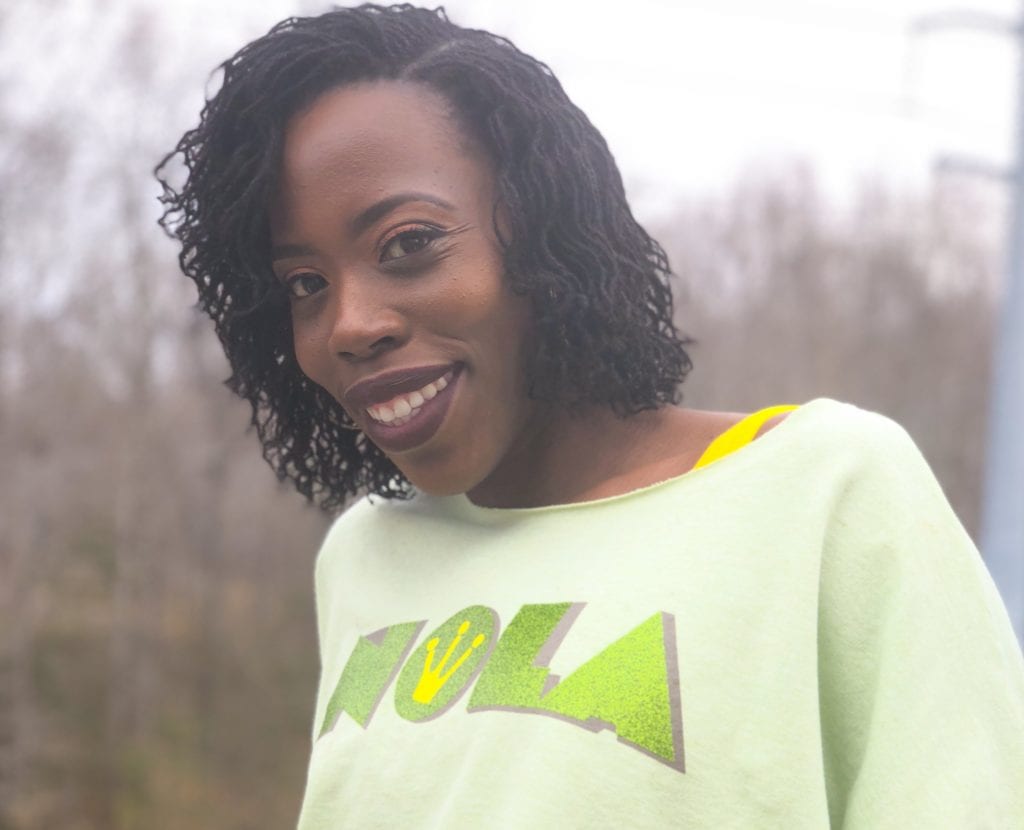 I decided to complete the look with a yellow tank top underneath, and some olive colored stretch denim pants (both from Amazon). Nothing gives me joy like Princess Tiana + Comfy + Cute! Grab the yellow tank here. I read most of the reviews when it comes to pants on Amazon. And these had really great reviews. The fit was perfect too. Grab the stretch jeans here.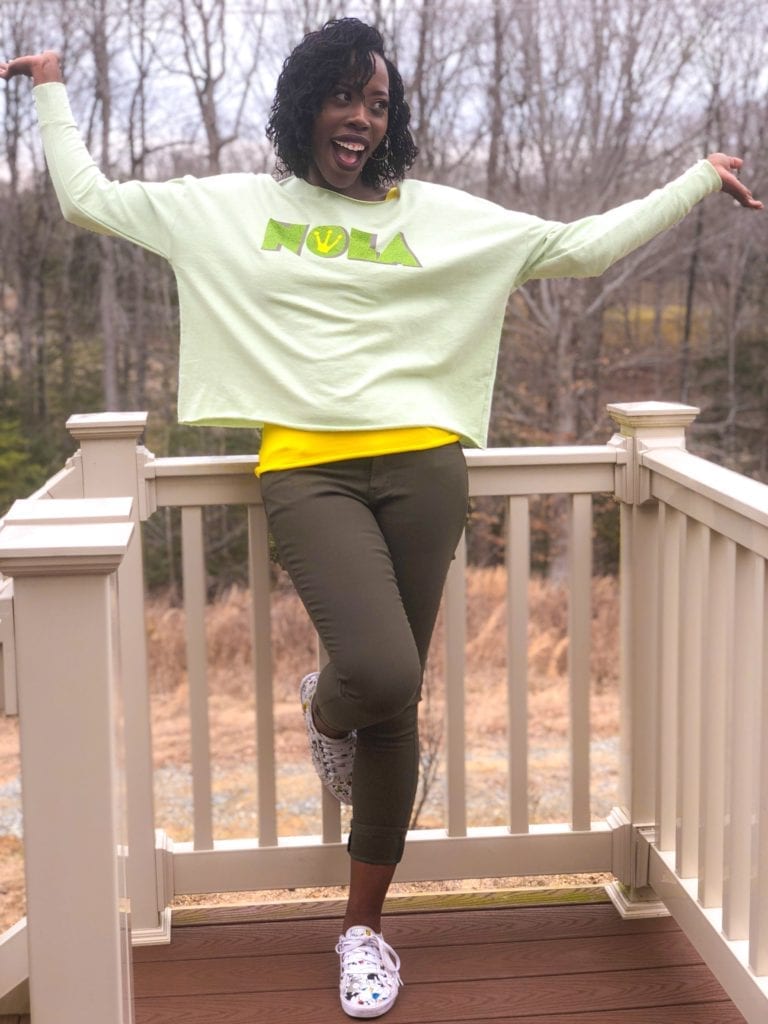 I was going to do a gold flat, but I decided on my Mickey Mouse tennis shoes I purchased at Disney Springs a few years ago. I love them cause they are fun, functional and comfy. And you can wear them with just about anything.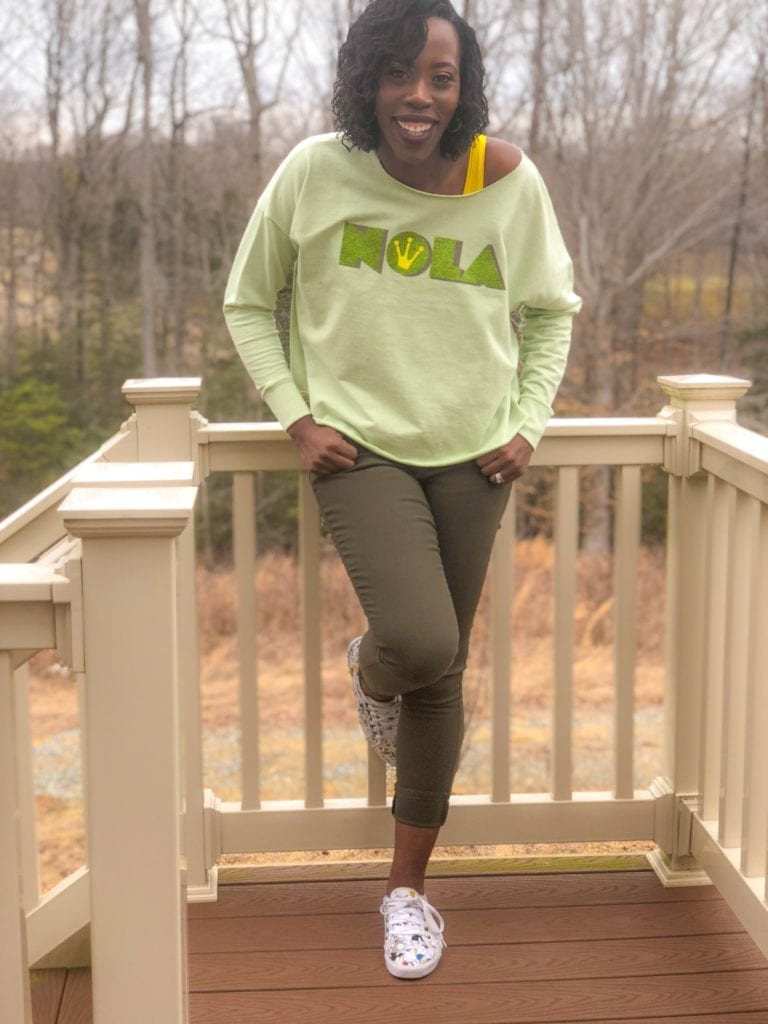 I'm not a fashion blogger, I just pose a lot. 😆Shout out to my tween son for induldging me and getting these shots.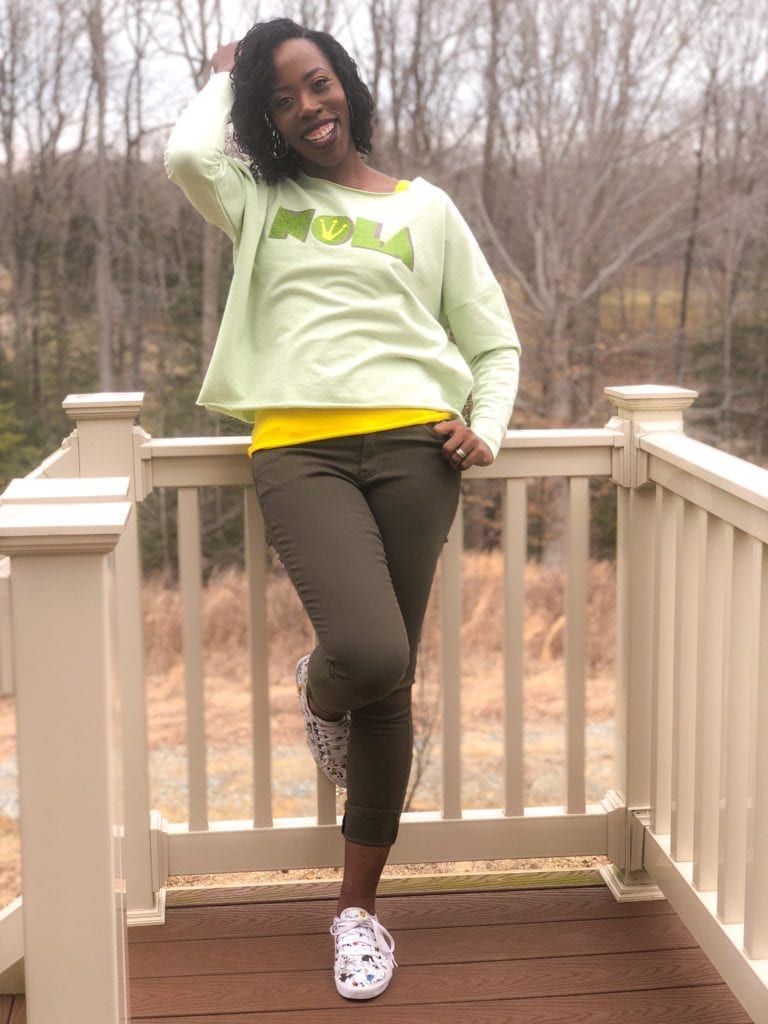 You can get more Disney Princess inspired looks and cute clothes here.
Find out Why Ralph Breaks The Internet Stole All of Our Hearts
Another favorite scene because it was so relatable with today's social media world lol
Get Ralph Breaks The Internet on Bluray/DVD and Digital
Disney's "Ralph Breaks the Internet" is now available on Digital 4K Ultra HD™ and Movies Anywhere and 4K Ultra HD and Blu-ray™ on Feb. 26th (today)!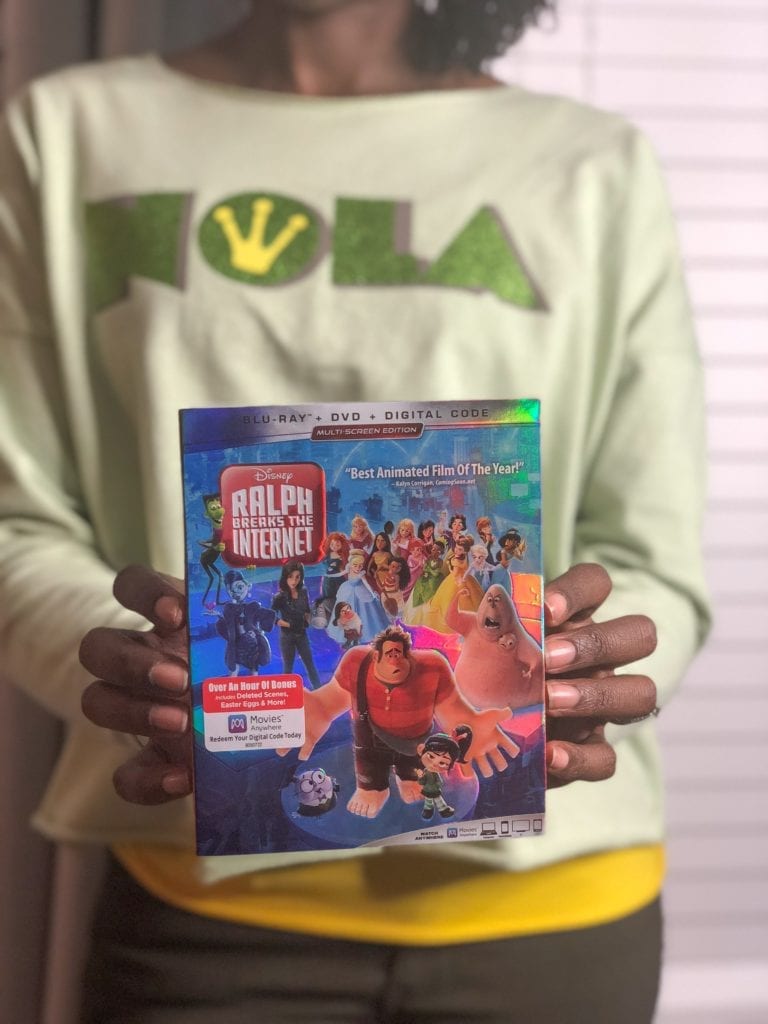 DVD/Bluray Bonus Features
I am always here for some good bonus features, behind-the-scenes and deleted scenes. Below is a sneak peek at what you're getting with this new release.
Blu-ray & Digital
:
How We Broke the Internet

–Go behind the scenes at Walt Disney Animation Studios to get an in-depth look at how the filmmakers brought a world to life that billions of people visit every day but never actually see – the internet. Take a front-row seat as the team reveals the inspirations for the story and what it took to bring it to the screen. Discover all that went into developing the characters of the film including netizens like KnowsMore as well as characters like Double Dan. See the lengths the team took to create the car chase scenes in Slaughter Race and much, much more.

Surfing for Easter Eggs

– Surf the web for the near-countless Easter Eggs, inside jokes and references hidden throughout the movie.

The Music of

Ralph Breaks the Internet

– Take a look at the music of Ralph Breaks the Internet with appearances by Imagine Dragons, Julia Michaels, Alan Menken, Sarah Silverman and more.

Deleted Scenes

– Five deleted scenes with intros from directors Rich Moore and Phil Johnston. Scenes include Into the Internet, Opposites, Domestic Hell, Bubble of One & Recruiting "Grandma."

BuzzzTube Cats

– Many videos were created by the animators to fill the screens of the Internet world…and lots of them are of cats! Check out the BuzzzTube to watch this hilarious cat compilation.

Music Videos

– "Zero" by Imagine Dragons and "In This Place" by Julia Michaels.
Digital Exclusive
:
Baby Drivers – Slaughter Racing School

– Take a spin behind the wheel with the artists behind Ralph Breaks the Internet as they go to race car driving school.
DVD
:
Music Videos

– "Zero" by Imagine Dragons and "In This Place" by Julia Michaels.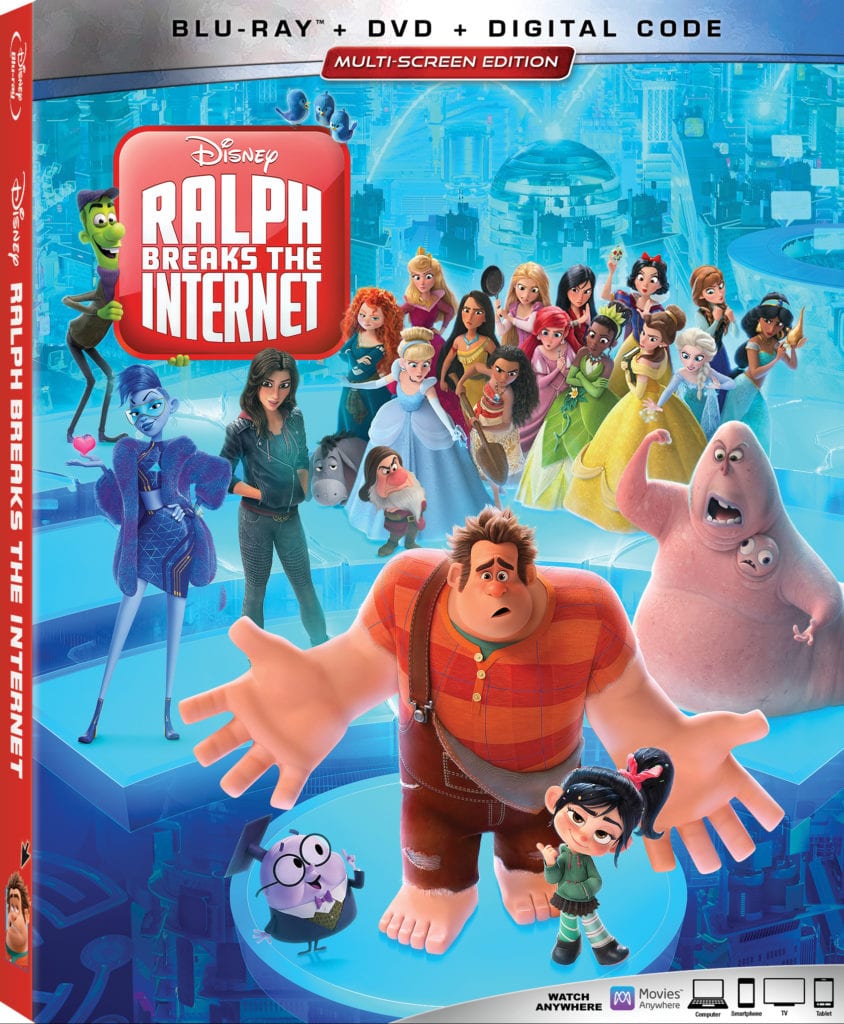 In case you missed it…
Below is my previous coverage for Ralph Breaks The Internet Event:
---
This trip to Los Angeles to cover the #RalphBreaksTheInternetEvent and #TheLittleMermaidBluray was sponsored by Disney. As always, all thoughts and opinions are my own.