In case you weren't following on social media earlier this week, I just got back from LA. I got to attend the red (in this case, blue) carpet premiere of Ralph Breaks the Internet! Part two of Wreck it Ralph does not disappoint. I'll be sharing my full no-spoiler review of the film soon enough.
Today is all about my red carpet premiere experience. And this was also my first animated film event, so I couldn't wait!
Channeling my inner Princess Tiana
When I found out I would be attending this event, I was geeked! Not only about it being my first animated film experience, but also because…Disney Princesses! Tiana is my fave, so it was a no-brainer to me that my dress had to be green.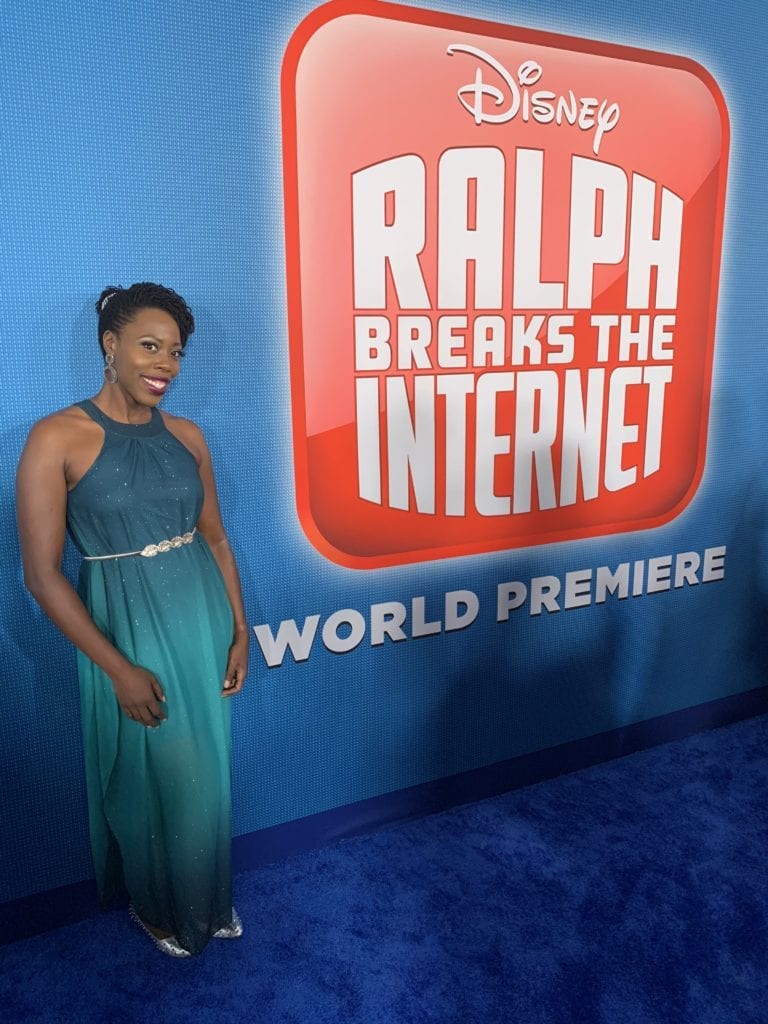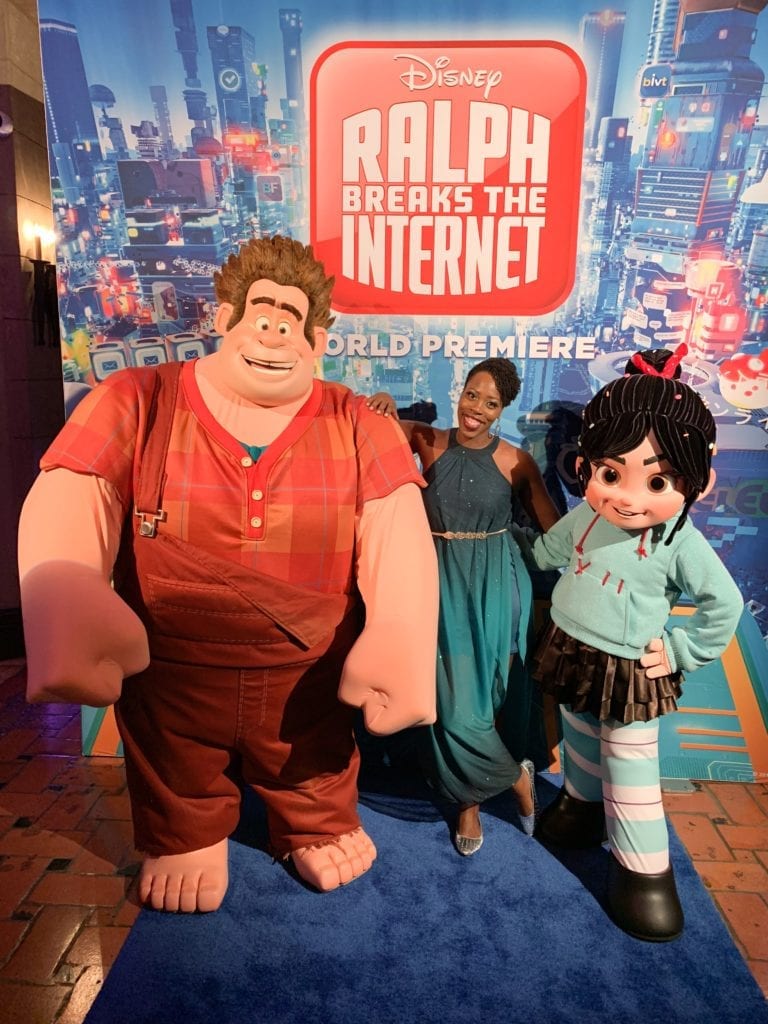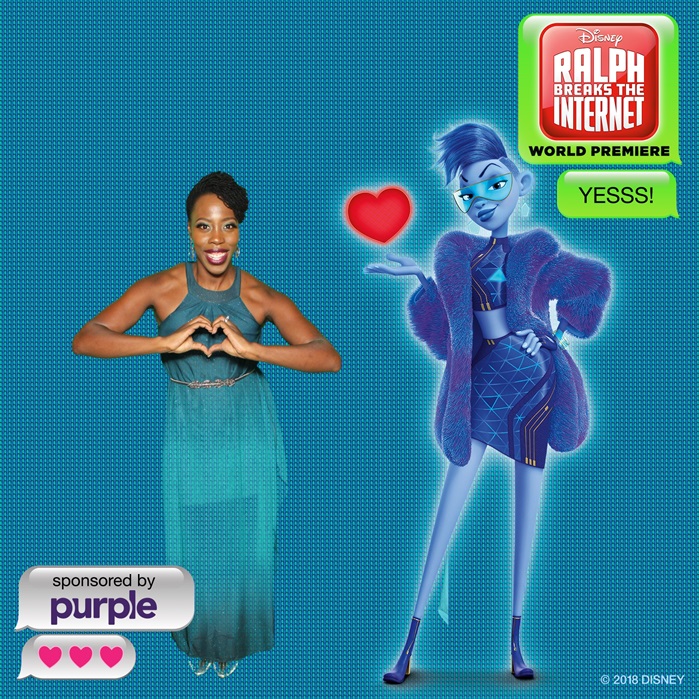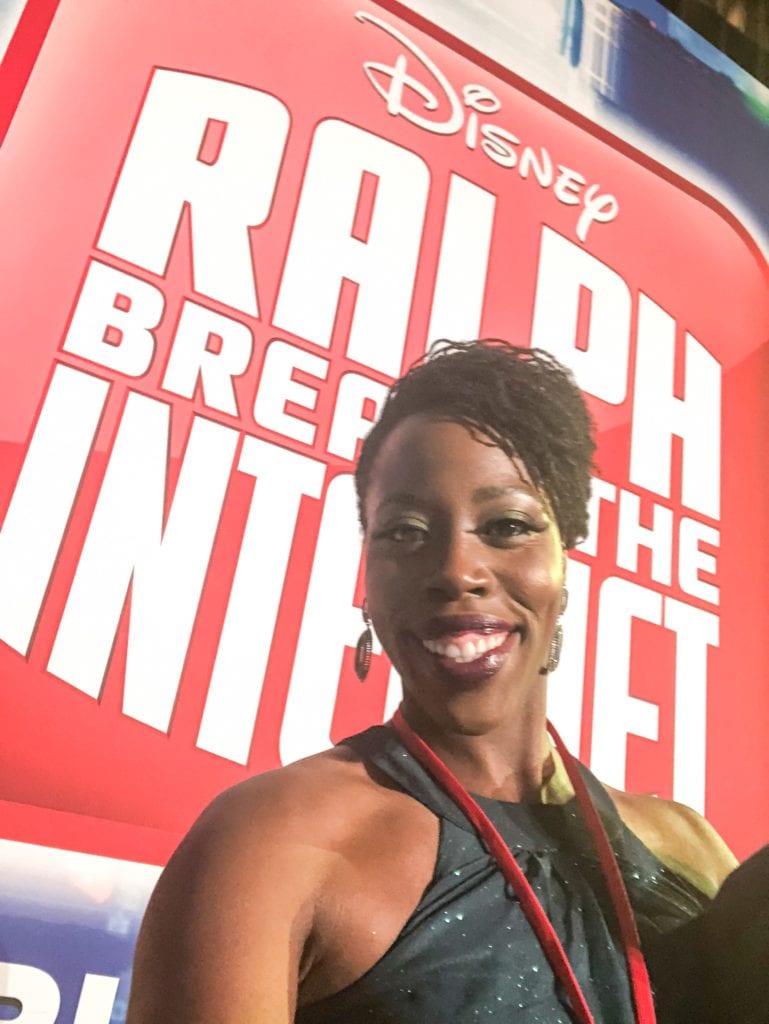 Blogger Beauty Red Carpet Fun
What could be more fab than getting glammed up & walking the red carpet with 24 other fun gals? One of my favorite parts is the meetup that takes place in the lobby. Just part of the gang that made it into this quick photo op.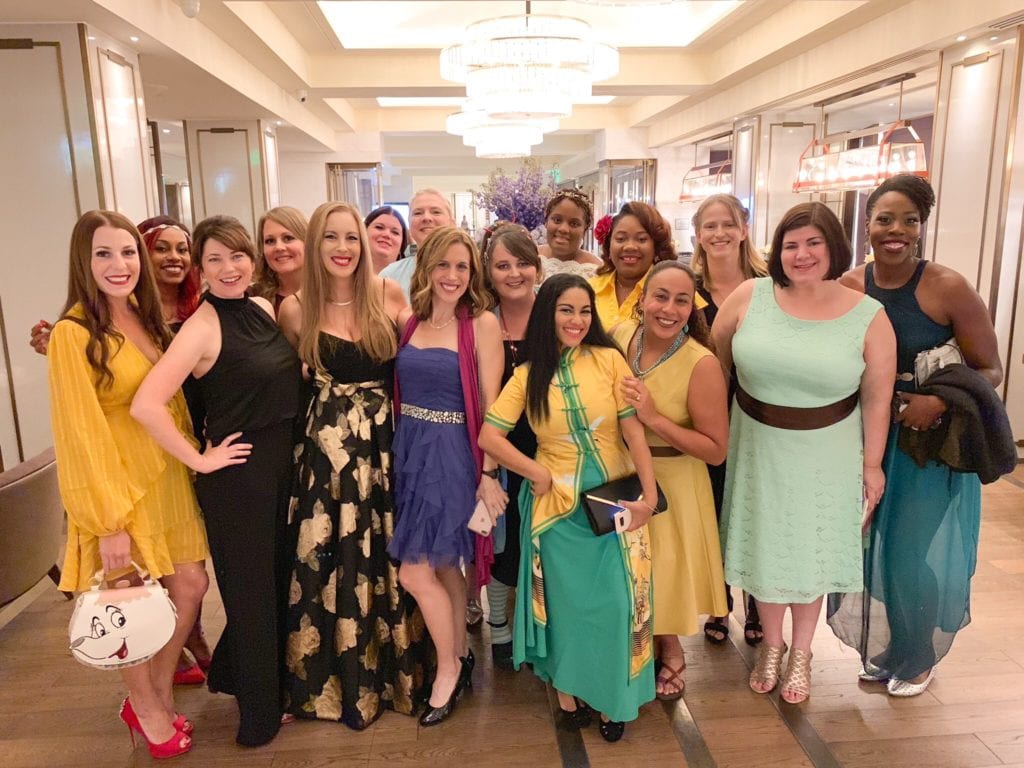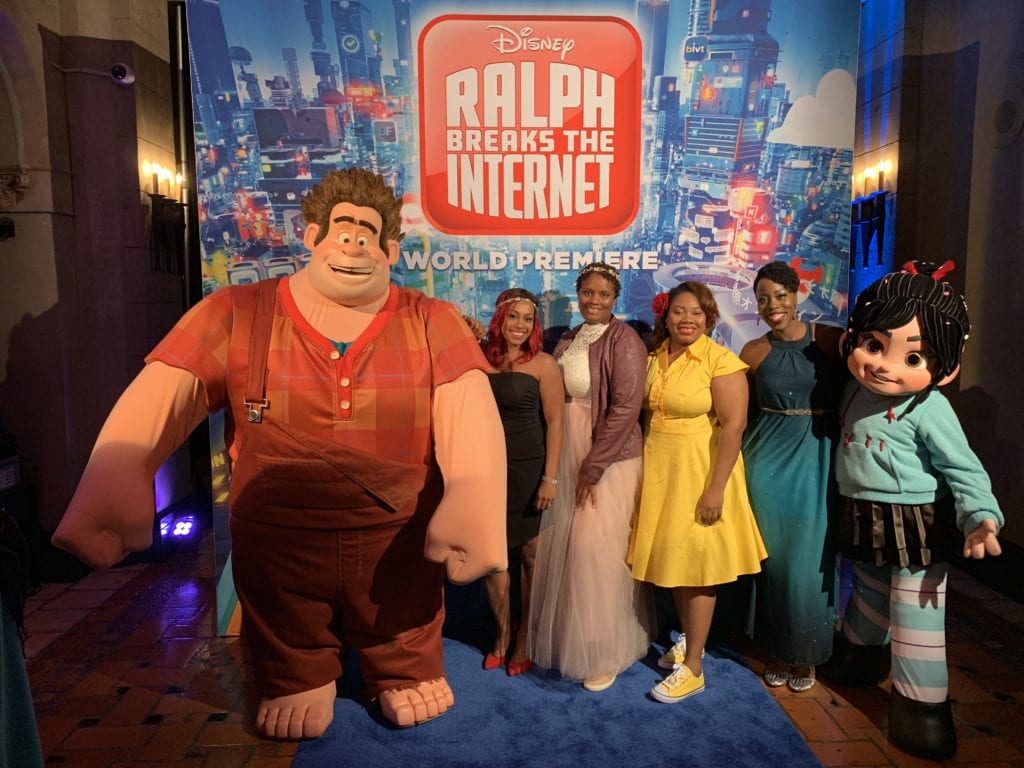 Be sure to check out all of the red carpet fun from these beauties because we each had different experiences.
4HatsAndFrugal.com (Amiyrah)⎪ AllForTheBoys.com (Allison) ⎪ AsTheBunnyHops.com (Amy) ⎪  AWortheyRead.com (Tatanisha) ⎪ ChristysCozyCorners.com (Christy) ⎪ AllForTheBoys.com (Colleen) ⎪  FuntasticLife.com(Leanette)⎪ Guide4Moms.com (Amanda) ⎪ HighlightsAlongTheWay.com (Kate) ⎪   AllForTheBoys.com (Vera)⎪ LolaLambChops.com (Tania) ⎪ LovePeaceAndTinyFeet.com (Ari) ⎪ MamasGeeky.com (Tessa) ⎪  MomEndeavors.com (Sara) ⎪ MomStart.com (Louise) ⎪ NickisRandomMusings.com (Nickida) ⎪  NoGuiltLife.com (Patty) ⎪ RaisingWhasians.com (Christie) ⎪ SarahScoop.com (Sarah) ⎪ SimplyTodayLife.com  (Victoria) ⎪ TammileeTips.com (Tammilee) ⎪ ThePositiveMom.com (Elayna) ⎪ VivaVeltoro.com (Ruth) ⎪  WithAshleyAndCo.com (Ashley)
Princesses and Celebs and Selfies, Oh My!
While I got to see quite a few celebs, I didn't get to get in too many pics with them. But it's always cool to see them interacting and walking about.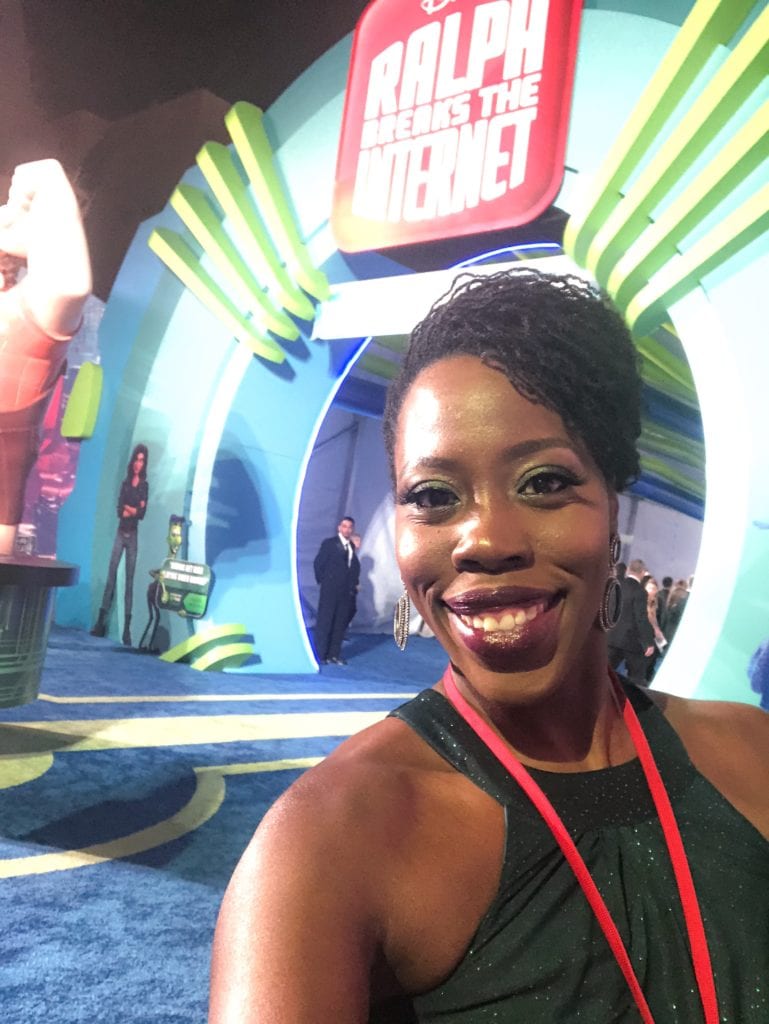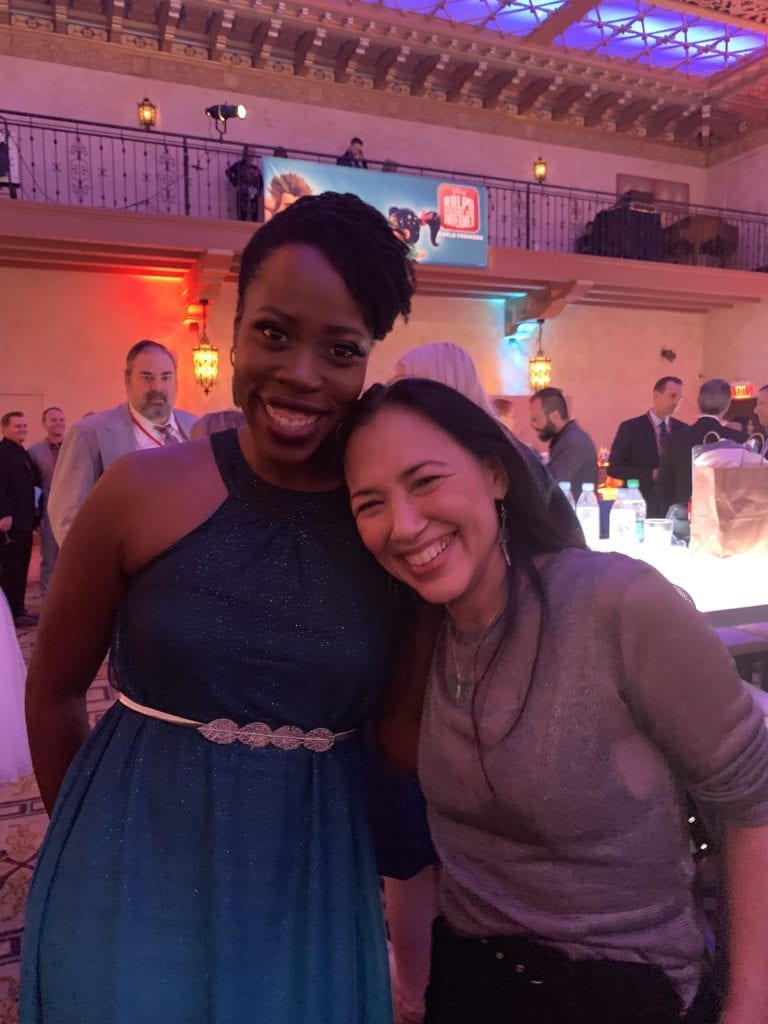 As if the night couldn't get any better, Co-Writer, Pamela Ribon summoned all the Disney Bounding Princesses to join her for a group photo.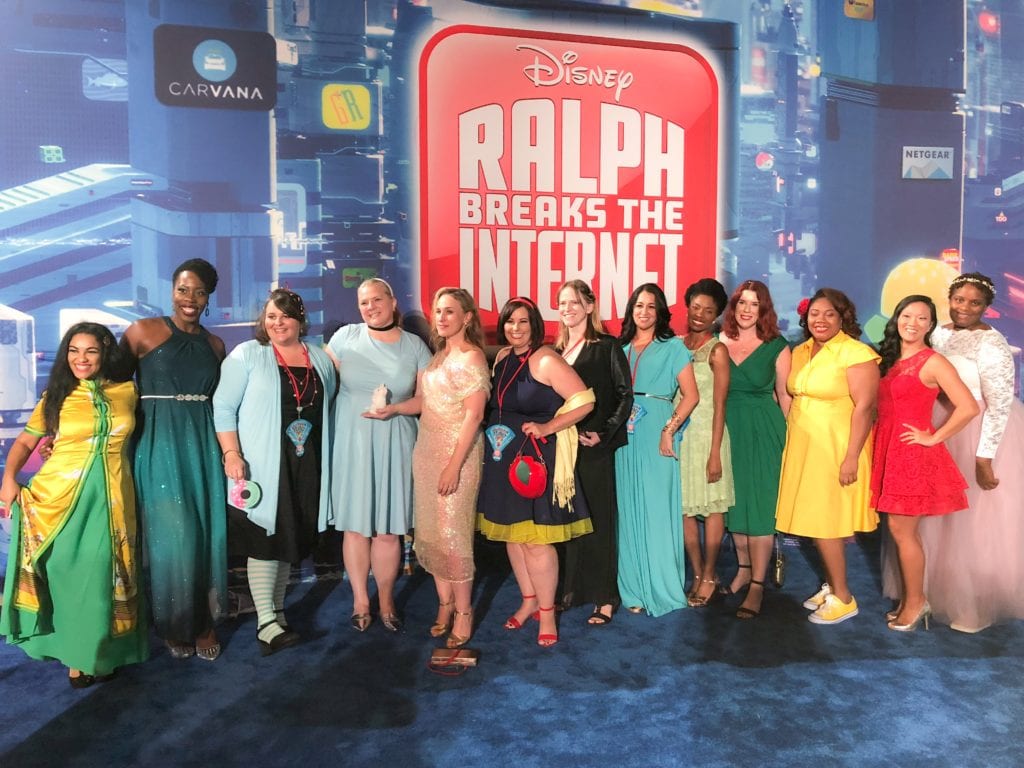 About the lady who thought I was the real Princess Tiana
So towards the end of the night, I'm standing around chatting it up with my fellow bloggers. All of a sudden, I hear someone say, "Oh my gosh". When I look up, Tatanisha (yup, calling you out girl) is motioning me to come over. And before I knew what was going on, she had walked away.
The lady she was speaking to is pulling out her phone as I'm walking towards her, and asking if she could take a picture. I thought she meant with both of us so was confused when Tatanisha walked away. She then proceeds to tell me how much her daughter loves me and how excited she will be because I'm her favorite princess.
Turns out, she had asked Tatanisha if I was Princess Tiana, and she told her yes. 😳👀🤣It was all I could do to keep from falling out. I finally told her that I loved Tiana as much as she did, but that no, I was not Anika Noni Rose. To which she told me to "just run with it." LOL The only thing that would've made this story better is if I had taken a pic with her on my own phone.
FYI: If you ever attend a premiere with Tatanisha, just know she can't be trusted.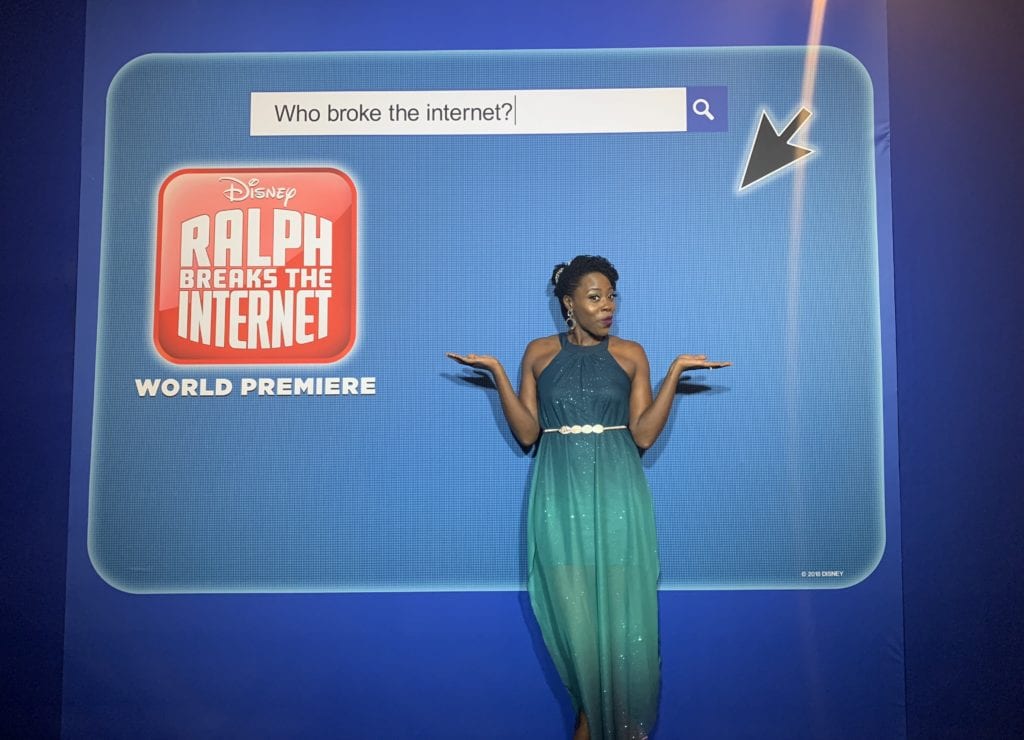 About "Wreck It Ralph 2":
In "Ralph Breaks the Internet," video-game bad guy Ralph (voice of John C. Reilly) and best friend Vanellope von Schweetz (voice of Sarah Silverman) leave the comforts of Litwak's arcade in an attempt to save her game, Sugar Rush. Their quest takes them to the uncharted world of the internet where they rely on the citizens of the internet—the Netizens—to help navigate their way.
Lending a virtual hand are Yesss (voice of Taraji P. Henson), the head algorithm and the heart and soul of the trend-making site "BuzzzTube," and Shank (voice of Gal Gadot), a tough-as-nails driver from a gritty online auto-racing game called Slaughter Race. Slaughter Race is a place Vanellope wholeheartedly embraces—so much so that Ralph worries he may lose the only friend he's ever had.
Directed by Rich Moore ("Zootopia," "Wreck-It Ralph") and Phil Johnston (co-writer "Wreck-It Ralph," "Zootopia," writer, "Cedar Rapids"), and produced by Clark Spencer ("Zootopia," "Wreck-It Ralph," "Bolt," "Lilo & Stitch"), "Ralph Breaks the Internet" hits theaters on Nov. 21, 2018.
Ralph Breaks The Internet Opens in Theaters 11/21/18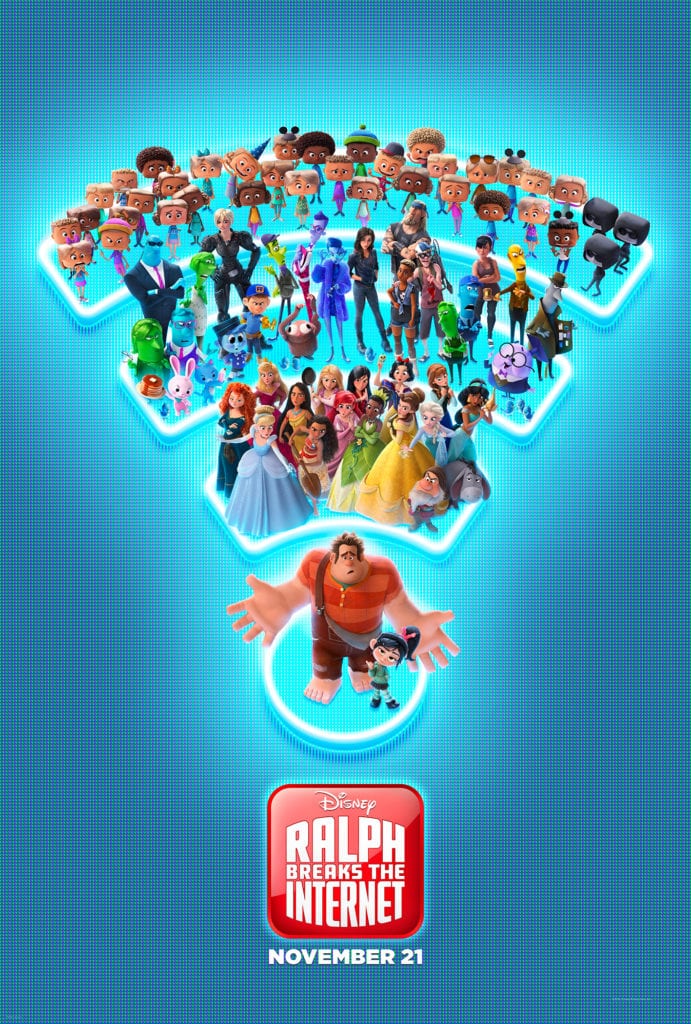 Be sure to Follow all the happenings on social media:
Ralph Breaks The Internet: Facebook ⎮ Twitter  (#RalphBreaksTheInternet)⎮ Instagram ⎪ #RalphBreaksTheInternetEvent
Watch the Ralph Breaks The Internet Trailer below:
In case you missed it…
Below is my previous post.
RALPH BREAKS THE INTERNET FUN IS HAPPENING IN LA AND I'LL BE THERE 11/4-11/6
This trip to Los Angeles to cover the #RalphBreaksTheInternetEvent was sponsored by Disney. All thoughts and opinions are my own.