Today is the day! Queen of Katwe opens in theaters nationwide. If you've missed any of my previous posts/interviews (with Lupita Nyong'o, Madina Nalwanga, Martin Kabanza, Director Mira Nair), be sure to click here to catch up.
All of these interviews have been amazing and super fun. I have been sharing intimate interviews and stories of the very people behind Queen of Katwe. And I have to admit that getting the opportunity to meet and chat with Rober Katende and Phiona Mutesi was icing on the cake. While we knew this film was based on a true story, there was something about sitting down with these two that just made it that much more real.
Our conversation with Robert and Phiona opens up with us wanting to know how they're feeling? Not only is there a book about their story, but there is now a movie, created by Disney to tell the world about their story. It's a story about triumph and Phiona's unlikely story of becoming an international chess prodigy. She quickly responds to the question, "I cannot believe it. I just really cannot believe it."
Phiona is finishing up high school and preparing to enter into college (hopefully here in the US). She has not yet reached Grand Master status, but she is currently a Candidate Master (basically, she is a dope expert in the game of chess).
Since I knew we would be chatting with these two, I put out a call on social media to see what questions people wanted to know. Our friends over at Black Bridal Bliss wanted to know:
What life lessons do you think children and adults can learn from chess?
Robert took the lead in answering this question. I have to add that watching his mannerisms and interacting with him after watching the film, solidified just how great a job David Oyelowo did in portraying him.
"Generally in life, there are many values that we meet on a daily basis. In a child's life, you can involve them well to the platform of chess.  You can tackle abstractive thinking, problem-solving, decision making, weighing options, and even responsibility because chess mentors you in finding value. You have to get comfortable with your decisions, and not simply make moves." 
One of my favorite quotes from the movie is: You must consider the other side of the board. I think that speaks directly to what he said about not simply making moves.
He went on to explain, "You should have a plan, you should have an objective, an activity objective. It gives you an opportunity to where you can have ideas and try to figure out how to bring them to reality.  So you must get input in the integration of these values and principles from the game into your lifestyle."
The role of mentor of Robert to Phiona is a huge component in the film, Queen of Katwe. So we talked a little more to them to understand how important this role of mentorship is.
Robert Katende talked about the role that mentorship played in his own life. He shared that mentorship has made him a better father. Mentorship taught him so much about "tolerance, patience and embracing each one's ability."
He goes on to share that if the child is different (meaning they have different abilities or different perspectives of life), you now find yourself in this dilemma where you have to look at each child as an individual.  "And to me, it's more of a community investment."
He learned the importance of these chess programs because many of them have gone on to be great leaders!
He shared stories of children whose home lives were so difficult that he sometimes had to go and talk to their guardians. And for those children who didn't have guardians, Mr. Katende took them in and adopted them.
"We sometimes even mentor them and teach them how to play chess. So it's now more like a big family. But mentorship is not something you can just turn on and then off. It's an ongoing process."
On the Pioneers and where the Chess Academy is today…
Robert Katende shared that he started in 2002.  There are six kids he has been dealing with for over twelve years now. Phiona was nine when she started, and now she's twenty.  So they have all now become young adults.
When he took them in, they had not even been schooling. He has one student that is now qualified as a physics and math teacher. "Benjamin, he's just completing high school to go to university next year. So it's really a remarkable journey for me to see them.  And, besides they have professional goals and they are naturally becoming leaders."
"It's not just like a coincidence, but it's like a strategy on starting to give them some sense of responsibility, and then also enabling  them to realize that they have something they can really offer."
It truly is remarkable to see and hear about all of the amazing accomplishments that have come as a result of the school that Robert Katende started.
We then moved on to talk about how failure plays a role and how Phiona has learned to move past failures in life as a result of the games she plays in chess.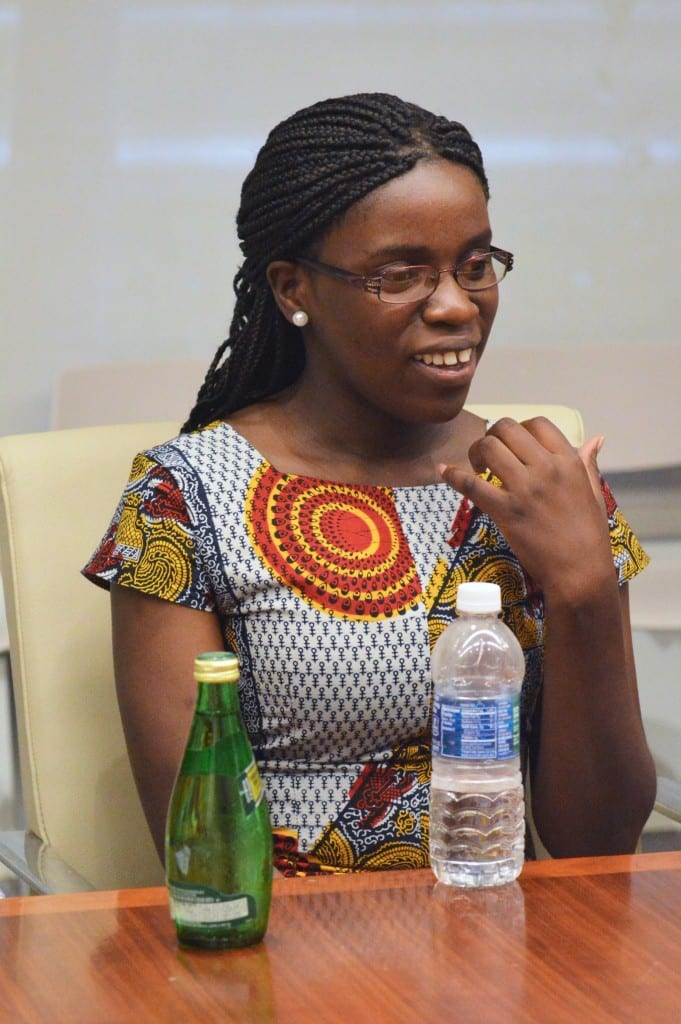 "My reaction whenever I would lose a game, most of the time I would cry. It was mostly with the pain of pressure, that's when I cry most.  Whenever I was in Uganda, I could do most of my games. So here I am; I'm coming to Russia and I thought everything was going to be small.  Yet, I forgot about that this is a different experience from Uganda. So from that, I think I got an experience — a great one –and got to learn everything, so it doesn't affect me anymore. Whenever I lose, it's just part of the game. I just had to learn from that."
We closed out this interview with them sharing some beautiful words of wisdom.
On hope and facing your fears:
Phiona says, "Have hope in everything you're doing and just be hard working. Just prove yourself."
Robert shared how he remembers when he couldn't get anyone to share what he was doing with the chess academy. He would call radio stations to seek support and no one would even bother. And now, the whole world will soon know who Robert Katende is and what he has been able to accomplish with Phiona Mutesi, the Queen of Katwe, and hundreds of other children.
Queen of Katwe opens in theaters nationwide TODAY!!!
Be sure to Visit the Queen of Katwe website, Like Queen of Katwe  on Facebook, Follow Queen of Katwe  on Twitter and grab your own copy of The Queen of Katwe
! And be sure to join in the conversation using #QueenOfKatweEvent.
---
Disclosure: On behalf of Disney, I was invited to attend an all-expense paid trip to cover the world premiere of Queen of Katwe, as well as other press events. As always, all opinions are my own.