I am SUPER excited to be a part of an amazing event taking place this Friday in the DC area, the 3rd Annual Runway Moms For a Cause. Last year, I had the pleasure of being a part of this amazing event, created by Lara Akinsanya of L Shandi Designs. RMFC is a fashion initiative with the mission to serve as a vehicle to raise funds for non-profit organizations.  Each year, RMFC will profile and celebrate accomplishments of mothers who impact change in their communities. I love the fact that Lara hand picks real moms for her shows, from all walks of life.
It's an event that not only allows us to celebrate the work we do as moms, but to celebrate and support the amazing work being done by other organizations who support moms and children in need. Through this event, Lara has combined her love of fashion and philanthropy for this incredible and unique runway show that kicks off Mother's Day weekend (no coincidence there). And not only do we get to get dolled up for this fun mom's night out, but we also get to keep the garments that Lara designs for us. I proudly have worn my dress from last year a couple of times, because seriously, it's dope (the dress, not the look on my face). This year, Lara collaborated with another fab designer, former Runway Moms model Afua of Studo D-Maxsi.
I am so honored to be a part of this event. And I'm even more honored to help raise money for this year's beneficiary, the Tigerlily Foundation. Tigerlily Foundation was founded by Maimah Karmo, after she was diagnosed with breast cancer at 32 years old. The organization provides hands-on support to young women between the ages of 15-40 – before, during and after breast cancer. You can read this post to find out why this cause is even more close to my heart.
Another reason I'm excited is that I got to bring on some Bloggers who are Power Moms in their own rights, to help spread the message for this awesome cause. So if you haven't already, be sure to check out these amazing blogger boos of mine:
If you love fashion, and you love to give back, then there is no other place you need to be this Friday other than Runway Moms For a Cause. This is a black tie affair and from the beginning to end, it will be spectacular. Trust me, it'll be fun times. When is the last time you had a mom's night out? I'm talking about throwing on that cute dress that's been collecting dust, your cute shoes that are still in the box and getting your hair and make-up on fleek (did I use that word correctly? LOL)?
If you're in the DMV, it's not too late to join us. Below are the deets: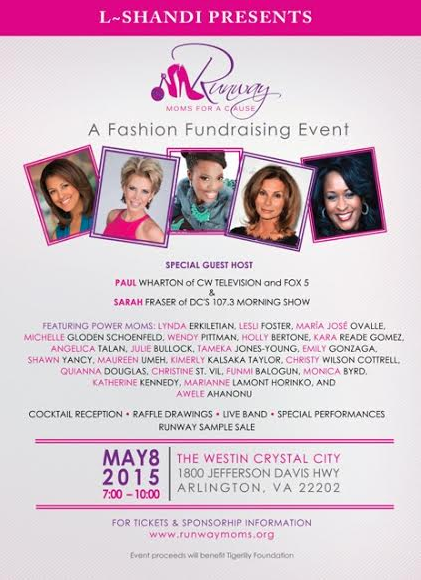 We'd love to have you join us and witness these Power Moms walk the runway!
For more details and fabulous photos from the first two Runway Moms For a Cause events, be sure to check out RunwayMoms.org.
Comment below and let me know: When is the last time you had a mom's night out, and what did you do?