I am so incredibly excited to celebrate another year of life, love, blessings and abundance. I treat my birthday like a national holiday because I don't take for granted that God has blessed me to see another year. So when I thought about what my birthday wish would be this year, I immediately wanted to highlight a very special cause.
Last year for my birthday, I wrote 35 Expressions of Gratitude. And like most moms, I am grateful for my children every day. Most often times, we take for granted the simple things like being able to give birth with proper medical service and supplies. The threat of not surviving childbirth or labor when pregnant with my three kids just didn't cross my mind. But unfortunately, that's not the reality for many women in different countries around the world.
This is where Runway Moms For a Cause comes in. I've had the honor and pleasure of participating in this fashion event for goodwill for the last two years. Every year, Founder, Lara Akinsanya finds an organization to benefit that is dedicated to helping women and children. This amazing mom of two (twins) combined her love of fashion design and philanthropy to not only give back to those in need but to also celebrate motherhood. Getting to know Lara personally, I know for a fact she does this from the heart. To put on a show of this caliber and with such excellence is nothing short of amazing and no small feat.
You see, what makes this event even more unique is the fact that Lara handpicks the models to walk in the show every year — all are moms from various walks of life (various shapes, sizes, heights & cultures). This year, I had the pleasure of teaming up with Lara to create the Ultimate Mom's Night Out event in conjunction with Runway Moms.
All proceeds from this year's show will go to benefit Childbirth Survival International (CSI) a 501(c)(3) international nonprofit, whose mission is to make pregnancy, labor & delivery, and postpartum period safer for the mother and newborn, and optimize child survival for the first five years.
There are direct and indirect causes of maternal and newborn mortality; however, many of the direct causes such as pre-eclampsia and postpartum hemorrhage, are preventable and manageable with proven low-cost low-tech solutions to save lives.
Lack of basic medical supplies is a barrier for many pregnant women to deliver in a health facility in the presence of a skilled birth attendant, who also often work under stressful conditions of no supplies and medicines. With approval from the Government of Tanzania, part of CSI's initiatives to help pregnant women and midwives in Tanzania is to provide sterile childbirth kits for FREE to the women.
I was completely blown away that these kits to help prevent infant and maternal mortality, are only $7 each. Most of us spend more on that on a daily latte or lunch.
I was equally excited to see CSI as the chosen beneficiary this year because the Co-Founder, Tausi Suedi attended the event last year just to support after seeing me post about it on social media.
So my birthday wish this year is to raise at least $200 on behalf of my mother company, PurposeDrivenMedia.com to Runway Moms for a Cause (we will also be donating a percentage of all product and service sales received through the month of May). And even if you can't donate a $7 kit, would you mind sharing this post and ask those around you to do the same?
Even better, we would love to have you join us that this year's Runway Moms black-tie event being held on Friday, May 13th. Tickets are only $75 for general admission. Come watch an amazing show, and have a great time (and of course, there will be some surprises).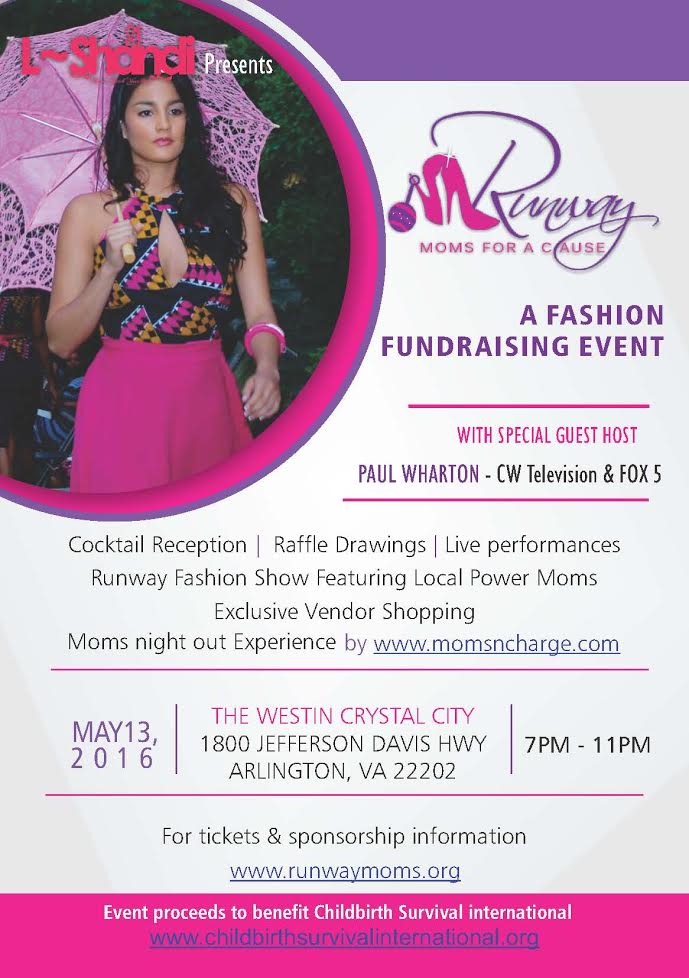 How do you give back in ways that are meaningful to you?