I can't believe it's been a few weeks since we got back from Disney Social Media Moms Celebration! If you missed my previous post where I shared a few highlights, you can check it out here.
We are fortunate enough to have done this thing three times now, and each time it's been different. Planning the ultimate Disney surprise trip is so much fun! There is already so much magic and happiness at the thought of Disney. So it makes planning easy. If you know me, then you know I absolutely LOVE surprises. I love to give them and receive them.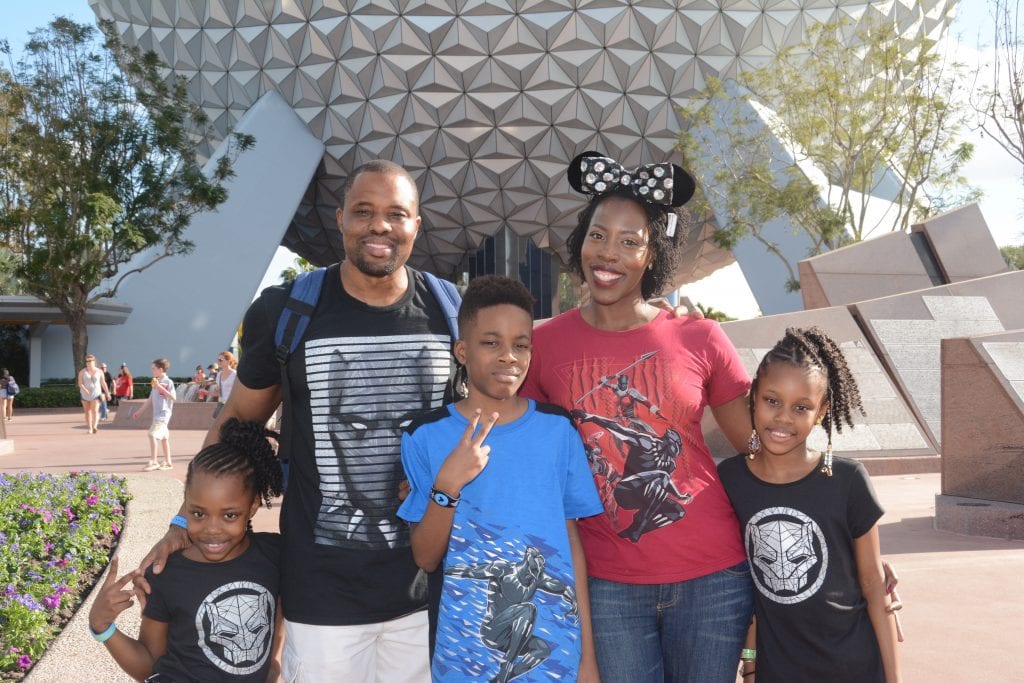 It's not different when it comes to my kids. And I think they are taking after mommy because they love surprises too.
So in this post, I wanted to share some planning the ultimate Disney surprise tips and resources here. I just talked to a dear sister-friend who is planning a first-time trip for her daughter this summer.
Don't get overwhelmed with the options. Trust me, there are a whole lot of them. Pick a few that are most important for you.
1. Wait until you get there
The first year we attended Disney SMMC, it was also my kids' first trip to Disney. My hubby couldn't take off work so we took my mom, and it was also her first time coming as well.
We decided that we wouldn't tell them anything until we got into Florida. This would be our youngest's first plane ride and the first that my oldest two actually remembered. They were babies the first time they flew.
So I wasn't anticipating everyone we encountered (ticket agents, flight attendants, etc) to ask where we were going? We kept telling them it was a surprise and every now and again, I'd exchange a whisper with a fellow mom. Up until we got to Orlando, the kids still had no clue where we were headed. The excitement of getting on the plane was enough.
By the time we got to Orlando airport and on the tram, my son started to get really warm in his guesses. Needless to say, by the time we got to a good photo opp location, they were all the way hype!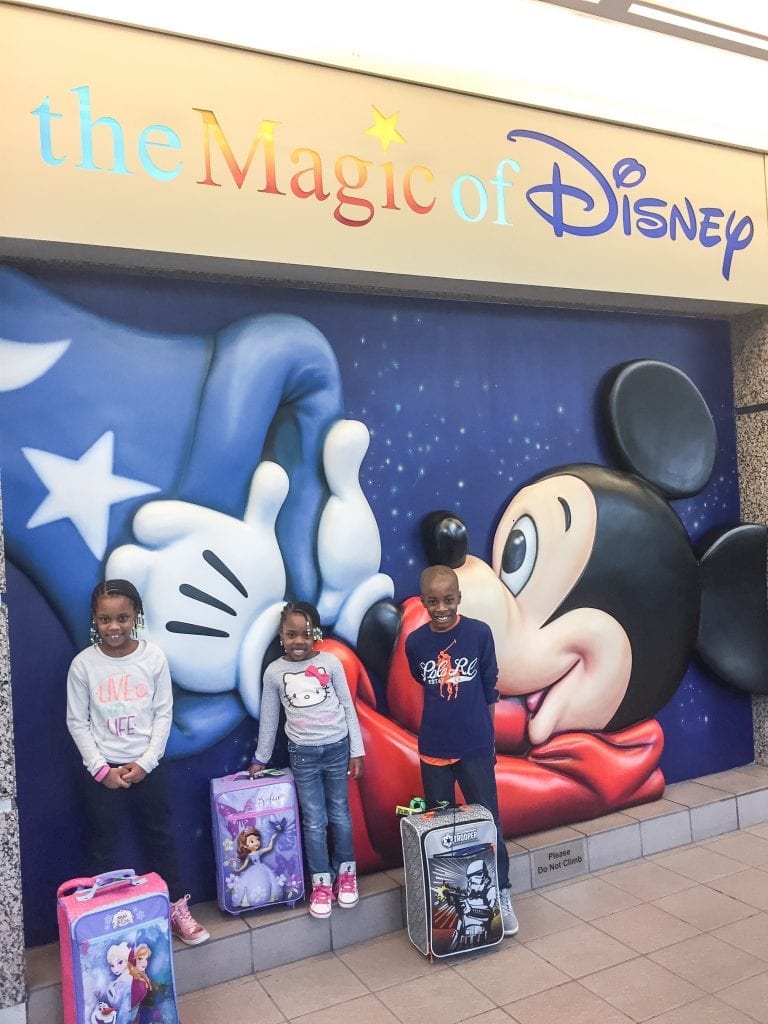 TIP: If you've never flown into Orlando International Airport, just know that it screams Disney as soon as you get out. There are multiple places for photo opps. So keep in mind your surprise may be ruined if they put two and two together before you're ready.
2. Christmas gift reveal
This is what we did in December of 2016 for our February 2017 trip. It was such a special surprise and thank goodness, their reactions were exactly what we had hoped for.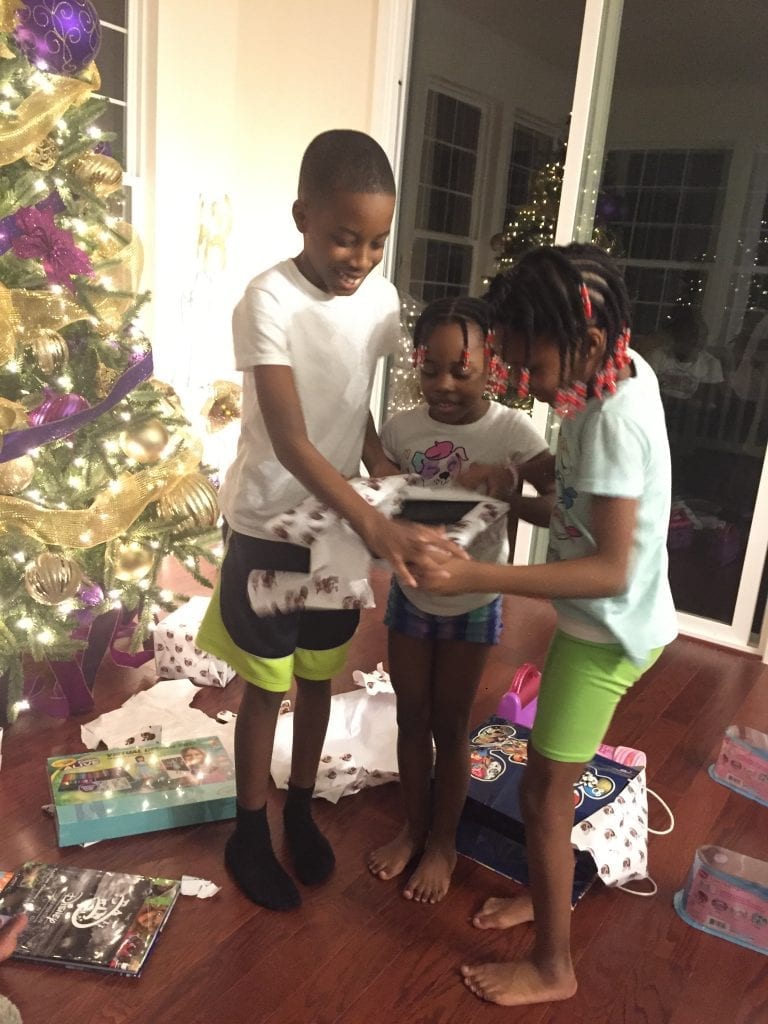 I wish I would've known about Photo Puzzles before. This will definitely have to be on the list for our next surprise. Simply create a graphic with a photo of the kids in something like Canva. Then all you need to do is upload it to PortraitPuzzles.com. They have 15 sizes to choose from and range in cost from $27.99 to $169.98.
Download this "Surprise, we're going to Disney World" word scramble.
TIP: If you have younger kids, be sure to create a countdown calendar. This will allow them to mark off the days and keep you from asking every day, "When are we going to Disney?"
Since I'm all about easy and simplistic, I opted for a framed graphics of "40 Days Until Our Disney Trip". Included in that, was also the Mickey calendar countdown.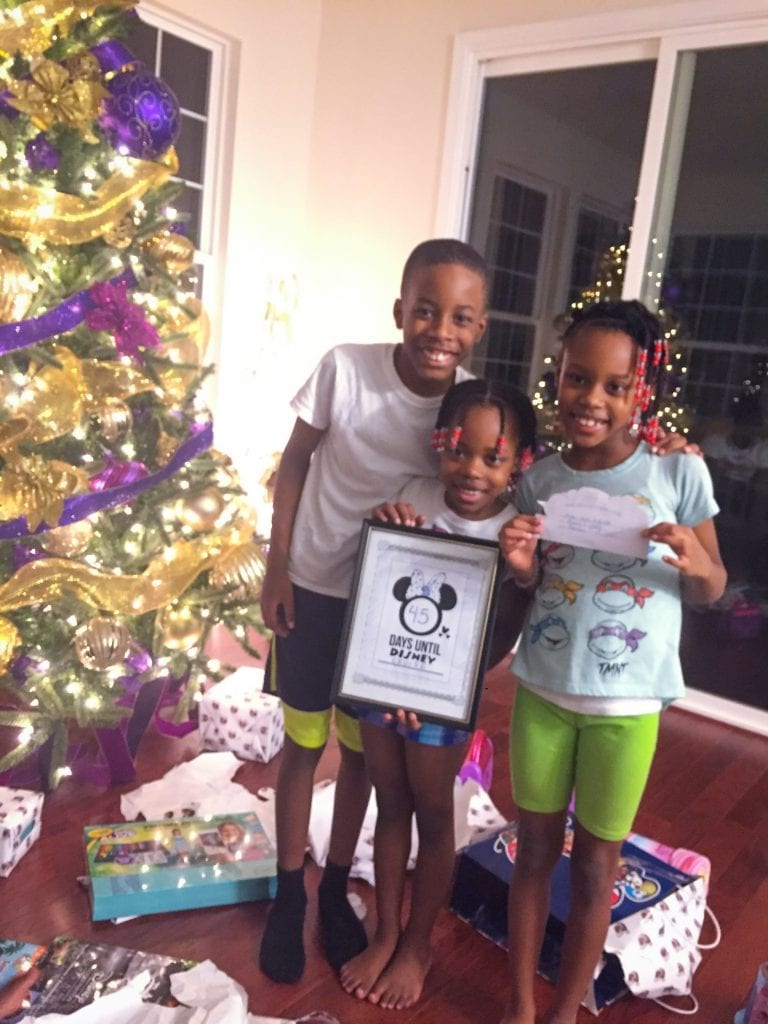 3. Morning of reveal
This is the option we decided to go with this year. Since they got it as a gift for Christmas last year, we didn't want them to start expecting it every year. So we kept it a complete and total secret up until the morning we left.
Now, this is by far not an easy route to go. But even with all the stress, it was totally worth it!
They literally had no clue until the morning we left for the airport. We woke them up, got them dressed and I was ready to take pics and video of them. I was downstairs while hubby finished getting them ready.
The luggage was packed and by the front door ready to go, along with their personalized magic bands (see below).
TIP: start packing early…earlier than you think you need to. We ended up pulling an all-nighter packing for our family of 5. But the joy on their faces was so worth it.
4. Personalize it
Yes, call it cheesy if you want to. But I'm definitely that person whose family will walk around with matching tees. Someone asked me how I get my husband to agree. My answer is I just pack it and tell him what we're wearing from day to day. LOL Actually, so far, he's been a fan of our tees over the last couple of years.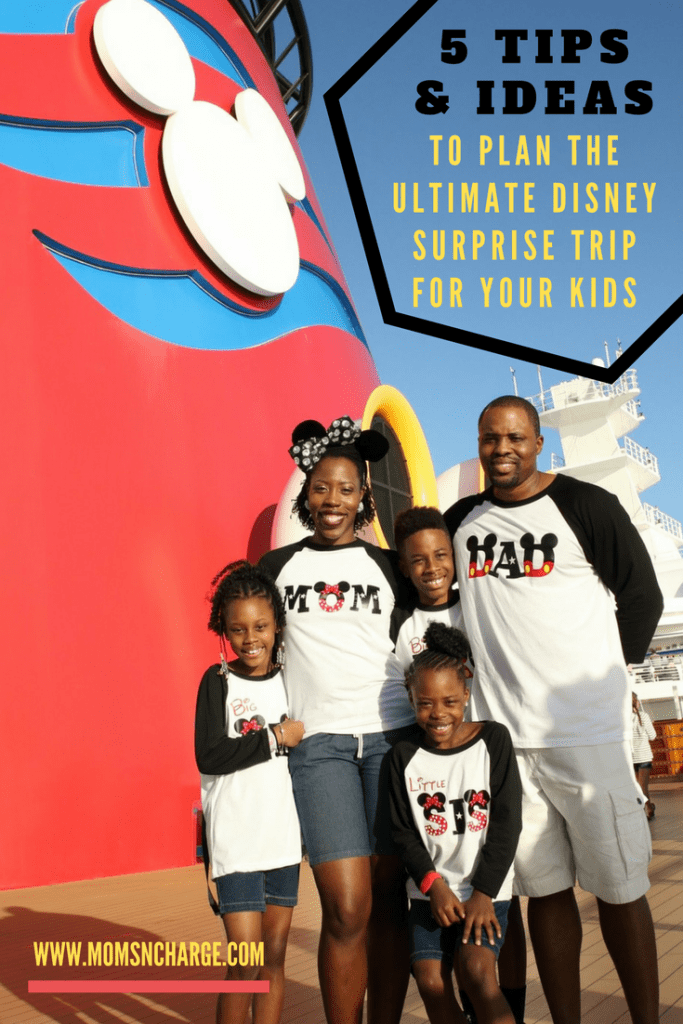 The kids' shirts say "big sis", "big bro", "little sis". Loved working with ShasStunningDesigns to get these tees. The quality was really great too!
TIP: If you want tees, be sure to order them early on. If you're pressed for time, don't forget that you can always get them delivered to your Disney resort.
When I asked Nicole of Izzy and Liv if she could create some custom tees for my kids to match the "Beauty" and "Beast"  tees for hubby and I. She was all in and they turned out GREAT! My son is a Jr and his shirt says "Beast Junior". The girls' shirts say "Little Beauty" and "Mini Beauty".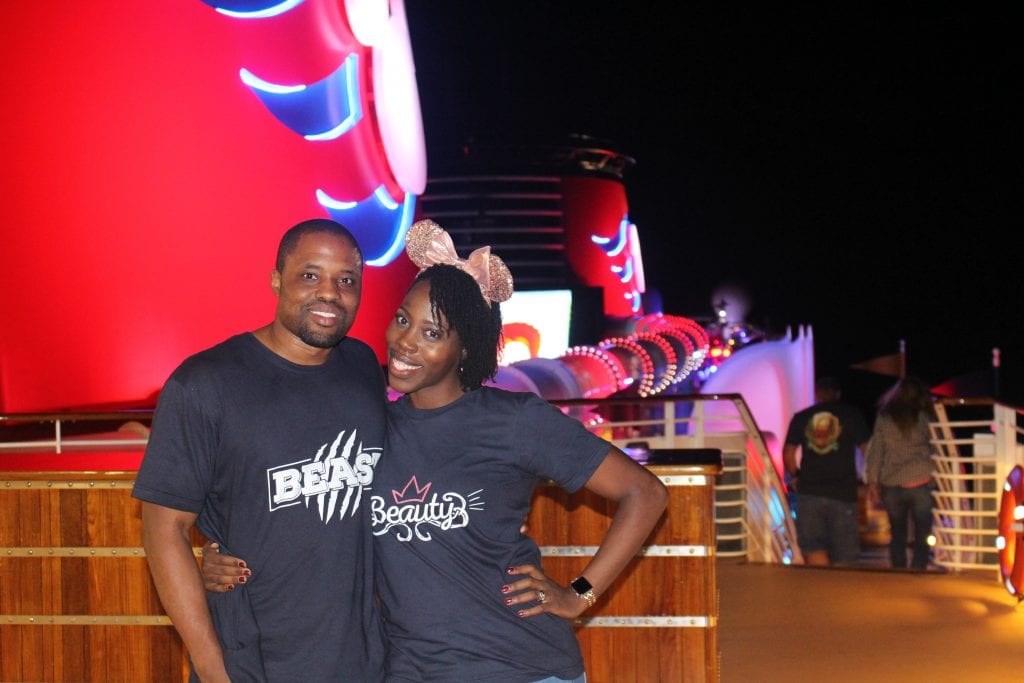 You can check them out here. In addition to the matching tees, since we were also going on a 3-day cruise, I also personalized our  magic bands.
We also personalized our cruise door magnets. These custom Black Panther magnets were made by SugahNSpice on Etsy. She only had the Black Panther magnet available when I found her. She was happy to accommodate my request for these other personalized magnets. She worked quickly and the quality is amazing!
5. Plan for what's important
I'm all about creating amazing experiences for my kids when we travel. When we decided to homeschool, we knew this would allow us to travel more often and be in control of our schedule.
We knew we would be at Disney World for 3 days and then the Disney Cruise for another 3 days. This year, we decided to add a couple of extra days on to the backend of our trip.
If getting great photos are important to you, then you need to invest in the Photo Pass. Most times, I don't travel around the parks with my camera because…photo pass. Even the best photographer can't easily create a memory like this.
I wanted to make sure we could do things I knew we wouldn't have time for during the planned 3 days, given the conference schedule.
So many people I've followed, have raved about Chef Mickey's. This restaurant is located inside of the Disney Contemporary Resort. It is a short 5-7 min walk away from Magic Kingdom. I couldn't snag reservations during the early part of our trip. But as soon as I got off of our ship, I tried again and BOOM! A reservation for dinner was secured for that next evening.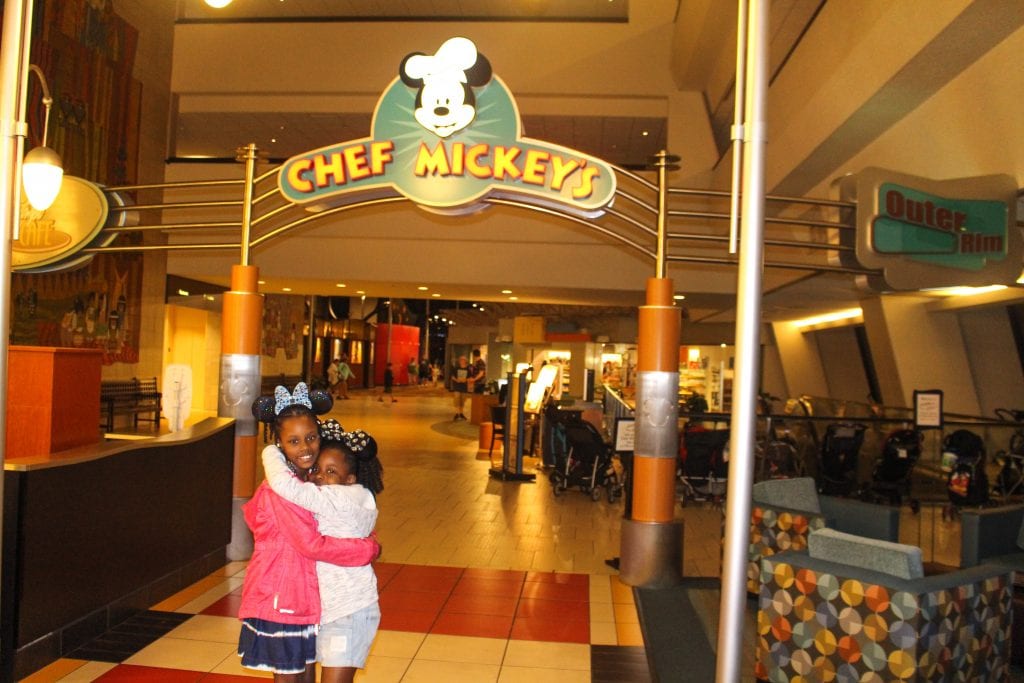 This was another fun surprise as my kids had never been. Unfortunately, my son came down with a fever the morning we got back from our cruise. So he had to stay at the resort with daddy.
It's a buffet style restaurant where the Disney characters walk around to greet you at each table.
TIP: Look to see what experiences you must have (no more than 2-3) and then plan for them/schedule if possible.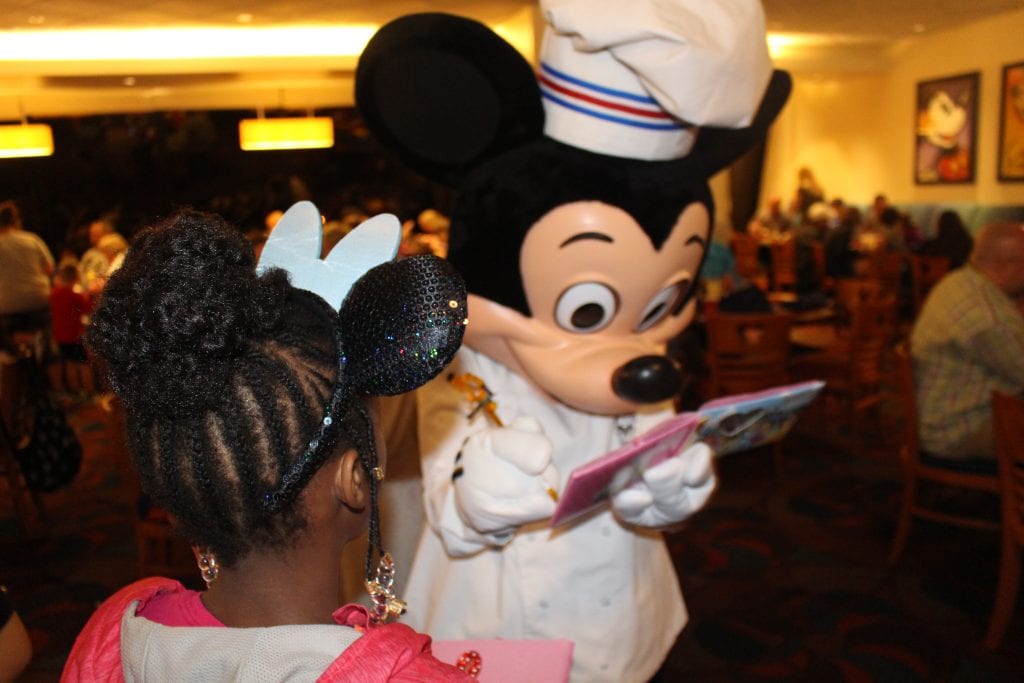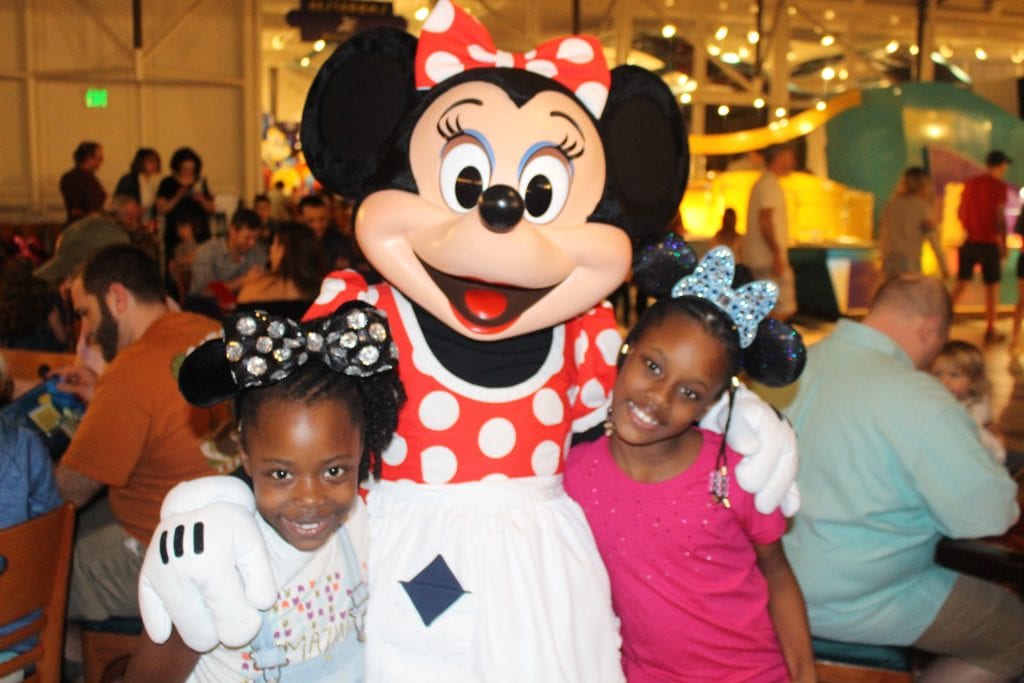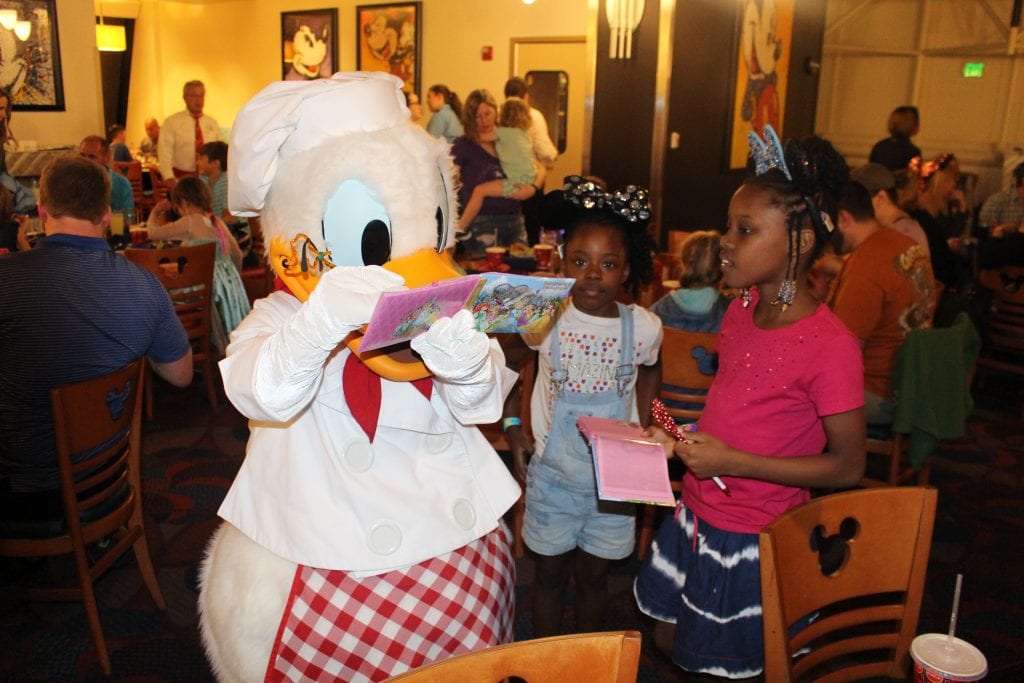 Check out these other posts from my friends for #WaltDisneyWednesdays!
Choya – Just a Splash of Diva – Using Amazon Prime Now for Snacks at Disney
Ari – Love Peace and Tiny Feet – Things to do Before Your Next Disney Trip
LaToyia – The Motivated Mom – A Mom's Guide: Preparing for Disney World and a Disney Cruise
Vashti – VeePeeJay – 5 Tips for First Timers to Make the Most of Their Disney Trip
Christine – Moms 'N Charge – 5 Tips & Ideas to Plan the Ultimate Surprise Disney Trip for Your Kids (you're here)
Bernetta –  Bernetta Style – 7 Must Haves When Packing for a Disney Trip
---
I paid a reduced fee to attend the Disney Social Media Moms Celebration along with my family. By attending, we received free products from sponsors, accommodations, park tickets, and some meals.  As always, all opinions are my own.