It's one thing to hear about and read the stories that go on at a press conference like the one for Black Panther. It's another to not only be in the room but to be at the front of the room.
Today I'll be sharing my Black Panther Global Press Conference experience. I have the full video below. If you missed any of my previous Black Panther coverage posts, you can check out the links below, including interviews with members of the cast.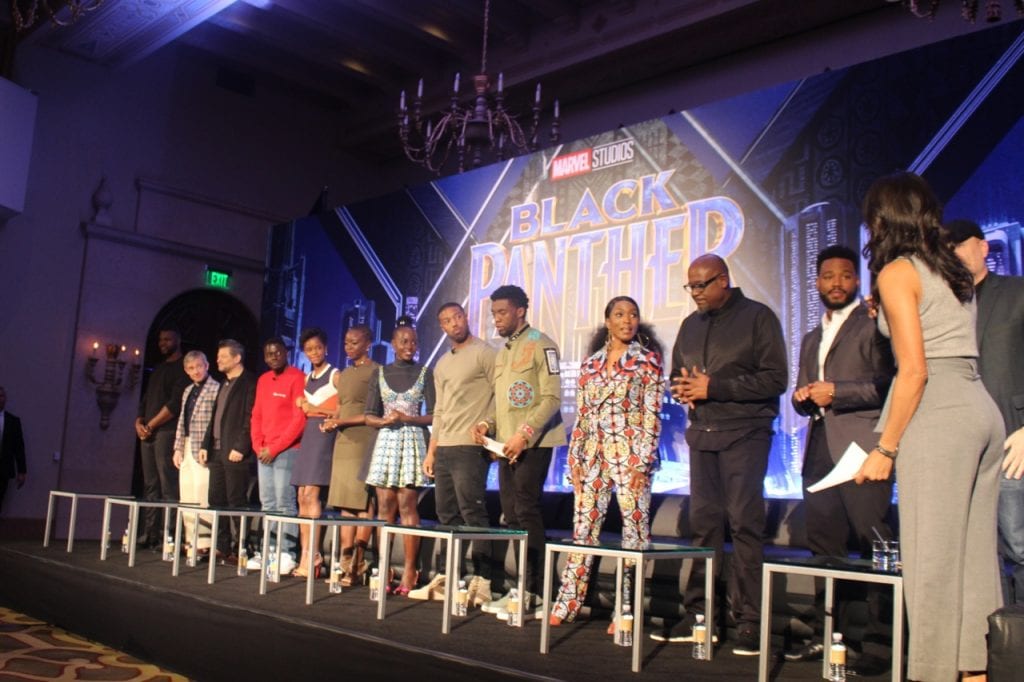 Highlighting moments from Black Panther Global Press Conference
Let's face it, there was a ton of great content shared. It was truly an amazing honor to be in the room. We all had just seen the film the night before so everything was fresh. Most of us woke up with Wakanda still heavily on our minds and still filled with excitement.
I have never been more proud to be Black + African + Woman. I was excited before the film. And I'm still excited long after seeing it.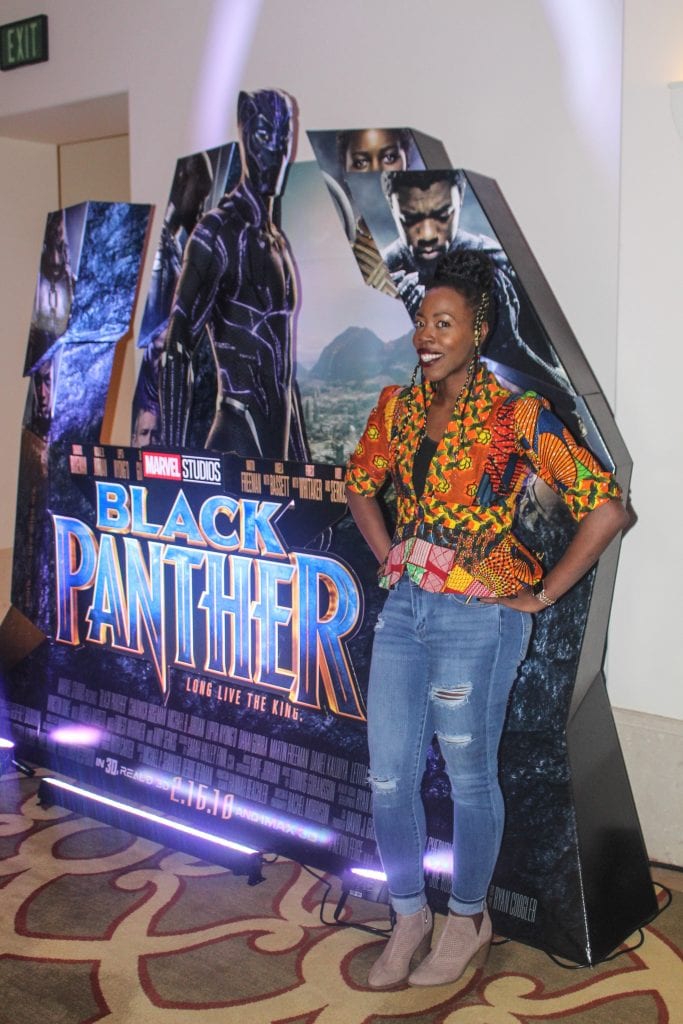 Today I'm going to share some quotes and insights that we heard first-hand during the global press junket. Obviously, there was way too much to share in one blog post. So definitely take a look at the video I was able to record.
How Chadwick Boseman came to be Black Panther
Marvel Studio President, Kevin Feige talked about how it was a no-brainer to go with Chadwick. The decision was made almost instantly and unanimously. 
"We were sitting around a table coming up with the story of Civil War.  Nate Moore, our Executive Producer suggested bringing in Black Panther. We were looking for a third party who wouldn't necessarily side with Cap or side with Ironman.  And almost instantly, we all said Chadwick.  And in my memory, although maybe it was the next day, we got him on a speakerphone right then."
Ryan Coogler shares his excitement for the film
Oakland born Director, Ryan Coogler is known for Creed (2015), Fruitvale Station (2013) and now, Black Panther (2018). At only 31 years old, he's proving to be the greatest young Director of his era. During this press conference, he shared with us his excitement for the opportunity to direct this film.
"I just felt incredibly blessed, to have had the opportunity to make the film this way, to make the film with this studio, working with Kevin and his team (Victoria Alonso, Louis D'Esposito, and Nate Moore).  And it's not something I ever imagined would happen.  It's good to work with my mentor, and these people who I've watched my whole life, and some friends that I've made through this process.  It was incredible."
Forest Whitaker on seeing Coogler's greatness from the beginning
"I knew it from the moment that I met him.  When he started to express himself, I could feel the center of what he wanted to communicate to the world, and how he wanted to touch the world. It really was a really powerful thing to see.  When he started to talk to me about his ideas [at that time, he was in school] I remember thinking, 'this person, if given the right space, he's going to, do something that can change our lives in some way. 
I'm just blown away watching his growth. He's able to just manifest so much importance in socially relevant moments, inside of things that we want to sit and watch.  It's been quite a powerful experience for me last night to watch that."
Michael B Jordan shares feelings after watching the film
He shared that while they got to see some concept art in the beginning, nothing could'be prepared them for the final outcome. They couldn't have imagined how it actually turned out.
"When I sat down with my family and the audience, I had that same type of reaction.  It was like, 'Man, this is what it feels like'. I couldn't describe that feeling before actually sitting down and watching that film.  And seeing yourself on screen – not me personally, but people who looked like you – empowered. And having those socially relevant themes, but in a movie that you want to sit down and watch, and you can enjoy, that Marvel does so well.  So I think it was a really good balance, and everybody won; everybody did amazing, amazing jobs in performances.  It was an incredible film last night."
Angela Bassett on what it means to be a "lady of Wakanda"
Angela Bassett can do no wrong in my eyes.  I have always been a fan and I love who she is as a wife, woman, mom, and what she stands for. She spoke a bit on not just how she felt as Queen Ramonda, but on what it meant to be a Wakanda woman. She shared her delight about this story being written and supported by Marvel.
"In an African culture, they feel as if there is no king without a queen. I think in this story, it highlights the queen, the warrior, the general – the young sister.  So I was so proud to have my daughter, and my son there last night, because in their faces, and in their spirit – and they were feeling themselves."
On the decision to have Black Panther speak in an African accent
My girl Ari Adams of Love Peace and Tiny Feet was able to ask this great question to Chadwick: "I read that it was especially important for you to have Black Panther speak in an African accent.  Can you elaborate on that a little bit as far as your thoughts are for this and why it was so important?"
Chadwick: "I will try to be as quick as possible. I think as actors when you're trained, very often it's from a European perspective. What is considered great or classical is very often British. I think you have to tell the stories and be true to yourself as an artist.  There was a time period where people were asking me questions about whether or not an audience could sit through a movie with a lead character who spoke with that accent?  So I became adamant about the fact that that is not true. 
That the intonations and melodies inside an African accent are just as classical as a British one or a European one and that all of the emotions and aspects of a character can be shown and expressions can be shown through that accent. And we have to take this opportunity to show that if he had never been conquered; if his ancestors had never been conquered and Wakanda is what it is, he doesn't have to go to Oxford to study.  He doesn't have to go to Cambridge or Yale or any place to study.  He actually got his education at home and he would not then assimilate a language that is the colonizer's language in order to speak to his people.  So he had to speak with an African accent."
What Chadwick didn't mention during this junket was the fact that he had his ancestral roots traced with AfricanAncestry.com. He shared that earlier this week during the Marvel Studios Black Panther Live Q&A on Twitter. When asked how he prepared for his role of T'Challa, he shared that it was a matter of absorbing anything that could inspire him (click here to watch at 26:42).
Martin Freeman chats Agent Ross
"Before filming, Ryan and I both agreed that we didn't want him just to be a schmuck,  and we didn't want him just to be a comic foil; that it needs to be a little bit more 3D than that. I was very pleased when I was reading bits of the script.  They were making it more emphatic, a more sympathetic and a bit more can do. It's not Agent Ross' film by a long way, but he plays his part.
There is sort of an ambivalence about Ross 'cause you're not quite sure if he's gonna be down with T'Challa or not. He ends up having his eyes opened by this country that he knew nothing about and a civilization that he knew nothing about and realizing that it had something to offer." 
There were definitely some more great content share, some inside jokes between some of the cast. They seemed like one big family, and we were getting a small glimpse into their lives. This was definitely one for the books!
Full Video: Black Panther Global Press Conference
About Marvel's Black Panther
Marvel Studios' BLACK PANTHER follows T'Challa who, after the death of his father, the King of Wakanda, returns home to the isolated, technologically advanced African nation to succeed to the throne and take his rightful place as king. But when a powerful old enemy reappears, T'Challa's mettle as king—and Black Panther—is tested when he is drawn into a formidable conflict that puts the fate of Wakanda and the entire world at risk. Faced with treachery and danger, the young king must rally his allies and release the full power of Black Panther to defeat his foes and secure the safety of his people and their way of life.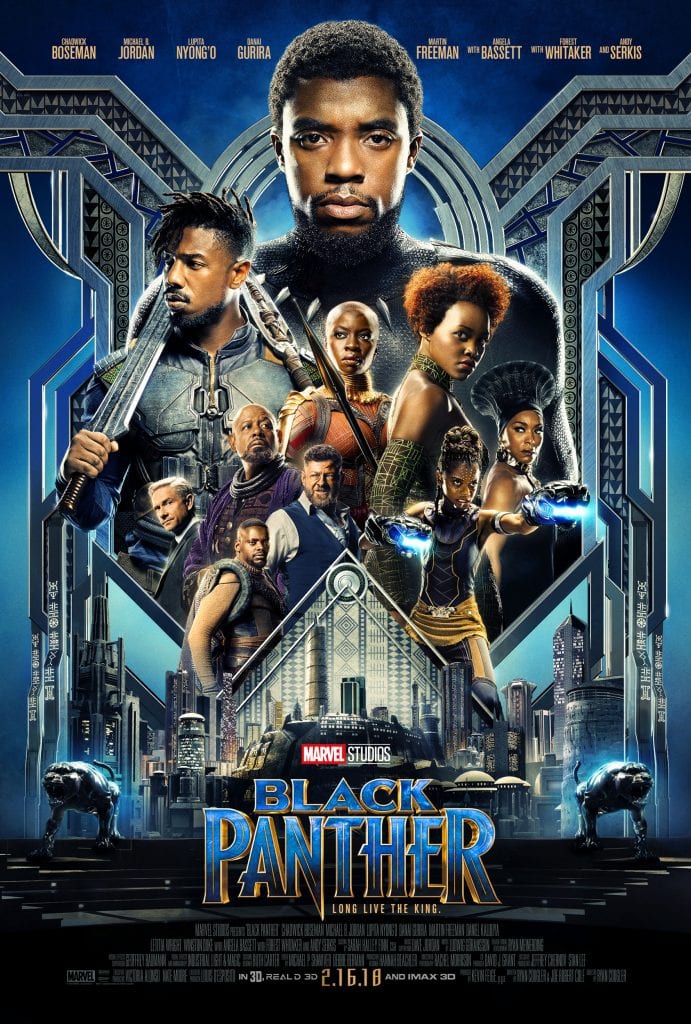 Check out the official trailer for Marvel's Black Panther:
In case you missed any of my previous Black Panther Posts:
5 Reasons to Get Excited About Black Panther
I'm Heading to the Black Panther Premiere in LA 1/28-1/31
My Black Panther World Premiere Red Carpet Experience
Inside Black Panther: Interview with Lupita Nyong'o and Danai Gurira
Exclusive Forest Whitaker Interview: "Zuri" of Black Panther
Chatting with Oscar Nominee Daniel Kaluuya and Letitia Wright
Don't forget to:
Like BLACK PANTHER on Facebook. Follow BLACK PANTHER on Twitter. Follow BLACK PANTHER on Instagram. Be sure to follow the official movie and event hashtags: #BlackPanther #BlackPantherEvent
The Nation of WAKANDA arrives in theatres nationwide THIS Friday, 
February 16, 2018 (TWO more DAYS)

!
---
This trip to LA to cover the Black Panther premiere was sponsored by Disney. As always, all thoughts and opinions are my own.