Nine more days. In nine days, Black Panther will be released in theaters across the nation. I shared my overall movie review in yesterday's post. But today, we are going inside Black Panther with Lupita Nyong'o ("Nakia") and Danai Gurira ("Okoye").
We had the pleasure of interviewing these beautiful and fierce ladies of Wakanda after the Global Press Junket while in LA. The conversation started by them sharing how connected they felt to these characters. With Lupita being of Kenyan descent and Danai being of Zimbabwean descent, they shared their personal connection of pride.
Lupita also mentioned that she loves a "woman who is on a mission" which is what Nakia is on. Nakia is a warrior and leader of her tribe and it means a lot to her to make her people proud.
Danai chimes in to share that she definitely related to her power and purpose. "Yeah, I definitely related to her power and purpose. I could really relate to that about the way that she is so dedicated to her nation and so dedicated to her people." It's the idea that "to who much is given, much is expected."
Danai dishes about fighting in a red dress
By now you've seen the clips from the trailers and featurettes. Okoye is in this killer red dress and Nakia in a green one, kicking butt and taking names; all while doing it with grace and beauty.
The question was asked of what the training process was like for both of them working on this film?
Daina confirmed that they trained a lot!
"These women are different and their fighting styles are very different. Mine is very traditional. Hers is 'just get the job done.' my character's gonna pull out her spear and she's gonna do forms that have been in Wakandan tradition for generations in this particular place and she's just gonna take them down and smack them down and I just love that."
What I loved and found interesting is the fact that this particular fight scene took a lot of prep because it was a one-er. Yeah, I didn't know what that was either. But basically, it just means that they have to do it all the way through. There's no editing done in the middle of a fight scene.
It took a lot of precision. So if it wasn't right, they had to take it back from the beginning of that scene. Lupita chimed in that it was "tedious but fun."
About the training and getting into character
Lupita shared with us that the training was a big part of getting into character because being able to understand how someone fights, reveals what their values are and who they are.
When discussing Nakia's fighting style, Director Ryan Coogler described it as "street." And that is all Lupita needed to bring her to life. She understood that Nakia was a "by any means necessary" fighter. She would use any weapon she could get her hands on (even if it means a shoe). While she would use guns, the Dora Milaje did not use guns. Their weapons were their spears and swords. But at the end of the day, they stand in solidarity with each other.
They occupy their own space and then going into battle, everyone has a different strength to bring to the table. Lupita went on to share that it was a way to make fighting "extremely rich and full of culture in and of itself."
On authenticity and African representation
Being of African descent, Lupita shared that they both feel a strong sense of responsibility and desire to see African women on the screen that look and feel like the women they know them to be.
With the characters of Nakia and Okoye, they wanted them to embody the women that they know: they're deep and about something other than just the man in their lives.
It was also really important to Ryan as well to have women who are standing on their own in this movie. Women with agency and strength.
Lupita: "Strength does not mean an absence of vulnerability but it means that you have it in yourself to get yourself through things, to seek help. I commend Ryan for this because, in the end, his story is not about punchlines and clips and things to make it fun and enjoyable. It's still fun and enjoyable but there's an integrity to these people. We really get a sense of what Wakanda's society is like. We see a society where men and women are participating fully in the development of the nation. And in doing so, they're reaching their full potential and that's good for everybody."
Danai dishes on bald beauty in Black Panther
As you know, the Dora Milaje are some beautiful, bald, African women. They take pride in their baldness. In the casino featurette below, you'll see that Okoye has a choice between wearing a wig or being authentic to who she was.
She shared during this interview that she loved what the hair and costume department did.
"They really pulled from real actual cultures and ethnic differentiation on how hair is celebrated across the continent traditionally and currently. There is something really powerful about all the ways that hair was represented. There are so many things that tell those of African descent that there's one way that they should actually manifest themselves in society in order to be accepted or acceptable."
She spoke about how it's an argument she still hears every time she goes to Zimbabwe. It's something that still needs to get addressed.
"We thought we got with black is beautiful. But we haven't. So I love that there are so many manifestations of that sort of expressions."
While we ran out of time and I didn't get to ask my question, I was so inspired by what and who these African Queens are. I truly enjoyed this interview and even more excited to go out and watch it again.
Danai touched on this a bit during the Global Press Junket (which I'll share in full next week). But growing up and only seeing negative images and content about Africa, I wondered: Would they be traveling to their countries of Kenya and Zimbabwe to screen Black Panther? And how do they see this film impacting the continent as a whole?
Those would be my questions.
Tomorrow's interview is with Forest Whitaker. Stay tuned!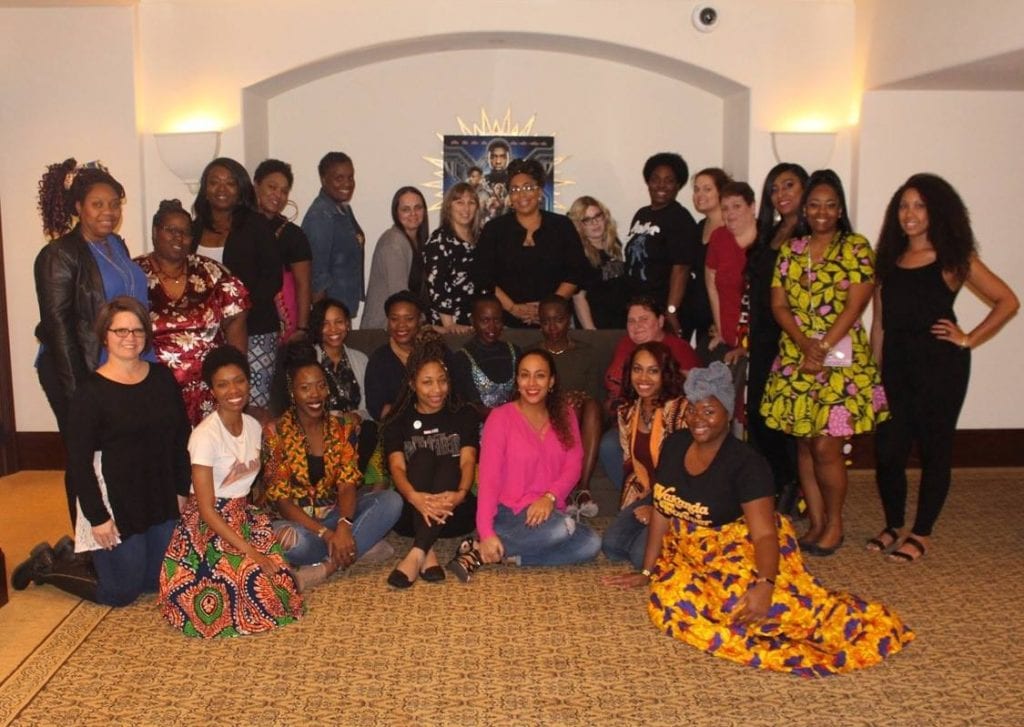 All about Marvel's Black Panther
Marvel Studios' BLACK PANTHER follows T'Challa who, after the death of his father, the King of Wakanda, returns home to the isolated, technologically advanced African nation to succeed to the throne and take his rightful place as king. But when a powerful old enemy reappears, T'Challa's mettle as king—and Black Panther—is tested when he is drawn into a formidable conflict that puts the fate of Wakanda and the entire world at risk. Faced with treachery and danger, the young king must rally his allies and release the full power of Black Panther to defeat his foes and secure the safety of his people and their way of life.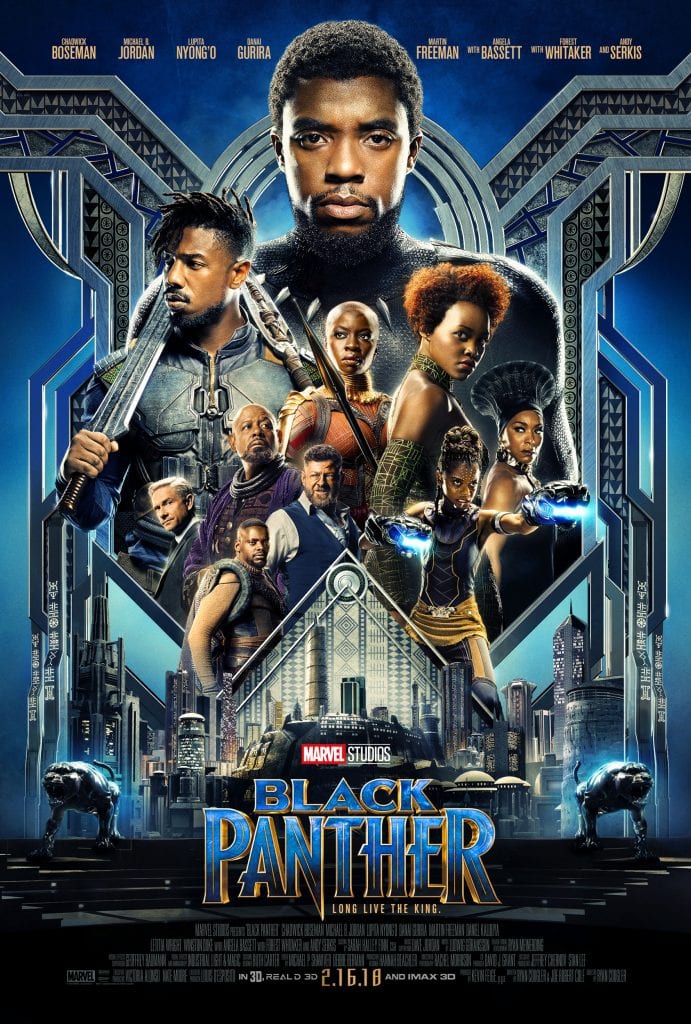 Check out the Casino Featurette below with Lupita and Danai:
In case you missed my previous Black Panther Posts:
5 Reasons to Get Excited About Black Panther
I'm Heading to the Black Panther Premiere in LA 1/28-1/31
My Black Panther World Premiere Red Carpet Experience
Marvel's Black Panther Movie Review (No Spoilers)
Don't forget to:
Like BLACK PANTHER on Facebook. Follow BLACK PANTHER on Twitter. Follow BLACK PANTHER on Instagram. Be sure to follow the official movie and event hashtags: #BlackPanther #BlackPantherEvent
BLACK PANTHER arrives in theatres everywhere on 
February 16, 2018 (ahem…9 more days)

!
---
This trip to LA to cover the Black Panther premiere was sponsored by Disney. As always, all thoughts and opinions are my own.