Fresh off my flight from LA and my mind has been racing trying to relive and take in my experience from Monday. As you know, I spent the last several days in LA to cover the world premiere of Marvel's Black Panther.
In the coming days and weeks, I'll be sharing more details about the films, interviews and other exciting things we got to experience.
But today? Today is allll about my red (or should I say, purple) carpet experience. I don't know that I can actually put into words the feelings that I still feel from being on that carpet. I've had some pretty incredible experiences in my blogging career, but this is hands down at the top of my list.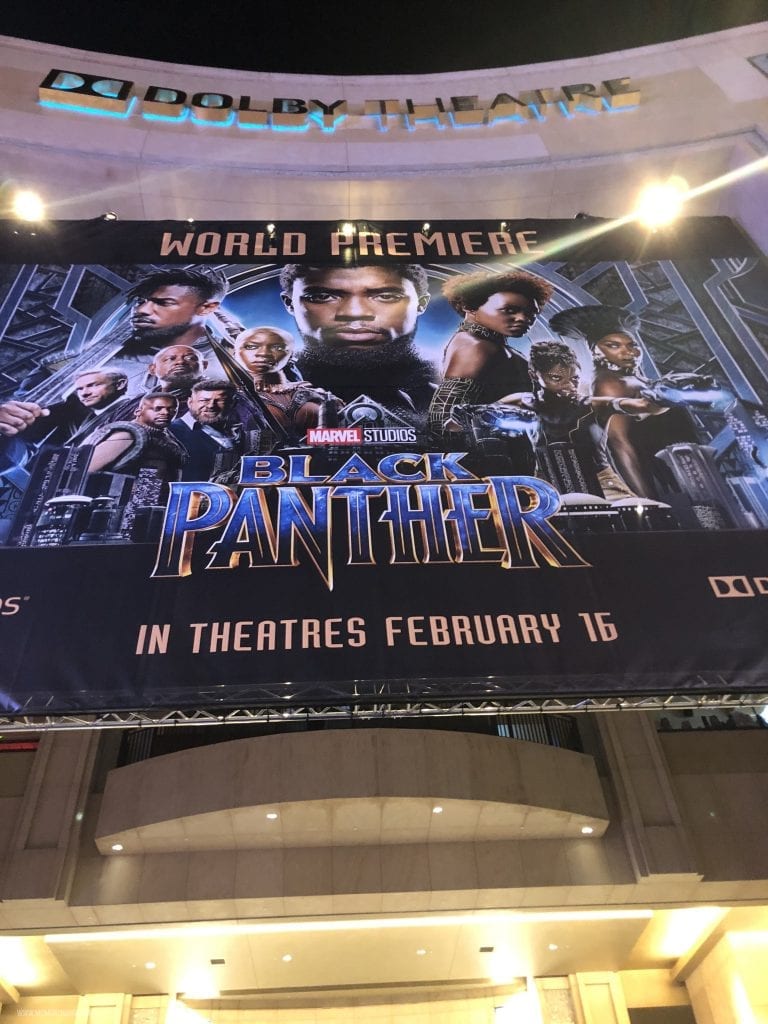 The energy, the excitement and the people all made up for one heck of a night!
I've shared in previous posts why I was excited about the release of Black Panther (you can check them out here and here).
Black Panther World Premiere Red Carpet Experience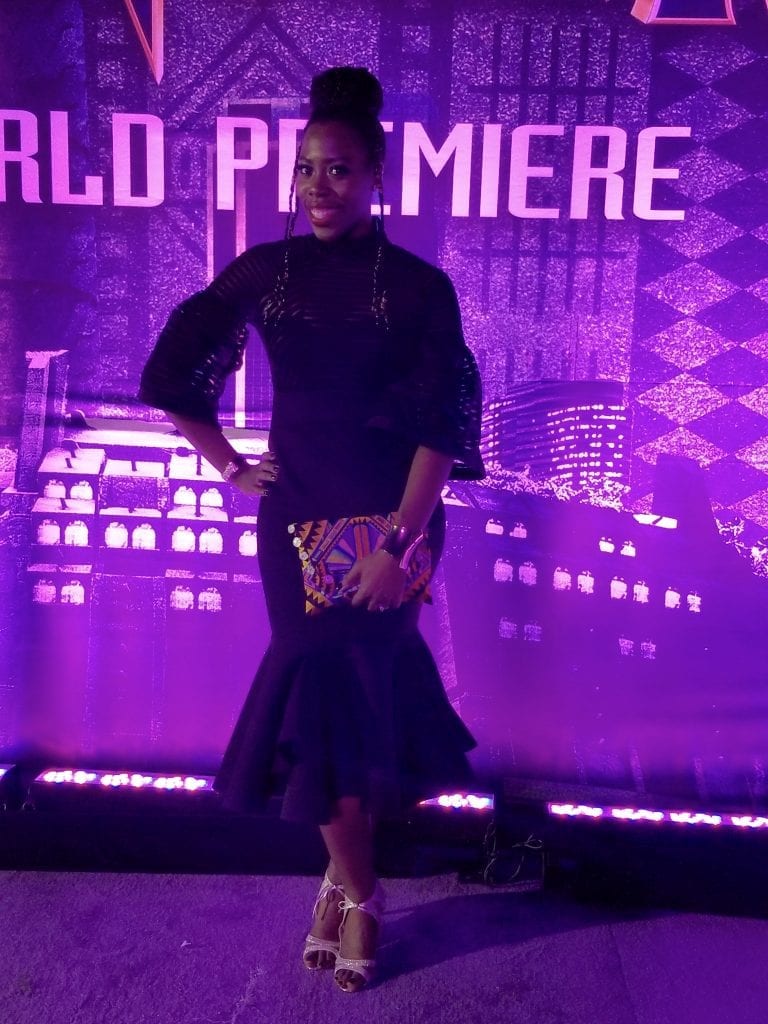 HAIR
When I told my girlfriend I would be heading to LA for the world premiere of Black Panther, she immediately offered to adorn my crown for the event. I happily obliged. I installed my sisterlocks in August and thought this would be a perfect time to try something new with them.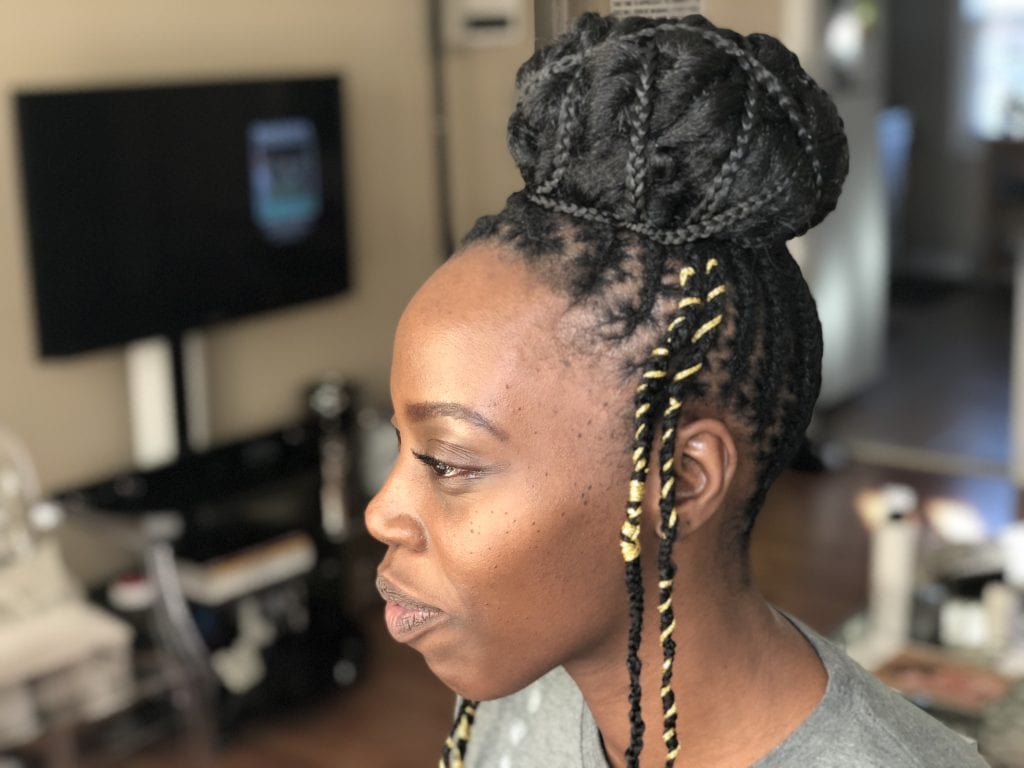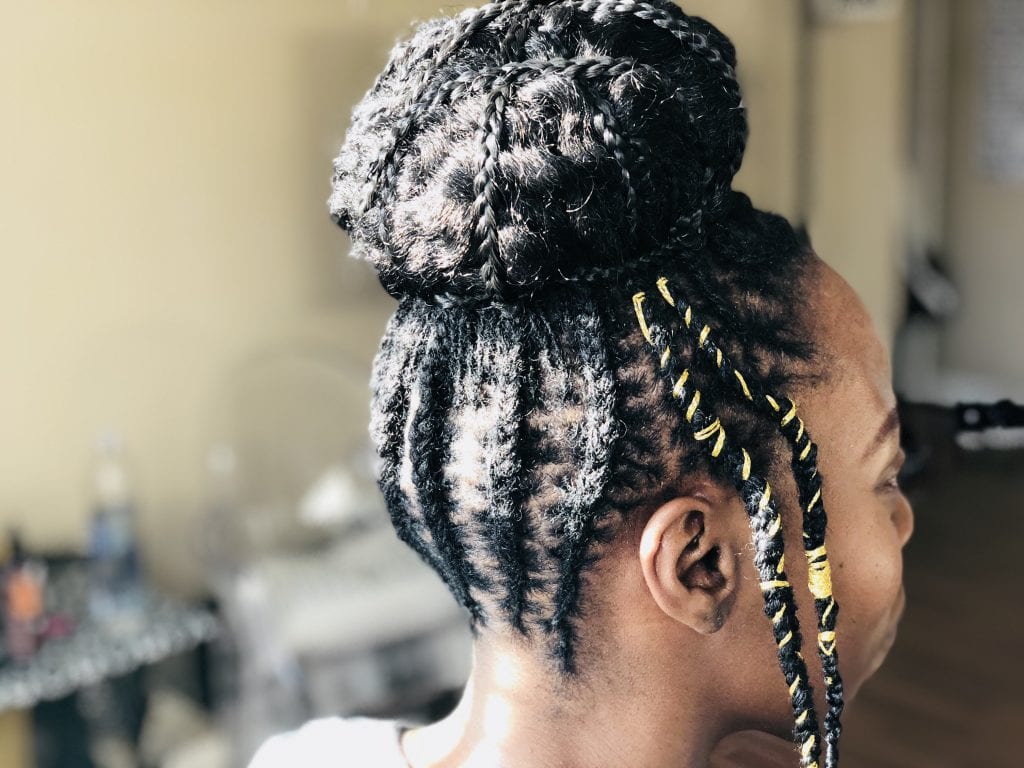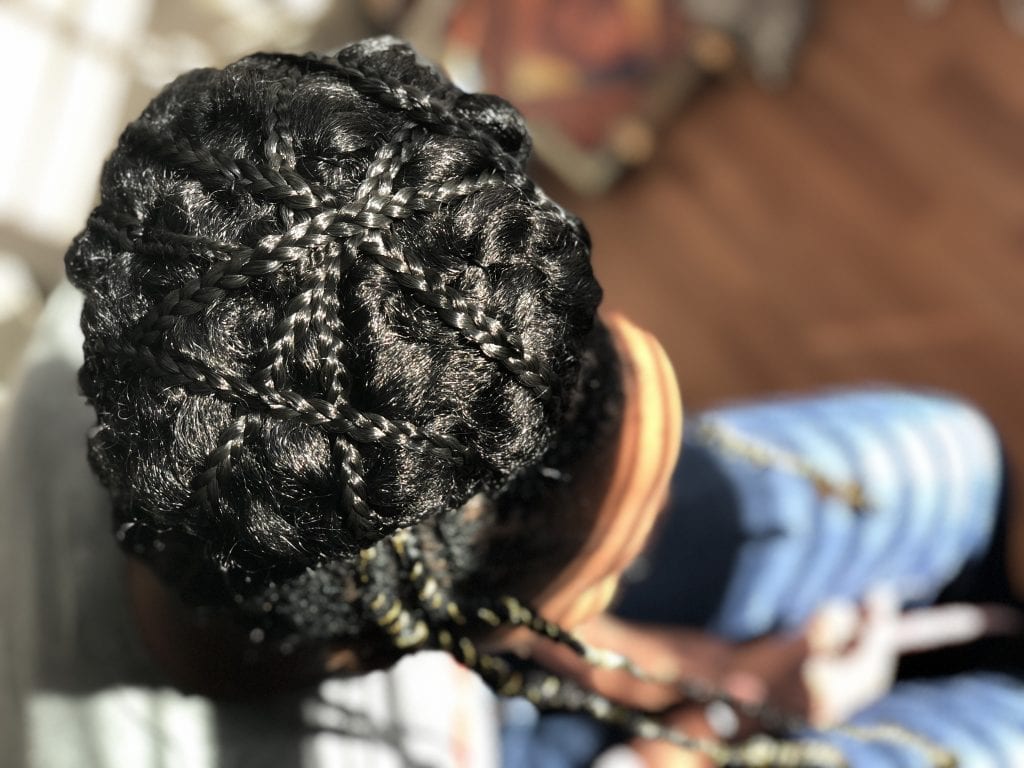 I absolutely loved it and received so many compliments. She was able to pull my locs up into an updo and add some crochet to the top for this elegant, Africanesque bun. The gold wiring and decor took it to the next level.  Thank you, Diana, I am forever grateful!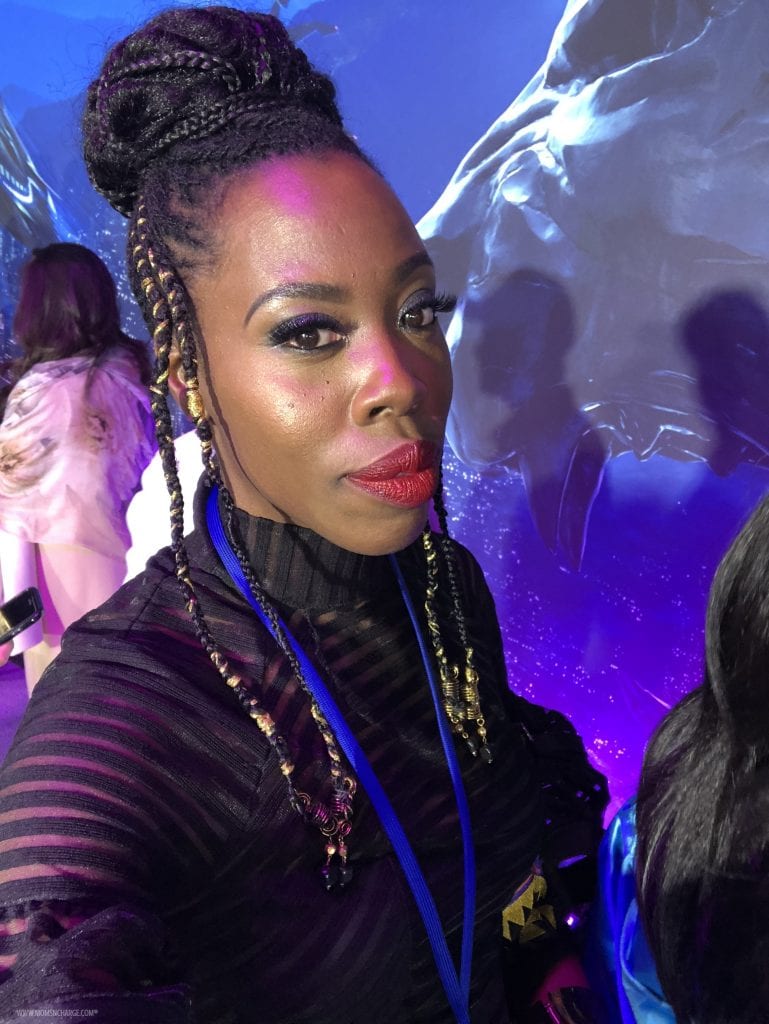 DRESS
The vision for my hair started with my original dress choice. As of the Tuesday before I was scheduled to leave for LA, my original designer still didn't have the material I wanted/liked. So I was connected with another amazing designer (thanks to another dear girlfriend) who made a custom dress for me in 24 hours. However, that dress, while beautiful, wasn't going to work with my hairstyle.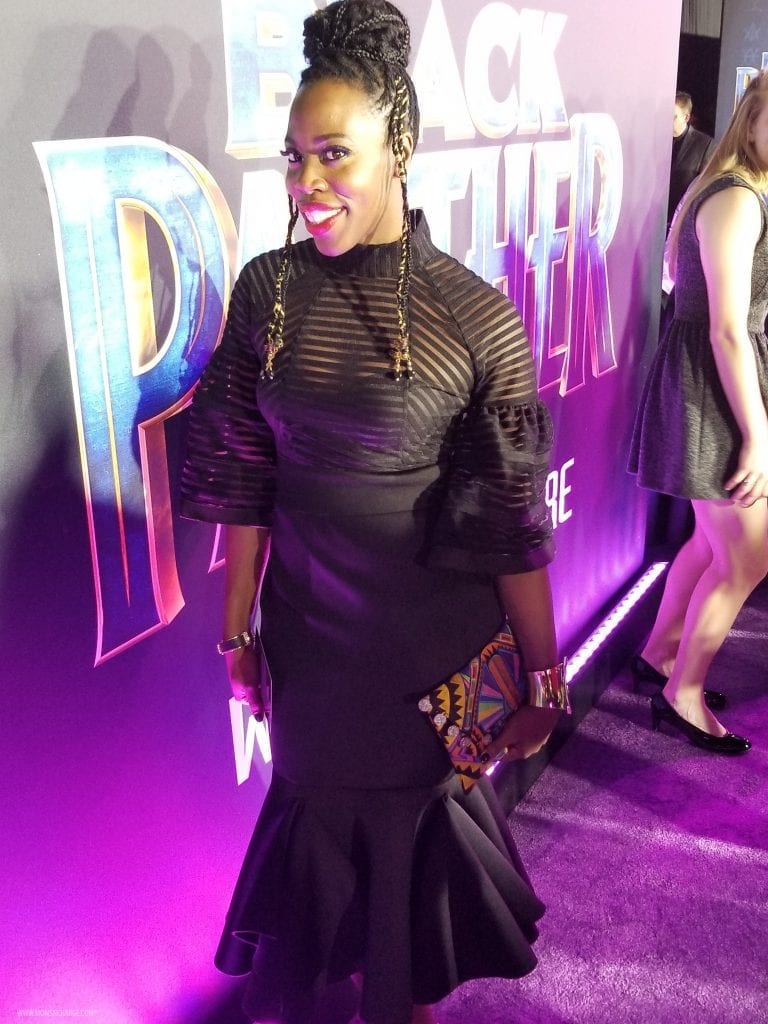 Both Diana and I realized this after she did my hair. So the dress I ended up with, came straight out of her closet. It was perfect! I don't even know who the dress was made by or where Diana got it from. All I know is that I felt like a princess in it 🙂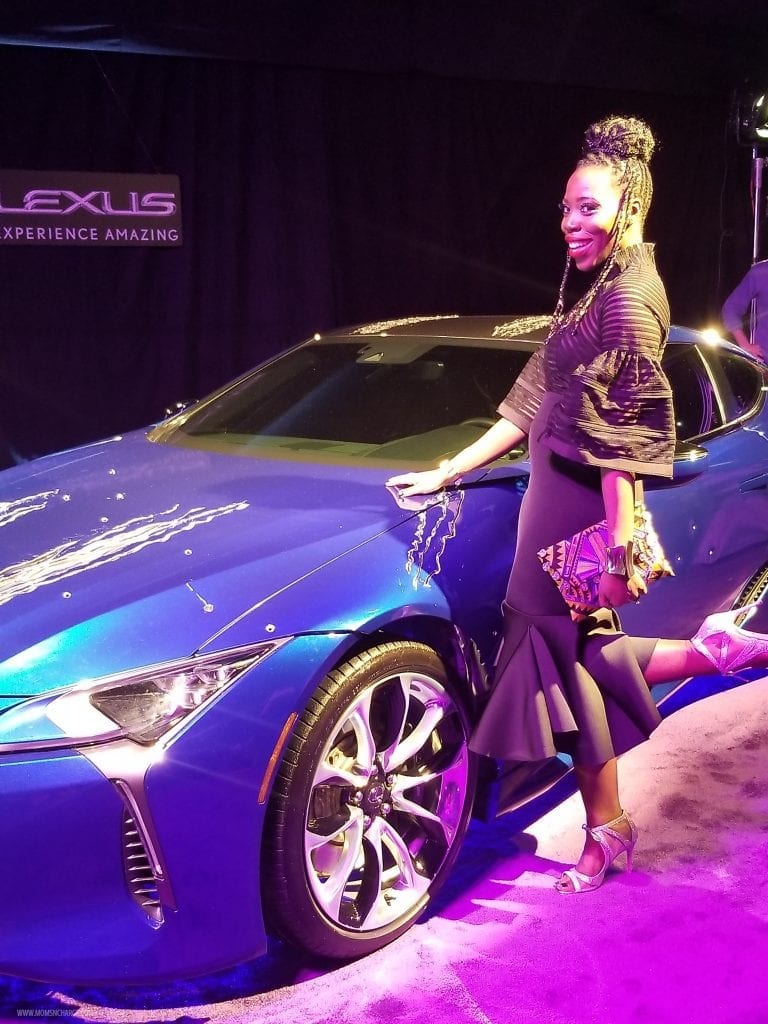 But can we have a moment of silence for this Black Panther Lexus though? Lexus has always been my favorite and my ultimate dream car. And this beauty was breathtaking. I hear it will be on display at select auto shows around the country. So be on the lookout.
CELEBRITY SIGHTINGS
It's so funny because I've never really been the star-struck type of person. I think it's amazing to meet them in person and rub elbows (especially when I met and interviewed Tamera Mowry-Housley as I'm a huge fan).
But when I meet celebrities, my initial reaction is not always to take a picture (but I'm learning so we'll see). One of the things my favorite Disney Publicist tells us to do is to take in the moment while we're on the carpet. So that's exactly what I did. Thanks for that reminder, Marshall!
Loved running into Chloe and Halle. They are so adorable and they looked stunning at the premiere. I remember when they first started doing YouTube videos. So to see their success now is so inspiring. I love that they are now on Grownish!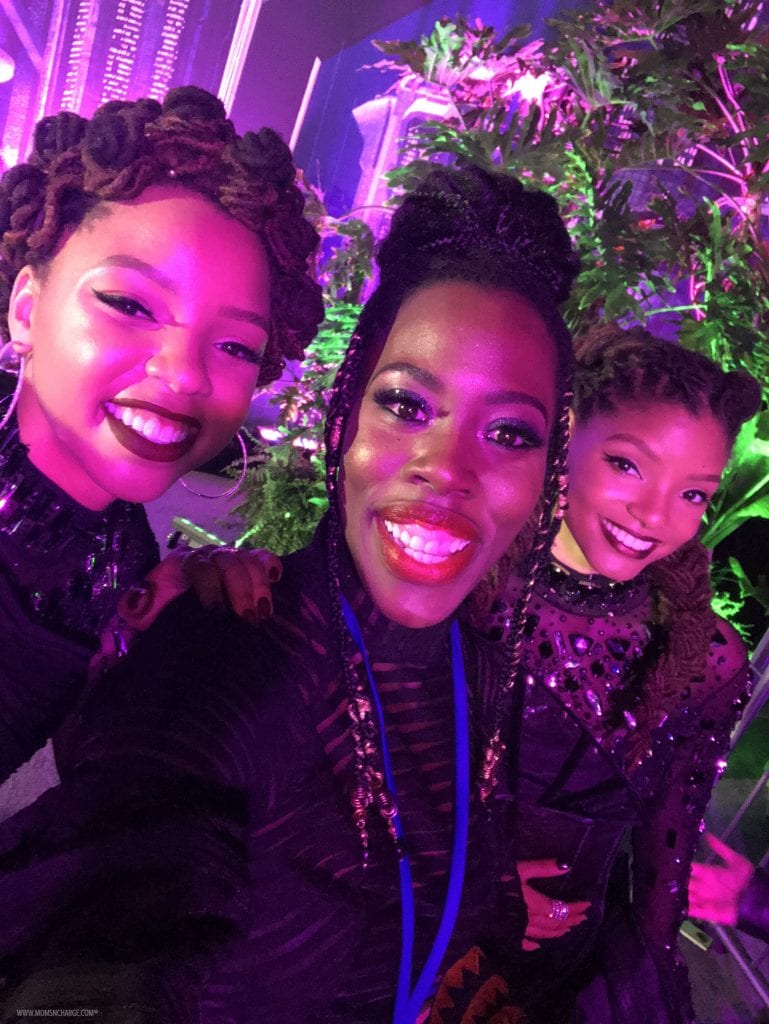 While taking in the moment, I also ran into Martin. Yes, that one. It was one of those things where I had to do a double take. LOL But I was able to say hi, tell him I was a fan and that I had just watched two episodes of his show the night before. He smiled and thanked me.
Once we got inside the Dolby theatre we had to get our phones locked up. And of course, that's when we ran into more celebrities. Did I mention I don't really get starstruck? Well, I almost did when we ran into Jamie Foxx as we were getting ready to grab popcorn in the lobby. He was with his daughter and some friends.
I got to tell him how big of a fan I was of his and shake his hand. He was so nice and had I had access to my phone, I definitely would've asked him for a photo.
I also saw and got to say hello to the beautiful Garcelle Beauvais prior to entering the red carpet. She was so pleasant. I know a couple of fellow bloggers got to snap a pic with her before she was whisked off.
We were initially put on the wrong side of the carpet and by the time we realized it, we were halfway down. So we probably missed a ton of photo ops, but it was great to people watch. It was fun to see fans waving and screaming from the streets of Hollywood.
I went live on the red carpet for just a few minutes on my Facebook page. I wanted to share a little of the excitement we were experiencing first-hand.
As I was panning the carpet, I was overjoyed to see who I knew to be Daniel Kalyuua from the back. I knew immediately because he was wearing our traditional Ugandan attire, a kanzu. To celebrate my African heritage was already a proud moment, but seeing him at the world premiere with a kanzu on absolutely made my night.
This is the second time I got to see our traditional attire on the red carpet. The first time was during the Queen of Katwe premiere.
Once inside the theatre, we also got to say hi to and watch celebrities walk by like Sterling K. Brown, Usher, and more.
WORLD PREMIERE OF BLACK PANTHER
On Tuesday, I'll be sharing my full film review. Don't worry, I won't give any spoilers. I seriously can't wait to share my thoughts so stay tuned.
We got to sit in the center of the theater, in the second row. If you look closely, you can see me on the aisle seat on the left.
Loved seeing most of the cast and Director Ryan on stage prior to the film starting.
And of course, I can't end without sharing this dope photo of Black Panther royalty! For more African Royalty that graced the red carpet, be sure to check out this article from Huffington Post.
And of course, it's always fun to share this experience with some amazing bloggers!
All about Marvel's Black Panther
Marvel Studios' BLACK PANTHER follows T'Challa who, after the death of his father, the King of Wakanda, returns home to the isolated, technologically advanced African nation to succeed to the throne and take his rightful place as king. But when a powerful old enemy reappears, T'Challa's mettle as king—and Black Panther—is tested when he is drawn into a formidable conflict that puts the fate of Wakanda and the entire world at risk. Faced with treachery and danger, the young king must rally his allies and release the full power of Black Panther to defeat his foes and secure the safety of his people and their way of life.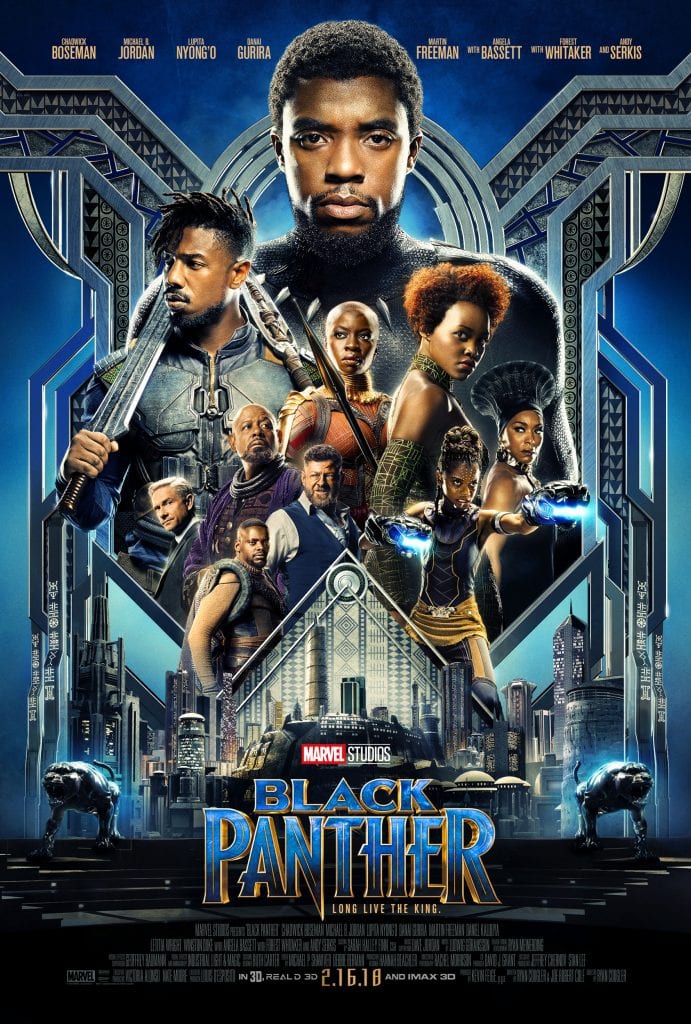 Check out the Wakanda Revealed Featurette below:
Like BLACK PANTHER on Facebook. Follow BLACK PANTHER on Twitter. Follow BLACK PANTHER on Instagram. Be sure to follow the official movie and event hashtags: #BlackPanther #BlackPantherEvent
BLACK PANTHER arrives in theatres everywhere on 
February 16, 2018

!
---
This trip to LA to cover the Black Panther premiere was sponsored by Disney. As always, all thoughts and opinions are my own.