It's countdown to Black Panther time! All this week and next week, I'll be taking you behind-the-scenes of our Black Panther Event in LA.
Today, I'm sharing an exclusive Forest Whitaker interview we had the pleasure of conducting. An Academy Award, Golden Globe, and Emmy-winning actor, producer, and director, it was a true honor to sit in his presence!
I didn't think about it until I started writing this post. But it's ironic that growing up, whenever I told people I was from Uganda, the first reference they mentioned was of Idi Amin. And Forest Whitaker played him in the film The Last King of Scotland.
But now, with the story of Black Panther and Wakanda, there's a new sense of pride as it relates to being African. In tomorrow's post, I'll be sharing our interview withDaniel Kaluuya ("W'Kabi") & Letitia Wright ("Shuri").
On Mastering quiet performances that leave a big impression
We all know this to be true of many of the roles that Forest Whitaker plays. He shared with us that he just tries "to have the right thoughts and internal life when all of that's going on.  Hopefully, an audience will be able to feel what I'm thinking, and what's going on inside.  That's kind of what I do, just to figure out what I feel, what I think."
What was it like to work on his first Marvel movie? 
"It was exciting! I remember when we were at the Wakanda Falls – it was so overwhelming.  It felt like this hundred-foot waterfall was falling all around us.  And this pool of water.  And we're bringing him out, out of this ship that's  just massive.  It's a very powerful, powerful experience.  But when what I did with Chad inside, I really got to the get inside the emotional heart of it, too.  So it's more complete than a lot of other experiences, in some ways."
Did knowing his African Ancestry roots influence his portrayal of  "Zuri" at all? 
When I shared on Instagram and Facebook that I would be interviewing Mr. Whitaker, I asked my followers what questions they had? My friend Gina Paige, Co-Founder of AfricanAncestry.com had this great question for him. She informed me that they were able to trace his ancestry roots to Ghana (Akan tribe). His paternal roots were traced back to Nigeria (Ibo tribe). Funny enough, she shared that he received his results while in Uganda filming for The Last King of Scotland.
"I guess it did.  I fashioned him around different spiritual leaders, and different ways of trying to get him in being the spiritual leader of Wakanda."
Whitaker's thoughts on the magnitude of what Black Panther is and means 
"I don't think I imagined it exactly having this kind of magnitude." He shared that he knew it would be more than the comic book since he knew Ryan [Coogler] personally. So he believed something special was going to happen, just not on what level.
On getting into character in any film he's involved in
I loved that he spoke about all of the research he does for each character he plays. Once he does the research eh then goes and studies the different people and the things that they do. I remember watching an interview where he spoke about how he went and spoke to the family members of Idi Amin to get a better sense of her personal character. After he does his research, he then gets to work on the voices and it slowly starts coming together.
He said, "I don't know if there's a magic formula.  At some point, I can say, the magic formula for me is to just surrender. And I believe."
Whitaker's thoughts on working off camera with the rest of the cast?
"Wakanda Falls was really interesting because they were playing music, and the drummers would continue to play a lot between the takes.  People would start singing so it was a real communal experience.  Even when we weren't working, a guy would start leading them in songs."
How Black Panther differs from the other films Whitaker has worked on 
Whitaker shares that it was very different from other films he's worked on.
He shared with us about a film he had just finished taping of a true story about the KKK. He explained about all of the research he had to do: learning all he needed to play the role of the preacher, studying how to be a preacher and understanding how to express himself. Whitaker said there was no comparing the two experiences.
"One was this guy trying to protect his family in the South, and having to deal with this Klansman that he brings into his home. Every experience is really different.  Every movie that I do, most of the time, is different. When it starts to get too similar, then I know that there's something wrong."
I love Forest Whitaker's quote about Fear
"If I can't feel a little fear about it, and I don't feel like I'm going to change or grow from it, then there's something wrong.  Maybe I shouldn't be doing it. And then I have to examine the reasons why?"
Was Zuri the right role for Whitaker?
The question was asked of Forest if he could see himself cast as any other character in the Black Panther film. But he agreed that Director, Ryan Coogler, definitely got it right.
Whitaker also went on to share one of the most impactful scenes for him. But if I shared that with you, it would give away a lot. And I am not a fan of spoilers. So once the movie comes out, I'll come back and share that update here. But it was definitely profound.
First reactions to the film and what he hopes viewers will take away? 
Whitaker expressed that he was "blown away by the film. I don't know if I expected all of the humor, and all the emotion, and messages. I was still trying to process it.  I realized that I need to go see the movie a couple of times."
As shared in my review on Tuesday, I definitely agree. I am so looking forward to seeing it again because there is SO much to take in, in such a short period of time.
One message that Whitaker hopes viewers will take away is that "we are our brothers' keepers." Sometimes when you're content and living in comfort, it's not uncomfortable to reach out and help others in need. He also shared that the message of female empowerment (physically and mentally) is an important factor to take away.
There are a lot of powerful and impactful messages to take away from this film.
Where you can find Forest Whitaker next 
Stay tuned because Mr. Whitaker shared that he has a few films coming out. He's focused on those coming out. The movie Burden, which he spoke about during this interview is one. He also just produced one at Sundance, called Sorry to Bother You.  In addition, he also did a movie about Desmond Tutu, where he played Desmond Tutu. Finally, there is also Saving Steve McQueen.
Whew! Mr. Whitaker has been B-U-S-Y! But before all of these…comes BLACK PANTHER!!!
About Marvel's Black Panther
Marvel Studios' BLACK PANTHER follows T'Challa who, after the death of his father, the King of Wakanda, returns home to the isolated, technologically advanced African nation to succeed to the throne and take his rightful place as king. But when a powerful old enemy reappears, T'Challa's mettle as king—and Black Panther—is tested when he is drawn into a formidable conflict that puts the fate of Wakanda and the entire world at risk. Faced with treachery and danger, the young king must rally his allies and release the full power of Black Panther to defeat his foes and secure the safety of his people and their way of life.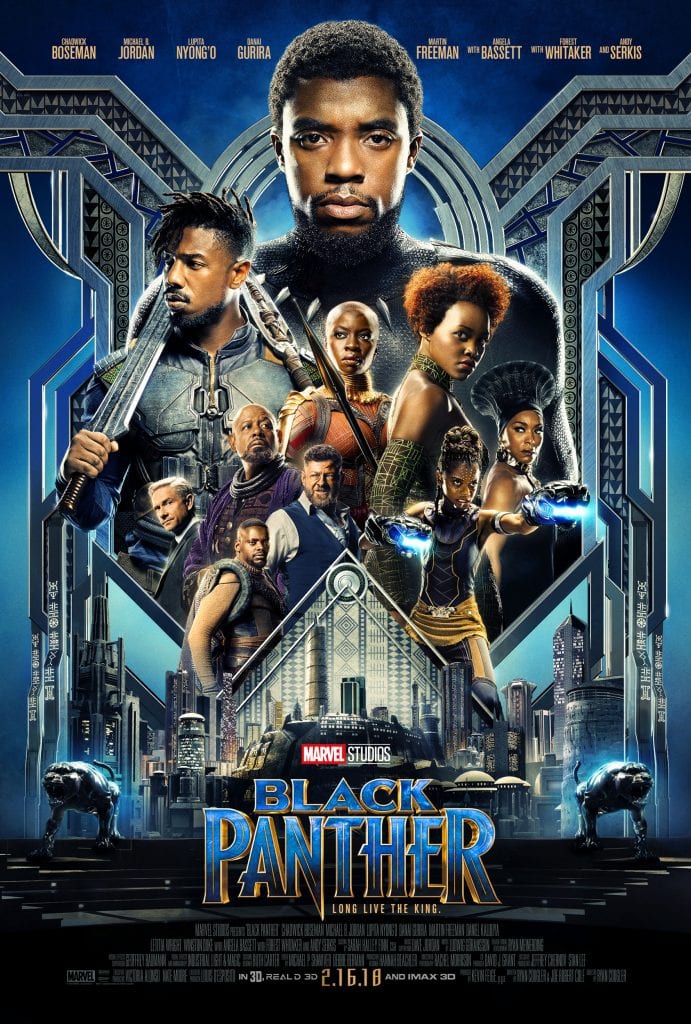 Check out Forest Whitaker at Marvel Studios' Black Panther World Premiere Red Carpet:
In case you missed my previous Black Panther Posts:
5 Reasons to Get Excited About Black Panther
I'm Heading to the Black Panther Premiere in LA 1/28-1/31
My Black Panther World Premiere Red Carpet Experience
Inside Black Panther: Interview with Lupita Nyong'o and Danai Gurira
Exclusive Forest Whitaker Interview: "Zuri" of Black Panther
Don't forget to:
Like BLACK PANTHER on Facebook. Follow BLACK PANTHER on Twitter. Follow BLACK PANTHER on Instagram. Be sure to follow the official movie and event hashtags: #BlackPanther #BlackPantherEvent
BLACK PANTHER arrives in theatres everywhere on 
February 16, 2018 (woot woot…8 more days)

!
---
This trip to LA to cover the Black Panther premiere was sponsored by Disney. As always, all thoughts and opinions are my own.