I'm back with another interview and this one was fun as well. If you missed any of my previous interviews, be sure to check out the links below. Today's interview is all about Winston Duke and Andy Serkis AKA "M'Baku" and "Ulysses Klaw". We had a great conversation with them.
Andy shares what it's like to be on the "dark side"
He shared that it was a lot of fun to dip into the dark side because it was a safe environment. He didn't want to make this character an archetypal villain or considered evil. "Although of course, he is one of the world's worst, because he is entirely driven by being selfish," Andy said.  The Klaue character really epitomizes what it is to be ultimately selfish in every aspect of living.
He's a taker. He just grasps and pulls and brings it all to himself.  But you to make that character live and be human. I wanted to make him sort of strangely someone you might like to hang out with.  And that sort of tension for me is more interesting than playing him as a complete bad a$$ who's just threatening and nasty and then he gets killed and then good!  So constantly as an actor, you're wanting to challenge the perception of good and evil.
And I don't necessarily believe in evil as a concept. We are all on a spectrum. You can have people who are reformed, you can have people who do terrible things but who can love as well.  So it's trying to be complex and have a good time.
What was so great about Ryan is that he allows us as actors to really play and explore the parts and take it places. I'm sure you've felt that.
Winston speaks about becoming M'Baku
In an interview I watched online, Producer Nate Moore explained that they had to bring this character on but change a few things. He explained that "man-ape" which is what M'Baku was referred as was offensive. But the idea of the character (head of the religious minority in Wakanda) was fascinating and real.
"He [Ryan] just trusts you to work and create your world.  And I feel what was a great opportunity for me with M'Baku was being given the opportunity to create a new language within that world essentially."
Winston shared that Marvel did a great job in creating a new world and life for M'Baku. In a sense, it was a departure from the comics in a sense that it was no longer him being the leader of a religious minority or cult. He was now made a leader of an established and grounded tribe.
"That gives you a lot more agency. It gives you a lot more presence, and it gives you a lot more strength and ability within that world.  And creating that society that lives outside of Wakanda proper was something that was really great."
I love the fact that he expressed how much of a collaborative effort it was between them and Ryan in developing their characters. He then shared that this was his first film and we were floored. Mouths dropped because he did an outstanding job in the role. He brought both serious and comedy to the role.
Without giving away any spoilers, he spoke a bit about a decision that he made in the film and why he thought M'Baku may have had a change of heart.
"How do we go out and help people and share who we are and what we are, without oppressing them.  And I don't know if the film presents an answer, but it asks you other questions, about how would it look like if you did?  Because we've only seen it play out these two ways, it's you stay away from everyone and take care of yourself and enrich yourself, or you go out and you bring yourself and you put it on others and you use terror or you use violence." 
I think that this was profound because these are real-life questions we can ask ourselves even now.
On How Ulysses Klaw got his start in Marvel 
Andy started off by giving us the background of Ulysses Klaw. This character came into the Marvel world in The Avengers: Age of Ultron. During that film, Klaue was working off of a ship in India where he was an arms dealer gangster. At that time, he was amassing huge quantities of vibranium when he was tracked down by Ultron and loses some of it.
He first came on board because he was working with Avengers Age of Ultron Director, Joss Whedon. Working with Mark Ruffalo on Hulk using performance capture, he was very familiar with the technology. So Josh asked him to play this small role.
Andy: "He's very much an adversary for T'Challa in the Black Panther and I thought that's great.  And it was this very quirky, slightly left-field gangster character. When Ryan took it on in Black Panther, he just wanted to have even more fun with it."
Winston shares how he was cast for M'Baku
He started off by sharing with us that he had to go through a more traditional audition process since he was not "known" in the acting world.
Believe it or not, he was hearing about Black Panther and seeing the cast come together like we were. He kept watching as Chadwick Boseman, Michael B. Jordan, Lupita Nyong'o, and Danai Gurira were cast. So he told his rep that he would just love to get in that room. He's a fan of [Director] Ryan Coogler's work. He appreciates his strong sense of social justice footprint.
"And then lo and behold I got in the room with him. He had me do it probably twenty different ways. He then asked if I could make it more and more personal."
He said they went at it for a while and tried new lines specifically for his audition. He didn't hear back for about four weeks. At that point, he decided it was fun and he got to work with Ryan. So he was content.
He then got another call that they really liked him and had more questions and wanted him to go in and do a test.
"I go and I do the test and it just felt very organic. I got home, I said a prayer, I heard a voice say everything is going to be cool.  You're all good, don't worry about it.  And the rest is history."
Winston's take on worldwide fan engagement
Winston's family is from Tobago, so the question was asked about his level of excitement about the film reaching smaller parts of the world. I could really relate to what Winston shared in regards to children being able to see themselves. I could feel his joy across the table. There truly is an excitement and we all felt it the night before when we watched the film. Children are going to be exposed to narratives like this and it is unprecedented.
"Before they're fully developed and before they've ingested and consumed placed narratives, narratives that were formed before they were born about them, and they're getting to see representations of people who look exactly like them. It is going to help them see their world differently.
It's going to change their paradigm from a really young age and they're going to be consuming this in a way that they're not seeing, even though they might be watching this with an awareness of race.  They might be and that's just the world we live in. 
And they're watching this and going 'Man, I could be like that and man. T'Challa looks like my uncle. T'Challa looks my cousin. Michael B. Jordan looks my dad. Winston looks my dad. Winston looks like my cousin. Winston looks like me. They're getting to see that.  And children in Tobago are getting to see that, people in Trinidad, people in Brazil, people in Latin America, people all over the diaspora are going to get to see this.
He ended by confirming his (and all of our) excitement. It's a great time indeed to be in a superhero movie. And I agree that the movie itself is a superhero as it took on a life of its own.
About Marvel's Black Panther
Marvel Studios' BLACK PANTHER follows T'Challa who, after the death of his father, the King of Wakanda, returns home to the isolated, technologically advanced African nation to succeed to the throne and take his rightful place as king. But when a powerful old enemy reappears, T'Challa's mettle as king—and Black Panther—is tested when he is drawn into a formidable conflict that puts the fate of Wakanda and the entire world at risk. Faced with treachery and danger, the young king must rally his allies and release the full power of Black Panther to defeat his foes and secure the safety of his people and their way of life.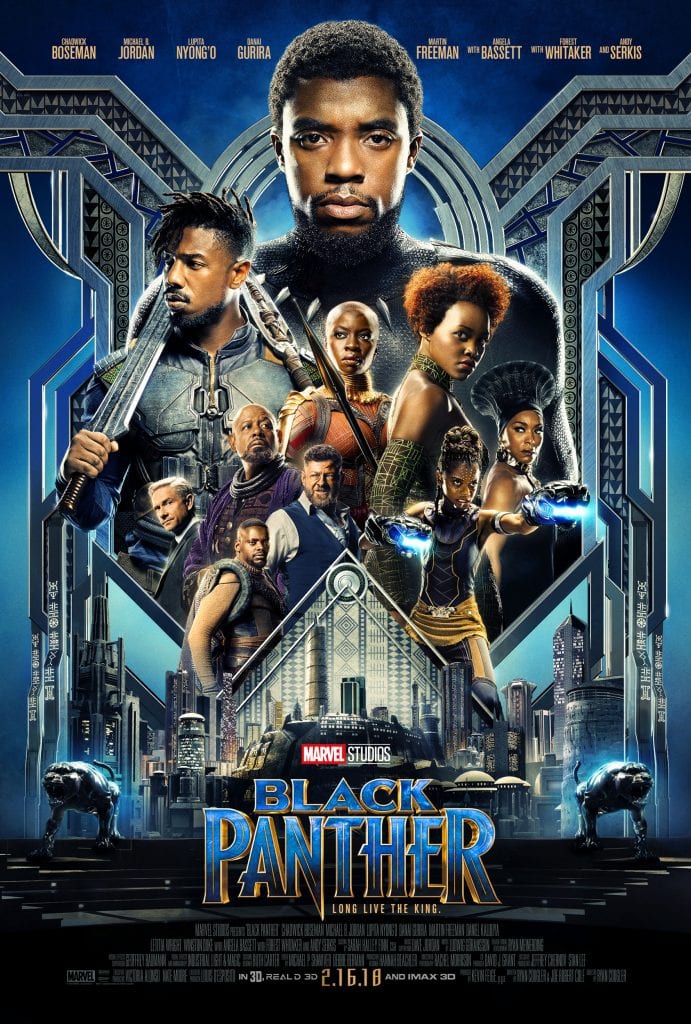 Check Marvel Studio's Black Panther – Warriors of Wakanda:
In case you missed any of my previous Black Panther Posts:
5 Reasons to Get Excited About Black Panther
I'm Heading to the Black Panther Premiere in LA 1/28-1/31
My Black Panther World Premiere Red Carpet Experience
Inside Black Panther: Interview with Lupita Nyong'o and Danai Gurira
Exclusive Forest Whitaker Interview: "Zuri" of Black Panther
Chatting with Oscar Nominee Daniel Kaluuya and Letitia Wright
Full Black Panther Global Press Conference Video + Highlights
Don't forget to:
Like BLACK PANTHER on Facebook. Follow BLACK PANTHER on Twitter. Follow BLACK PANTHER on Instagram. Be sure to follow the official movie and event hashtags: #BlackPanther #BlackPantherEvent
The Nation of WAKANDA arrives in theatres nationwide THIS Friday, 
February 16, 2018 (ONE more DAY – select theaters open tonight)

!
---
This trip to LA to cover the Black Panther premiere was sponsored by Disney. As always, all thoughts and opinions are my own.