I'm always looking for healthy(er) recipes that not only look good but are also easy and fun enough to get the kids involved! As always, MJ came through! Check out this delicious looking recipe below for Pinapple Banana Ice Cream.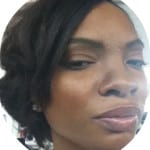 The following post was written by 
MJ Levine. MJ is the voice behind FAB Haute Mama, a lifestyle blog for moms focused on getting Fit & Beautiful, staying in style and knowing your way around the kitchen – all while running a household. Haute wife to Mr.Levine, mama to Zoe, step-mama to Zaya, human mom to Scout the boxer and Rio the parakeet, MJ is on the journey to finding balance in motherhood.
You can connect with MJ on Twitter and Facebook.
Guilt free? Check. Simply Recipe? Check. Kids will devour it? Check. Get your daily dose of fruits in with this surprising easy to make homemade soft-serve pineapple banana ice cream. Top with chopped nuts and pineapple, sprinkle with cinnamon & nutmeg, then sit back and enjoy the sweet taste of summer.
Ingredients:
2 Frozen Bananas, cut-up
1/4 fresh pineapple, diced and divided
Chopped almonds
Dash of Cinnamon
Dash of Nutmeg
Instructions:
Peel and cut two bananas then freeze for 2-4 hours.
Place frozen bananas in a food processor and process until smooth
Add in fresh pineapple and process until just combined.
Top with chopped almonds, pineapple chunks and a dash of cinnamon and nutmeg.