So unless you've been hiding under a rock, you've probably heard about the new-ish social media platform to take the internets by storm – Periscope! Although this platform is only a few months old, it has gained popularity quickly (they literally just had a Periscope Summit up in NYC). Personally, I love Periscope and I've talked about it a few times on here (my son has scoped with me, and I just talked about it last week right here). I love Periscope because it gives people a way to connect with their audience in a way that words and images alone can't do.
I never got into the YouTube game simply because I've never been one to love video (feeling like I'm talking to myself), and then I didn't have any interest in learning how to edit video. Well Periscope eliminates those things for me. I love the instant engagement factor, so I always feel like I'm having a conversation with friends. And once you press record, you can repurpose that content as you see fit. I do have some of my scopes on private mode, but you can watch many of my replays forever, over here on Katch.
Well I recently found out and joined a challenge that I think is pretty awesome. So here are 12 easy tips to use Periscope with Purpose.
1. Plan your topics out
If you're nervous about doing a live broadcast, a good part of what will calm your nerves is having some points or topics written out. I hardly ever come on and do a random scope — there is always some lesson or some purpose to it.
2. Tell people who you are
Even after being on Periscope for awhile, know that there will always be knew scopers who will join your broadcast. Introduce yourself in the beginning, then again halfway through, and then again at the end. People will drop off and join throughout your broadcast. So be sure to remind people so they feel welcomed and acknowledged.
3. Ask people who they are
For the first minute or so, it's great to ask "who's in the room"? People always love to rep where they're from. Plus it gives you great insight as to where people are joining you from. How do I know I've had people join me from Nairobi, Kenya, Venezuela, Philippines, the UK and others? Simple because I asked.
4. Focus on authenticity
People buy from and relate to people. One thing that's great about Periscope is that you can't "fake the funk". People can tell if you're being genuine or if you're just out for self. No one likes selfish people. Focus more on what you can give than what you can take, and you will reap more benefits. Even if you mostly scope about business, don't be afraid to throw in more personal scopes occasionally so people can really get to know you.
5. Your title can make or break
Would you click on your own scope? When thinking of what to title your scopes, ask yourself if it's something that would interest you if it came on your scopeline? NEVER leave your title blank. It's like sending a tweet with no info or posting a Facebook status message with no status. A lack or poor title can keep people away before they even have a chance to hear your awesome content.
6. Just start the broadcast
I know, trust me I do. It's scary to hit the big red button. It's scary to put yourself out there. But the only way to get started, is to do it. Take a deep breath, count to ten, say a prayer, and then GO!
7. Start talking as soon as you start the broadcast
So many people wait until they see people joining, or commenting before they say a word. Remember: your broadcasts go on automatic replay for 24 hours. And since there's no way to fast forward on Periscope, you need to address those who are watching the replay. For example, I start all scopes with: "Hello, welcome, and thanks for joining! If you're watching the replay, you may not be able to comment live, but you can tweet me your thoughts @momsncharge and don't forget you can still leave heart love by tapping on your screen".
8. Don't feed into the trolls
Trolls are people who make it their mission to be rude, nasty and just try to gain attention to whoever will give it to them. The only acknowledgment you need is to give them a "block party" AKA blocking them from the scope which others will most likely join in and do as well.
9. Have manners
It is rude to self-promote yourself on someone else's scope. Unless you are specifically asked what you do (like @AskDrRenee does at the end of all of her scopes), don't do it. That's why you have your own scope account. People will throw you a block party for not having manners, and I've done it before.
10. Get a tripod
After the first few times of scoping and almost losing my arm in the process, I went out and got a mini tripod like this one. If you're pressed for time, you can also find them at your local 5 Below. The tripod frees up your hands to focus on your content instead of trying to hold up your phone. And if you're animated like I can get, then you need both of your hands to speak anyway LOL.
11. Have FUN
Periscope really should not stress you out. When people see you stressed, it's uncomfortable. On the contrary, when people see you having fun, they will automatically have fun, and keep coming back for more.
12. Watch, take notes and join in
The best way to get comfortable is to watch other scopers, scope. See what other people are doing, and take notes of things that you like or want to adapt to your own broadcasts. A great way to gain a following is to join in on conversations. Don't forget about your manners, but ask questions and engage with the person scoping as well as those who are watching the scope like you are.
13. Join a challenge
I am all about having a purpose to everything you do (hence the name of my business, Purpose Driven Media, LLC), and it's what I teach in my classes. This is why I love Melissa's #PeriscopeWithPurpose 31 Day Challenge. Be sure to go back and add your replay links to her post, and see who else is on to show them some heart love. See the quick image she put together below. Even if you're just starting, you can still join the challenge and then go back and do the days you missed (I just started yesterday on day six). For all the details and how you can join this challenge, click here or on the image below.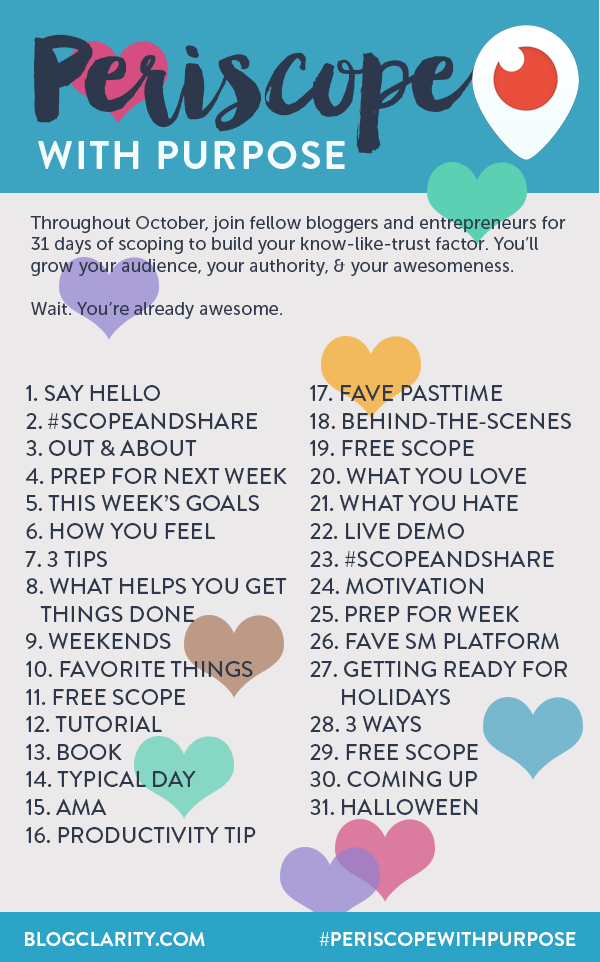 Did I leave anything out? Comment below and let me know if you'll be joining this scope. Also, if you're on Periscope, be sure to leave your handle (i.e. @MomsNCharge).