I think everyone is going a little stir crazy right now! It's Spring and we all have cabin fever. This is why I'm sharing these 6 old school games to play with your kids that also teach (you know, since we are ALL homeschoolers now 🤯). I'm hearing so many parents beating themselves up these days because they don't feel like they have it "together" to give them what they need to learn at home. Listen: YOU got this! Trust me, you do! And if you need a break, these are great games to keep your kids busy too!
As I mentioned in previous posts, our kids are 8, 10 and 12 and we've been on this homeschool journey for 7 years now. My niece who is in her third year of homeschooling has been with us for the last few weeks too. However, nothing could prepare us for the journey that we are ALL on together, right now. This "new normal" is forcing even us to find ways to be creative, make things fun and dig into our archives.
I'm hoping this will help bring your family closer and put a huge smile on your faces. Time is precious. Let's use this time to better connect. I hope you enjoy these 6 old school games to play with your kids! The best thing about it, none of these games involve electronics (win-win).
You can purchase all of these games on Amazon by clicking on the name of each one (these are all affiliate links which just means that if you purchase using them, I'll get a little kickback from Amazon).
I grew up watching my dad play scrabble, and then joining when I was old enough to understand the game. For some reason, I like it much more as an adult as I play with my own kids. If you need a break from spelling tests and English lessons for the day, this is a great time to break out this classic fave. Just a few things this board game teaches:
Vocabulary (duh!) – even words that make you look at people like 👀only to find "Za" actually IS a word!
It helps you become a more strategical thinker (don't get caught with a letter "Q" in your hands valued at 10 points which will then get deducted from your overall score…ouch)
It enhances creativity skills
It improves concentration (that time I could've had a 37 pt word, but ended up with 10 cause I wasn't focused 🤪)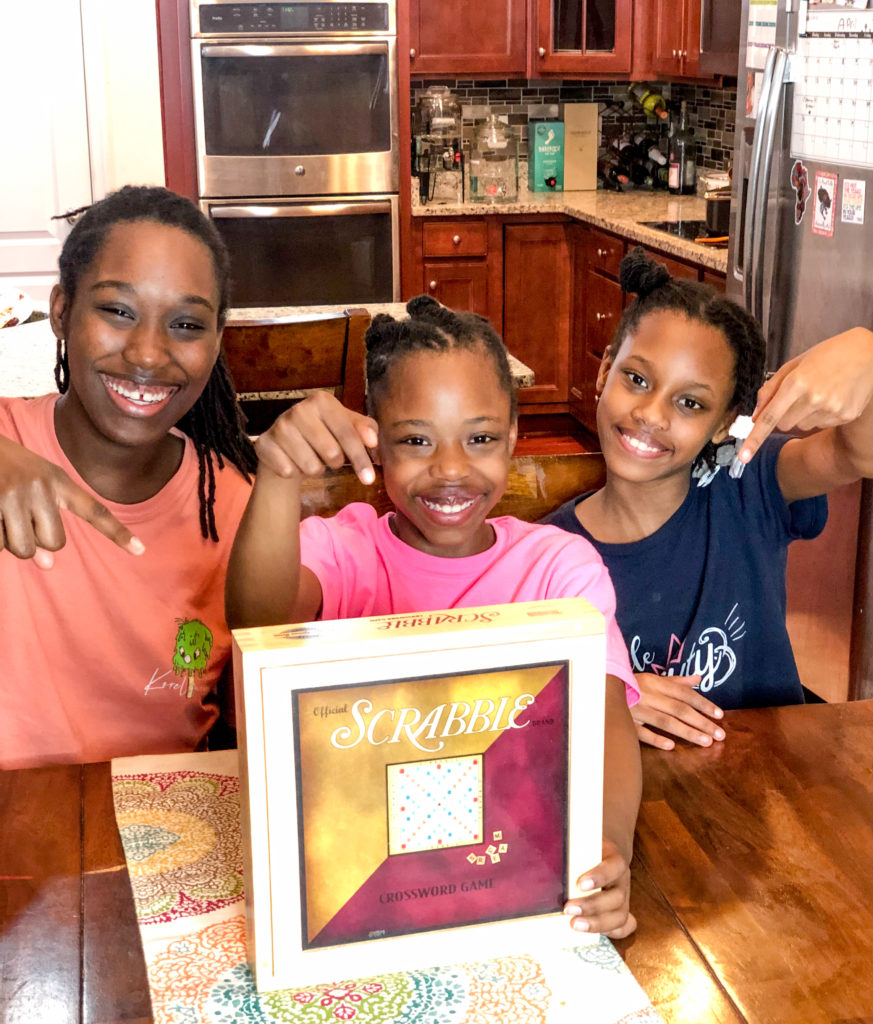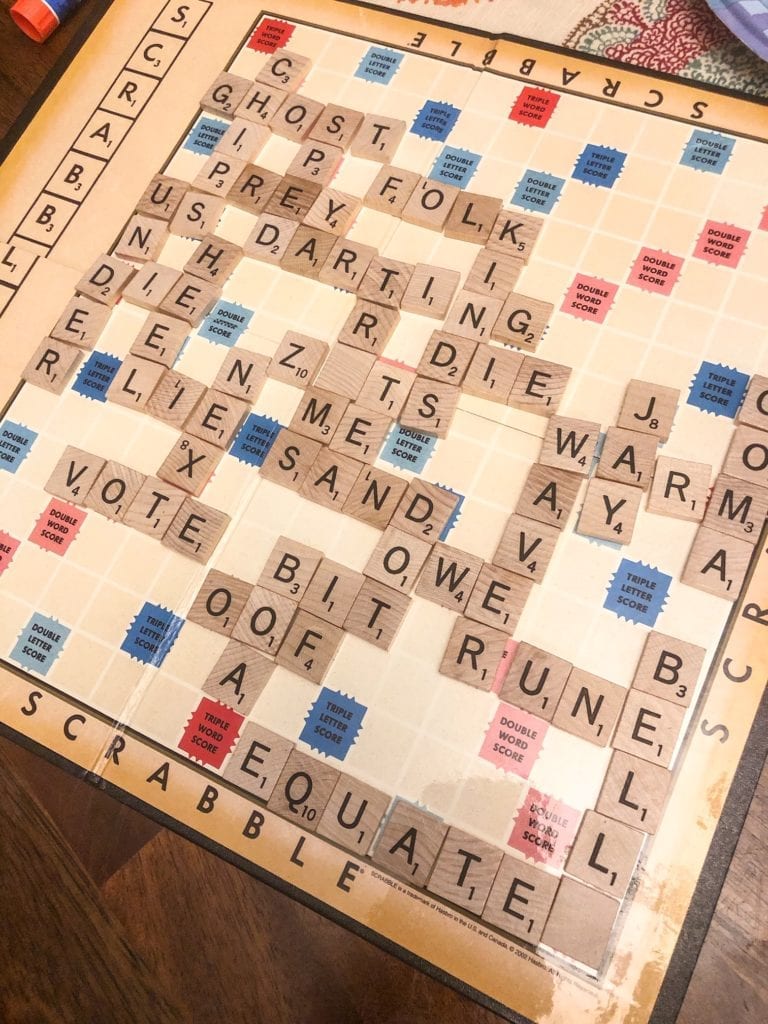 This quarantine life surely has had me reliving all of my fondest childhood memories. I remember when I used to envy the girls that could double dutch. I had to first learn how to actually swing the ropes the right way (can't be double-handed trying to turn the ropes for double dutch 🤣)
Honestly, I just like to find more ways to tire my kids out (and I'm sure you do too)! But jump rope is also good for:
Teaching kids eye-hand coordination
Learning how to pace themselves (endurance)
This is also often a benchmark for PE
But, not all of today's jumpropes were created equal. We first ordered the beaded ones like I had growing up. We play with them for maybe 10 min before the plastic pieces were scattered all over the driveway. So I went with a good old fashion jump rope without the plastic beads, and it works very well.
My kids started playing chess even before Queen of Katwe came out. But after the film, they were even more excited to play. I'm not very good at it, but hubby plays with the kids and they love this one too. They were all on a chess team for a little bit until kidpreneurship, YouTube channels, basketball and gymnastics took over our schedules. Now, they are getting back into it. This is another one I grew up watching my dad play with my brothers.
Great lessons learned in chess include:
Patience (it does sometimes feel like an eternity waiting for your opponent to make their move)
Attention to detail
Discipline (it's not always a good idea to just rush in for the attack)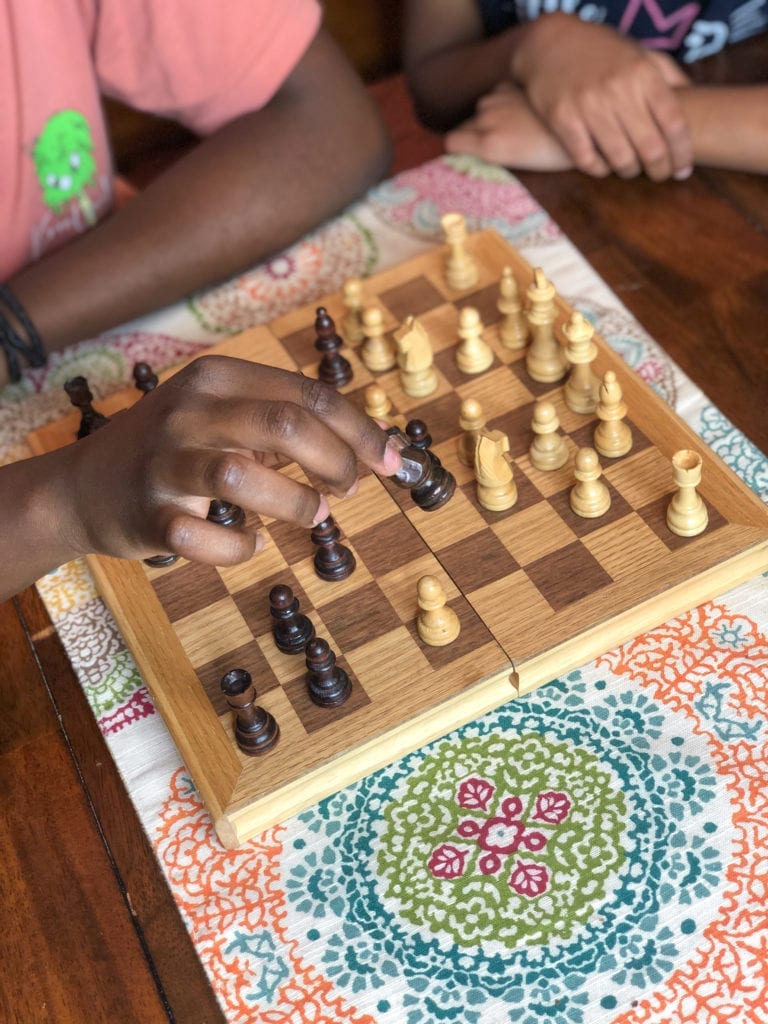 This is usually for younger kids, but our kids still enjoy playing. This post reminded me (and them) that we hadn't played in a long time. So we will be dusting it off pretty soon. Let's face it, we will be quarnatined a lot longer than any of us want to. So we will need to keep the excitement up as much as possible.
This game is great because:
It is another one that the whole family can play together
For younger kids, it helps them learn their colors
It helps with learning to listen and comprehend directions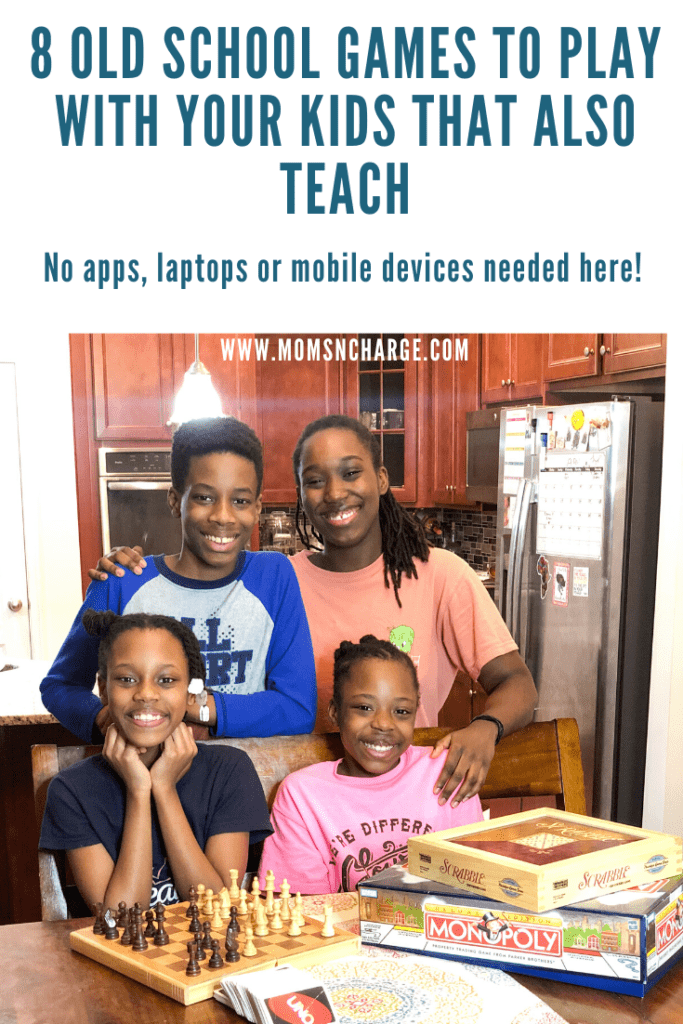 This one doesn't really need any explanation. But Uno is definitely a childhood classic and favorite. I am soooo happy that our kids enjoy playing as much as we did (and still do). If you have a big family lie we do, you'll be better off grabbing two decks of these cards. These are the most basic learning cards for kids because it teaches:
Colors (my kids just did a whole art project/presentation on what colors mean and how they are used)
Numbers (anyone else still do a double-take between the 6 and the 9?)
Strategy (should you put that Draw 4 down immediately or use it on the person about to have Uno?)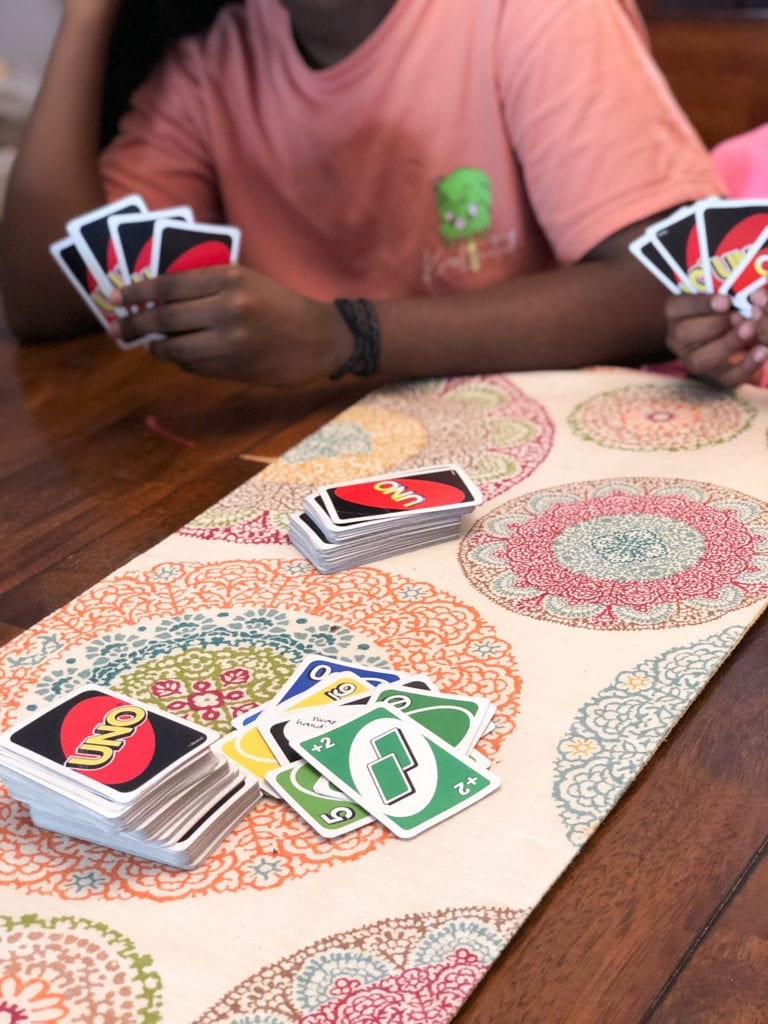 I got this Rubix Cube from one of my last Disney Press trips (hence the exclusive Mixed-ish brand). I could never get it even close when I was a kid. But my kids found it and have been having fun with it. My son has been able to get two full sides to the same color so he is working his way up.
Rubik's cubes are great for helping life skills like:
Improve cognitive and problem-solving skills
Patience
Patience (nope, it's not a typo, it's just that you have to have a whole lot of patience 😳)
Perseverance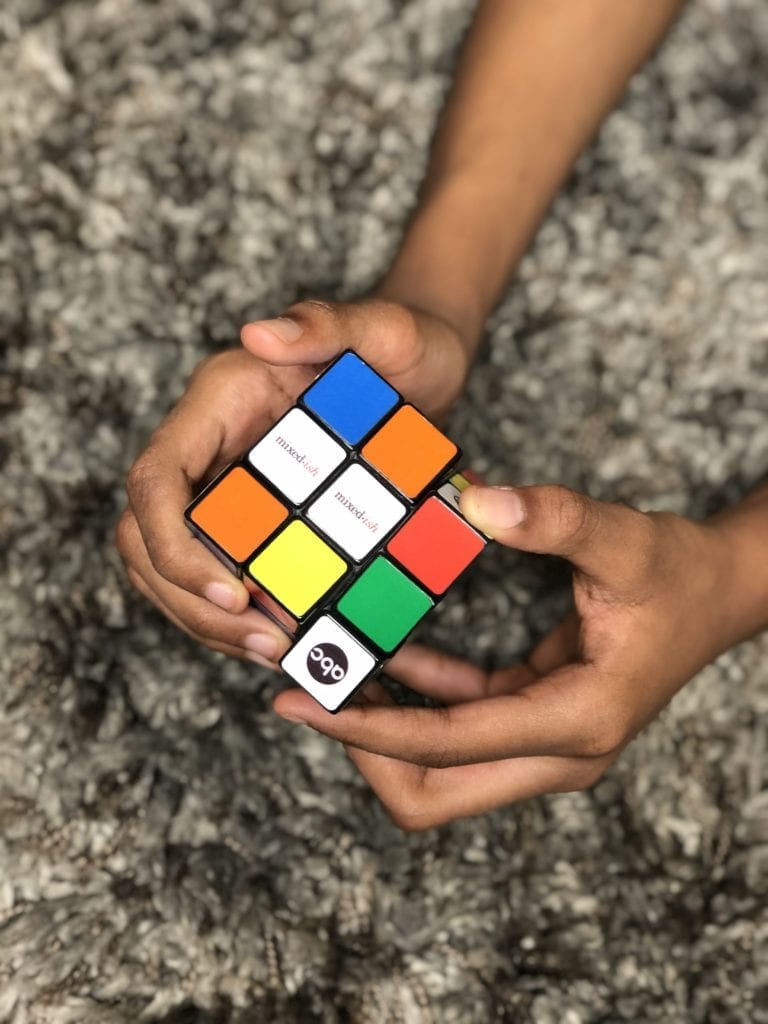 Who didn't love hula hooping as a kid? Sure you looked really crazy when you were first starting out, trying to keep it up. But once you got the hang of it, it was fun. Then remember when skipit first came out? Well, we never had that game, but we did turn our hula hoop into a skipit and that's exactly what our kid are doing.
In addition to being a good workout, hula hooping also:
Helps to improve balance (am I the only one that almost always fell over trying to learn?)
Helps with core strength and muscles
Great for the whole family (next time, do a contest to see who can go the longest)
If you haven't started talking to your kids about finance, now is a great time to do so. And what better way to dive in than with a fun board game like Monopoly? Unfortunately, there are some key financial lessons to learn that our economy is currently living in. We've been able to talk more about stocks and allow our kids the opportunity to invest in a few. More lessons include:
How to manage your assets
How to diversify your income (which so many people are trying to do now)
How to spend wisely to avoid or limit your debt
The importance of having cash on had (which usually wins in the long run) and so many more!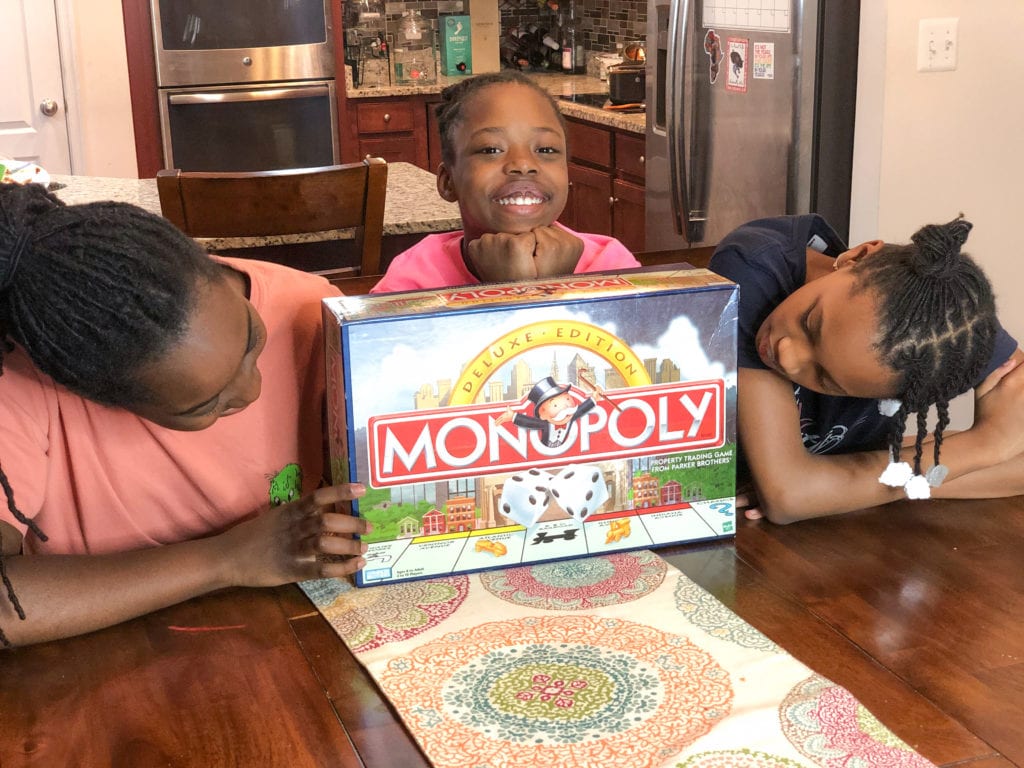 My friend AnnMarie of AnnMarieJohn.com just wrote this amazing post that features all board games. You definitely want to take a peek because she has several that I myself will be adding to our board game library.
My other friend, Ari of LovePeaceAndTinyFeet.com shared another similar post. And she has even more old school games that you won't find on this list or on AnnMarie's. Funny enough, we published our posts on the same day.  Goes to show that great minds think alike 😉So go check it out!
Be sure to share these out with your other momma friends who need some more variety to their quarantine life right now.