So by now you know that I just got back from LA where I attended the Queen of Katwe red carpet premiere. This film is out today in select theaters and nationwide on September 30th. I shared a couple of quick scopes while walking the red carpet and you can find them here and here.
The red carpet is exciting and fun. Plus, who doesn't like to get glammed up and pose for the camera? So that's how I started the night along with 24 other fabulous ladies, before we stepped on the red carpet.
There were a ton of magical moments during the Queen of Katwe red carpet premiere. So I figured the best way to share, would be in picture form.
Magical moment #1:
Walking out and looking across the street to see the El Capitan theater screen that promoted the film.
Magical Moment #2:
Walking on the red carpet can get a little hectic and there's a lot going on, but I never felt overwhelmed. It only felt magical to be there and to witness the experience first-hand.
Magical Moment #3:
Observing all of the stars walk the red carpet and interact with fans and media. By the time we got to the premiere, I had already seen the movie twice (once at Pete's Dragon event, and once the night before during our opening event. So I've already seen it three times, and I still can't wait to take my family to see this film.
I'm looking forward to sharing the interviews we conducted with the amazing cast members. Their energy and interaction with each other was amazing to see. And the Director, Mira Nair is just phenomenal!
The real-life inspirations behind the film and book, Queen of Katwe:
Magical Moment #4:
Seeing the display of our Ugandan traditional dress at the entrance to the theatre. This is the specific one that was created for and worn by Lupita Nyong'o for the film. To see this brought me so much pride. They are usually very colorful and worn for all special occasions. In fact, my mom wanted me to wear one for the red carpet…but…hot. LOL (sorry mom)! But there were definitely a few women wearing beautiful ones on the red carpet.
Magical Moment #5:
Getting to chat with Mr. & Mrs. Katende directly after the premiere. Their beautiful daughter was so tired but managed to squeeze out a small smile for the camera. The interview we did with Robert Katende was incredible and I'll be sharing that soon. It was such a delight to speak with Mrs. Katende and hear about her gratitude for this film and the kids they have been helping back home. They are an incredible couple!
These pics arent't the greatest, but these moments were too great not to share.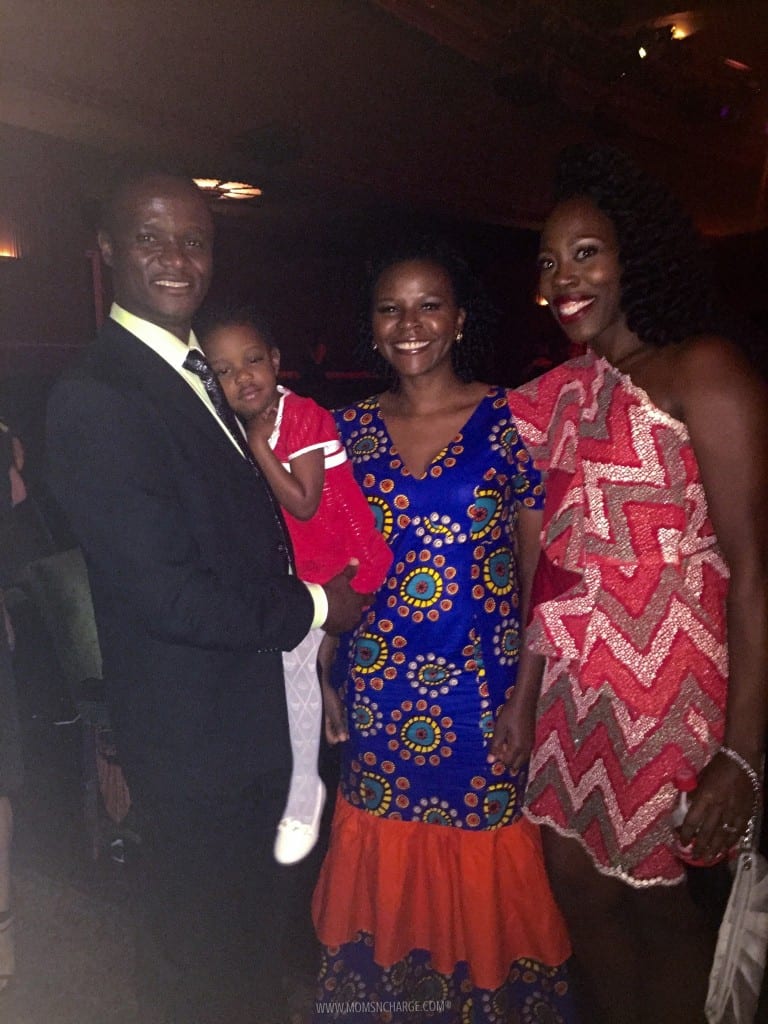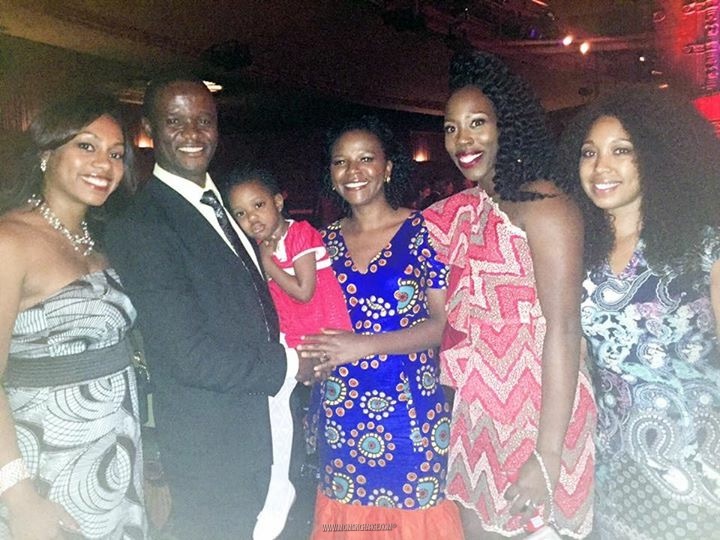 Magical Moment #6:
Getting to meet and chat with Jason George AKA Dr. Ben Warren from Grey's Anatomy. I have watched Grey's from Day 1. My husband and I have watched every episode since season 1 and they just entered into their 13th season last night. So to say I'm a huge fan of the show and his character is an understatement. What made it even better is how nice and humble he really is in person as well. I loved seeing him with his family and also got to meet his beautiful wife.
I also got to bump into Kamil McFadden AKA Ernie Cooper from KC Undercover. My kids are huge fans of this show, so this pic was for them. He just happened to be sitting directly in front of me and was so cool. He was happy to snap this quick pic 🙂 Oh and yes, I scored some "coolest mommy" points from my kids!
Magical Moment #7:
Dancing and chatting it up with the stars and friends during the premiere after-party.
But do you see me dancing in the background, though? 😉 This was so much fun and the photos captured the joy perfectly! Madina, Martin and Tendo were definitely getting down!
And there was that time Lupita shared this photo on her Facebook page, where I just happened to still be dancing and tweeting in the background…
A little blurry, but we're still cute! This was right after Director, Mira Nair pulled me onto the dance floor (past security and all LOL). She is so sweet, humble and talented. Did I mention we interviewed her too?
Again, a little blurry but we're still cute! Ari and I ran into Kym Whitely and Vanessa Bell Calloway at the bar. They were super fun and Vanessa insisted on taking the selfie for us.
Magical Moment #8:
Taking it all in. Thanks to this guy, I was able to experience all of these magical moments and more. To know him is to love him. I don't know how he keeps us all straight and happy but he manages to do it effortlessly. Thanks Marshall for another fabulous red carpet experience!
Queen of Katwe opens in select theaters TODAY and nationwide on September 30th.
BONUS Magical Moment:
Getting to see the full video of #1 Spice. Now everyone can understand how dope this song is that I've been waiting to come out since I first saw it last month (check it out below). You can download the single on Amazon using the link below:
Be sure to check your local listing, and buy your tickets to go and see it opening weekend. Let's show Disney that we appreciate, want and need more films like Queen of Katwe!
---
Disclosure: On behalf of Disney, I was invited to attend an all-expense paid trip to cover the world premiere of Queen of Katwe, as well as other press events. As always, all opinions are my own. This post also contains affiliate links.