If anyone ever wondered about my ability to keep a secret, you can rest assured your secret is safe with me. For the last year, I've been holding on to this super-secret set visit for the live-action Lady and the Tramp, streaming to Disney + on November 12th. Yup, I was on set and got to hang out with the cast and crew…including Rose ("Lady") and Monty ("Tramp") themselves (more on that later).
I now treasure my DVD and Tony's restaurant painting I did on another trip even more!
About Disney+
So let me take a step back and fill you in on what Disney+ is in case you've been hiding under life's rocks.
Disney+ is launching next week, November 12th. It will be the dedicated streaming home for movies and shows from Disney, Pixar, Marvel, Star Wars, National Geographic, and more, together, for the first time.
One major perk I love is that Disney+ will offer ad-free programming with a variety of original feature-length films, documentaries, live-action and animated series and short-form content. This includes the series "The Mandalorian," "High School Musical: The Musical: The Series," "The World According to Jeff Goldblum," and "Encore!" and films "Lady and the Tramp" and "Noelle."
Plus (no pun intended), Disney+ will be the exclusive streaming home for films released by The Walt Disney Studios in 2019 and beyond, including "Captain Marvel," "Avengers: Endgame," "Aladdin," "Toy Story 4," "The Lion King," "Maleficent: Mistress of Evil," "Frozen 2,"and "Star Wars: The Rise of Skywalker."
About Lady and the Tramp
In Disney+'s "Lady and the Tramp," a timeless retelling of the 1955 animated classic, a pampered house dog and a tough but lovable stray embark on an unexpected adventure and, despite their differences, grow closer and come to understand the value of home.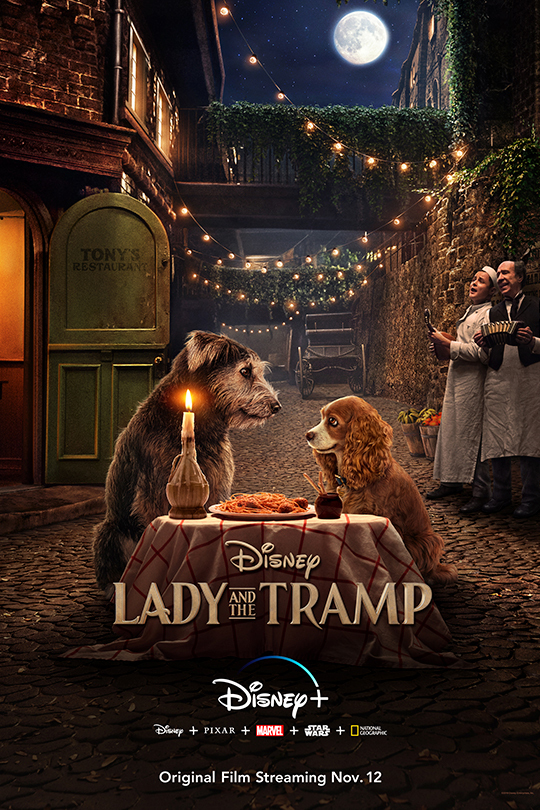 Overall set visit experience
This film was shot in Savannah, GA which I had never been before. When I got the call to invite me to a secret set visit, I had no clue what to expect. The only info I received were the dates of travel and that it was for something "on the east coast."
Clearly, anything Disney is magical. So I checked the schedule with the hubs, and quickly said yes to something I had no clue I was saying yes to. But once I found out it was for Lady and the Tramp, I was immediately jumping for joy! This is seriously an all-time favorite classic. So to find out they were re-imagining a live-action version was incredible.
Literally, this time last year, we were walking around this set and meeting many of the main characters. I'm always amazed to look at the behind-the-scenes of anything. To be able to see what goes into film-making down to the tiniest details is mind-boggling.
With something so top-secret like this, we weren't allowed to bring any cameras on set at all (just audio recorders). So you can imagine how hard (or freeing lol) that is for a blogger 😆
This week I'll be sharing the inside scoop of this secret set visit with more awesome interviews and photos.
Inside Lady and the Tramp with Production Designer John Myhre
One big highlight to touring the set is being able to chat with the people responsible for making everything come to life. And this was no different with Production Designer, John Myhre.
The location for the film was Savannah, Georgia (which I had never been to before this trip). John walked us through the set and was able to explain where they found all of the special props and antiques. Funny enough, he even shared how they were able to find some things on E-bay!
Remember that the film is set in 1910. So being able to recreate the look and feel from that time period was going to take a little more work and creativity. He explained to us that every single detail was well thought out. From the colors and patterns on the wallpaper to the placement of doors and fireplaces.
All of the furniture was brought together piece by piece. Some had to be painted, some reupholstered. Everything needed to look new but for the time period of the film. John also shared that they were able to find real stuffed animals from that time period which was cool to see! He shared that it took the set decorator about two and a half months finding all of the props for the different rooms.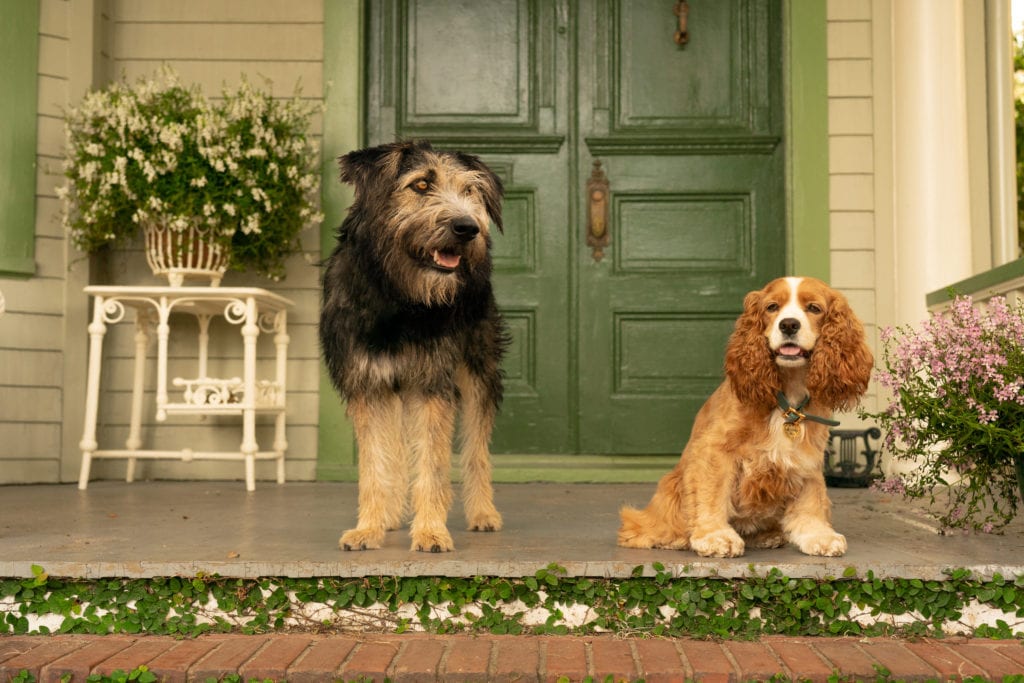 Creating the sets for Lady and the Tramp
There were two main sets built for this film. And John shared that both of them took twelve weeks to build, and both sets were built at the same time. So every single room on both sets needed specific details. From the entryway, front room, kitchen, dining room, etc.
We could totally tell how much work and attention to detail were put in to recreate these sets. They definitely looked authentic.
I also found it interesting that they had to take into consideration the eye level of the dogs when creating the sets and pulling the pieces together for each room. And if you're wondering what happens to all of this furniture, Disney keeps literally everything in archives.
It's an amazing experience to be able to go into Disney archives to see how they keep things. They definitely run a tight ship.
Wondering if there will be any Easter eggs in the film?
According to John, "There are definitely, what I think would be considered Easter eggs in this. I went through the original film and I took frame grabs of anything that had a graphic on it. Anything that can be of a graphic nature is something that we had to pull from that would be fun."
Lady and The Tramp Official Trailer for Disney+
There you have it! Set your calendars and your alarms. Be sure to tune into Disney+ next week to watch this beautiful liveaction version of Lady and the Tramp. You can get a headstart by watching (or re-watching the official trailer)
Watch on Disney+ November 12th
Follow Disney+ on Facebook, Instagram or Twitter or visit DisneyPlus.com to learn more.
---
This trip to Savannah, GA to cover the #DisneyPlus launch of #LadyAndTheTramp was sponsored by Disney. As always, all thoughts and opinions are my own.