As far as I'm concerned, it is Lion King month. I remember sitting in D23 Expo 2017 when they announced they had begun working on the live action version of the film. They then proceeded to show us a small clip of young Simba. The entire room gasped. It was unbelievable.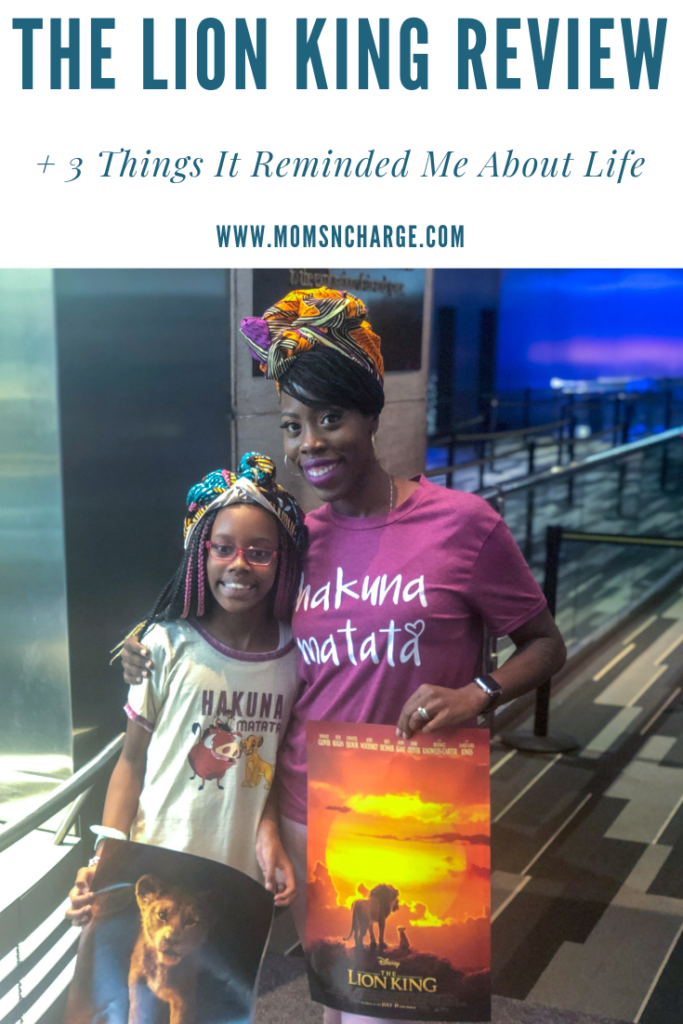 Fast forward to today and the countdown is officially on. With the world premiere that took place in LA on Tuesday night, it was truly a star-studded event! The timing was not on my side to be there up close and personal. But my friends, Ari at Love Peace Mommy and Tatanisha at This Worthey Life were. So be sure to check out their coverage from the premiere.
The Lion King Live Action will be opening in theaters nationwide next week, July 19th.  And last night, I got to take my daughter Olivia, on a date to see an advance screening of the film. It was fun to bump into our friends and see some bloggers I haven't seen in a long time.
The results of a professional selfie taker…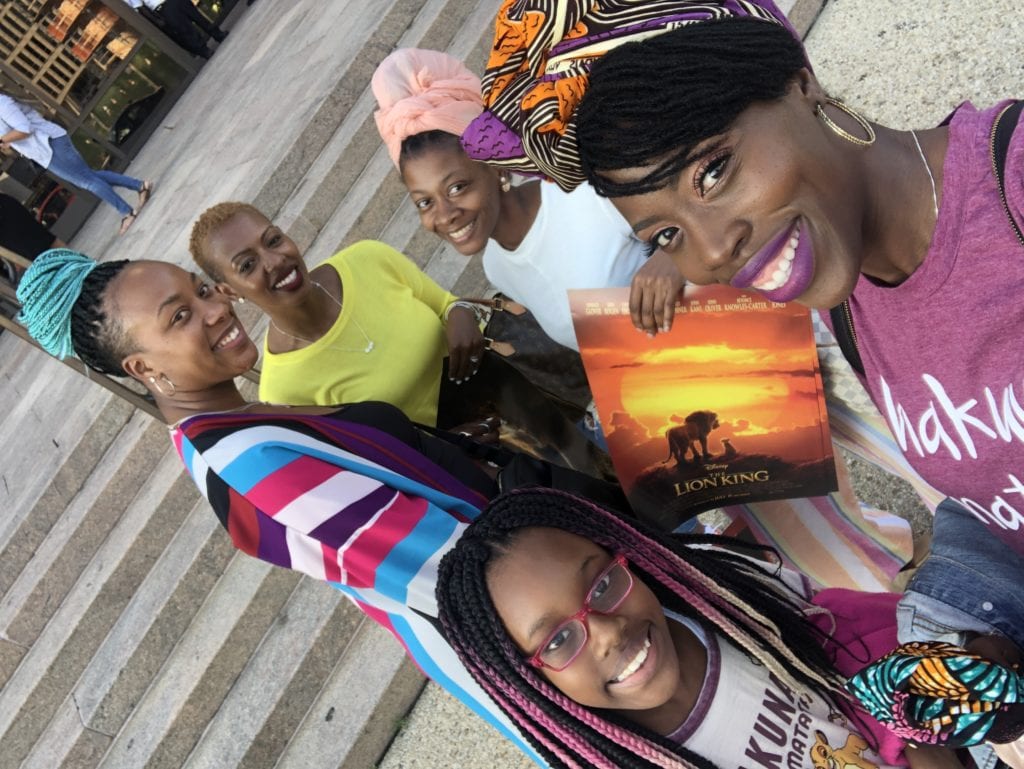 The Lion King is a Classic
First of all, who doesn't love the original film?! There are so many different elements and life messages weaved throughout. There's a reason it is a Disney classic. When I attended D23 in 2017, we got to interview the original creators of the film and even had a surprise appearance from Whoopi Goldberg.
From the storyline to the music, The Lion King is definitely one of our ultimate favorite Disney films. So I was ecstatic when I first learned about them recreating it in this way.
The Imagery is Out of This World
Believe the hype y'all! Disney has absolutely done it again. I will say that we screened the film at the IMAX Theater at the Air and Space Museum in DC, which has a massive, hi-def screen. In addition, I could not believe how real it felt. I actually mentioned to someone on my IG page that if you cried watching the original film, you totally will watching this one. So don't forget to grab your tissue (do better than I did)!
The Music is delightfully contagious
The bonus soundtrack will be a must. It was produced and directed by Beyonce Knowles-Carter. And I literally said during the film that I was going to need to grab the soundtrack. "The Lion King: The Gift," an album featuring global artists & steeped in the sounds of Africa, produced & curated by Beyonce Knowles-Carter, will release 7/19. However, "Spirit," the single from the album & soundtrack for The Lion King, is out already.
The music had all of the elements we loved about the classic with some original spins. I felt like a kid singing the classics and was definitely tapping my leg and bopping my head.
I asked Olivia what was the biggest lesson she got out of the film? She told me that it reminded her to be brave.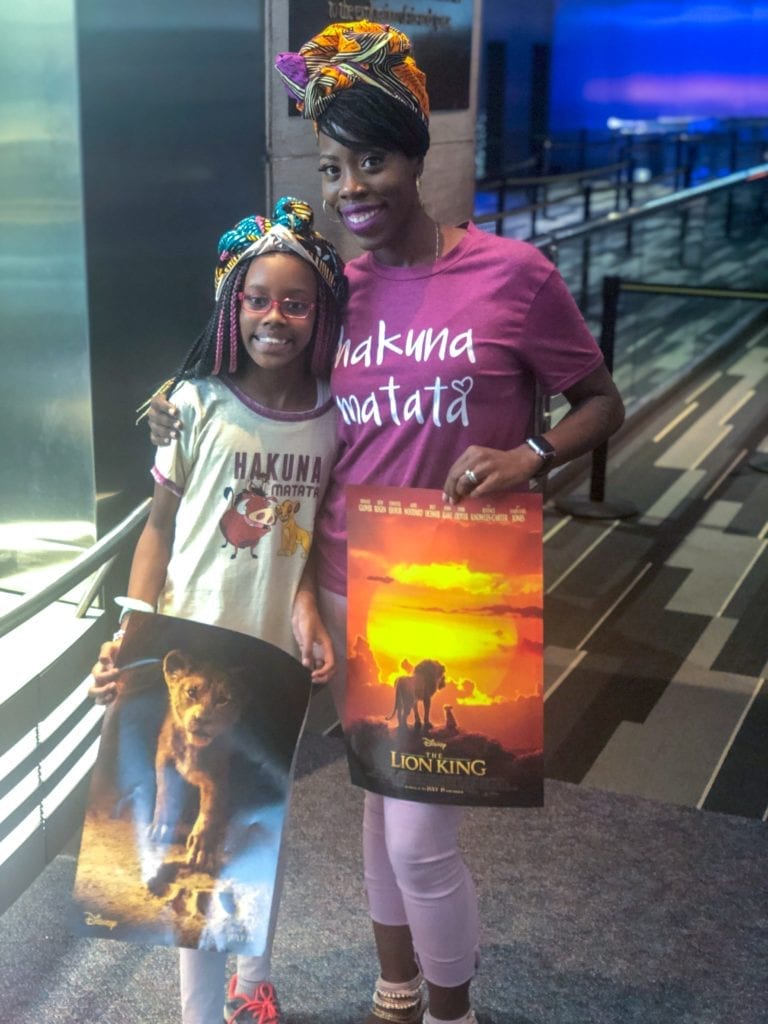 3 Things The Lion King Reminded me About Life
1. Find light and laughter in the midst of darkness
Even in the midst of a storm or trouble, we have to find the light in it all. Worrying about what's happened in the past or what could happen in the future only leads to more worry. In the Lion King, even when there were legitimate times for panic, there would also be a source of comedic relief. First of all, the storms are inevitable in life. But it's about how we plan to weather the storm that matters. And this film reminded me to find light and laughter even in the midst of it all and simply put: Hakuna Matata.
2. Even leaders have to do it afraid
No matter what level of success you reach, you're going to have to do it afraid. And sometimes, you're thrown into the ring before you even feel that you're qualified. The Lion King reminded me that being a leader is not always about having all the answers. It's about doing what's right. Even more, it's about leading in the face of fear.
3. Always remember who you are
In life, there will always be people to plant seeds of doubt and lack of belief in you (AKA haters). However, the Lion King reminded me that I must always believe in who I am, and who I was called to be. Furthermore, it reminded me that no one can take hope or belief away from me without my consent.
Official Lion King Live Action Trailer
In case you somehow have been living under a rock or just really swamped with life and haven't seen the trailer yet…
Disney's "The Lion King," directed by Jon Favreau, journeys to the African savanna where a future king is born. Simba idolizes his father, King Mufasa, and takes to heart his own royal destiny. But not everyone in the kingdom celebrates the new cub's arrival. Scar, Mufasa's brother—and former heir to the throne—has plans of his own. The battle for Pride Rock is ravaged with betrayal, tragedy and drama, ultimately resulting in Simba's exile. With help from a curious pair of newfound friends, Simba will have to figure out how to grow up and take back what is rightfully his. The Lion King opens up in theaters nationwide on July 19th! Grab your families and get ready to relive this classic in a new and beautiful way.