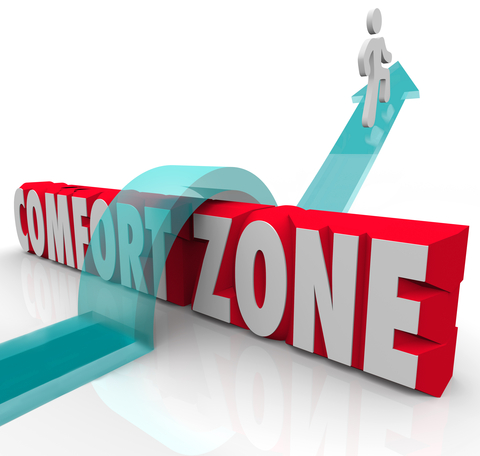 We all love to visit that cozy place. It's a place that is so familiar and like a protection for us. It's that place we tend to travel to the most especially when things get a little crazy or out of control. Sometimes we try to take steps to get out of that place, but when it calls us back we come running like fools in love. That place? It's our comfort zone. It's our safe zone. Whatever you want to call it, or however you want to see it, it's actually a dangerous place to be. It's dangerous because it allows us to conform and be content with the status quo. It's dangerous because if we're not careful, we don't even realize how long we've been lounging in our comfort zone, risking missed opportunities.
Last year I made a committment to myself to get as far away from my comfort zone as possible. And yes there's been times I've crawled back in and have been tempted to set up camp and stay awhile, but thanks to my accountability posse and to my fab coaches, I haven't. In fact, now anytime I feel really comfortable, I know that I'm not doing all I can to push myself past my own fears. I know that I'm in the danger zone if I haven't done at least one thing that scares me every few weeks. And it may not always be something huge, but if it at least makes me uncomfortable, then I know I'm on the right track.
Although I had been teaching workshops to high school and college students since I left my corporate job, it was something completely different when I stepped out of my comfort zone to create my own workshops. See, when I was going to high schools and colleges, I was teaching on something I could do with my eyes closed. I was teaching on something I had already been doing for years. I was teaching something I was very comfortable with, which was how to attract, prepare for and successfully execute a great job (or college) interview. I didn't have to think too hard or spend a lot of time creating the content because it was easy for me.
One of my goals this year was to create and launch a workshop series designed to help moms take charge of their lives – whether they're looking for a better career path, a support system, or trying to find time in their busy schedules to take care of themselves. It took a lot of work and many sleepless nights because I was entering "new" territory. The information was not necessarily new to me, but creating a workshop that would be fun, engaging and impactful with this content was new to me. So I'm happy to say that being uncomfortable has paid off. October 19th will be the third live workshop this year, and the last one for 2013. And I've already begun putting the content, guest speakers and dates together for 2014!
Chances are, you can think of at least one mom who needs to recharge, reconnect or rediscover. She may look like she's taking care of it ALL without breaking a sweat. But the fact of the matter is, she is probably too overwhelmed, tired or just doesn't know how to ask for help. You may even speak to her everyday and she tells you she's fine. But the truth is, she's probably wearing a mask and has forgotten herself, who she is and what she needs. I know, because this mom used to be me. And maybe, this mom is you right now. If it is, I invite you to join me on October 19th for this powerful workshop.
To find out more info and to see a special highlight video from previous workshops, be sure to click HERE. I also invite you to join Tosh Patterson and I on Tuesday September 10th for a free workshop preview call. Just click here to register: Free Dare to FLY Preview Call.
I encourage you to ask yourself: what are YOU doing to get uncomfortable so you can start growing?