On Friday I wrote an article over on my blog about an Instagram pic that Janelle Monae had posted. She shared a #tbt picture of her writing the vision, knowing way back then that she had a lot to share. She mentions how being determined, creative, inspired and strong willed got her as far as she's gotten, yet she's still not at the final destination (if there even is 1 she adds).
I share this because as some of you may know, I'm in the midst of planning and promoting a blogger conference, something I've never done before, in fact, nothing remotely close. I have zero event planning experience and going into the weekend I felt like I was in over my head.
Also Related: Fly & Fit: One Mom Shares Her Fitness Journey (Part 1)
Reminding myself of my own post (funny how that works and happens more times than you'd think) I tapped into my determination to see this through. After all, I've gone too far to turn back now. That also brought to mind the saying, "God didn't bring you this far to leave you." The scripture to back that up can be found in Phil 1:6 which says "And I am sure of this, that he who began a good work in you will bring it to completion…," something that comforted me.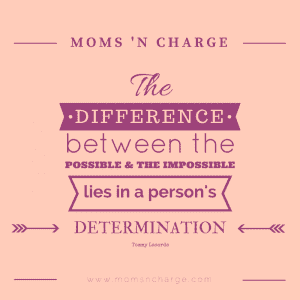 Being stretched is rarely comfortable, and that's what growing implies, you're being stretched, sometimes beyond your level of comfort. Grazing 5'2″ in stature, I've never gone through physical growing pains, but I hear it can be likened to what I'm referring to, lol. I'm certain of one thing though, and that is if I acknowledge the Lord in all my ways, He'll direct my path. So whatever the destination, if I'm determined enough to achieve it, I'm assured to get there by grace.
What has helped you get through stretching periods in your life?