Fear is the enemy of success. I truly believe this statement to be true. I've talked about my experiences with fear several times (you can check out a few posts here, here or here). And no matter how much we excel, or how much we work on facing our fears, we will always have to deal with some level of it.
Fear will keep you humble. Fear will keep you on your toes. Fear can make or break you. There's a really great book named Whose Shoes Are You Wearing? 12 Steps to Uncovering the Woman You Really Want to Be, and it discusses this topic of fear (*wink*). The last chapter is all about learning how to "Do it Afraid" and starts with two ways to define fear:
1. FEAR can mean Forget Everything And Run or
2. FEAR can mean Face Everything And Rise
When I decided to start this blog and business, I made the choice to Face Everything And Rise. Whenever I'm faced with FEAR, I remember the infamous words of Dr. Maya Angelou and remember that "Still I rise".
This is why I am super excited to be speaking at the very first Bold And Fearless Friday happening this Friday from 6-9pm. This is a FREE event that will take place every third Friday of the month hosted by  none other than my fabulous sister, co-author and founder of Bold And Fearless.
This will be an inspiring event and place to connect and network with some other amazing women (and a few good men) in the DC area. And it was just featured in the Washington Informer right next to the fantabulous Chaka Khan!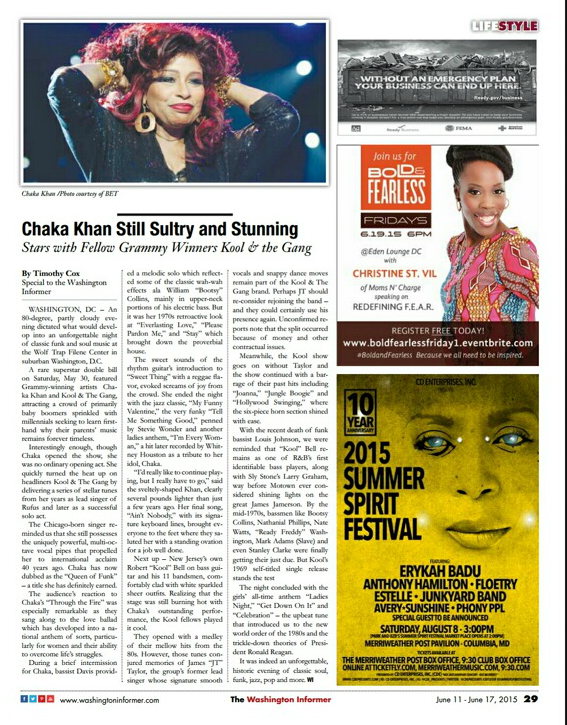 During this event I'll be sharing my story of going from a corporate drop out to losing myself as a stay-at-home now, to some ah-mazing opportunities like just coming off of speaking at Weekend Startup School, speaking at Steve Harvey's Act Like a Success Conference, and regular appearances on local news networks.
I know people say all the time, "If I can do it, you can do it." But seriously…this is my story, and I truly believe that my testimony is for others to be inspired and encouraged to know that they really can do it. It's all about learning how to get BOLD with FEAR, and I'll share how you can do just that. I believe in you and I hope you can join me this Friday.