Inspired by Barack and Michelle Obama's first date, "Southside With You" recounts the eventful summer day in 1989 when a young law firm associate named Barack Obama (Parker Sawyers) tried to woo lawyer Michelle Robinson (Tika Sumpter) during a daylong date that took them from the Art Institute of Chicago to a screening of Spike Lee's Do the Right Thing to the site of their first kiss outside of an ice cream parlor.
I had the pleasure of being part of a group interview with Tika Sumpter and John Legend (Executive Producer) about this refreshing and positive story about two fantastic role models. Below are some highlights, lessons, and takeaways from an inspiring true love story.

DATING
Dating today is quite different from dating in 1989. What is the one thing, based on what you learned about the Obama's first date, you think we should do more of today?
Tika Sumpter: The texting probably doesn't help too much nowadays. But I think probably just more interaction. That's what I would say.
John Legend: They were in a unique position as they met at work, and so I think they already respected each other's intelligence. They started with some things in common in that they were both Ivy League professionals. But this date was an epic date where they talked and talked and got to know each other. I think that's how they fell in love. They respected each other's mind.
Out of the many angles of Obama's life that would make for a great biopic, why this angle with the First Lady also?
John Legend: The angle is Richard's [Tanne] idea, who wrote and directed the movie and chose this approach to such an important life. Somebody will probably create a biopic spanning a longer period of time. But because we know enough about what happened on the date to cover it, the film inspires by focusing on how things started out. I think it was a great idea to do it this way, not overly ambitious. It's saying this was a really sweet, special moment that changed history.
BEING MICHELLE OBAMA
On playing the First Lady, Ms. Tika Sumpter expressed that because there wasn't any footage of Michelle Obama from back in the '80's, it was more about playing a character of a black woman, surrounded by mostly white men, who wanted to be taken seriously for who she was and what she had to offer.
"Watching the movie you'll also get to know Michelle Robinson a bit more". Sumpter further explains that her character is "very sarcastic, and funny."
Tika Sumpter: You know that she's funny now, but I think it's played in a different way. What you also get is the dynamic of her family.
John Legend: What you get from the film is that she's a bit guarded, particularly because they started as professional colleagues and he [Barack] was trying to move it into a more personal realm. She wasn't sure whether that would be good for her to take it in that direction. But we see the love they have for each other and the authenticity.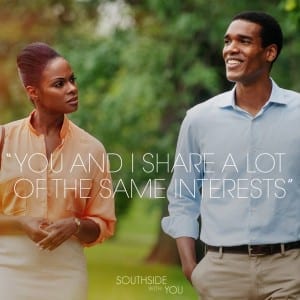 CHEMISTRY & AUTHENTICITY
Capturing the essence of the way the president and the First Lady look at each other was made possible by casting Parker Sawyers as Barack Obama, whom Sumpter says she had immediate chemistry with.
Tika Sumpter: I don't think you can really create chemistry. I think chemistry is either there or it's not. And we were able to have it.
John Legend: And, let me say, they did a remarkable job. So natural and it really feels authentic in every way. You forget that it's them. You think that you're watching Barack and Michelle, and it's really beautiful to see them give the characters such humanity and authenticity.
LOVE & AUTHENTICITY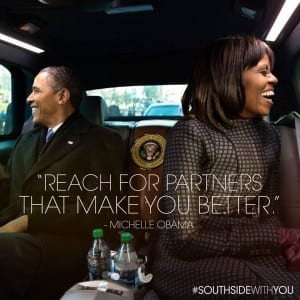 What is it about the Obama's love story that makes it so special you think?
Tika Sumpter: I think people love the authenticity in it, you know? When you see a lot of couples, you don't see the affection, and when you do, it's kind of forced sometimes. But, the Obama's I think have inspired a lot of people with relationship goals and getting their stuff together. I think it's had a huge effect on couples in general because people can see that the love is real. That's one of the things I think a lot of people love about those two.
John Legend: And, I think that's why Richard, our director, made this film. Because he was inspired by looking at them as a couple, them looking at each other, looking even with millions of people in the world watching. The Obamas are able to be themselves around each other. You can feel their love is genuine and their respect for each other is genuine too. It made Richard want to explore that and I think so many fans are going to be uplifted and inspired by watching how it started.
LIFE LESSONS
Apart from the love story itself, speaking as producers of the film, if the two of you could choose only one life lesson that you hope viewers take away from watching Southside With You, what would it be?
Tika Sumpter: You don't have to dim your light for anyone. You can go out confidently and know how intelligent you are and be okay with it. What I love about this story is, in a lot of other romance movies, you see the girl always crying or pacing. But it's like the girl is the prize in this movie. I think women are really going to enjoy being the prize and seeing themselves in a higher realm, and….
John Legend: …Worthy.
Tika Sumpter: Yes, worthy! Valued! I value myself even more now and know that my voice matters. My voice matters and nothing can take that away.
John Legend: I think it makes people believe in love too, just watching this film. And partnership – finding somebody that you can build with. We know what they've built together now, but it's inspiring to see how it started out. And, I think everybody walking out of the film is just going to feel inspired and be in love with love, you know?
TAKEAWAYS
Legend elaborates that "many people will be inspired by this film, no matter their political stripe, no matter if they're a fan of the Obamas or not. It's simply put, a really subtle, sweet date movie. You get to see a really famous couple go on their first date, and so tastefully done. The intimacy, the back and forth, and the rapport that they're starting to develop. You can see all that in its infancy, and that's why I think it's a special, special film."
Tika Sumpter: And, what we're getting as we've been going around to screenings, is that people feel it's refreshing. It's like a fresh cup of water, especially now, with the craziness happening in the world, it's just a bit of purity and sunlight. And people can relate to the realness of them at these ages.
This is definitely a movie you should go see with your boo or for a girls night out. We need more films like this with positive representation. Let's help open the movie in a BIG WAY! Go see it in theaters opening weekend, this weekend (click here to find a theater near you). For more, make sure to like the movie on Facebook and follow along on Instagram and Twitter.