If you haven't already, I'm going to need everyone to check out #ForeverDuncan on social media – AFTER you finish reading this of course, lol. To sum it up, Alfred Duncan surprised his girlfriend Sherrell Woodward with a proposal and a wedding – all in ONE day!!
Planning a date alone can be challenging, but for a man to organize hair, makeup, attire, and get all your closest friends and family gathered, AND keep it a surprise?! That's nothing short of mind-blown heart and effort. My summary doesn't nearly do this story any justice because you will for sure need that box of kleenex when you watch.
LOVE IS IN THE AIR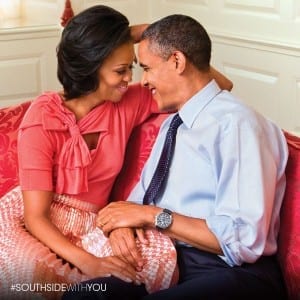 Love is certainly in the air because today is also the Obama's 24th wedding anniversary. As much as the pictures and hashtags can get you all caught up in your feelings, know that your love story is just as special. If it hasn't happened yet, your special love story awaits.
  Social media makes us forget that love requires work. Love is a decision, not butterflies in your stomach. Did you know that the Duncan proposal was 9 years into their love story? I'm sure plenty of women who are praying for their own Alfred Duncan would never wait 9 years for a ring. And I can't even begin to imagine all the sacrifices Michelle Obama has endured throughout their 24 years of marriage.
You can find out how the Obama love story started though over here.
#FOREVERDUNCAN
What #ForeverDuncan did for me though is remind me how beautiful love is. Their story has women all over smiling and crying and it just goes to show the power and impact your story can have. "And now these three remain: faith, hope, and love. But the greatest of these is love." (1 Cor 13:13)
What was your reaction to Duncan wedding?