As you may remember, I took a recent press trip to LA. During that trip, myself and 24 other bloggers got to sit down with the Producer Brigham Taylor and Visual Effect Supervisor Rob Legato for Jungle Book, which releases on Digital HD today and Blu-ray/DVD August 30th. We got to really get a behind-the-scenes look into the making of this awesome film which is releasing Digital HD and Bluray this week (more on that soon)!
This movie has truly fascinated me because it feels so real. It's so hard to believe that the animals were digitally created. So to be able to sit down with the creators of this film to understand how it all came together, was amazing. One thing they did mention was how difficult it was to come up with ideas on a blue screen because there's nothing there. Rob added, "The blue screen stage is really difficult to come up with ideas because there's nothing there. It's almost stupefying. So, you need to have in your head a very clear idea so you can actually direct the shot and judge it if it's working out."
I was intrigued to know that it took upwards of 2000 people from start to finish of the film (counting musicians and other talents around the world) and that the entire process took about two-and-a-half years to complete.
Because this seems like such a great and fun film to work on, I wanted to know what their favorite part was about creating it, and what they want people to remember most 50 years from now?
There were a lot of favorite parts for Rob. One most memorable experience was working with all of the characters. More specifically, Idris Elba: "There was something about Idris Elba playing that character and the melding of his voice, his performance, the character he was playing, the way it was animated, that represented his emotion and then the way it was photographed and the sole total of the composite of that went wow, that's a real character."
I mean…hello, we're talking Idris Elba here! He did stress that everyone was excellent but Mr. Elba took it to another level.
Here is a short clip that talks about the voices behind the animals in the film, The Jungle Book:
For Brigham, being involved in the process from the beginning was a big highlight: "My favorite part was the opportunity to sit in a room early on with a storyteller like John and our writer Justin, just to be involved in the conversation about what the film was going to be. There were a lot of decisions that were very unique to this movie, so to be involved in that early on is really exhilarating when it's all sort of blue sky." He also talked about how incredible it was to sit and watch the final product with the audience and hearing it get the desired reaction (which a lot of films don't).
Both Rob and Brigham shared that there wasn't anything they wanted to do that they couldn't do in regards to the production of the film. The only restrictions were self-imposed because they wanted to make sure the film wasn't too long or too overbearing.
When discussing what they were most excited to include in the bonus features for the release of the DVD, Brigham shared this:
"I like hearing about little inspirations and tidbits that you wouldn't have necessarily understood and this isn't just one piece."
He said he likes digesting in thirty minutes, what took them two-and-a-half years to produce.
One thing I loved that was mentioned was the fact that they are standing on the shoulders of Walt Disney and his group of people who were trying to push the envelope creatively to give a more emotional experience to the audience.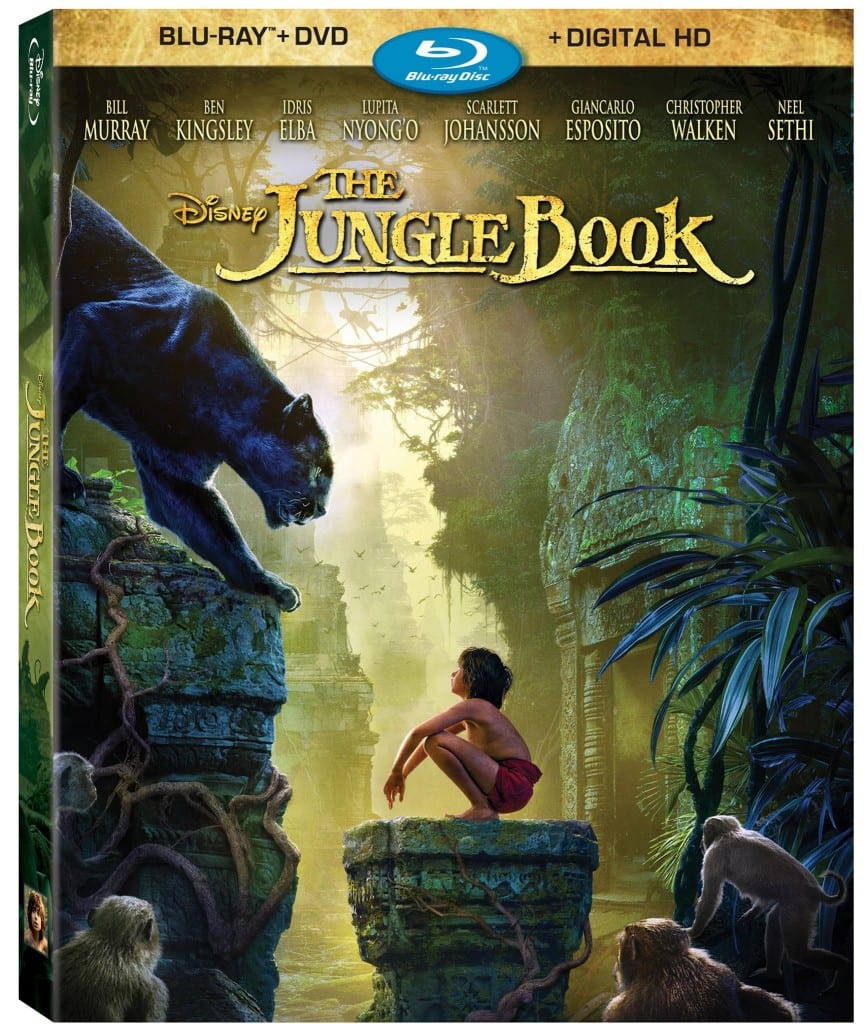 In regards to the bonus features, they try to capture everything throughout the process. There was enough to talk about so we were able to go above and beyond. It's hard to decide at the beginning, but they do know they want to cover everything and make the final decision at the end.
It was pretty cool to hear that Brigham's son had shot part of this piece in which Director Jon Favreau chats with Brigham and Rob about the opening scene:

Jungle Book releases on Digital HD today and Blu-ray/DVD on August 30th!
Have you seen the movie? Do you plan to add it to your Disney collection?
---
Disclosure: On behalf of Disney, I was invited to attend an all-expense paid trip to cover the world premiere of Pete's Dragon, as well as other press events. As always, all opinions are my own.