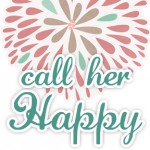 I am so thankful to have met yet another super fab mom, wife and blogger on Blogger Link Up. She is the mom of an adorable 18-month old princess and expecting a baby boy in May. After speaking with her, I can honestly say that she lives up to her blog name. I'm a happy person and I love meeting other happy people. So she had me at Call Her Happy.  In this interview, Jenna shares all things blogging and mommyhood.
C: What is your background and how did you get started with blogging?
Jenna:  I'm formerly a high school English teacher and I also did a little bit of journalism as well. The first time we moved, we moved to a part of Michigan that was too far of a commute for me to go back to work. Since we were about to have our first baby in a few months, we decided that I should quit my job at that time [since I had planned to stay at home anyway]. So I had a few months by myself at home waiting for the first baby to come which was probably the hardest part…the waiting. So like a lot of other moms who want to just find a way to share things with their families who are out of town or live further away, I started to blog.  I started documenting my pregnancy that way. At that point, I wasn't really computer savvy, didn't have a smartphone and wasn't really that interested in it, but wanted to give it a shot. So I did and it just took off from there.
I would post recipes and then people would also ask me to do tutorials for things that I had sewn or created. I started learning things about SEO and blogging in general and learning more about html. So it's been a really cool learning experience, a whole new world of what blogging really is. I've been blogging since October of 2010. A lot of my learning came from googling and spending time at the library. If I liked something on someone else's blog, I would send them an e-mail to ask how they did what is was that I liked. And I still do some of those things now.
Click the page numbers at the bottom of the post to continue reading.