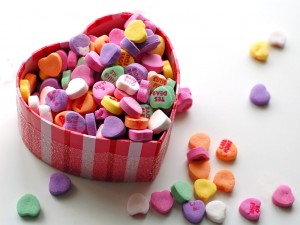 Before I got married (or before my husband and I even started dating for that matter) I can't say I had a whole lot of "Happy" Valentine's days. It wasn't something that we really acknowledged in the household, and I wasn't one in the "in crowd" who got the "secret" Valentine Day flowers or candies at school. But then my husband and I got together and we've had many wonderful days together, including this special day of love. Now that I have kids of my own, I so look forward to all of these holidays so that I can enjoy the excitement that they have for each of them – Valentine's Day included. My son has been counting down the days, and telling me all about the parties that he will have in his classes.
I see so much emphasis put on what gift to get your spouse or significant other; or what special thing you're going to do with/for them. But I don't see nearly as much talk put on showing love to our little ones. Obviously, we love on them every day, but why not shower them with extra love? Is there ever a such thing as too much of it? When they are in a school environment where it's constantly talked about, they will inevitably get excited and want to celebrate this special day with you too! So while we've never been ones to go all out and buy each other lavish gifts on this one day of the year, we do want to make sure that our kids can still have fun with it all. I will probably be that mom who sends them to school with a small surprise in their backpack and a little "I love you, Happy Valentine's Day. Love, Mom" note tucked in there.
At this very moment, I'm working on surprising them with some Valentine's Day cakepops even though I know I should be asleep. But I just love how excited they get over something so very simple. It reminds me, even as a mom, that it really is the little things in life that make it so sweet. Every time I show them love through my actions (whether it's making their favorite food, giving them a bubble bath, or taking them to their favorite play zone), I'm hoping that I'm teaching them to show someone else love in a similar way. I want them to know that today is a special day, but it's also just another day to show and give love just the same.
How do you celebrate Valentine's Day with your little ones? Do you have any special traditions?