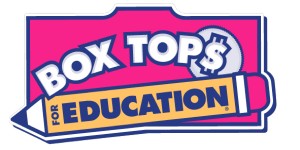 Since my oldest child is only in Pre-K, I just started learning more about the Box Tops for Education Program (BTFE) this year, which is the nation's largest school fundraising program. If you weren't aware of how powerful this program is, you will by the end of this paragraph. 😉 The General Mills program began as an experiment on boxes of Cheerios with the first year, and has now grown to include more than 240 participating brands providing needed cash for 90,000 enrolled K-8 schools. 75,000 BTFE coordinator volunteers make up the heart of the program, whose job it is to motivate local school communities to collect the 10-cent coupons which are redeemed for cash the schools use for whatever they need most.
Since the program's inception in 1996, it has raised over $500 million dollars for schools across the country! Did you get that??? That's half a billion dollars y'all! Can you imagine what your child's school could do with some of this extra money? Well I wanted to find out just that. So I caught up with Mrs. Benson, my niece's third grade teacher over at Weller Road Elementary School, to find out a little more about what it is that their school is doing to make this program so fun and successful. Apparently, my niece's class is extremely competitive and they won a pizza party for collecting the most box tops.. So here is what Mrs. Benson had to share with me:
How long has the school participated in the program?
Ms. Benson: This year was the first year. 
How do you get the students encouraged and excited about the program? What kinds of activities do you have them participate in?
Ms. Benson: I hype it up in my classroom and, school wide, the incentive is a pizza party or ice cream party.
 
How will the money help the school? What will the school use the extra funds for?
Ms. Benson: We have not decided what we will be using the money for but it will probably go to more books for classrooms or math manipulatives.
Any other information to share about the school's involvement on the program?
Ms. Benson: The students seem to enjoy it and get really into it with the updates on how much each class is collecting.
Thank you to Ms. Benson and the students over at Weller Road Elementary school for sharing their experience with us and for doing their part in helping to raise money for the school!
To celebrate this milestone, the program is offering a variety of Bonus Box Tops on more than 50 million packages at grocery stores and at btfe.com, allowing shoppers to double their earnings with select products.
In addition, one lucky reader will win a BTFE pantry stock up prize pack!
Wanna know what's in it??? Well, I'm glad you asked! 😉 This pantry stock up will include: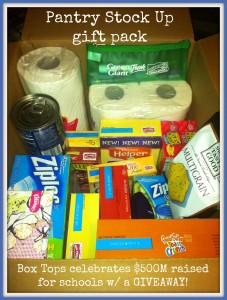 New Peanut Butter Toast Crunch Cereal
Nature Valley Chewy Trail Mix
Fiber One Protein Bars
Progresso Recipe Starters
Food Should Taste Good Chips
Green Giant Fresh BTFE pencil pouch
Hamburger Helper Sweet and Sour Chicken and Parmesean Crusted Chicken
Betty Crocker Mac & Cheese and Au Gratin Potatoes
Kleenex wallet pack and 184 count box
Scott toilet paper (4 roll) and paper towel roll
Avery dry erase weekly calendar
Ziploc bowls and bags
Yoplait Frozen Yogurt free product coupon
 March 1st is the submission deadline for Box Tops for Education.  Participating schools will be turning in Box Tops that they have received from their students and parents on this day.
Does your child attend one of these schools to benefit from the dollars raised through the Box Top for Education (BTFE) program? If not, be sure to check out this great post on ways you can get your child's school involved.
**Disclaimer: Information regarding the BTFE program, products and promotional items have graciously been provided by General Mills and Box Tops for Education and its program partners.**