Queen of Katwe Event – Giveaway #2
QUEEN OF KATWE is an inspiring true story of a young girl named Phiona, who sold corn on the streets of Uganda who experiences a life altering experience when she is introduced to the game of chess.  Confidence, determination along with the support of her family leads Phiona on a life altering journey as she pursues her new found dream of becoming an international chess champion.  It's a story of overcoming the odds and finding your inner Queen.
I remember when I first saw the trailer for Queen of Katwe scrolling through my Facebook newsfeed. I immediately squealed with excitement for three reasons:
It's based off of a true story of a female chess champion
This female chess champion just happens to be Ugandan, where my family is from
It's a Disney film (need I say more?)
I am beyond thrilled to be able to walk the red carpet in just under two weeks for the world premiere in LA of Queen of Katwe. I got to sneak a peek at this powerful film when I attended the Pete's Dragon Event last month, and have been singing its praises ever since!
I remember growing up and watching my father play chess but thought it was boring because I didn't understand it. Fast forward to when my husband and I started dating and I saw how much he loved the game (he was collecting different ones at one point). I started to get into it once he explained to me how it worked. And he started teaching my 8-year-old son how to play as well. Just today, my son asked to join a nearby chess club! So we will definitely be looking into that.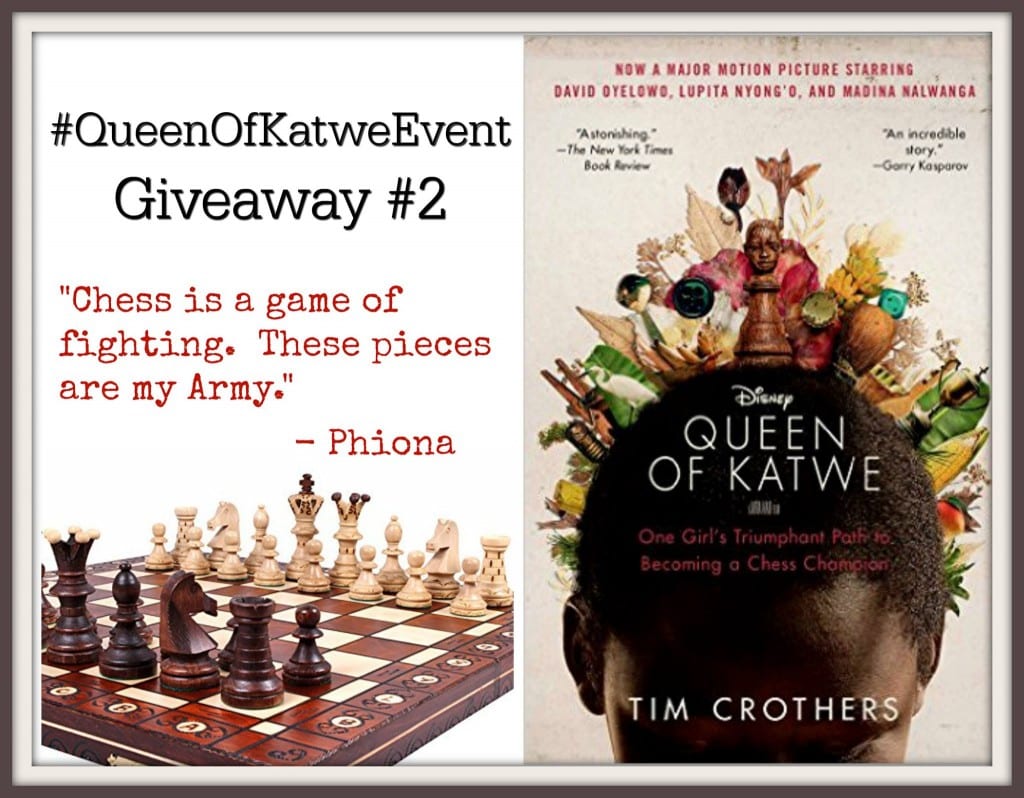 In celebration of attending the Red Carpet Premiere of QUEEN OF KATWE later this month, I have teamed up with several of the #QueenOfKatweEvent bloggers to bring you not ONE BUT TWO amazing chances to win this gorgeous Jarilo wood chess board
 along with a copy of The Queen of Katwe
.  Entering is simple and easy, just follow the steps in the giveaway tool below, however once you are done entering my giveaway, head on over to Susan's Disney Family blog and enter the second giveaway.  See I told you it was easy!  Good luck.
Rules of the Giveaway: Winners are subject to verification of eligibility. You must be at least 18 years of age to enter, a U.S. Resident and provide a physical mailing address for the prize (P.O. Boxes will not be accepted).  The giveaway starts at 12:00 am CST on September 9th, 2016, and will be end at 11:59 pm on September 16th, 2016.  The winner will be notified via email and will have 48 hours to respond.  Failure to respond will result in forfeiture of prize and a new winner will be selected.  
Now that you have entered, please be sure to follow the hashtag #QueenOfKatweEvent to learn more about this amazing movie and to follow the journey of the 25 #QueenOfKatweEvent Bloggers who will be attending the Red Carpet Premiere.
Visit the QUEEN OF KATWE website
Like QUEEN OF KATWE on Facebook
Follow QUEEN OF KATWE on Twitter
Get your own copy of The Queen of Katwe
QUEEN OF KATWE opens in SELECT theaters on September 23rd and everywhere on September 30th.
---
Disclosure: This post contains affiliate links. Please see our disclosure policy for more info.