It was around this time last week Tuesday, 25 of us bloggers sat around a conference room excited to meet and interview Oscar™ Winner, Lupita Nyong'o (Harriet Mutesi), and newcomers Madina Nalwanga (Phiona Mutesi) and Martin Kabanza (Brian Mugabi), who play her children in the film Queen of Katwe (click here to see my full review on the movie). Personally, I was filled with so much excitement and pride.
By the time we sat in this room, I had already seen the movie twice. I had watched the trailers a gazillion times. I had started reading the book because I loved the film so much. I was still in disbelief that the world was soon going to see such an awe-inspiring story that took place in my family's country of Uganda. I also couldn't believe that for most of the actors and actresses in this film, it was their very first time acting. Madina and Martin did an outstanding job, and I couldn't wait to hear all about their experience.
From the moment they walked in the room, you saw the love, the connection and the bond between the three of them. It was as if they were still filming for the movie because their off-screen relationship was just as powerful as it was on-screen. Lupita guarded and guided them as any mother would, and it was a joy to witness.
Since time was of the essence, we jumped right into our Q&A session as soon as they were seated.
On meeting and working with Madina and Martin…
Although we might've been able to guess from what we saw, the question was asked of how it was working together during the filming of Queen of Katwe?
Lupita didn't hesitate to talk about how much fun they had together. She talked about how she got to meet them (Madina Nalwanga and Brian Kabanza) prior to the start of shooting. She told us about the first time she met Madina when she walked into a rehearsal workshop, and the first thing Madina said as soon as she walked in was, "Hi Mom!"
Lupita gave her a big hug and was happy that they were both so receptive to her. Can you blame them, though? It was an instant connection that blossomed even more when Madina taught Lupita how to cook (I should've asked Lupita if she now knows how to cook Matooke: our staple, cooked green bananas).
On calling Lupita "mom"…
As if this weren't enough, Madina and Martin had all of our eyes sweating when they explained why it was so nice to call Lupita mom.
For Madina, since she was four years old, she had never called anyone else mom. She talked about how Lupita really acted like their mom and how nice it was to call her by that title. For Martin who was raised by his grandparents because his mother left him when he was three months old, it was also his first time to say mom to anyone.
They talked about this as Lupita struggled (unsuccessfully) to hold back tears. Actually, we all struggled, because for many of us, we couldn't imagine going through what these kids have been through.
Since Madina's life story so closely resembled that of the real-life Phiona Mutesi, she was able to relate easily to the script. Because Madina also used to sell corn in her past, she was able to show Lupita how she would go shopping in the market, and then how to prepare the meal.
One of the things I found most sweet is that even though the filming is done and the movie is set to open nationwide this weekend, Madina and Martin still call Lupita mama (or Maama in Luganda). Not surprising because their bond is evident, but still very sweet.
On being a first-time actor…
Martin went on to speak about his experience as a first-time actor. He mentioned that even though he knew nothing about acting, she (Lupita) taught them how to get into character.  He told us how they used to copy everything she did.  They tried to do everything she did because she was so good.  "She was a good mom", Martin said.
Madina chimed in explaining how she nicknamed herself "copycat" because every time she would see her getting ready to get into character, she would do what she did in quiet ways. Lupita couldn't see her, but Madina said that she really helped her in some of the really hard scenes because it was hard for her to cry at times. She explained that as a dancer, "You'll never find dancers sad."
Lupita on preparing for one of the hardest scenes…
The conversation then moved on to Lupita sharing that there were many touching scenes. But she vividly described preparing for one of the hardest scenes:
"They both mentioned how this was their life.  They both experienced evictions in their past and I just remember being really moved at how the artifice was reflecting a real-life Phiona, and that they were having this chance to tell their story, to bring it to a larger audience that would understand the challenges of poverty.
But also the triumph of people who live through it, and the fact that poverty is not one's definition. They were going to have this chance to put that experience of their past into very, very good and immediate use in the scene we were about to shoot. I come from a background of privilege and so I was very humbled in that moment."
Lupita went on to explain that she was playing the mother and being the shepherdess of these two going through this experience, but yet, she was learning so much from them.
On learning the native language of Luganda…
My family is from Uganda. I am a first-generation American. And while I don't speak Luganda fluently, I can understand a lot of it. One of my dearest friends is from Kenya, where Lupita is originally from. She will be moving to Uganda soon and was recently sharing with me how hard of a language Luganda is to pick up (no joke, one word can be like 15 syllables long LOL).
So of course, my question to Lupita was whether or not she knew any Luganda before filming Queen of Katwe, and what her experience was like learning the language?
Watching the movie, you would think that Lupita had spoken Luganda long before. Even my mom, who rarely goes to the movies, but saw Queen of Katwe this past weekend said: "At first, I didn't recognize Lupita at the beginning of the movie – oh my goodness, I thought this was a Muganda woman – a few words of Luganda she speaks, she says them perfectly." This is huge coming from my mom.
After thanking me for the compliment I gave her on nailing her Luganda (hey Lupita!), she laughed and said how she absolutely didn't know any Luganda prior to this film. She explained how Madina and Martin were her teachers. It was great that she got to be in Uganda because it gave her an opportunity to immerse herself in the culture and forced her to learn the language.
She thought maybe she would pick up a few Lugandan words here and there. But when she was introduced to the baby (Ivan) who plays Baby Richard in the film, he didn't speak any English. And since she didn't speak Luganda, he didn't trust her or want to be with her. She quickly realized that Luganda was going to be her lifesaver in order to build that relationship with her on-screen baby.
So Lupita just kept asking how to say things and would then write them down. You know, important things to Baby Richard like, "Do you need to pee?" or "Are you hungry?" And like any other mom, she also had to learn how to say things like, "Stop doing that" and "Keep quiet". Lupita shared that she loved learning Luganda.
We went on to discuss Martin and Madina's favorite scenes in the film. And because I need you to go and see the film yourself, I'm not going to give away any more spoilers here.
On what Lupita hopes to bring to the forefront…
We closed out our interview by asking Lupita what roles she prefers to play, and what she hopes to bring to the forefront?
"I love playing roles that stretch me and help me to learn something new and deep about the human experience.  It was not by design that I set out to play African women. But how happy I am to have had these opportunities because I think Africa all too often is just a blanket statement.  There's so specificity. 
So to be able to bring to the forefront stories — particular and specific stories — about African women in their variety is so exciting to me because I'm a child global popular culture.  I grew up watching Mexican, Brazilian, Australian, English, American TV."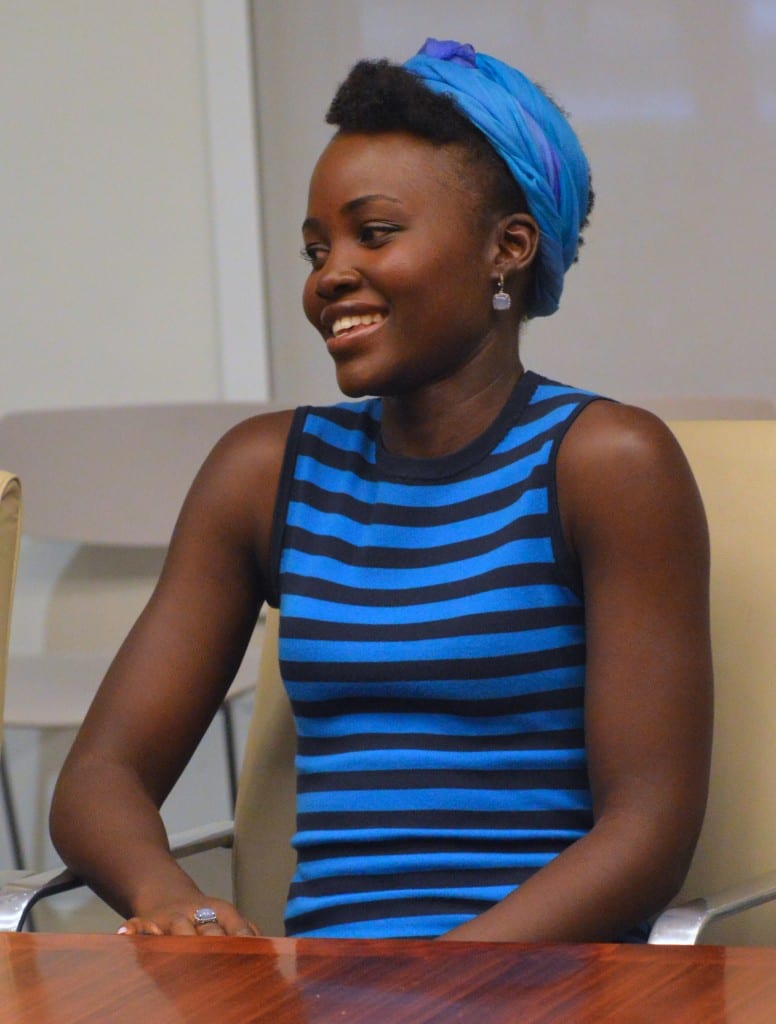 Lupita ended the interview by sharing that bringing a universal story like that of Phiona Mutesi in this story of Queen of Katwe, it is her pride and my joy. "I am so happy to be able to play a part in making the African woman the global woman."
So it happened. This is an interview I will never forget, and am grateful for the opportunity to have had.
Queen of Katwe opens in theaters nationwide this Friday, September 30th!
Be sure to Visit the Queen of Katwe website, Like Queen of Katwe  on Facebook, Follow Queen of Katwe  on Twitter and grab your own copy of The Queen of Katwe
!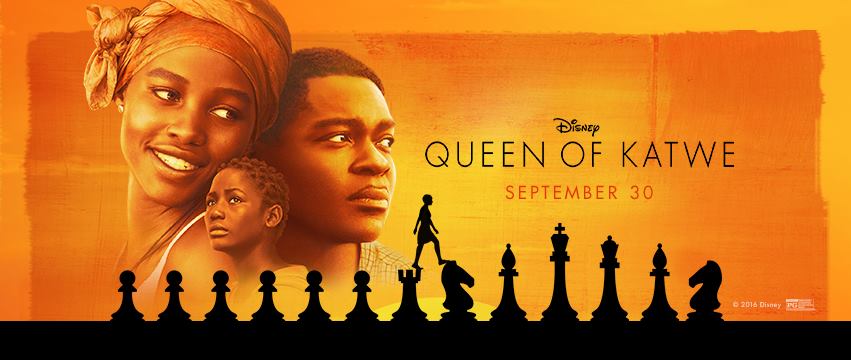 ---
Disclosure: On behalf of Disney, I was invited to attend an all-expense paid trip to cover the world premiere of Queen of Katwe, as well as other press events. As always, all opinions are my own.