Hey y'all!!! So apparently Spring has sprung. But the way all the trashcans were gone with the wind in the neighborhood yesterday, you would have never known it in the DMV. So I am actually quite excited to be heading down south next week to Atlanta!
Heading to Act Like A Success 2017!
I'm headed to the third annual Act Like A Success Conference! I've had the pleasure of being at this event since the beginning. And I must say: it seriously gets better every year! This year, the conference is sponsored by Green Dot. 12 Lucky people just won a set of VIP tickets to the conference just last week!
The first one was held in the Washington DC area and then last year it was also in Atlanta (probably because this weather is unpredictable at this time and we had a major snowstorm the first year in DC).
What is Act Like A Success?
If you're not familiar with the ALAS brand, then maybe you might be familiar with the brand behind the brand: Steve Harvey. And if you read his book Act Like a Success, Think Like a Success, then this will ring a bell. Steve Havey is big about helping people to go after and follow their dreams. So he wanted to take his book and turn it into a brand with resources, tools, and opportunities to get people to their next level of success.
#TBT to ALAS 2015 & 2016
As an instructor in the Act Like A Success Institute, I've had the pleasure of teaching breakout sessions for both conferences. During the first conference, I had the pleasure of meeting Mr. Harvey himself. I was trying hard not to look crazy cracking up laughing in this pic because of course, he was cracking jokes the whole time. LOL
This year I'll be sharing "Winning Social Media Strategies to Turn Your Customers Into Your Brand Cheerleaders". It is going to be so much fun and I will be highlighting one of my favorite businesses, Sassy Jones Boutique. CEO, Charis Jones, will be joining me live in the session.
4 Reasons You Can't Afford to Miss the Act Like A Success Conference
Of course, there are events happening every day in every city. You could choose to go anywhere and invest your time and money in many other conferences. But Act Like A Success is truly one-of-a-kind, and it's honestly gotten better each year.
1. You can't build an empire by yourself
If you're looking to grow or start your business, one thing I've learned over the last 5 years is that you can't possibly do it by yourself. You need to connect with other people who are on the same mission as you. And to take it even further, you really need to connect with people that are where you aspire to be. You will find those connections at ALAS.
But you have to be intentional. Are you attending to get a photo op or are you attending to really get the most out of what you need? Are you looking to meet and connect with people or just looking to hang out? The support is out there. You just have to go out and get it.
2. Gain winning tools and strategies to face fear and doubt
If anyone would've told me 5 years ago that I would be speaking publicly and loving it, I would've laughed in their face. My fears around being judged and creating a platform that would force me to be "in the light" were real. And it wasn't until I connected with people and a phenomenal coach in 2012 that I was able to really face my fears.
Had I not learned how to do this, I know I would've missed so many amazing opportunities that I've shared with you all here on this blog (like working with Disney, being a blogger correspondent, sharing my knowledge regularly on local news, etc.).
Attending Act Like A Success will help you face your fears and doubts so you can achieve the level of success you desire.
3. Receive expert knowledge from the best of the best
There are a lot of people who claim to be experts in a lot of different areas. But when it comes to bringing people of value that we can learn from, ALAS brings it every time. From learning practical ways to managing debt and finances to learning how to enhance your personal and professional relationships, ALAS will prepare you for your next level of success.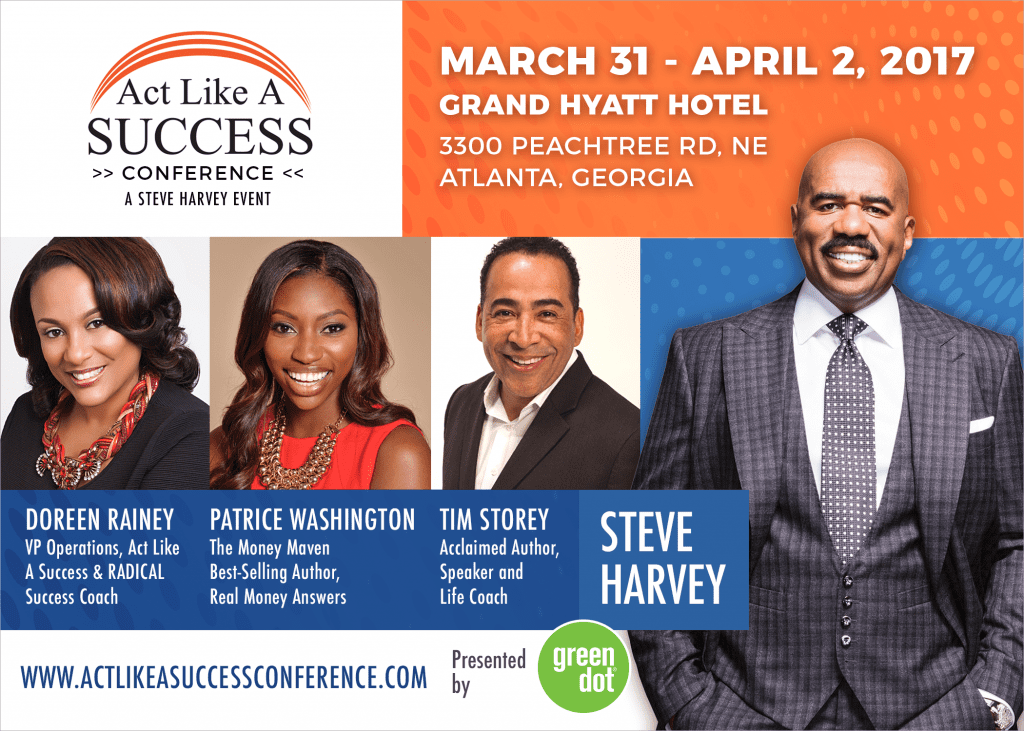 Next week, Doreen Rainey, Patrice Washington, and Tim Storey along with Steve Harvey will be giving you powerful tools, tips and strategies that will take you to the next level. Period. Their stories and lessons shared will ignite and inspire you into action (key word: action). There will also be empowering breakout sessions provided by the ALAS Institute Instructors (myself included) that will keep you in action.
4. Reignite the spark for your dreams and goals
Sometimes we allow outside forces to dictate what we should and shouldn't do. Sometimes we have a dream or goal, but then we bury them because of reason number 2: fear and doubt. I shared this post on Instagram and Facebook the other day and feel that it is so prevalent to this post. You deserve to go, and are qualified to go where God is sending you. Don't forget that. Coming to ALAS (even attending virtually), you will be supported in your dreams and goals.
Feeling overwhelmed, frustrated or just plain stuck? I hope you'll join me next week in Atlanta. While tickets to attend the conference in person are sold out, you can still join us virtually.
I promise you will absolutely gain everything that I've mentioned above from the comfort of your home. Oh, and if you use the code "JUMP", you'll save $40 off of your registration. Can you invest $107 to get to your next level of success?
The conference takes place Friday, March 31-Sunday April 2, 2017, in Atlanta Georgia. We hope to see you there!
---
This post contains affiliate links.