Last week I had the pleasure of attending a tech and travel luncheon in Washington, DC hosted by Fadra Nally of AllThingsFadra.com, TravelingMom.com and Techlicious.com.
First of all, anything that will make our family trips easier and more enjoyable is always a plus. With three kids, whether we're flying or taking a road trip, it's imperative that we can keep everyone occupied for the sake of my sanity everyone's happiness. I like to have a good mix of activities and tech gadgets to keep everyone happy.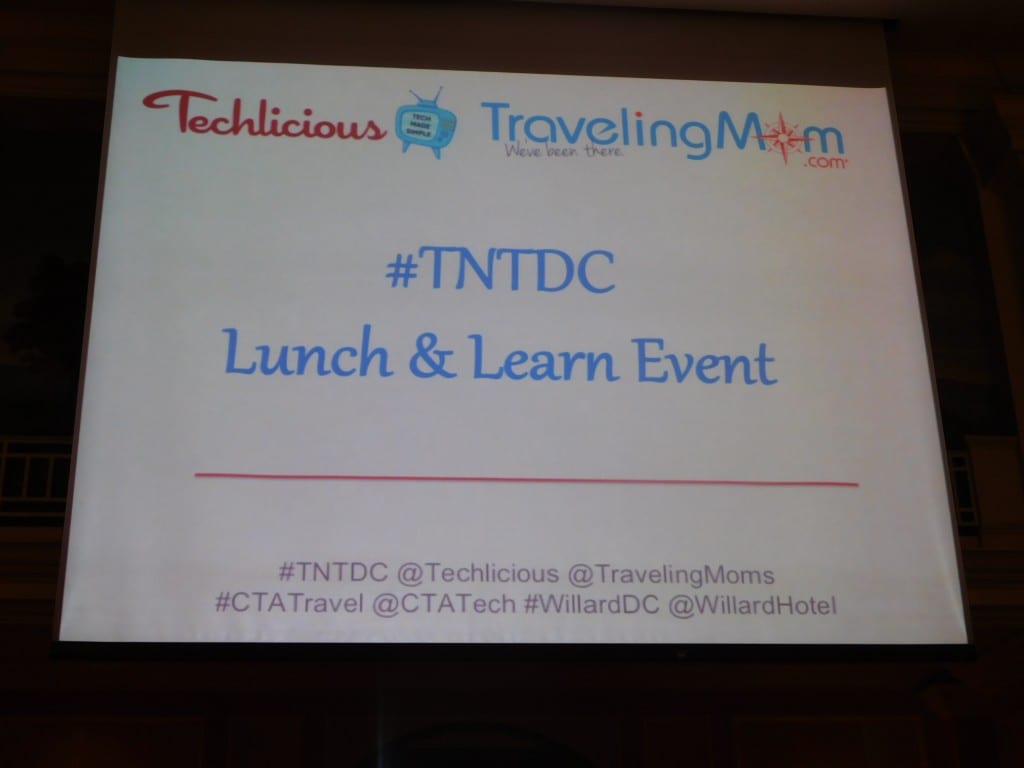 So when I heard about this event being hosted at the Willard Intercontinental Hotel, with major brands being showcased by Consumer Technology Association (CTA), I knew I had to be there. They had me at tech and travel. So I literally rearranged some things on my schedule so that I could get my face in the place on that day. And boy am I glad I did! It's always great to find about things I didn't even know I needed. Plus, any time I get to mix, mingle and network with other fab bloggers and influencers is always a win-win (oh, and the drinks and food? ah-mazing).
I'm a native Washingtonian, born in DC and raised in Maryland, and have lived in the DMV (DC, MD, VA) area all my life. I've heard about the Willard Inter-Continental Hotel but had never actually visited this historic and beautiful establishment. I'm really excited and can't wait to make this our next family staycation location. It is absolutely gorgeous. We got to take a tour of several of the suites located within the hotel and the views of some of them were to die for! I can't believe I've waited this long to check out this hotel and it's so close to home.
I also love the fact that they included us in coming up with ideas to engage kids, tweens and teens when they come to visit. They have a new Willard Children's Progam that is starting up this July. So the next time you're looking for a place to stay in DC, definitely check out the Willard Intercontinental Hotel.
Here are a few of my favorite tech gadgets I learned about from the event that are sure to take your next family trip to new heights:
ORBIT
I literally squealed with delight when we got the low-down and a live tutorial for how this magnificent piece of technology works. Listen…my husband makes fun of me all the time for constantly losing my phone….in the house. It's so bad that I often times don't tell him and just get the kids to help me find it. Now, the kids are extra happy to help because they get to use the ORBIT. Oh and the plus side? It's also a remote for these selfies I always take but never post 🙂
From CTA: ORBIT is an anodised aluminium Bluetooth device, with an easy-to-use app that finds everyday items in seconds – like your keys, glasses, wallet. Via the free app, you can check the map for your ORBITS last known location and time. You can also find your phone with ORBIT. Press ORBIT to make your phone ring – even if it's on silent! With ORBIT, you can take selfies. No need for a selfie stick, all you need to do is set your smartphone camera where you want it and with a click of the ORBIT button.
Waka Waka
I know what you're thinking. Just what is this? Have you heard of this device before? Because I surely had not until I went to this event. But I quickly found out why this is a must-have device for family travel, especially on road trips or if your family likes to go camping or to places where power/outlets are non-existent or very few. As a blogger and social media influencer I have to stay connected. So I definitely see this being used when I have multi-day events/conferences. And the best part for me? I WON one of these fab devices at the event. This does more charging than the 20 or so portable chargers I currently have put together. And THAT alone pays for itself. LOL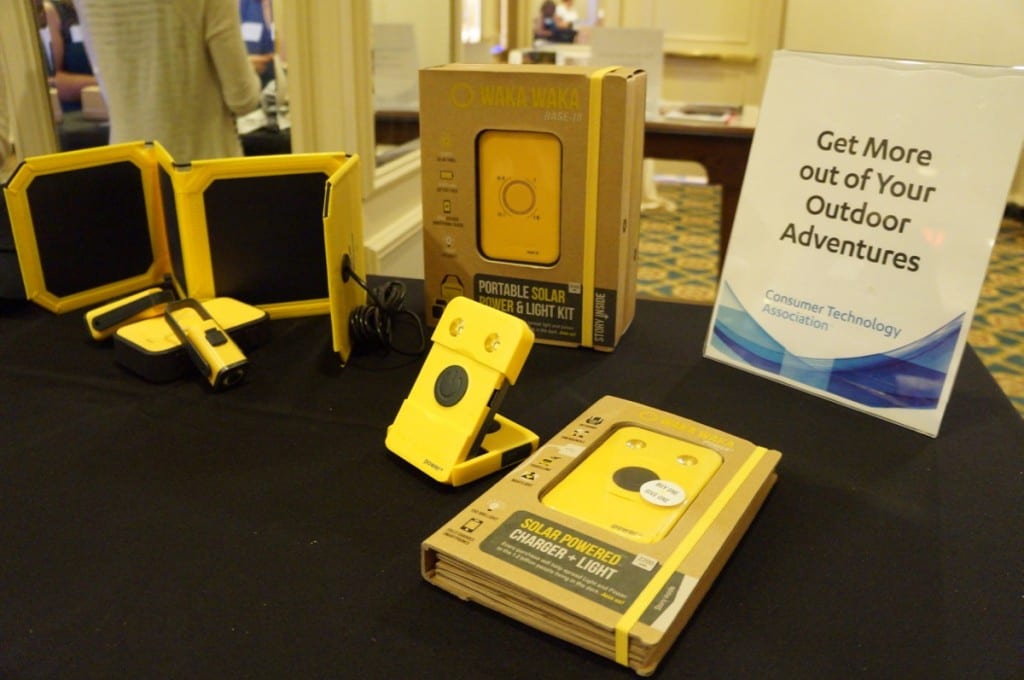 From CTA: The WakaWaka Base 10 is the next step in the evolution of portable solar: the ultimate all-
in-one compact solar power bank for anyone on the go who can't – or refuses to –be left without power. Perfect for modern-day explorer, the WakaWaka Base 10 has a 10,000 mA battery and also comes with two portable LED flashlights for when the sun goes down and the lights go out. After a single day in the sun, the powerful Base 10 will charge up to 3 devices at once or provide up to 240 hours of LED light.
You can
check out this product here
and it retails for $199.00.
Knomo Digital Clutch
I go to a lot of events. And when it comes to events like these where I'm going to be posting a lot on social media and taking lots of pictures with my phone, not only do I need to have a good power source, but I also need something to carry it in. I really am in love with this new digital clutch created by Knomo. It's bad enough having to carry multiple chargers and power cords etc. But to not have a clear way to organize things can get a little annoying. I absolutely love what they've done with this clutch. You can definitely fit plenty in here, and have everything you need to be efficient and cute at the same time (all essentials if you ask me).
From CTA: Introducing 'Elektronista' by Knomo, the Digital Clutch bag that meets the needs of modern women. Designed to take you from day to night, it's been created with a focus on a woman's digital life – the juggle between working, leisure and travel. The Elektronista is truly an essential piece. Designed around your everyday gadgets, the Digital Clutch also includes a 3000mAh battery (with charging cable) to keep your devices charged on the go. All whilst looking stylish, sleek and compact.
Tinyphones
My kids all have various tech gadgets and when it's time for electronics, they all want to be on their own at the same time. I'm always making sure that when they have their headphones on, I'm checking to make sure the volume is not too high on them. I try to make sure they understand they can't have it on the loudest level possible.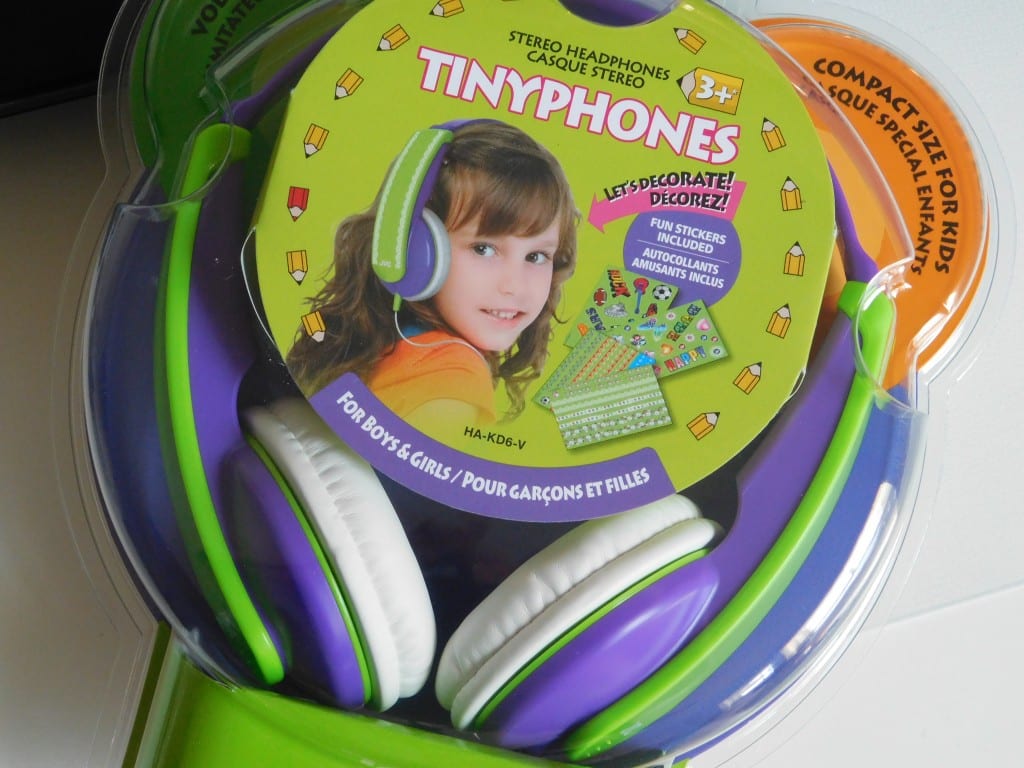 Que in Tinyphones. First off, they come with stickers. What child do you know that doesn't love stickers? One thing I love is that these headphones are unisex in terms of color. But most importantly, they are volume limited so their tiny ear drums will always be safe. These headphones are for kids ages 3 years and up.
Urgent.ly
We may not always think about roadside assistance when we're taking a family road trip. But the fact of the matter is, we never know when we might need it. And often times, people don't want to continue paying for a service they may need "just in case" (*raises hand*). So I was super excited to hear about this awesome app called Urgent.ly. It's like the Uber for roadside assistance. You only pay for it when/if you need it. The absolutely best thing for me is that they have flat-rate pricing. That means that whether you need your tire changed, a jump start or you run out of gas, you pay one price of $75. If you need a tow it's only $99. I don't know if you've ever had to have your car towed. But I have…and it definitely cost me more than $99.
You can find out more about Urgent.ly by clicking here.
Now there were sooo many other amazing tech and travel brands there that I'm excited about like: Adobe Spark, Eggcyte the Egg, Olloclip, Rico Theta, and Shutterfly Photobooks. So if you're not already hip, then be sure to check out these products/sites to get hip.
I'm telling you your next family travel trip will take on new heights with these tech gadgets and apps by your side.
What are some of your must-have tech and travel items you love?
Be sure to also check out the event recaps from some of my fellow blogger buddies:
Fadra of AllThingsFadra.com
Mimi of MimiCuteLips.com
Kirstin of Passenger156.com