I have been counting down to this week since I had the opportunity to first learn about Moana back in August, and meet/interview the star herself, Auil'i Cravalho.
The kids and I love going to the movies (especially when we've been counting down to watch films like Moana). It creates new memories and experiences we get to share together.
So when I was invited to watch Moana at my local Dolby Cinemas at AMC, I was all in!
Have you heard about Dolby Cinemas?!
If you haven't, I'm here to give you the inside scoop. And if you have, then you clearly understand my excitement about getting to see Moana at Dolby Cinemas at AMC.
Moana officially hits theaters THIS week on Wednesday, November 23rd! And the kids and I get to head over to the Dolby Cinemas at AMC in DC to check it out.
I will finally get to stop answering the question of "Mommy, when does Moana come out?"
I wrote all about my Moana sneak peek here, but below is a clip of the official trailer:
Three thousand years ago, the greatest sailors in the world voyaged across the vast Pacific, discovering the many islands of Oceania. But then, for a millennium, their voyages stopped — and no one knows why.
From Walt Disney Animation Studios comes 'Moana,' a sweeping, CG-animated feature film about an adventurous teenager who sails out on a daring mission to save her people.
During her journey, Moana (voice of Auli'i Cravalho) meets the once-mighty demigod Maui (voice of Dwayne Johnson), who guides her in her quest to become a master Wayfinder.
Directed by the renowned filmmaking team of Ron Clements and John Musker ('The Little Mermaid,' 'Aladdin,' 'The Princess & the Frog') and produced by Osnat Shurer ('Lifted,' 'One Man Band'), 'Moana' sails into U.S. theaters on Nov. 23, 2016.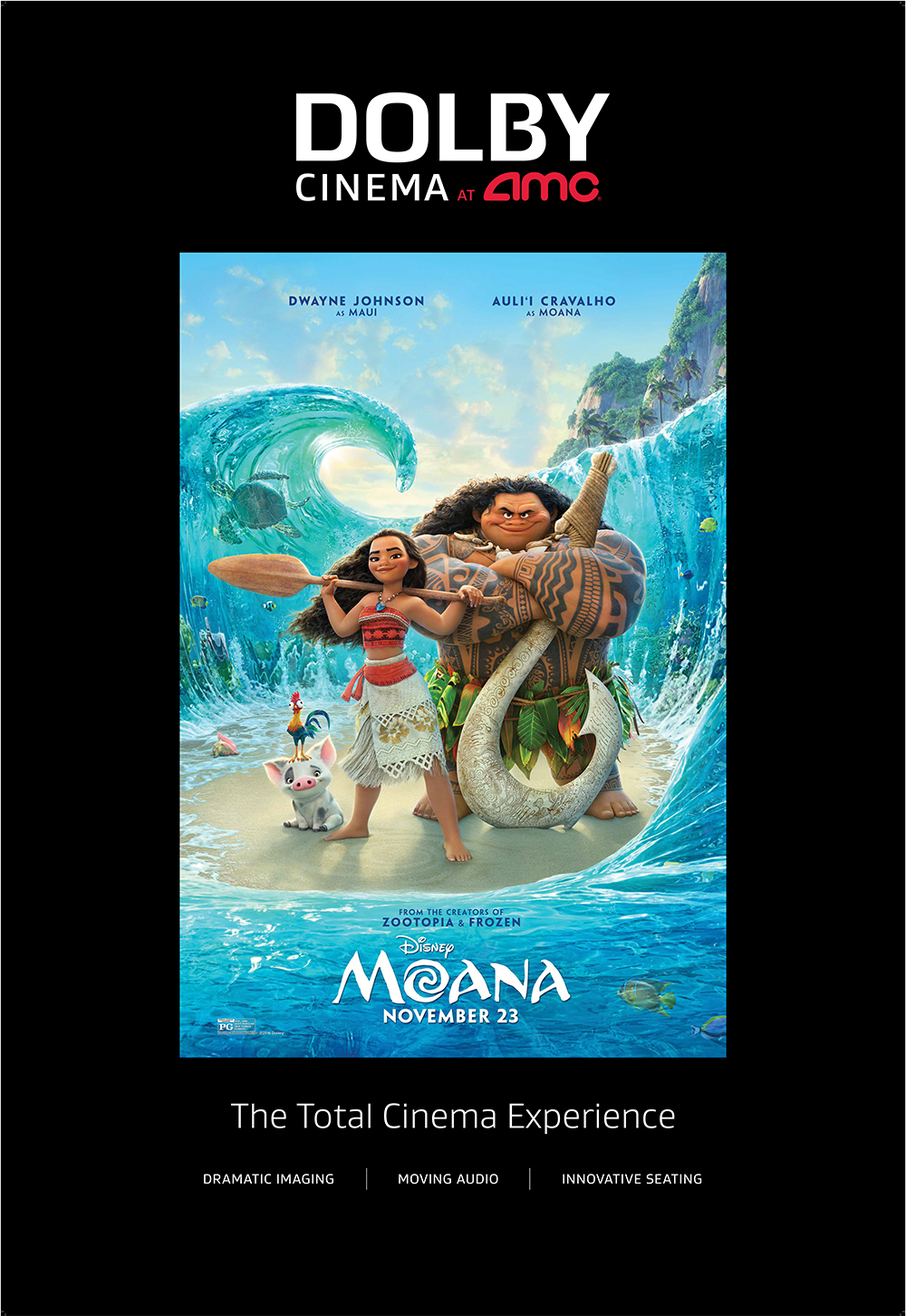 Seeing Moana in Dolby Cinema at AMC will be a unique experience that combines the most powerful image and sound technologies with spacious, reserved recliners (and I'm here for all of that).
This unique movie experience will allow us to hear sounds that move all around us. And apparently, the recliners pulsate with the action.
I'm still on the fence on whether that will scare me or the kids. But I'll keep you posted on that LOL
My local AMC theater has already spoiled me with reserved/reclined seats. So I'm even more excited about experiencing the image and sound technologies that Dolby Cinemas has to offer.
If you want to find out more about Dolby Cinemas and to see if they have a location near you, be sure to sign up for their newsletter. The list of Dolby Cinema locations currently opened and those opening soon can be found on the Dolby Cinema at AMC webpage.
Like MOANA on Facebook * Follow MOANA on Twitter * Visit the official MOANA website here
MOANA sales into theaters everywhere on
November 23rd

!
---
Disclosure: This post was sponsored by Dolby Cinemas at AMC. As always, all opinions are my own.