Remember that Pete's Dragon red carpet event I went to over the summer, and all of the fun and cool things I got to do while there? Well, I have been counting down to this day that I could share this with you because this was definitely one of the highlights of the trip — sitting down to interview Disney Princess Star of Moana, Auli'i Cravalho and her equally awesome mom, Puanani Cravalho!
I was already excited about the upcoming release of Disney's Moana, but this mother-daughter duo completely melted my heart. Their warm smiles and genuine excitement totally melted my heart and lit up the room from beginning to the end of the interview.
Also related: Disney's Moana: 5 Sneak Peeks & Fun Facts
In case you may have been hiding under a rock somewhere, Disney's newest movie, Moana, will open in theaters nationwide just in time for Thanksgiving on November 23rd! Auli'i plays the character of Moana as a newcomer to the big screen. And while I've only seen bits and pieces of the film, I can tell you: she absolutely nailed it!
About Moana:
For centuries, the greatest sailors in the world masterfully navigated the vast Pacific, discovering the many islands of Oceania. But then, 3,000 years ago, their voyages stopped for a millennium – and no one knows exactly why. From Walt Disney Animation Studios comes "Moana," a sweeping, CG-animated feature film about an adventurous teenager who is inspired to leave the safety and security of her island on a daring journey to save her people. Inexplicably drawn to the ocean, Moana (voice of Auliʻi Cravalho) convinces the mighty demigod Maui (voice of Dwayne Johnson) to join her mission, and he reluctantly helps her become a wayfinder like her ancestors who sailed before her. Together, they voyage across the open ocean on an action-packed adventure, encountering enormous monsters and impossible odds, and along the way, Moana fulfills her quest and discovers the one thing she's always sought: her own identity.
Directed by the renowned filmmaking team of Ron Clements and John Musker ("The Little Mermaid," "Aladdin," "The Princess & the Frog") and featuring newcomer Auli'i Cravalho as the voice of Moana, Walt Disney Animation Studios' "Moana" sails into U.S. theaters on Nov. 23, 2016.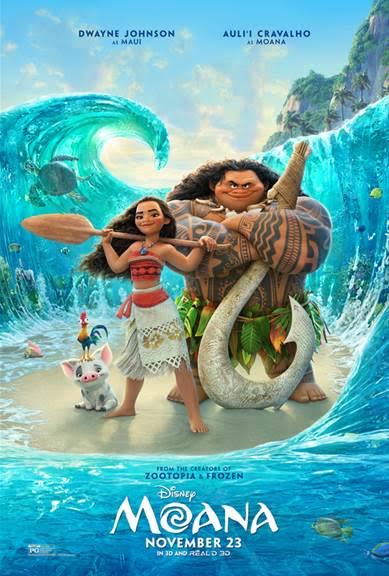 I wanted to share some highlights from the exclusive interview we got to experience with Auli'i and Puanani Cravalho. Here are 4 simple reasons to love Auli'i Cravalho, and go support her first film, Moana!
1. She brings the story of Moana to life
As I mentioned earlier, this is Auli'i's first time acting. We got to see the video of her reaction when she was told that she actually got the role in the film. It was priceless, and of course, my eyes started sweating immediately.
Auli'i talked about her excitement when reading the script for the first time. She was truly impressed with the authenticity and research that went into preparing the script and film. She talked about being raised on the island of Hawaii, and how much she loves her culture.
In speaking about the character of Moana, Auli'i shared how wonderful it is to have a beautiful young teen who shows the world that it's okay to go on a journey to find yourself.
On wayfinding, she shared this, "… it isn't just something they made up for animation purposes.  It was truly almost lost in the Polynesian culture, which is something that not a lot of people know.  So the fact that it's being shined in such a positive light and there is now a resurgence of navigation and wayfinding in real day-to-day life, it's so important."
2. She is authentically adorable and fun-loving
This was Auli'i's first big interview, with 25 bloggers in one room. But you could tell that she was so appreciative and grateful for the opportunity to be able to play this role, and for us to spend time with her.
Even while taking pictures, she insisted that each group took two sets of photos because she wanted us all to be close together.
3. She adores her mother
Even before I had kids, I knew that my relationship I had with them was going to be so important to me. I didn't grow up having a close relationship with my parents. So when I see a mother-daughter duo like Auli'i and Puanani filled with so much love and closeness, it warms my heart.
Once she found out she got the part of Moana, she was sworn to secrecy for three whole entire months! The only person she could talk to about it was her mom. They talked about how they would chat about this little secret and spend time hugging. After ending the interview with someone telling her how amazing she was, her response was, "I have an amazing mom, right?"
4. She is an amazing role model
Taking pride in my own culture is something I learned at an early age. My sisters and I traveled the country performing and teaching traditional and modern East African dance. And as much as we enjoyed it, education was always a priority.
So I loved how Auli'i shared the fact that yes she's excited about where her career is going (and used to play dress up with her own fashion shows at home), but she also takes academics seriously. She shared that she has an interest in law or cellular/molecular biology (funny enough, this is what I majored in).
Auli'i is amazing. But having her mother there in the interview with us was just as much of a treat. We saw first-hand where she gets her beautiful spirit, and from where her strong foundation comes from. And no title of being a Disney Princess will keep her from taking care of her chores and staying grounded. To see the excitement Puanani has for Auli'i who is going after her dreams, is truly phenomenal.
While she shared her own fears of allowing Auli'i to audition for and pursue this role because the industry was not something she was familiar with, she didn't allow her fears to take over. She didn't allow her fears to keep Auli'i from pursuing the opportunity of a lifetime. And this is what purposeful parenting is all about.
About Rock Climbing…
Undoubtedly, the most hilarious and memorable portion of the interview actually came from Puanani, after we asked Auli'i about her experience meeting The Rock (Dwayne Johnson) for the first time:
I did some Rock climbing for all of us. I'm just saying you know…I took one for the team, sweat and everything! 
To which Auli'i replied… "What else would you like to know?" followed by this look on her face LOL
So I guess that's just reason number 5 to love Auli'i: because she was raised by the most awesome mom ever! I mean, who doesn't like rock climbing? LOL #priceless
Here is the official Trailer for Moana:
This may have been Auli'i's first film, but it definitley won't be her last.
Like MOANA on Facebook * Follow MOANA on Twitter * Visit the official MOANA website here
MOANA arrives in theaters everywhere on
November 23rd

!
---
Disclosure: On behalf of Disney, I was invited to attend an all-expense paid trip to cover the world premiere of Pete's Dragon, as well as other press events to include this special interview for Moana. As always, all opinions are my own.