Unless you've been hiding under a rock or just trying keep from melting in this summer heat, you have to have heard by now about The Gift Album. What is The Gift album you ask? It is a love letter from Beyoncé, a special Afrobeats album in honor of The Lion King. Ok, it's not particularly Afrobeats, but it might as well be.
Lion King: The Gift – Music for a new generation:
If you missed my review on the new live-action out in theaters this weekend, you can catch it here.
Let's be clear: The Gift Album does not replace the official Lion King soundtrack album. It simply compliments it. We basically get a second album for the price of one film. And it is magical noir pixie dust in a cool 54 minutes.
But here is what this album means especially for people like me because being African was not always cool. What Luvvie shared on her Instagram page is beyond accurate:
"This is a love letter to the diaspora. It wasn't always cool to be African. Many of us changed our names, ditched our accents, so we could fit in at school. This album, they're speaking Yoruba. There is Afrobeats, with some of my fave Naija artists. I heard Xhosa.

This is a musical affirmation. IT IS A WHOLE LIFE!!!!"
The Lion King: The Gift Album
It's out now so do yourself a favor, and go grab or download your copy.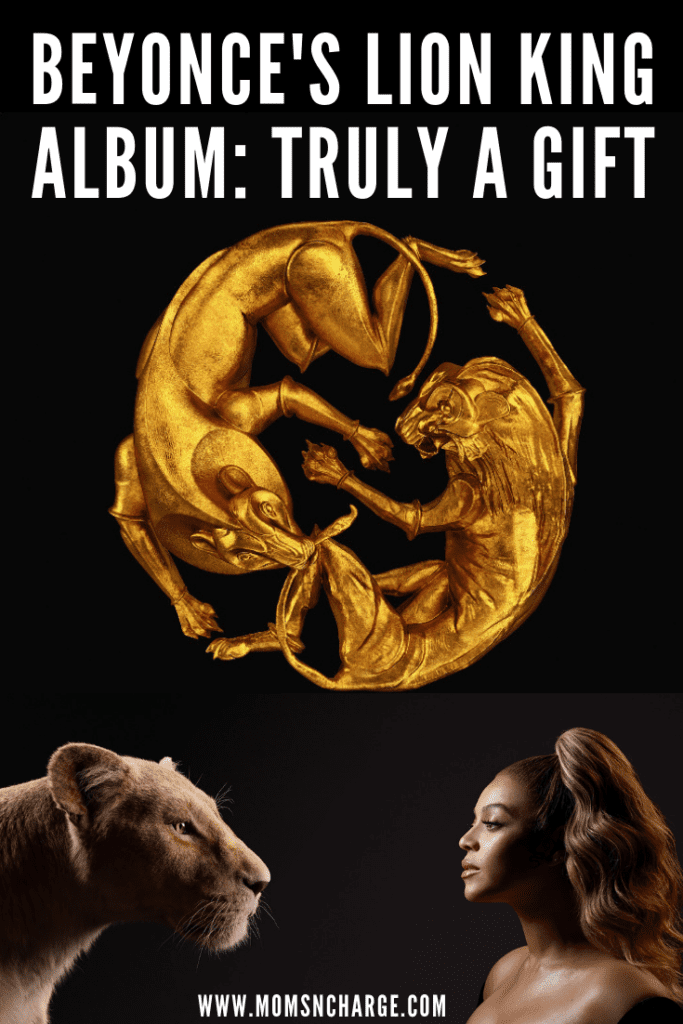 The Gift That Will Keep On Giving
Disney continues to innovate and challenge the status quo. Just because things were done a certain way 25-30 years ago, doesn't mean they need to continue to be the same. The Aladdin remake was incredible. Disney just announced the live-action remake of The Little Mermaid – another one of my favorite Disney films. And people were BIG mad that they cast Halle Bailey, an incredible, insanely talented, young black woman to play Ariel.
The Gift Album is a head nod to the culture. For the times we've been made to feel ashamed, less than or invisible, this is an unexpected gift many of us didn't even know we needed.
While the haters hate, we will relish in this masterpiece of a gift.
Brown Skin Girl is the anthem I needed
I've shared before on here about how important it is that I teach my kids to love their skin and their hair. To let them know that no matter who tries to tell them otherwise, they can walk boldly in the beauty that God gave them. And hearing young Blue Ivy singing the chorus on this track is something special. Y'all…she has her own song credit!
Listening to these lyrics literally had me tearing up. The words are powerful. They are fire. They are a mood for life! I'm sharing a few here but you can click here for the full song.
CHORUS:
Brown skin girl
Your skin just like pearls
The best thing in the world
Never trade you for anybody else
Singin' brown skin girl
Your skin just like pearls
The best thing in the world
I never trade you for anybody else, singin'…
Part of VERSE 2:
Pose like a trophy when Naomis walk in
She need an Oscar for that pretty dark skin
Pretty like Lupita when the cameras close in
Drip broke the levee when my Kellys roll in
PRE-CHORUS:

Your skin is not only dark, it shines and it tells your story
Keep dancin', they can't control you
They watchin', they all adore you
If ever you are in doubt, remember what mama told you
I shared in my Instastories that we needed to start a #BrownSkinGirlChallenge because this song is an entire MOOD!
Brown Skin Girl by Beyonce
Take a listen to the song below.
Authentic Afrobeats is a love letter to Africans Everywhere
We grew up listening to African music. We grew up performing across the country to traditional and modern African music. Songs like "Don't Jealous Me", "Water", "Keys to the Kingdom", "My Power",  and "Already" are forcing Americans to love what we've loved our whole lives. It takes me back to the soundtrack for Queen of Katwe (which is also a great Disney film and soundtrack). But with Beyoncé behind this project, more people will get to hear it and fall in love with it.
I am grateful that my kids get to grow up with pride in where they come from. I'm happy they get to hear African-inspired music on mainstream radio. I'm beyond ecstatic that there are sooo many more people who look like them on TV and in films.
Lupita and Luvvie are vibes we should all follow
These dope brown beauties done started something, and I'm following their lead. As of yesterday, I didn't hear anyone start a #BrownGirlChallenge. So me and my girls will be following in their footsteps. I know it's only a matter of time before my timeline is flooded with 'Brown Skin Girl" love and I'm here for ALL of it! Who's in??!!
How can we NOT join in on this black girl magic fun?