Disclosure: This is part of a sponsored campaign with Highlights & Which Way USA™.  However, all opinions are my own. This post contains affiliate links.
---
When I started homeschooling last year, I really had no clue as to just how much I would be learning right alongside my kids. While it can of course, be challenging at times, we are growing to really enjoy the experience. We've met some great families and have found an amazing support group with our homeschool co-op family. When we first started out, I wondered how we could make school fun at home and how we could get the kids engaged, especially our seven-year-old son since he started out in private pre-school for three years.

Much to our delight, he is really enjoying the homeschool experience. Like his mommy, he likes to sleep in so that may have a little something to do with it. LOL But the thing that gets us most excited is how much he's grown and excelled over the last year! He would technically be in first grade this year, but his reading and math are on a third and fourth grade level. Being able to homeschool has allowed us to challenge him in areas we wouldn't have thought to challenge before.

This is why we love the this new program from Highlights, and why I'm excited about this Which Way USA™ giveaway. Not only has it been a fun way for him to learn geography, but they take it several steps further by including tourist attractions, state symbols and individual maps of each state with fun facts. In addition to the crossword puzzles (his favorite), word scrambles and mazes in his workbook he gets to do, he also gets to take this race across the country online and race other friends in the process. The digital learning is a great way to integrate the work he does in the workbooks.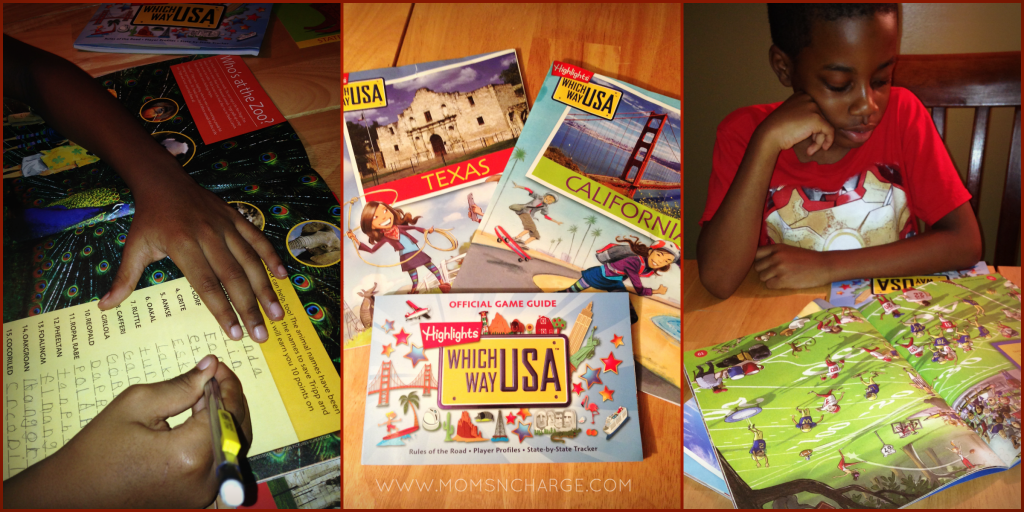 What I love about Highlights is that it makes learning geography so much fun. Now when I'm traveling, we go more into detail about where I'm going and where that state is located on the map. We look into different facts and talk about how long it takes to get there, what attactions I might see, etc. We are also now having more fun planning future family vacations. Growing up with Highlights makes it that much more special that I can now share this experience with my own children.

Which Way USA™, a geography-based puzzle book club, is the perfect blend of digital and print activities for ages 6-12 and is a great teaching resource that lets kids to explore two U.S. states each month!  Every four weeks a new Which Way USA set is delivered right to parents' door and includes:
o   Two 32-page state books and accompanying 17"x 21½" full-color state maps
o   64-page Official Game Guide to track state-to-state progress*
o   Access codes for exclusive online play at WhichWayUSA.com
o   Collectible state license plate key tags
Special pricing on the Introduction Set – just $6.95 + shipping and handling for two state books, accompanying state maps, Official Game Guide, collectible license plate key tags, and access to online content!
 Skills Exercised in Which Way USA™:
• Problem Solving• Reading• Spelling• Logic• Concentration• Attention to detail• Visual Perception• Following directions• Decision Making• U.S. Geography and Map Skills• Reference/Study Skills
Thanks to Highlights I'm giving away two full subscriptions for

 Which Way USA™.

Enter below for your chance to win! And then comment below and let us know what products or resources do you use to make learning fun for your kids?
---
Disclosure: This is part of a compensated campaign with Highlights to spread the word about their Which Way USA™ campaign. All opinions are my own.