If you don't already know, I'm an avid fan of Tia & Tamera! They have been my 6th & 7th sisters (in my head) since their Sister Sister days. So I was thrilled to watch them all grown up in their hit reality show, and of course a little sad when it ended. But it was during their show that we got to watch them create and implement their Need Brands company starting with the development of Milky!
I have to say that when they came out with this product it almost made me want to have another baby just so I could use the product (I said almost, but that was shortlived once they started coming out with the rest of their product line). Maintaining a good milk supply while I was nursing with all three of my babies was always a struggle, but was so rewarding. While I won't be able to try out Milky and Nippy, I'm anxiously awaiting Stretchy, Kissy, Softy & Squeaky! I absolutely LOVE the fact that these products are all natural and 100% vegan!
But in the meantime, since I know quite a few people about to give birth or who are currently breastfeeding, including my sister-in-law Rani, I'm equally excited to do this product review and giveaway! Here's what Rani had to say about Milky!
So does Milky really taste as good as people are saying it does? 
Rani: I have to say, it's pretty good. It definitely has a tea 'ting to it, but in a good way! And you know it's good for you and your children, and that's what matters.
Being a working mom of two, how has Milky made life easier for you? 
Rani: It's given me peace of mind. Many might say it's psychological, me feeling the confidence behind Milky! the way I do, but I see the facts and evidence right in front of me, each day, 2 times a day, in the Wellness Room (i.e. pumping room) at work. 😉
What products from the Need Brands are you looking forward to trying out next? 
Rani: I'm most looking to try Stretchy! I'm still nursing, so Milky! has been the only thing on my mind. But very soon, it will be Stretchy!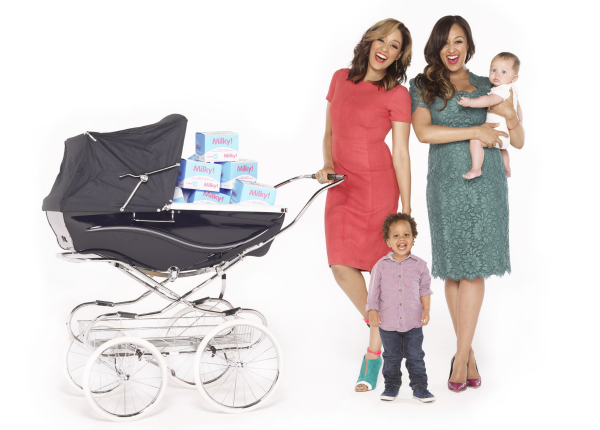 Rani's Review:
Moms, how many times did you find yourself in a situation where you didn't know if you'd be able to provide milk – your milk – to your child? Too many times, right? I know I did. When my first child was born my breastmilk supply ran low, pretty early. It freaked me out because I had plans to nurse for at least 1 year. Fast forward 23 months, and I didn't want what happened with my first child, to happen again. When I heard that Tia and Tamera had launched Milky!, I couldn't wait to get my hands on it!
You're probably asking, but why Milky!? Can't you just pump more? I'm not a doctor but some methods of increasing your breastmilk just don't work for everyone. For me, I choose Milky! and here are my reasons why:
1.Convenient
Milky! comes in a small bottle that's super easy to fit into a small purse or even deep pockets. I'm not the best at remembering to take anything (medication, etc) but I maintained consistency pretty well with Milky! because I always had it on me, and it was the right size.
2. Tastes Good
Milky! tastes like strawberry tea – a nice taste with a little kick that makes you feel like it's working! And in 2 gulps you're done.
3. Confidence Builder
Yes. Sometimes, just the act of doing something that you know is going to benefit you and your child alone, is rewarding.
4. Because it works!
I quickly got onto Milky! Within a week, I could tell something was different. My breastmilk bags went from 2-3 oz to 4-5 oz. Seriously. It was pretty awesome. Eight months later and we're still going strong!
**All photos courtesty of Need Brands**
To find out a little more about the Need Brands, check out these Power Moms in the clip below:
So there you have it! Here's your chance to enter and win a 12 Day Supply of Milky (valued at $60). And if you're not currently nursing, be sure to share with all of your friends and friends of friends 😉
Disclosure: This post has been sponsored by Need Brands.  Although I received product free of charge and compensation, all opinions expressed here are my own. All Giveaways are not affiliated with, or endorsed by Facebook, Twitter, Instagram or Pinterest. Moms 'N Charge™ is not responsible for any prize not fulfilled by the sponsor or damaged during shipping. Please see full disclosure policy in under "View the Official Rules" above.