When I tell you that social media is responsible for me meeting and connecting with some simply fabulous people, I mean it. And Shantae Pelt of Coco'Pie Clothing is one of them. I first met Shantae through Periscope and have grown to love and adore who she is and the mission that she is on. From the moment I purchased my girls their own "There's power in these puffs" tees from Shantae, my 6-year-old has become a self-proclaimed Coco'Pie Clothing brand ambassador (no seriously, she made me get on Periscope just so she could tell everyone about it, and wanted to hand out Coco'Pie Clothing postcards everywhere we went LOL).
So when I came across Shante's Facebook status one day that talked about her daughter being told that brown girls can't be supermodels, my heart sunk. "Here we go again", is what I thought. But what I loved is how Shantae handled the situation. She truly inspired me and gave me encouragement in the process of encouraging her daughters. So I immediately asked if she could write a guest post, and here is the result of what transpired.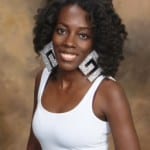 The following post was written by Shantae Pelt
. Shantae is the CEO and Founder of a vibrant new t-shirt line, Coco'Pie Clothing. Momprenuer of two awesome daughters and also KidPrenuers, Shantae is passionate about celebrating the beauty within ethnicity. She has both a personal and professional commitment to combat colorism. 
You can connect with Shantae on Coco'Pie Clothing and Instagram & Periscope.
I had a conversation with my baby the other night. An uncomfortable one to say the least. It's remnants still tug at my heart strings.
See the other day my baby, my pretty brown girl, looked at me and ever so softly said "Mom, my friend said black girls can't be supermodels".
For a moment I feel frozen. Hesitant and confused. How do I respond? I'm upset, yet I don't want to show that emotion. Will she attribute my anger to what she was told bearing truth?
Yet Mikayla, my Mikayla is 9. A sunflower child. A carefree black girl, remarkably ambitious with an infectious smile. In that moment I almost forget her sister, Kennedy, who is only 5 is to my left, yet she's leaned in now. Her coily afro puff ponytails and big brown eyes immediately meet mine.
I have to respond and respond quickly. I glance between them both before looking at Mikayla once more. Gently and with conviction, I say "Black girls can absolutely be supermodels baby".
'But my friend said black girls can't be supermodels because she hasn't seen any and that they only like girls with peach skin".
Also related: Dear Black Girl
I tell her that's untrue and that her friend is wrong. Taking the laptop off my desk, I immediately start web surfing. We look at images of Beverly Johnson, Grace Jones, Iman, Noami Campbell, Alek Wek, and Tyra Banks. YouTube does not disappoint. Watching runway shows of Naomi Campbell, Tyra Banks, Mikayla discovers Chanel Iman, her favorite. Being she is young and quite the beauty, also with Chanel being her middle name, I'm not too surprised.
We do this for maybe an hour and a half. Talking all the while. At this point both of my girls are ecstatic yet I'm still unsure if it's enough. I ask her how she feels about what her friend said. She replies "I know black girls can be supermodels but it just seems like they can only be actresses".
I try to digest and interpret what she means. Maybe I've underestimated both her understanding and her perception. She has clearly come to her own conclusion as to the trajectory of black women in the media; at least through the eyes of a 9-year-old.
Also related: 6 Things I Want my Little Brown Children to Know 
"Baby girl, you can be whatever you want to be! All of these beautiful black women are proof of what you can be. However, they also are not your limit. No one can tell you who you can be. Ever! Especially not based on the color of your skin. With that,  I asked her to dream big – of the model she wished to be; where she traveled, and what accomplishments she made. I assured her I will be waiting to hear all about it in the morning. With that infectious smile of hers, she eagerly kisses me goodnight. Little sister, Kennedy quickly follows suit.
Closing the bedroom door, I breathe a long sigh, and continue to think about what just happened. I thought about how prejudice and colorism busted my precious 9-year-old's bubble. I start to think.
I've never quite understood why people say "I don't see color". It's an all too common response of many. You'd never tell someone, I don't see your gender. It's a large part of what you attribute your identity to. So why would one say " I don't see color". I feel its relied upon as some sort of automatic exemption from being prejudice. Like a "get-out-of-being-prejudice free card". When someone says that, they are handing me that card.
That card is merely a lie you tell yourself as a refusal to participate in the conversation. How could you not acknowledge another human being? That is truly what you are doing. One's color is a large part of their identity. Not always a direct reflection, yet overwhelmingly so. My color is a large part of my identity, but never my capability. Seeing color, and owning the fact that you do, means that you see me. It means that you see my daughter. When you decide to see color, and everything it encompasses, please teach your children the same. This way they don't tell mine what they can and can not be solely based on theirs.
Have you ever had to have a difficult conversation like this with your child? How did you handle it? Comment below and let me know.
---
Click here to connect with Shantae and find out more about Coco'Pie Clothing. Please consider supporting her mission to empower little brown girls everywhere to know they can indeed be anyone they want to be and do anything they want to do.