Whew! So I've had a full week to recover from all the excitement from the Act Like a Success Conference and beyond. I'm in the process of compiling key takeaways from the conference, and wanted to start with this one (and not just because Mr. Harvey told me I look like his daughter).
We all have known Steve Harvey to be a game changer in the comedy industry. But to see him completely take over and excel in everything he's doing currently – TV, radio, books, etc. – is really inspiring. There were soooo many takeaways from his keynote at the conference but here are some of my favorite pieces to try and sum it up.
The key message that stuck out for me was the notion that so many of us talk about how "it's my season", yet, we haven't even planted anything yet. He said, "If you haven't planted anything, then it's not your season to harvest." How much time have you spent planting seeds? He talked about how he's been planting seeds for a very long time, and the success (harvest) he's enjoying now is a result of the planting he did many years ago.
Let me tell you, if you didn't get a chance to be there live or catch it online, it'll be available for a very limited time (along with every other keynote and breakout session), so I encourage you to make this small investment. You can click here to get more info. This is just a very small portion of what he shared, and all of it was powerful.
One of the most powerful things he said was "when you plant, you must put a seed in the ground. The seed has to be covered with dirt. Most people don't like dirt. If you don't get the dirt on it, what does the seed push through? Every beautiful plant, flower, or bush you see was once a seed covered with dirt. But dirt comes in the form of a lot as a human – haters, naysayers, economic situation, parenting, etc. But that's necessary. All the nutrients needed are inside the dirt."
"If you don't believe the dirt is necessary, take a seed and throw it on the concrete and see what happens. The dirt has to be on top of you to push through. There is no progression without opposition."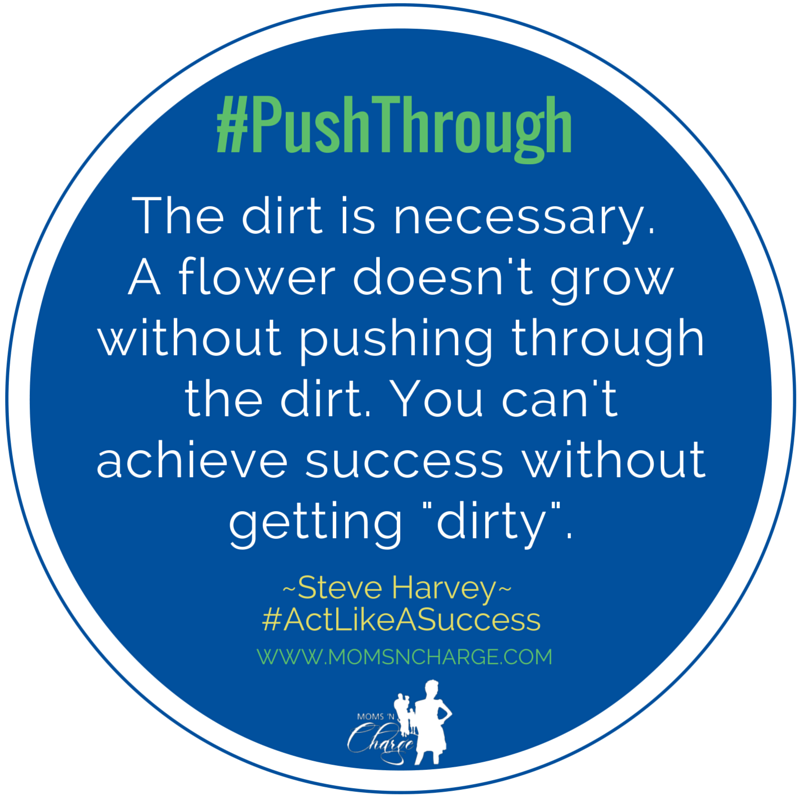 It all starts with the dirt. Don't get frustrated with the dirt. The planting is necessary, it's part of the process. You have to push through the dirt. The road to success is always under construction. Stop reading about success stories and not writing one yourself.
Mr. Harvey then took us to church by explaining how many people go to church and memorize all these scriptures but don't apply it to their lives. He talked about the four scriptures that he's lived by, in order to achieve the level of success that he enjoys today.
Here are his four that he memorized and the four that he "rolls with":
Scripture 1:
Mark 11:23: "For verily I say unto you, that whoseover shall say unto this mountain, be thou removed, and be thou cast into the sea; and shall not doubt in his heart, but shall believe that those things which he saith shall come to pass; he shall have whatsoever he saith."
Steve's translation:
I get to have whatsoever I say if I believe it in my heart? Bingo!
Scripture 2:
Isaiah 54:17: "No weapon that is formed against thee shall prosper; and every tongue that shall rise against thee in judgment thou shalt condemn."
Steve's translation:
Ok cool. This covers the haters, need this one!
Scripture 3:
James 2:26: "For as the body without the spirit is dead, so faith without works is dead also."
Steve's translation:
Got it. I'm gonna hustle.
Scripture 4:
Isaiah 43:2: "When thou walkest through the fire, thou shalt not be burned; neither shall the flame kindle upon thee."
Steve's translation:
That means I'm going to walk through the fire and when I get out on the other side, there will be no sign that there was even fire on me.
BONUS Scripture:
Habakkuk 2:2 "Write the vision on tablets and make it plain upon tables, so that he who reads it will run."
Steve's translation:
If you don't have the things you want in life written somewhere, it's not going to happen.
He talked about how everything he wants is written, and the importance of showing your vision only to people who can encourage you and help you to accomplish those goals. He shared how he doesn't have not one screensaver that doesn't show his vision board when he turns it on. It becomes a part of your system.
The dream is absolutely FREE, the hustle is sold separately! You've got to wake up running and get busy.
If you attended the conference, what was your biggest takeaway from Steve Harvey's keynote? If you didn't attend, what dirt have you had to push through in order to achieve a level of success?