Last week I had a great opportunity to do two more media segments with Fox 45 and WBAL respectively doing what I love – sharing tips and talking about my family. I have no doubt that everything in life happens the way it's supposed to happen. So I just continue to thank God for the amazing doors that He continues to open for me. I'm learning more and more every day about the importance of setting your intentions.
There are several things that I wrote down in my journal in the beginning of the year. Two of them were speaking at more events, and doing more media segments under my blog name. My first speaking engagement was at Steve Harvey's Act Like a Success Conference in March. From there, I was invited to be a keynote speaker for a women's history event for a local government agency. I also was invited to teach a workshop for the Northern VA Chapter of Delta Sigma Theta Sorority, Inc. I got to speak on Mentor Monday a few weeks back, and will be speaking at a women's conference this weekend at Morgan State University. So far, I've spoken at 10 events this year, and have done 5 local TV media segments.
I have to physically write this down because while for some people, this isn't a big deal, it is for me. Speaking in public and actually having fun with it, is a very big deal for me. And I share this because I want to inspire you and encourage you to set your intentions, believe, have faith and follow people who inspire you to dream bigger and push harder. Align yourself with people who will encourage you to start where you are with what you have.
One of my big time inspirations is Eric…ahem…Dr. Eric Thomas AKA ET The Hip Hop Preacher. If you've never heard of him, you have no idea what you're missing out on. Seriously, you'll be asking yourself why you didn't know about him sooner. I started listening to his YouTube videos as a source of inspiration almost two years ago, and love his weekly TGIM (Thank God It's Monday) segment on YouTube. This is someone who not only has overcome homelessness, dropping out of high school (then later getting his GED), and marrying young, but inspires millions to reach for the stars and beyond on a daily basis. He works with, and inspires Fortune 500 companies, as well as inner city youth. And he has a wonderful marriage with his wife of over twenty years. Huge congrats to Dr. Eric Thomas who just received his PhD from Michigan State University in Education Administration.
Watching clips from his recent graduation reminded me that all he did was start where he was with what he had. And even when things got tough, quitting wasn't an option because there were too many people counting on him. And while you and I may not be Eric Thomas, we have people counting on us too. So giving up or throwing in the towel now, is not an option. If I would've stopped trying after the first or second time I was turned down for a speaking or media opportunities, I would've missed out on all the great ones I've had and the ones still to come. I don't have any special training or degree in communication or speaker training. But I have the mindset to simply: just do it. I'm okay with learning as I go, and researching what needs to be learned.
I love this quote by Dr. Thomas:
All you need to succeed is average skill; but if you have phenomenal will, there's nothing you can't do. Start where you are with what you have because what you have is plenty.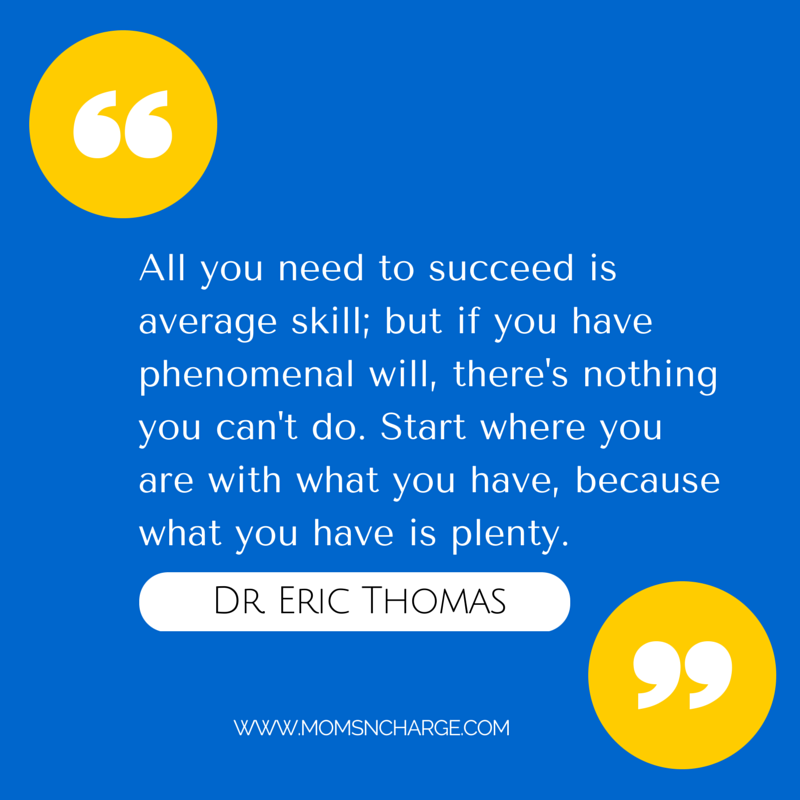 Check out this short clip and special message from ET below:
What area of your life will your phenomenal will take over for you this week?