Christmas day is only 4 days away!!! Seriously, where did time fly? I know plenty of you are mad dashing around the malls getting the last bits and bobs in order, whereas others are nicely relaxed by the tree fully enjoying the still of the dark night, sipping on some cocoa.
Organizing for Your Lifestyle
So how exactly do you get to be all organized and settled? I'm probably not the expert in the area, but someone who is is the author of "Organizing for Your Lifestyle: Adaptable Inspirations from Socks to Suitcases," Jane Stoller. In her book she breaks it all the way down on organizing your life, not just for the holidays, but every day. Her tips are simple and adaptable, much attributed I'm sure to have lived in Europe and Canada. Two very different continents as it pertains to the average size dwellings, closet space, and cultural aspects as well.
Pairing Socks
Although Stoller is not a mother, me being a mother of 4 found quite a number of tips that I've actually implemented and can attest to its efficiency. One being spared from the agony of pairing all those socks. Like I said, I'm a mother of 4 boys, needless to say, there's a fair amount of socks come laundry day. Stoller's tip is to simply buy all your socks in one color.
If you haven't tried this, you're missing out on the joy being able to pair socks almost blindfolded, lol. To switch it up just a bit, my boys have all black, gray, and white socks. That's it. If I end up with a loner one week, chances are I'll find it's partner the next. No need to bother with all the frills. Now I'm sure if you have girls, they might like the extra froufrou on their socks. But I'm sure all purple or pink socks won't break any hearts.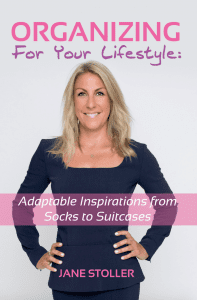 Organizing your socks is only the tip of the iceberg of all the tips in this book. Stoller breaks up the organizing tips by room and also includes organization for travel. These tips can certainly come in handy if you've got a trip planned for the holidays.
Do you know the correct way to fold your pants, sweaters, underwear? Stoller does, and she shows you with the use of pictures. I never really thought to fold my undies. But then again if I owned a pair of La Perla panties that'll cost about $300, I'm sure I'd appreciate knowing how to preserve their longevity and "prettiness".
Low-key Hoarders
Organizational needs will of course vary from person to person. Factors like the size of your house and the number of occupants will dictate your needs. Then there's also your comfort level with clutter. I know some of y'all would never admit to being low-key hoarders, but even my mom has an attic full of stuff she'll never ever bring down to use again. And the term "sentimental value" tends to get applied to almost anything and everything, lol.
I will say I personally enjoyed the book because I could relate to the author, having grown up in Sweden, she has Swiss roots, and currently resides in Switzerland, to currently living in Canada, which Stoller also once did; I got the references she made with examples of how North American bedding including 10 pillows in various shapes and sizes, whereas Europeans tend to be good 4. I'm all for decorative pillows, but I'd be lying if I didn't admit it adds to not only your laundry duties but organizational duties as well. Speaking of bedding, Stoller breaks down how to fold those fitted sheets!
Reduce Stress
Physical organization goes beyond the physical, and will actually help you feel more at ease mentally. Studies show that decluttering can not only reduce stress, but provides peace of mind and improves your mood.
I know the holidays can be crazy, make it just a little less so with some organizational skills. Stoller's book is an easy read that will help you get started. She references a number of other different books and websites as well that are sure to help you out.
Happy organizing…I mean Holidays 🙂