Disclosure: Thank you to AT&T for sponsoring this post as part of their It Can Wait campaign to encourage distracted-free driving. As always, all opinions are my own.
---
I just recently finished the 21-day It Can Wait Challenge and I learned some things along the way. So I'm sharing my lessons learned in hopes you'll pass them along and join this important mission started by AT&T.
Here are my 7 tips and lessons learned during my 21-day It Can Wait challenge:
1. It CAN wait…really
During the 21-days, I won't lie and say it wasn't a challenge not to pick up my phone during a stop light or while stuck in traffic. But what I realized was that any emergency I had to deal with, I was usually not behind the wheel. I learned that there really isn't anything more important than focusing on the road when you're behind the wheel.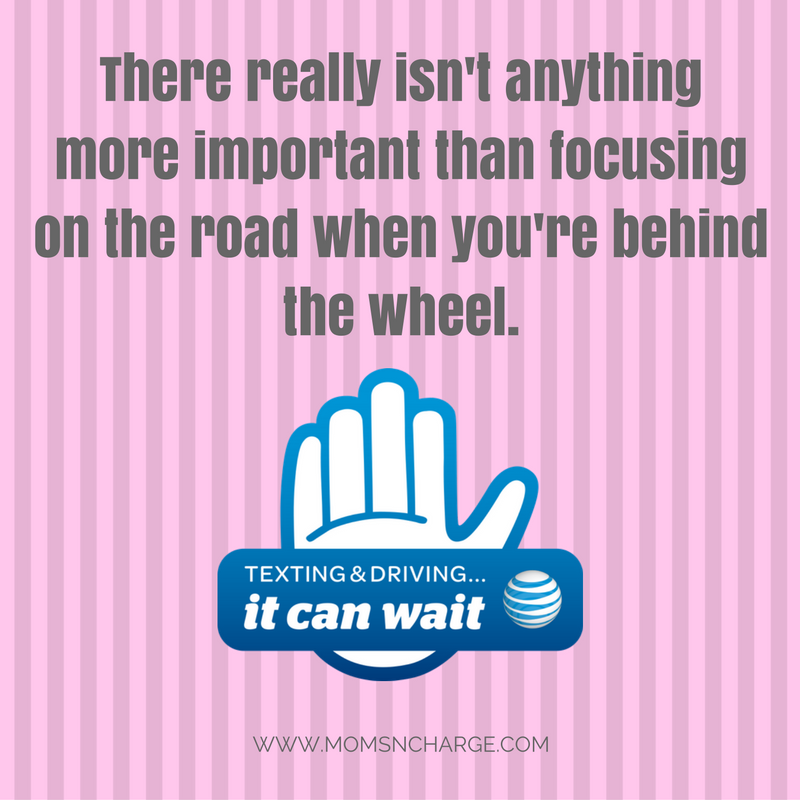 2. It takes discipline
I guarantee most people don't even realize just how distracted they are when they're driving (guilty before this challenge). So personally, after the first few days, I realized I was going to have to put the phone "out of sight" in order to keep from being tempted to use it.
If you need to zip the phone up in a bag in the backseat, then do it. As long as I didn't need my GPS on my phone, I tried to make sure it wasn't as easily accessible as I was used to it being.
3. Accountability is key
With any new challenge you embark upon, I always say it's great to have an accountability partner to keep you on track. Mine was my husband. He would check in with me and ask me how the challenge was going, and I would check in with him (actually, I never needed the challenge to get on him about distracted driving LOL).
It also helped a great deal to follow the #ItCanWait hashtag to see that so many other people were joining in on this challenge.
4. Habits change
I used to wait until I got to the first traffic light to look up an address to where I needed to go to. Now, I don't leave the driveway before making sure my GPS is linked up. I have everything I need in place to focus on driving and eliminate the distractions from my phone
5. New car must-have features
My husband and I have been talking about looking for a new car. There are now some features I would absolutely need to have in our new car that I wouldn't have thought of prior to this It Can Wait 21-day challenge. Lucky for us, we happened to test drive a car that had something called CarPlay.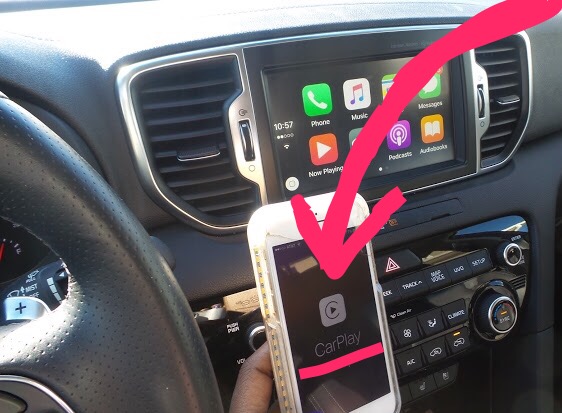 What I appreciated about this feature is that everything I needed to do could be controlled from the steering wheel. I never had to look at the screen as text messages were read out loud and I could then respond by speaking the text back.
6. DriveMode App
The DriveMode app helps with making sure you can stay focused. I really liked the fact that it came with the option to automatically respond to texts, letting people know that you're driving and that you will get back to them. And if you have kids that drive, I love that you can set it up to alert you if it's turned off.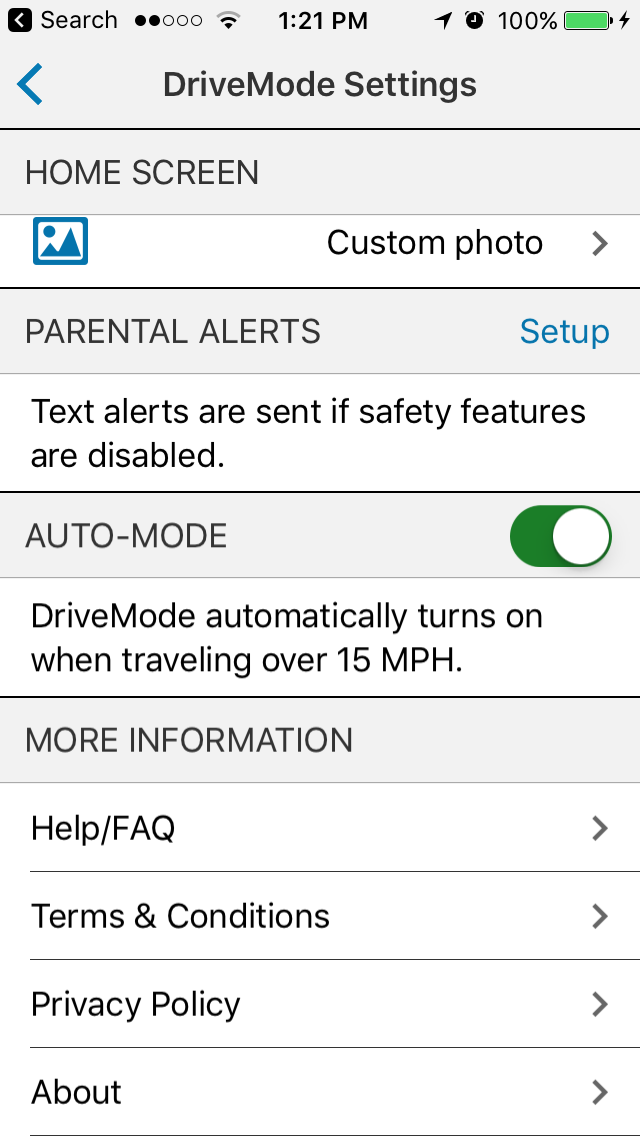 I also liked the fact that DriveMode is automatically activated once you've started driving over 15 MPH. You can download the app in the Apple or Google Play stores today. If you have any issues like I did initially, you may want to either delete and download again, or make sure you have the latest operating system on your device.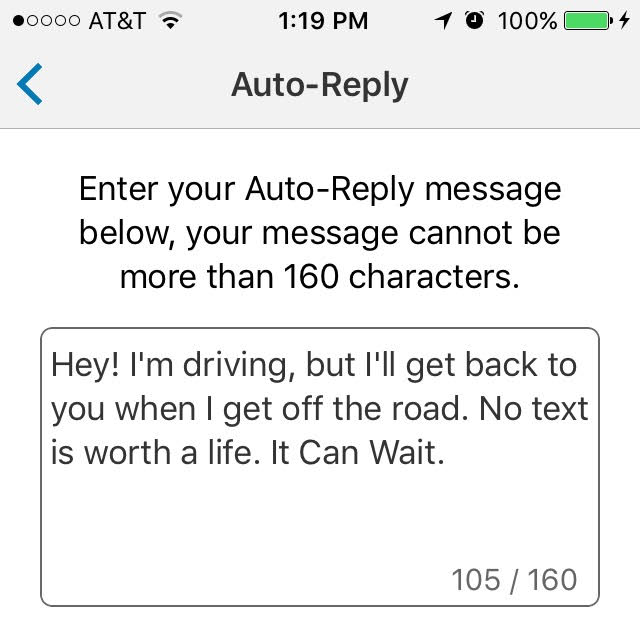 If you have any issues like I did initially, you may want to either delete and download again or make sure you have the latest operating system on your device.
7. Keep a photo of what's most important to you on hand
For me, there was a day that I saw at least 3-4 bad car accidents in one day! I couldn't help but wonder 1) how many of them were caused by distracted driving and 2) if they're families were ok? I chose to use this photo of my family to keep me reminded that any time I attempt to do anything on my phone behind the wheel, I'm making that thing more important than my family and those I love (ouch).
The DriveMode app allows you to customize the home screen of the app.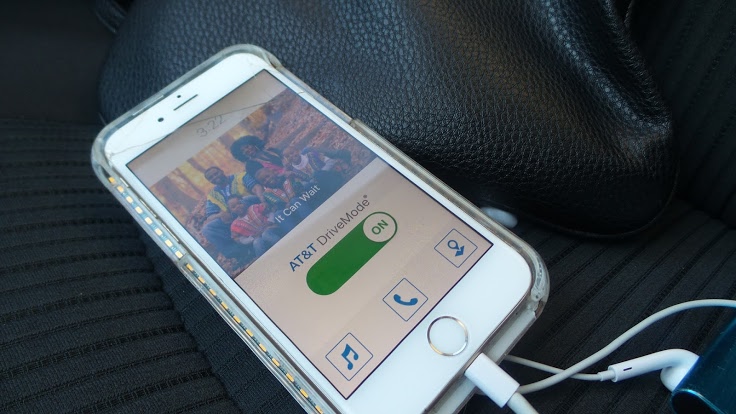 Lastly, I realized that forcing myself to be less distracted by my phone on the road, resulted in me being less distracted off of the road (or at least a lot more conscious LOL). For me, that means that I became more aware of putting my phone away when I'm talking to the kids or my husband. I was intentional about practicing this before, but somehow this challenge brought on a new awareness.
What you can do now:
If you haven't already, take the 21-day challenge.
Download the AT&T DriveMode App which helps to minimize distractions while driving and helps you keep your eyes on the road.
You can download the App in the Apple or Google Play stores today.
Take the pledge and encourage others to do the same.
AT&T's It Can Wait campaign is an important message that I hope will continue to grow and bring awareness to the dangers of distracted driving. I know it's changed my driving habits for sure!
Have you taken the 21-day challenge? If you haven't, I invite you to do so and tell a friend or two to join you.