This past winter me and my boys plopped down in front of the TV every Monday to watch Kid's Baking Championship on Food Network. One of my boys just so happens to be into cooking and so seeing kids his age bake wonders was something that he truly enjoyed. The show's 3rd season had 12 contestants that participated in various bake-off challenges. Each episode also had a theme to which the baking had to relate.
My boys also liked how the judges were relatable, funny, and able to goof around. One the judges, Duff Goldman, even got a tattoo off of a dare from one of the contestants. An actual tattoo!! I'm sure the kids got a kick out of that, lol.
I'm a man of my word. Waffle Tattoo. pic.twitter.com/zNZ26Daenp

— Duff Goldman (@duffgoldman) February 28, 2017
The show is an excellent opportunity for kids ages 8-13 to show off their baking skills. Not only does your child have the opportunity to partake in something they love. They get to make new friends as they grow their baking skills. Does this sound like a show your son or daughter would love to be on? If so you're in luck.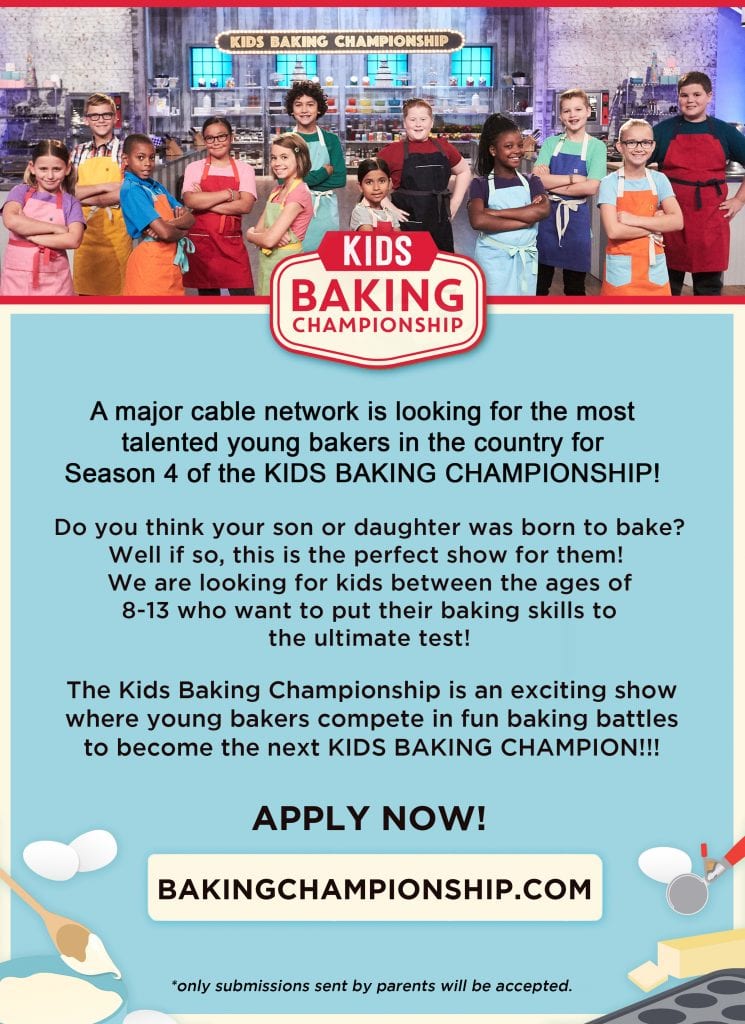 Foodnetwork is currently casting for the next season of Kids Baking Championship. Yup, that's right. Take this amazing opportunity to allow your child to not only bake to their heart's content but also win an equally amazing cash prize. I don't know any college fund that can't use a little boost.
How To Apply
So to get started, all you have to do is one of these 2 things:
1) Head on over to bakingchampionshipcasting.castingcrane.com and complete all the required fields.
2) Call Costa at 424-702-3877 to apply
Casting is rounding up, so don't sleep on this opportunity. Give your child the opportunity of a lifetime!