Hey y'all! I am absolutely thrilled to share this news with you! If you've missed my posts all over social media, then you've missed the news about a new show for single moms coming to ABC THIS Saturday night! And what I'm truly excited about is that my bro, Paul C. Brunson is hosting this show.
While Paul is well-known for being the first black matchmaker (and darn good and what he does), he is so much more than that! He is a mentor, entrepreneur, & television host. He is a husband, father, friend and overall great guy. I was first connected with Paul when I was writing for Black and Married With Kids (where I got to interview him and his beautiful wife, Jill and break the news about their second pregnancy). I found out about his Mentor Monday show (that I had the pleasure of being on) on Spreecast and then continued to follow him from there. Then he started doing his live event called We Start Up for Entrepreneurs and I got to collaborate with my girl, Ella Rucker to speak at that event.
For as long as I've known Paul, I've known him to truly be the real deal! He is the definition of authenticity and "walking the walk". There's not anything that he teaches that he doesn't do himself. He is one of the most influential mentors and coaches I know, and I am so incredibly proud of how he is about the change the world with this docuseries.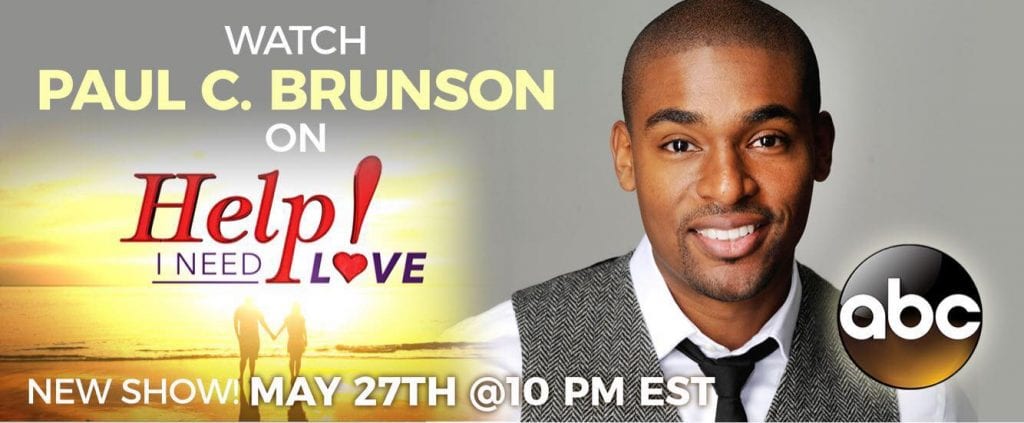 Here are 4 reasons why I am excited about Help! I Need Love!
This show is about love. Real love. Not staged love.
In my interview with Paul last night, he said something very important: love is an action word. This aligns exactly with what my Pastor talked about in church last week. Love on a page or on a screen is nothing. It's just letters thrown together. You must have action behind those letters in order for it to have any meaning. We will be able to see true love and transformation unfold in this docuseries.
Positive and uplifting TV for the soul
There are hardly any shows that I can say that I watch, let alone that are feeding my soul. Paul said we have to be careful what we watch and what we take in. If we are contstantly bombarded with negative and scripted "reality" TV, that is how we begin to view things as true. They are not. And Paul is going to prove just that with this show.
Support Paul
Even if I wasn't excited about the first two things. I would be tuning in simply just to support Paul. Why? Because without him even knowing it half the time, he has truly supported and uplifted me in the times that I needed it. He is an amazing example of what true leadership means. He gives so much and so freely, and is incredibly passionate about changing the narrative of what real love (specifically black love) looks like.
Love for Single Moms
One of the things I love is the fact that Paul deliberately chose single moms. And not the "typical" single mom. But as he shares in our interview below, he wanted to help older single moms. The story he shared in the interview about the mom whose daughter had to ask the show to help her mom find love was so powerful. I know I'll be bringing tissues to our watch party. He's helping these moms learn to love themselves again so they can in turn find the love they're looking for.
Check out the interview I conducted with Paul last night on Facebook Live.
Do you want to help us drive this mission to make sure this show is a success?
Here are four easy ways you can help support Help! I Need Love hosted by Paul C. Brunson:
The show airs on Saturday May 27th at 10p ET but it's just a pilot. In order for us to get more epsiodes, we need people to watch and post about it.
There are 4 ways to help:
1) Set your DVR or TIVO to record ABC May 27th at 10p ET (it will be listed as either 20/20 or Help! I Need Love). If you live in country that doesn't get ABC, please download the app and watch that way.
2) Host a watch party! If you plan on hosting a launch party with 20 or more people, Paul will personally call in to thank you and everyone for attending. Please email joi@paulcbrunson.com if you plan to host a party.
3) Become an ambassador for the show! It will take less than an hour of your time and will be very helpful. Please follow this link to join us. We have an amazing leader in Kaywanda Lamb (The Winning Single Mom) and a great team ready to mobilize.
4) When sharing anywhere on social media: Please use #INeedLove and tag Paul and ABCNetworks. We want them to see how much we all stand behind and support this project!
That's it y'all! Share the love and get ready to watch something incredible happen this Saturday night!