Becoming a mom changed my life in so many ways. I realized that any decisions I made in my life would directly affect my children. Like most moms, my first instinct is to protect them.
From trying to decide which car seat was the best and safest, to what type of toys they could play with that wouldn't choke them.
We pay attention to everything that involves the safety of our children.
Even as they grow up, the daily decisions we make to keep our kids safe are endless. Our children's safety and well-being are generally at the forefront of our thought process.
Generally.
I'll be the first to admit that I have I have not put the safety of my own family (or that of other families on the road) first.
Why?
Because every time I've tried to send a text, reply to an e-mail or respond to someone on social media while behind the wheel was putting everyone I love in danger.
I didn't realize how distracted I was until I was asked to be a part of this campaign. So over the last couple of months, I was shocked at the number of times I found myself picking up my phone to do something while driving.
This was more than just a campaign for me. This was a reality check.
And the fact that there are so many distracted drivers on the road doing the same thing, gave me pause.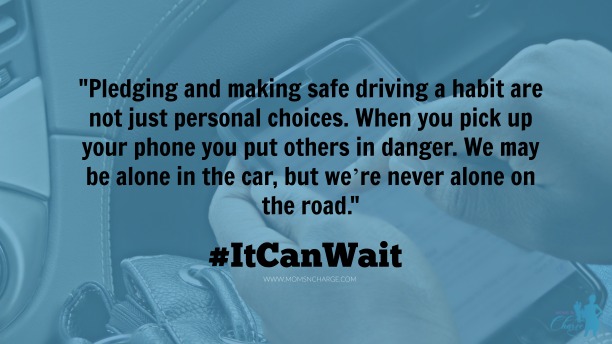 Initially, I thought I was being a "safe distracted driver". Spoiler alert: there is no such thing.
What this awareness did was it allowed me to recognize what I was doing without even realizing it. It was more of a habit as opposed to something I felt I had to do.
I get it. You're stuck in traffic or at a red light. No harm, no foul, right? Wrong.
What really got my attention:
When I saw this, I knew I had to be a part of AT&T's It Can Wait campaign. This campaign is powerful because it forces you to understand that distracted driving is never okay.
It forces you to understand that even when you're alone in the car…you're really not. We've all heard the statistics about how quickly accidents can happen when we get distracted for even a second.
This year, It Can Wait campaign is on a mission to reach 16 million pledges by the end of 2016. They are currently at 12.7 million, and I know we can help them reach their goal.
If the above video weren't enough, check out this 360 stimulation to see what really happens when we're distracted while driving.
So I'm challenging you to join me in a 21-day challenge.
Starting today, I'm taking the 21-day challenge to stop distracted driving. I'll be keeping you updated on my progress via my social media channels (Facebook, Twitter, Instagram and Periscope).
Be sure to follow #ItCanWait on social, and you could win a Google Cardboard or It Can Wait swag.
It. Can. Wait. And it should wait. Click here to take the pledge and join the 21-day challenge. No tweet, text, e-mail, DM or inbox is that important.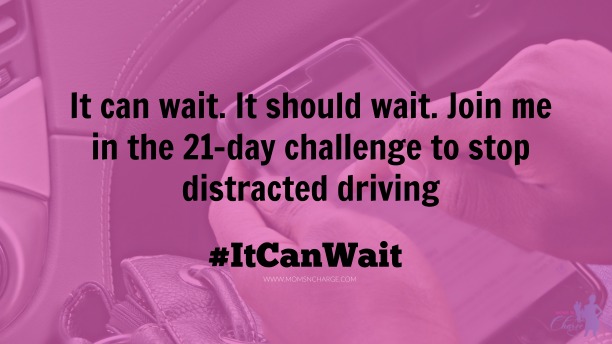 Why pledge? It can wait.
Something mentally shifts when we commit to doing something. And studies show that it takes on average 21 days to create a new habit.
Here are a few things that have happened to people who have taken the pledge:
Almost half of people who pledged said they now don't use their smartphones while driving.
Those who share their promise or pledge with others are even more likely to stop, and more likely to speak up to others. Of those who shared their promise or pledge with others:

4-in-10 asked a friend or family member to not use their smartphone while driving.
Nearly one-third asked a driver to not use their smartphone while driving when riding as a passenger.
Nearly 4-in-10 asked a passenger to operate their smartphone while they are driving.
What you can do now:
Download the AT&T DriveMode App which helps to minimize distractions while driving and helps you keep your eyes on the road.
Download the App in the Apple or Google Play stores today.
As an influencer, I not only have a responsibility to my family but also to my community in which I interact with on a daily basis. Distracted driving should be socially unacceptable.
AT&T's It Can Wait campaign is an important message that I'm proud to be a part of.
Will you be joining me? Comment below and let me know!
---
Disclosure: This post is sponsored by AT&T as part of their It Can Wait campaign to encourage distracted-free driving. As always, all opinions are my own.